Read on for the Australian Foundation Investment Company review (ASX:AFI) – Australia's largest LIC, from an experienced and long term investor.
Introduction – Australian Foundation Investment Company Review
The Australian Foundation Investment Company (AFIC) is one of Australia's oldest Listed Investment Companies, being established in 1928. Its mission of providing low management fees and focus on producing its shareholders an increasing stream of franked dividends over time has led to its success. AFIC is now the largest Aussie LIC managing an $8.2B portfolio for its shareholders.
AFIC (ASX:AFI) was the very first stock I ever bought after it was recommended by the Barefoot Investor, and I learned a lot about investing through this stock. I foolishly purchased it on a whim without doing any proper due diligence or independent investigation on investments, profit margins, performance or anything, and actually initially thought it was a construction company (i.e. a concrete manufacturer). I got lucky because it is well-run, respected, well-diversified, and Australia's largest listed investment company.
The Good
Higher than average dividend pay-out
Fully franked dividend and track record of increasing dividends
Low management fees of 0.16% compared to other LICs or active funds
Well diversified
Large market cap and trading volume
The Bad
Lower total returns than a passive index ETF equivalent over the long term
Some degree of active stock picking
Higher fees (MER) than a passive index fund ETF
Can trade at a premium to its NTA, pushing the price up and lowering value
Verdict: AFIC is the largest listed investment company in Australia. With a long-term focus of increasing dividends to its shareholders and low management fees, it is an attractive income source for early retirement. However, you need to carefully consider whether it's right for you and should compare it to passive index-tracking ETFs.
CaptainFI is not a Financial Advisor and the information below is not financial advice. This website is reader-supported, which means we may be paid when you visit links to partner or featured sites, or by advertising on the site. For more information please read my Privacy Policy, Terms of Use, and Financial Disclaimer.
AFIC review
How I bought into AFIC is a funny story actually. When I first heard of AFIC it was through Scott Pape and the Barefoot Investor1. After some research I was convinced and willing to buy some – I was prepared to purchase the hefty sum of $1000 worth! You can imagine my surprise when I logged into my (old) stockbroking app and tried to find it. On the CommSec app, it was coming up as something like 'the Australian Foundation Company'. Here I was thinking I was being told to go out and buy some kind of concreting business – I was so bloody confused, that wasn't in the brochure!
I even tried to ring Scott Pape but his receptionist wasn't very helpful, neither was the CommSec desk. I finally got on the phone to AFIC and their receptionist was lovely. She thought the whole thing was very funny and even despite my tiny little investment, she went out of her way to explain how to set up the DRP in time for the next dividend payout.
I learned a valuable lesson there, which is make sure you know what you're bloody well investing in! I also learned a second valuable lesson – don't buy into market hype. The 'Barefoot' effect would be in full swing post recommendation from Scott Pape, as the hoards of Barefooters and the Motley Fool crew would piggy back off each other's stock tips and inflate the market. I bought at the peak of one of these swings, only to find out after it cooled down, that I was 5% or so down. Good thing I bought this for its franked dividend stream which increases over time.
The details of AFIC
The Australian Foundation Investment Company2 invests for the long term in quality Australian companies, and has a portfolio spanning 80 to 100 companies across a range of industries . It looks at their long term potential, performance through economic cycles and their ability to provide increased earnings, which translates to increasing dividends for AFIC shareholders.


AFIC's mission: "Pay dividends which over time grow faster than the rate of inflation" and "to provide attractive total returns over the medium to long term"

https://www.afi.com.au/new-investors#WhyInvestinAFIC4
AFIC is one of the cheapest LICs in terms of Management Expense Ratios. With a MER of .16%, it costs investors just $16 to have $10,000 managed by AFIC, per year.
Performance of The Australian Foundation Investment Company
AFICs performance is generally bench marked against the Standards and Poors (S&P) ASX 200 accumulation index. This is the top 200 Australian shares by market capital. This is what AFIC publish as their portfolio and share price performance – ending 31 December 2022.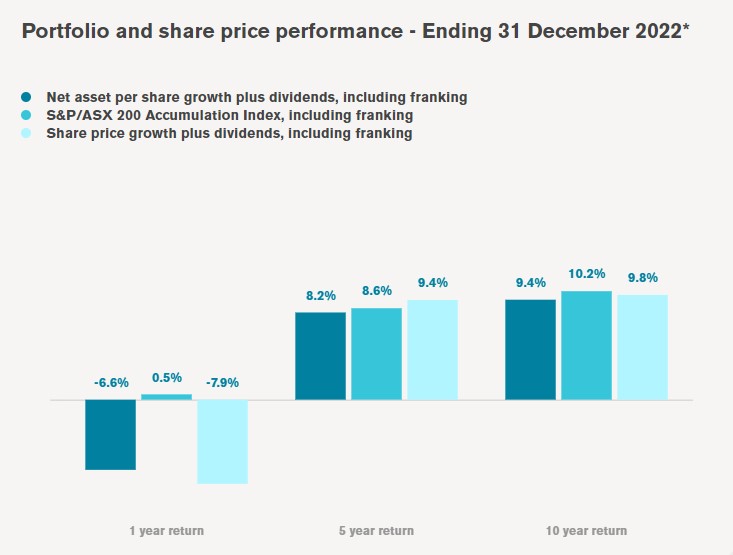 You can see that AFIC has performed well, with the net asset share price growth plus dividends performing well over the long term.
It is important to realise too that when shareholders receive their franked dividend twice a year from AFIC (February and August), it means they are entitled to the rebate on the tax already paid by the companies that it holds. Franking credits or imputation credits attached to the dividend mean that a shareholder's return should be 'grossed up' by 30% when comparing non franked dividends. You can find more info on how dividends are taxed on the ATO website HERE.5
I had received around 4.5% in fully franked dividends, or about a 6% (grossed up) dividend yield from AFIC since I held them. AFIC publishes a comprehensive list of their dividend history here.6
Frequently Asked Questions about AFIC (ASX:AFI)
Answers to frequently asked questions about AFIC:
Is AFI a good investment?
This depends on your financial situation and timeframe, however for someone like myself then yes, AFI was a good investment.
AFIC performance
Over the past twenty years, the AFIC performance has been 4.32% in capital gains, and 5.48% in fully franked dividends.
What is the AFI management fee
The AFI management fee is 0.16% or 16 basis points, this is $16 per $10,000 invested per year.
What dividends does AFIC pay?
Over the past 20 years, AFIC has paid out 5.48% in fully franked dividends. In 2020, due to the COVID-19 market crash, AFIC had a lower dividend yield of only 3.9%, or a grossed up yield 5.57%.
Does AFI have a dividend reinvestment plan?
Yes, AFI has a dividend reinvestment plan (DRP)7. You can sign up to participate in the DRP through the shares registry which allows you to reinvest all or part of your dividends back into new AFI shares. This is often done at a discount. Note you will still be liable to pay tax on these dividends, even if reinvested.
The Dividend Substitution Share Plan (DSSP) is another word for Bonus Share Plan (BSP). It is like a Dividend Reinvestment Plan however the difference from the DRP is that no income tax is payable at the time of receipt of the dividend.
Instead, with the DSSP (BSP) your cost base per share is lowered. This is a way of deferring your tax liability until you ever sell the shares instead of paying tax on your dividends immediately. However, be warned, if you select the DSSP you will not receive any franking credits (losing the 30% tax credit they come with).
You should speak to a financial advisor about whether using the DSSP is the right move and profitable for your personal circumstance and income/tax levels. Generally speaking, it might be suitable for those on the highest income tax brackets who plan to retire on lower income streams.
What companies do AFIC invest in?
AFIC invests in companies in a similar manner to a total market cap index of the top 80 to 100 companies, which is modified by active investing by fund managers. Currently, the top 5 investments AFIC hold are: Commonwealth Bank of Australia (8.8%), CSL (7.9%), BHP Group (7.1%), Transurban Group (5.1%) and Macquarie Group (4.5%).
Is AFIC ethical?
AFIC is committed to the highest standards of ethical behaviour, and have set a strong policy of ethical corporate governance, policy and principles.
How do I invest in AFIC?
You can invest in AFIC through any full service broker such as Pearler, Commsec or Selfwealth. Simply search ASX:AFI (ticker code 'AFI') and place a buy order.
Is AFIC a managed fund?
Yes, AFIC is a managed fund with extremely low fees – AFIC's fees are more than 90% cheaper than most managed funds available to investors.
When does AFIC pay dividends?
Typically, AFIC pays dividends twice per year – one interim dividend in February and the final dividend in August.
Is AFIC dividends fully franked?
Yes, Dividends from AFIC are fully franked.
Can an investment in AFIC help satisfy the Australian equities allocation of a SMSF (Self Managed Super Fund)?
Yes, it can! You can read more about AFIC and SMSFs HERE10.
Summary
The Australian Foundation Investment Company (AFIC) is one of Australia's oldest Listed Investment Companies, being established in 1928. Its mission of providing low management fees and focus on producing its shareholders an increasing stream of franked dividends over time has led to its success. AFIC is now the largest Aussie LIC managing a $8.2B portfolio for its shareholders.
AFIC (ASX:AFI) was the very first stock I ever bought after it was recommended by the Barefoot Investor, and I learned a lot about investing through this stock. I bought into AFIC when I didn't know much about the share market. I was acting on what sounded like 'good financial advice' at the time, and I also bought a bunch of other individual shares in other companies around the same time, as recommended by the barefoot blueprint. With the benefit of hindsight and my experience investing over the years that followed, It's only now that I realize just how good the advice was, to look at low management fee LICs and passive, low-cost index tracking ETFs.
Addendum to AFIC (ASX:AFI) LIC review
Addendum: In May 2020 I noticed my AFI shares were trading at a significant premium to their NTA / NAV, so I decided to sell my holdings and roll this over into an ETF which holds a very similar core holding of stocks. I believe this is may be because in a slowing / falling economy stocks tend to pay less dividends, but LICs will then gradually dole out their cash reserves during this period – which is why there was such a rally and over positive investor sentiment towards AFIC.

Although 'the good' LICs and ETFs have similar returns, the ETFs have lower management fees and over the years of investing in both these asset classes, my ETFs have out performed the LICs. The LIC could potentially provide more stable income for retirees to use as their income stream, or cash flow, to cover their cost of living; potentially why the LICs start trading at a premium after a market crash or falling economy.
Either way, I do not need a stable dividend income for some time, and currently dividends are not tax-efficient to me due to my income level pre-retirement in the accumulation phase (noting that you could opt to use the DSSP to defer tax liability on dividends by reinvesting them) – so I am cashing in on the fact that they are trading at a premium and have sold mine and immediately bought into ETFs, which continue to provide a diversified portfolio. Even though I have 'sold' in a down market, I have also 'bought' in a down market so one does not lose out on the deal. If and when the LICs begin trading at a discount again I may start to buy shares back.
Financial Disclaimer
Financial Disclaimer: CaptainFI is NOT a financial advisor and does not hold an AFSL. This is not financial Advice!
I am not a financial adviser and I do not hold an Australian Financial Services Licence (AFSL). In this article, I am giving you factual, balanced information without judgment or bias, to the best of my ability. I am not giving you any general or personal financial advice about what you should do with your investments. Just because I do something with my money (or use a particular service or platform) doesn't mean it is automatically appropriate for your personal circumstances. I do not recommend nor endorse any financial or investment product, and my usage or opinion of any product should not be interpreted as an endorsement, advertisement, or intent to influence.
I can only provide factual information based on my journey to Financial Independence, and that is provided for general informational and entertainment purposes only. I make no guarantee about the performance of any product, and although I strive to keep the information accurate and updated as it changes, I make no guarantee about the correctness of reviews or information posted.
Remember – you always need to do your own independent research and due diligence before making any transaction. This includes reading and analysing Product Disclosure Statements, Terms and Conditions, Service Arrangement and Fee Structures. It is always smart to compare products and discuss them, but ultimately you need to take responsibility for your use of any particular product and make sure it suits your personal circumstances. If you need help and would like to obtain personal financial advice about which investment options or platforms may be right for you, please talk to a licensed financial adviser or AFSL holder – you can take the first steps to find a financial advisor by reading this interview, or by visiting the ASIC financial adviser register9 and searching in your area.
For more information please read my Privacy Policy, Terms of Use, and Financial Disclaimer.
Reference List:
'AFIC – Why choose AFIC' – YouTube. Accessed on YouTube at https://www.youtube.com/watch?v=w_WBmwoJv9k on Jan 10, 2023.
'It's easy to invest in AFIC', AFI.com.au. Accessed online at https://www.afi.com.au/new-investors#WhyInvestinAFIC on Jan 10, 2023.
'How dividends are taxed', ATO. Accessed online at https://www.ato.gov.au/Forms/You-and-your-shares-2022/?page=5 on Jan 10, 2023.
'The dividend history of AFIC shares.', AFI. Accessed online at https://www.afi.com.au/dividend-history on Jan 10, 2023.
'Dividend Reinvestment Plans (DRIPs): Compound Your Earnings', James Chen, Investopedia. Published (updated) Feb 9, 2022. Accessed online at https://www.investopedia.com/terms/d/dividendreinvestmentplan.asp on Jan 10, 2023.
'The Surprising Tax Efficiency of Dividends', Strong Money Australia. Published: Sep 8, 2020. Accessed online at https://strongmoneyaustralia.com/tax-efficient-dividend-investing-dssp/ on Jan 10, 2023.
'Financial Advisers Register', ASIC. Accessed online at https://asic.gov.au/for-finance-professionals/afs-licensees/financial-advisers-register/ on Jan 10, 2023.
Captain FI is a Retired Pilot who lives in Adelaide, South Australia. He is passionate about Financial Independence and writes about Personal Finance and his journey to reach FI at 29, allowing him to retire at 30.