BonusMoney review from an experienced and long term investor and side hustler. Read for a full Bonus Money review
The Good
Detailed guides, walk throughs and worked examples
Multiple tools and calculators available
Helpful customer support
Large, inclusive community
Dedicated personal support
The Bad
Takes time to learn how to Matched bet
Easy to make costly mistakes by rushing
If not done correctly you will get banned ('Gubbed') from bookies
Potential to become addicted to gambling
Verdict: Bonus Money is one of the Leading Matched betting training providers.
CaptainFI readers can get a massive 25% discount on BonusMoney training packages using code "CaptainFI"
BonusMoney are one of the worlds leading providers of Matched Betting education and training content. Since I discovered Matched betting and the profits that can be made with this lucrative little side hustle, I have been slowly uncovering more and more hidden gems online.
I stumbled across the BonusMoney repository and found them to be full of insightful and well thought out how-to guides, as well as useful tools and calculators about how you can take advantage of bonus bets.
"A bonus bet is essentially a free bet. When you use a free bet your account balance remains the same. It is like having extra credit in your account.

You game the system by using your free bets to bet on both outcomes and then walk away with most of the cash"

BonusMoney
I created an account with them and have started a subscription to learn more about how this savvy community of matched betters are able to generate thousands of dollars in side hustle income by beating the bookies!
CaptainFI is reader supported, which means we may be paid when you visit links to partner or featured sites
Matched betting review – How Does Bonus Money work?
Matched betting works to extract bonus bets or sign up offers that Bookies offer to new clients and repeat customers.
Bookmakers offer promotions to encourage you to join their site. This 'Signup bonus' is usually in the form of a free bonus bet when you register and make your first deposit.

Bookmakers also regularly offer their existing customers promotions where it is possible to gain additional bonus bets or cash back.

BonusMoney
Often due to increasingly tightening regulations, Bookies aren't allowed to directly offer sign up bonuses, but once you have created an account they will offer you bonus bets sometimes worth up to $1000!
Whilst your not going to make millions of dollars matched betting, you certainly have a very good chance at making a couple of thousand dollars a month using this lucrative side hustle which could earn you as much as $50 per hour when done effectively.
The first step to matched betting is to understand how it works by reading as many user guides as possible – this is where bonusmoney are great since they are provide a heap of free content.
The second step is to work out which Bookies are going to provide the most lucrative sign up bonuses – for a list of Bookies you can use here check out this cheat sheet created by bonusmoney;
New legislation means that bookmakers are no longer allowed to entice customers with sign up bonuses. However many bookmakers still offer a deposit bonus after registering with them.

To find out what people recently received when registering with a bookmaker head to the matched betting community of Australia head HERE

BonusMoney
The third step is to create an account with these bookies, and deposit your initial capital. You can start with as little as a hundred bucks but the more capital you start with the higher hourly rate you will make out of this side hustle. Expect to get a flood of email marketing as soon as you create your account and deposit money, as the Bookies want to encourage you to start placing bonus bets ASAP.
The fourth step is to get onto a matched betting calculator, this will let you know exactly how much you should bet and where. The proportions of the back bet stake (usually the whole bonus amount), back odds, lay odds and lay commission will all be used to calculate how much you should lay, and calculate your profits.
The fifth step is actually placing a bet – the first bet you will need to place is the back bet (or main bet) on your bookie, using your bonus bet offer.
The sixth step is placing your lay bet – your 'hedge' or 'dutch' against your back (or main) bet. By using a third party such as Betfair (an online betting exchange) to place lay bets against your back bet, you can effectively game the system to allow you to walk away with almost all of that bonus offer, almost risk free!
The final step is of course after the event to finalise your transactions – you will win and lose one of each of your bets, pay your transaction fees and then be able to extract your winnings. The extraction rate varies depending on the numbers used and how good you are at matched betting, but its pretty reasonable to assume you will be able to extract at least 75% of the offered bonuses – not a bad little side hustle considering Bookies regularly offer bonus bets of $200, $500 or even $1000!
Be aware though that it can be a bit of a tangled web, and the bookies will eventually catch on if your doing matched betting and will either slowly stop giving you bonus bets or they might even ban your account all together! Further, some of the most lucrative bonus bets on offer will come with pretty complicated terms and conditions, and might be beyond the scope of a beginner matched better – but this is exactly what the bonusmoney online community and forum is for
BonusMoney matched betting advantages
BonusMoney is a provider of Matched Betting educational and training material, matched betting tools and calculators, and host of an online matched betting community. I actually spoke to the team behind BonusMoney and grilled them for a couple of hours as I tried to wrap my head around both;
How to successfully do matched betting myself and;
Understand their business model.
It turns out both founders of BonusMoney seem to be living quite a relaxed 'FIRE' style lifestyle – perhaps they were inspired by Tim Feriss' 4 hour workweek or Denise Duffield-Thomas' Chillpreneur! Having an understandable disdain for the bookies, The Aussie/UK duo spend their days pretty much doing whatever they want and then placing fairly casual matched bets throughout the week – with a 'Rainman' like understanding of how matched betting works, these two are pretty much as close as you can get to retired for millennial's.
Seeking to share all of their insider tips and knowledge on how the game works, they created BonusMoney as a way to host all of their guides and calculators. They continue to grow their site and now have hundreds of pages and articles that are freely available on the topic of matched betting and helping you make your first matched betting profit. BonusMoney features include;
Matcha matched betting program (free downloadable)
The Odds Matcher meta tool
Matchfinder tool
Bet Finder tool
Over 10 unique matched betting calculators
Dozens of matched betting guides and free articles
Matched Betting Australia online forum
Lots of this content can even be accessed with no account or login whatsoever, but some of it will require you to sign up for their free account – and of course and some is only available with a BonusMoney pro subscription. You can make money without the BonusMoney Pro subscription without any issues.
I have used their matched betting calculator to calculate the ratios that I should be placing my back (main) bet and my lay (opposite) bet and estimate how much I can walk away with. For example, the Bonusmoney calculator below showed me exactly how I should structure my qualifier (initial bet) and then my bonus bets with the bookies.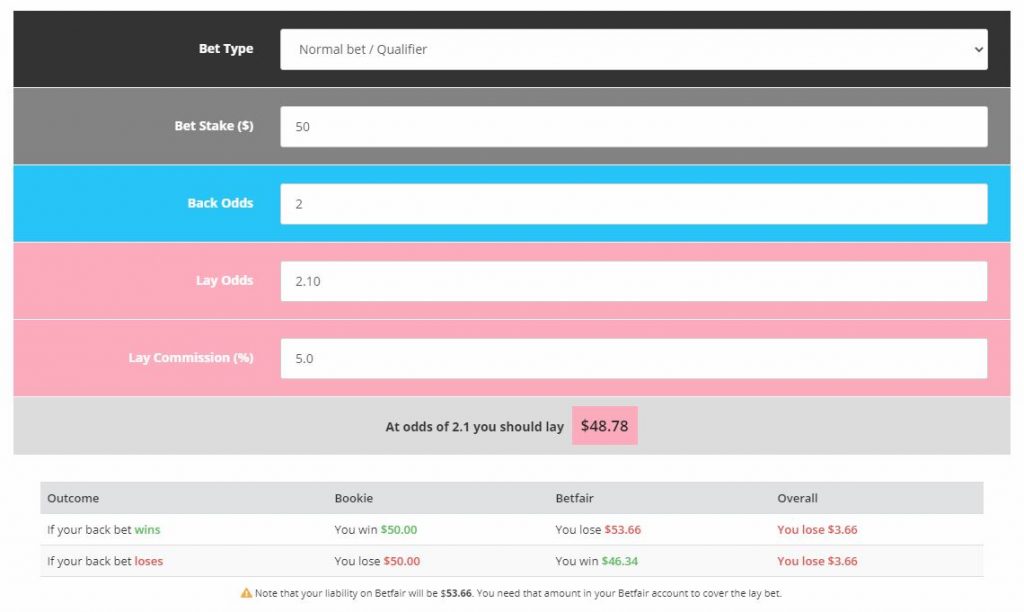 After making your qualifying bet and activating your account, you are then free to make your Bonus bets and begin your matched betting side hustle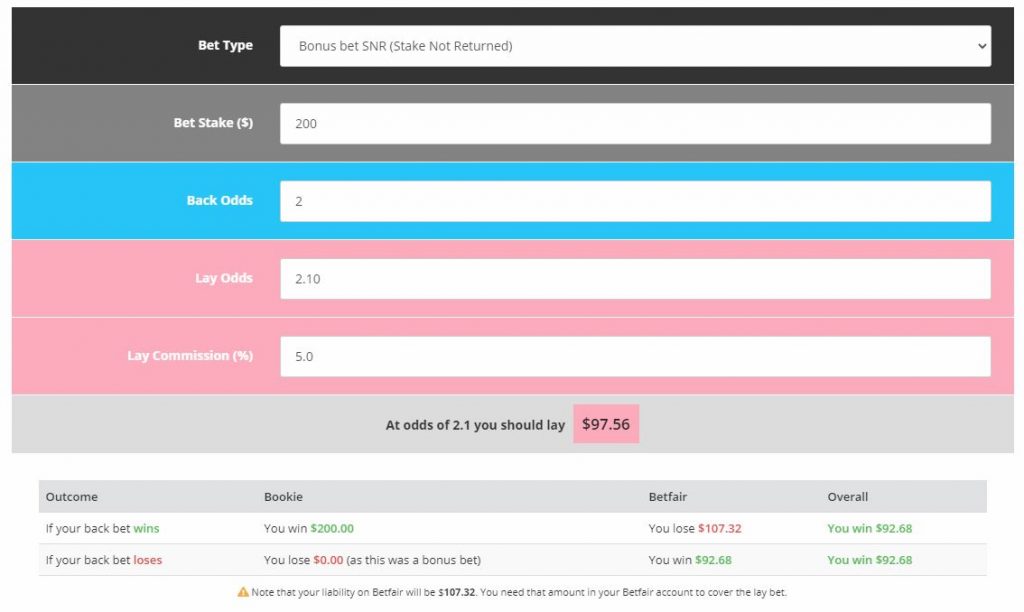 Matched betting with BonusMoney Pro
BonusMoney provide a premium subscription service for those that want to delve a little deeper into Matched Betting. Their Pro subscription (what I currently use as I learn more about the matched betting side hustle) currently costs $49 per month and unlocks all access to their site.
BonusMoney currently advertise that you get the following list with a pro subscription;
Hundreds of BonusMoney Pro Forum posts
Access to the Bonus Money Pro private Facebook group
Dedicated personal assistance for every bet
Advice to get the largest sign-up bonuses
Get every available bonus through access to detailed calendars
Make betting easy with advanced guides and tools
Take advantage with our Matcha horse racing software
Maximize your profits with our odds matcher
Advanced dutching calculator with live odds for all AFL, NBA, NFL and NRL games
Access to the most knowledgeable betting community in Australia
I have found that with my BonusMoney Pro subscription that I have got the most value from getting professional mentoring and coaching from the BonusMoney matched betting community, however I am looking forward to exploring some of their software
An interview with BonusMoney
I recently got to have a chat with Adam and Sam who are the team behind from BonusMoney. Adam and Sam built BonusMoney together, and both of them do not work conventional jobs and have enjoyed retiring early from the conventional workforce thanks to Matched betting and entrepeneurship.
How did you discover matched betting?
Back in 2004, I was working for a university assisting lecturers to help them make the best use of technology. I had a bit of spare time so I was looking at ways that I could make money online.
In the UK at the time the most influential person in the finance space was Martin Lewis the 'money saving expert'. His forum had a section called 'Gambling introductory offer loopholes'. It broke down matched betting to it's most simplest parts and explained the step by step process
Put simply, how does matched betting work?
Bookmakers make a lot of money, and each new customer has a potentially high life time value for them.
Because of this Bookmakers are eager to acquire and onboard customers.
They typically do this by offering free bets if you deposit with them (legislation came in 2019 that prevents bookmakers from advertising welcome bonus incentives but many bookmakers simply offer these after you have joined without advertising them)
So matched betting is a simple technique that allows you to profit from these loss-leading promotions
You place a bet with your free bonus money and 'match' that on a betting exchange with a lay bet. (A lay bet is a bet that means you win if the outcome doesn't happen)
This 'matched' bet means that no matter what outcome happens in the game you either win at the bookmaker, or you win at the exchange.
As you have only paid for one side of the bet (the other being a free bonus bet) you are guaranteed to make a profit
How many hours would you put into matched betting, and can you estimate an hourly dollar figure you would be able to make doing it?
You can put as little or as much time into matched betting as you like. Once you have understood the technique and get to the actual profiting part it is a great return of investment for your time.
You should make your first $1000 profit in less than 20 hours, so upwards of $50 per hour.
And the great thing is literally anybody can do this with zero experience of betting or numbers.
How has matched betting contributed towards you becoming financially independent?
Matched Betting has had the greatest impact on my own financial independence. I've never been one to enjoy the traditional job, so having a way to make additional money online has been amazing for me. There have been periods of my life where my sole income came from matched betting.
What are some of the risks of matched betting
The risks with matched betting are low, and if followed correctly the deposit bonuses are virtually risk free, but there is a chance of human error. Betting on different selections or betting incorrect amounts. These can all be mitigated with care, but they are still a risk.
Not so much a risk, but a fact worth presenting is that while it is possible to make a decent sum of money doing this ($10,000 is very achievable by anyone), the bookmakers don't like customers who are just taking all their promotional offers. If all you do is repeatedly play the promotions then in time they will send you an email notifying you that you are no longer allowed to use their promotions. This is kind of a badge of honour as it's the bookmakers acknowledging that you aren't profitable to them. But also receiving these emails does limit your profitability so if you are keen to make this a longer term thing it's worth taking steps to 'protect' your accounts.
Finally, while matched betting is not gambling, if you have experienced issues with gambling previously I would avoid getting involved. At the end of the day bookmakers are using these promotions to encourage you to gamble and if you feel that it may be an issue for you, then it is best to not even start. If you need help with a gambling issue there are services such as https://gamblershelp.com.au/ and investing a small amount of time in that would be the best investment you could do.
That's why matched betting is really best suited to people with zero interest in 'punting' as it's then viewed as a simple mathematical way of making money online rather than a way to win at gambling.
What are your top three tips when it comes to matched betting
Take your time and learn the concept before rushing in
Start by taking advantage of all deposit bonuses that are available to you to make your first $1000+ profit
Also get expert help to answer any questions, you can get this advice for free through BonusMoney.
How did you start BonusMoney and teaching people about matched betting
My cofounder and now close friend Sam was running a Facebook group educating people for free about matched betting. He was building up quite a following. Knowing that having a matched betting service makes a big difference to people's ability to save time and make money we embarked on finding a developer that could make this idea a reality. We lucked out in that we found a great developer within the community who has enabled us to build some unique and truly world leading software in the space.
Bonus Money was born and we've helped thousands of people to make money in this way
Where can people learn more about matched betting
Wikipedia has a great article explaining the concept https://en.wikipedia.org/wiki/Matched_betting
And of course we at Bonus Money are happy to teach anyone that is interested in learning more.
How do you choose to invest your money?
I invest most of both my time and money into businesses that I run, with the goal of helping people.
My greatest passion is the intentional use of psychedelics which I see having a massive role to play in the mental health of our society. So many people suffer from mental health issues, from PTSD, anxiety, depression & addiction.
Bonus Money allows me to help people to make money. But my bigger dream is to be active in the psychedelic space where I can help promote people's wellbeing and happiness. So many of my funds are being utilised in projects of that space that will bear fruit as the legislation around these medicines change in the next few years.
What are your top tips when it comes to becoming financially independent
Avoid personal debts, or if you have them then pay them off. I don't like the idea of your first part of your day being used to service debt. Then work at reducing your outgoings, especially on things that are your biggest expenses such as a mortgage, every cent you save is one that you don't have to earn. Next look at ways you can increase your earnings, so that may be in your employment or via side hustles.
While I feel financial security and independence is very conducive to a happy life there are also more important things. Be nice to your loved ones and people you interact with in your day, remain present and enjoy the moments you are experiencing now. Life is really about the journey rather than any destination.
Frequently asked questions about Bonus Money
Answers to frequently asked questions about Bonus Money
How much is bonus money taxed?
All profits from matched betting through BonusMoney is tax free, as the Australian government does not tax gambling winnings.
How do I make money with Matched Betting Australia?
Matched betting in Australia works by making two bets in order to extract bonus bets or bonus sign up offers given out for free by bookies to try and attract new customers. By following a mathematical procedure, you can walk away with risk free profit.
Is matched betting worth it?
Yes, matched betting can be worth doing as a side hustle, depending on how much you value your time
How to get free bonus bets?
You can get free bonus bets by signing up with new accounts to a bookmaker (bookie) or by making regular bets with your existing betting accounts.
How to make money from free bets?
You can make money from free bets by 'matching' a bet – for every lay bet you place a back bet on a betting exchange, or simply place two opposite lay bets on competing bookies.
How does a bonus bet work?
A bonus bet works by giving you additional capital to bet. There are often criteria about how it needs to be played before you can withdraw the bonus bet as cash. Bonus Money explain strategies for how bonus bets work and the best way to extract them.
How much money can you make from matched betting?
Depending on your ability, matched bettors can easily make between $20 to $50 online. Advanced matched bettors using horse racing can make in excess of $100 per hour.
BonusMoney is a great, honest business that helps you get started making more out of matched betting. I have found their detailed user guides pretty helpful especially since I have only just gotten started out and this has certainly allowed me to wrap my head around it faster.
I will add matched betting to my list of side hustle income streams, and look forward to reporting on how much I am able to make over my monthly NW updates.
If you are interested in checking out BonusMoney, head over to the site where you can sign up for free – if you use the coupon bonus code "CAPTAINFI" you can score yourself 25% off of a BonusMoney Pro membership should you ever decide you would like the professional features.
Further reading
Captain FI is a Retired Pilot who lives in Adelaide, South Australia. He is passionate about Financial Independence and writes about Personal Finance and his journey to reach FI at 29, allowing him to retire at 30.