If you want to get in touch with Captain FI, I would love to hear from you! I am passionate about personal finance and always interested to learn more – if you have an inspiring story, a particular skill, content or a product which you think would help people reach Financial Independence then get in touch.
The best way is to track me down is either via Email or on Social media – I do hang out there quite a bit, so feel free to follow me on socials below if you want to join the community. I post regularly in the Financial Independence Australia facebook group, as well as on Instagram, Facebook and Twitter, so follow or subscribe for updates and more of a glimpse into my personal day-to-day life.
Also… I know I suck at grammar and spelling. I appreciate all the help I get from the community, and one day I hope to know the difference between there, their, they're, your and you're…. so you don't need to write in to point this out, but I appreciate the sentiment.
CaptainFI on Social media
One of the best ways to contact me is through social media – I am on most platforms and have included my handle and links to my pages below. The best one is the Financial Independence Australia Facebook discussion group, which I actively post on and answer questions every day.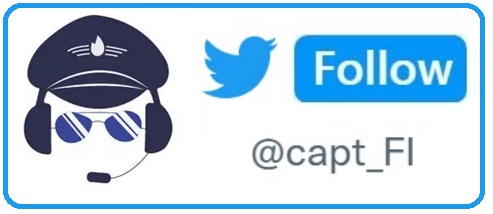 Question for the Captain?
If you have a question for the Captain, please check my FAQ section or try searching through all of my posted articles for the answer. If you can't find what you're looking for, please feel free to leave a comment on any post or get in touch through the contact form and I will try and get back to you when I can (please don't be disheartened if I don't get back to you straight away as I receive dozens of emails every day).
If you want to join a growing personal finance community in Australia, join the 'Financial Independence Chat Australia' group where you can instantly chat with thousands of other investors on their own FIRE journeys. I am also a little way too addicted to social media, so I regularly lurk this group and others, and can usually be contacted through social media channels.
Media Inquiries and Interviews of Captain FI
If you are interested in a media inquiry to interview or feature Captain FI, please be aware that I currently blog semi-anonymously and am currently not willing to publish my identity due to privacy and security concerns. I am happy to conduct interviews on the topic of Financial Independence, Personal Finance, FIRE, investing, side hustles, and saving. Check out my Captain FI About Me page for more information, including a detailed media interview and links to featured articles and media interviews I have done.
Collaborating with Captain FI
I'm open to considering collaboration opportunities so if you think you have a project that might be a good match, drop a line and get in touch.
Featured Interviews on CaptainFI.com and the Financial Independence Podcast
If you would like to be featured on CaptainFI for a featured interview then get in touch via this webform. You can complete the profile questionnaire which will automatically send to me – if you are a good match for my audience and the FI community, then you can be featured on the website or invited to come on to the Financial Independence Podcast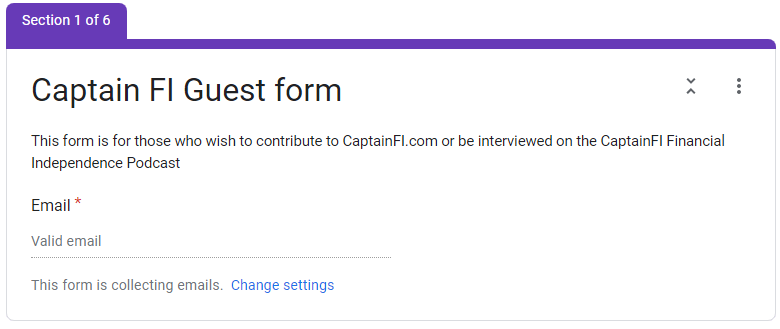 Successful entries would need to complete as many questions as they feel comfortable sharing about themselves, as well as be able to provide either a photo, logo or avatar for use on the interview. If you would like to work through the questions in your own time before getting them to me, I have listed them below (note the web form has got a bit more fidelity, including multiple choice questions, short response, and checkbox options.
A bit about you
Can I use your name or are you anonymous?
How old are you?
What is your marital status?
Do you have kids/family (if so, how old are they)?
What area of the country do you live in (can be as specific as you like)?
How was your childhood? Was your family wealthy, middle class or low-income?
How did you learn about finances and at what age did you "get it"?
Who inspired you to excel in life? Who are your heroes?
How do you think differently than the average person when it comes to money?
Do you have any favorite money tools or resources that you could recommend (books, podcasts, apps etc)?
Your working career
Did you pursue tertiary education (if yes can you please explain)?
What is your current job?
What is your annual income?
How have your earnings grown – What was your starting income, how did you grow this and where are you now?
Would you recommend people to pursue the same career path? Would you choose a different job if you could go back?
What tips do you have for others who want to grow their career-related income?
What's your work-life balance look like?
Do you have any sources of income besides your career, and what strategies have you used to fund your lifestyle?
Your Spending
What is your (your family's) annual spending?
Can you break-down the main categories this spending relates to?
Do you have a budget? If so, how do you implement it?
What percentage of your gross income do you save and how has that changed over time?
What is your favourite thing to splurge on?
What strategies have you used to reduce your expenses?
What do you use to track your spending?
Do you give to charity? Why or why not? If you do, what percent of time/money do you give?
Your Investing strategy and net wealth
What has been your investment strategy/philosophy?
What has been your best investment?
What has been your worst investment?
What's been your overall return?
How often do you monitor/review your portfolio?
What is your current net wealth?
What are the main assets that make up your net worth and any debt that offsets this?
How did you accumulate your net worth?
What has been the biggest contributor to your net wealth?
What has been the biggest detractor to your net wealth?
What are you currently doing to maintain/grow your net worth?
What money mistakes did you make that we can learn from?
How has your spouse or family impacted your net worth?
Your Plans
What are your FI goals?
Do you have a target net worth or passive income you are trying to attain? will you quit working when you reach this?
What are your retirement plans?
Are there any issues in retirement that concern you? If so, how are you planning to address them?
Life Lessons, Tips & Advice
If you had to do it again, what would you do differently?
Rapid FIRE questions!
What is your superpower and why?
What is your favorite travel destination and why?
What's something you can never live without?
What's the best piece of advice you've received?
How can we find you?
Do you have a blog or website?
Where can we find you on social media?
Finishing up
Is there anything I may not have asked that you would like to share with us?
Advertising on CaptainFI.com
I like to review competitive and useful tools for those on the path to Financial Independence, so if you think you have something worth sharing get in touch. Depending on whether it is an appropriate and relevant product or service I may be open to placing advertisements on the website, posts or shoutouts through social media and I also participate in select affiliate programs where I think there is benefit for my audience. I am pretty picky though, so if you would like more information please get in touch through the contact form below.
Email me here
Unfortunately due to the sheer amount of SPAM coming through the inbox, I have decided to deactivate the contact form that was able to email me directly. You can contact me via social media (listed above) and my team will forward any relevant emails or pitches.