This eBusiness Institute review considers whether the eBusiness Institute courses are good value for money and explores the various courses offered. Updated 3rd May 2022
eBusiness Institute Review: Can you actually make money online with Websites?
I receive emails and comments on the daily asking about the eBusiness Institute, asking if it is legit and whether you should do their courses. Whether you should do it or not is extremely personal and depends on your financial situation and goals – but hopefully this eBusiness Institute review helps you make that decision.
For me personally, I wish I discovered the eBusiness Institute long before I started in websites and blogging, as it would have saved me hundreds of hours of time and rookie mistakes, which translated directly to significant monetary loss. I have written this eBusiness Institute review to answer all of the frequently asked questions I receive, as well as provide an unbiased and thorough review of my experience taking the course.
Full disclosure – I am a paying student of Matt and Liz, and have completed all of their training packages bar the Champions high level mentoring program which I am currently undertaking at the moment. If you do wish to enrol in the courses, you can get a free trial using this CaptainFI bonus sign up link. Please note that this is a tracked affiliate link and I may be paid if you use this link, so feel free to use a non-affiliate link and google them directly if this bothers you.
The events of 2020 and 2021 have shown us that the world can be an unpredictable place, and having the security of an alternative stream of income or digital-based business has become even more important.

Liz Raad
Verdict: Matt and Liz Raad from the eBusiness Institute are legit, and their courses do work. You won't see results overnight though, and beginners need to commit at least an hour a day for 6-12 months to see results

FREE eBusiness Institute Digital Investors Masterclass – How To Buy & Renovate Websites For Passive Income
This website is reader-supported, which means we may be paid when you visit links to partner or featured sites, or by advertising on the site. For more information please read my Privacy Policy, Terms of Use, and Financial Disclaimer.
What is the eBusiness Institute?
First up, what actually is the eBusiness Institute? If you've already listened to my interview with the founders of eBusiness Institute, Matt and Liz Raad, then you'll already know that the eBusiness Institute is a training provider that teaches people how to build, buy, operate and sell profitable websites and digital businesses in order to make money online. This includes Adsense websites, Amazon affiliate websites and other specialised niche or blog websites.
The eBusiness Institute is a private digital education company that helps Australians upskill or retrain for the future with high-demand digital focussed skills. We offer a range of Digital Marketing Training courses, certifications and micro-credentials. Our courses are highly specific private training courses designed to retrain even complete beginners, and have been created by successful online entrepreneurs so you get certification in the most practical, money making digital marketing skills.
Matt and Liz Raad show you how to build these sites, combine them to build a portfolio, how to renovate or flip them for a profit, and finally how to run a digital marketing agency for local businesses. They focus on due diligence, SEO (search engine optimisation) and outsourcing as the three main pillars of successful (profitable) website operation.
"The key to success and what we understood right from the beginning is when you look for a website to buy, you're buying something that's answering a question or solving a problem. And that's the key to making money online, answer questions and solve problems."

Matt and Liz Raad, eBusiness Institute
The eBusiness Institute focuses on original content creation as a white-hat SEO technique to enable you to outrank your competitors and build organic traffic with high conversion onto affiliate links and other advertising.
As I've already mentioned, eBusiness Institute is run by Matt and Liz Raad who live in Brisbane, Queensland where they are raising their young family. Matt and Liz Raad are website investors, angel investors and leading educators in digital marketing, website design and website monetisation. They are recognised as the Australian experts in flipping websites. After getting to know them quite well I would describe them as honest, hard working, diligent and nurturing people, as well as one of the most impressive and dynamic business couples I have come across.

How I discovered digital business through the eBusiness Institute
I have a really interesting story regarding the eBusiness Institute. I actually started building websites as a side hustle with a friend who had actually done some of their courses. While my friend raved about the courses, being a bit of a tight arse I didn't want to invest the money myself, so I basically self taught myself a lot of these skills via YouTube, blogs and whatever information I could learn from my friend. I was already making a little bit of money online and using digital business as a side hustle, so I rather arrogantly figured I didn't need to undertake any of this training.
After attending one of their online seminars and learning more about Matt and Liz I became really interested in their business model and how they created websites as a way of becoming financially independent. I invited Matt and Liz from the eBusiness Institute to the CaptainFI podcast, and interviewed them for over an hour all about their history.
After I heard their story and learned about their business success, I was sold and spent the money to sign up to the course. I realised there was a heap of SEO (search engine optimisation) stuff I was either doing wrong or missing from my sites in my website portfolio. I have since watched every single piece of their content at least 5 times, and seem to pick up new gems each time. This has led to some massive gains in organic traffic to my websites, as well as monetization optimization which allowed me to nearly double the income my sites are generating within a couple of months – well and truly recouping the initial cost of the course.
I was initially hesitant to sign up to their courses due to the costs involved (which seem to be set deliberately as a way to weed out time wasters), however I am now seeing returns in excess of what I invested in this course every month as a result of the significant changes I made to my portfolio of websites. I started with the Digital Kickstarter, and then did the WebDev accelerate, Digital profits and finally the words of Wealth mindset program. The several guided strategy sessions and mentoring from Matt and Liz was amazing – they literally went through my sites with a fine-tooth comb – and I still have SO much more information from them to implement to my business portfolio to unlock more potential gains.
I was so impressed that I also signed up for their top level personal mentoring course (Champions), which is really challenging me and I'm learning a lot about websites and online business, sales, marketing, SEO and improving my mindset. Twice weekly live webinars, chats with Matt and Liz, strategy sessions, website renno's and Q and A's have helped me take my online business to the next level and have really helped accelerate me to Financial Independence.
FREE eBusiness Institute Digital Investors Masterclass – How To Buy & Renovate Websites For Passive Income
Matt and Liz Raad from the eBusiness Institute
Matt and Liz are experienced investors in digital business and technology companies and have grown a portfolio of website assets without ever borrowing money, or having to raise hundreds of thousand for deposits. They often get an impressive 30-100% cashflow return on these digital assets, and they have reinvested that cashflow into some of the highest growth companies in the market.
Coming from humble farming backgrounds, this couple actually met whilst studying at university and managed to spark each other's fire for financial independence. Dropping out of university in pursuit of financial independence, they learnt the harsh realities of the business world when they unwittingly invested their entire life savings into a failing manufacturing business! Neither of them being one to admit defeat, through hard work, sheer will power and at times a 90% savings rate, they were able to reinvest almost every dollar they made to turn the struggling business around into a profitable venture.
In order to never make the same mistake again, they educated themselves about due diligence and to prove it to themselves they even began buying and selling small businesses, scaling up as they went. Eventually, they found themselves in the corporate space of mergers and acquisitions for high net worth investors and business owners.

In doing this, they discovered the power and leverage of online business and how they could use them to escape the corporate world – and began building and buying their very own websites. Fast forward 12 years later, and today they have an incredible portfolio of online businesses and investments which is now generating a 7 figure passive income! Being true entrepreneurs, they are absolutely hooked on the game and admit that despite being financially independent that they will never 'retire early', and so continue to reinvest almost all of their earnings into a diversified portfolio of business, shares, gold and real estate.
They now live in South East Queensland where they are raising a family, giving back to the community as prominent angel investors, and are passionate about educating people about the power of investing and online businesses. When they aren't buying or selling websites or analysing potential investments, they run the eBusiness Institute teaching people how to do exactly what they did – using online business to transition out of a conventional job and reach financial independence.
Free eBusiness Institute Digital Investors Masterclass – How To Buy & Renovate Websites For Passive Income
This masterclass is designed to help you quickly learn what's needed for success in website business and investing and show you the solid strategies we and our clients have been using successfully for the last 10 years – based on our experience in buying and selling businesses and websites valued at up to $20 million.

Whether you want more passive online investments or to transition to full-time online income, this masterclass will give you a clear path to achieve those goals in the fastest simplest way.

Matt Raad, eBusiness Institute
Matt and Liz offer a free seven-part Digital Investors Masterclass to introduce you to the concept of How To Buy & Renovate Websites For Passive Income.
How You Can Start Buying Websites For Passive Income
A Way To Start Making Money Online With Little Or No Capital
Real Examples Of Websites We Have Bought And Sold – And How Much They Made
How You Value And Do Due Diligence On An Online Asset
How To Renovate A Website And Double It's Income – Including Your Own Business Website
How You Can Maintain & Grow A Website, Even If You Are Not Technical Yourself
If You're A Complete Beginner, How Long Will This Take?
Why consider starting an online business?
Here are some Answers directly from Matt and Liz Raad on why you should consider starting an online business;
Protect yourself from future job loss, Learn how to re-skill in the digital economy to create cash flow and digital assets.

Learn how to create leveraged ongoing income for your future WITHOUT having to invest in products or inventory, or manage deliveries, returns or product issues, and without ever having to talk to a customer or supplier.

Perfect if you are looking for a way to expand your investments, or get an alternative cash-flow asset than property or shares. And life-changing if are you stuck in a job or business that has no future, and you are looking for alternative sources of income.

Matt Raad, eBusiness Institute
Website Valuations are rising
In the 10 years we have been investing in websites, we have seen valuations gradually rising – but the pace is now picking up. But we're still at the beginning of the boom and we believe it has a long way to run yet – so there are still amazing bargains in the marketplace and its the perfect time to be getting into the market.
Rare Chance To Learn Matt & Liz's Strategy For Success
What websites should you buy? How do you know which one will work best? What are the signs of a website that is failing? How do you know if you are paying too much? This is your chance to find out how Matt and Liz pick the winners that can grow to become part of a successful, high cash-flow portfolio
Get Started The Smart, Safe Way
Even if you are a total beginner, you'll learn how you can get started with little to no capital and start generating online income with the right skills. Learn how to buy the smart, safe way and see how some of Matt and Liz's most successful students began with very little money and no online experience.
Traditional Jobs at Risk
Even 'Safe' Jobs At RiskTraditionally secure careers and sectors like law, accounting, insurance, administration, transportation, accommodation and travel are under high levels of change and digital disruption. Current reports predict that over 40% of Australian jobs will be lost due to disruptive technology and digitisation over the next 20 years.
Two Thirds of Students Studying For Jobs That Won't Exist
According to the Foundation For Young Australians, students need more digitally focussed education. More than 90% of Australia's current workforce will need digital skills to be able to perform their roles in the next 2-5 years
Online Business Skills Are Becoming Essential
If you are in business and don't have an understanding of digital marketing, you will probably be overcharged and under-serviced – making it hard to stay profitable and ahead of the competition
Learn Bankable Digital Skills
The key is to learn the digital skills that can make you money going into the future – whether through a safer job or career, through business, or through investment in online assets
Why consider studying with the eBusiness Institute?
Cutting Edge Content
Everything you need to know in today's digital marketing world – from website design and user experience to SEO, mobile marketing and social media – updated for today's marketplace
Practical Training
Not just theory – these courses are designed specifically to give you the skills that make money online. Get hands-on, bankable digital skills that work in the real world of online marketing
High Dollar Outcomes
Learn how to how to create money making websites for yourself and create a valuable online portfolio of cash generating websites, or become a valuable consultant with the digital skills to transform a business.
Fully Supported Training
You can also get yourself up to speed with our digital live training events, live webinars and the full support of our awesome team
e-Course 24/7 Study Flexibility
All our Digital Marketing courses are delivered as online e-courses so you can study anytime, anywhere at your own pace. No rushed deadlines or need to leave home. Perfect for distance learning.
Training packages from the eBusiness Institute
Matt and Liz offer a variety of training packages through the eBusiness Institute which range from beginner through to intermediate and advanced courses. They feature content that is heavy on blogs, content creation, due diligence on buying and selling sites, search engine optimisation, tips and tricks, traps to avoid (such as "black-hat" or dodgy SEO), and how to recruit, outsource and scale your business.
"Why are you wasting your time doing a $5 per hour job? Learn how to outsource and automate!"

Matt Raad
The courses follow a logical progression from free introductory courses, webinars and Q&A sessions through to intermediate and advanced training programs. If you want to learn how to buy and sell websites, check out Matt and Liz Raad's free training from the eBusiness Institute.
FREE eBusiness Institute Digital Investors Masterclass – How To Buy & Renovate Websites For Passive Income
The Digital Marketing Kickstarter program is a fast, easy beginners course that the eBusiness Institute runs to give you a quick introduction to valuable digital skills that you will need to buy, design, build, run and sell websites and digital businesses. It can be completed in as little as one day if you rush, but I would suggest taking it slowly and doing it over a number of days so you can really take the time to digest and implement what you are being taught.
The Digital Marketing Kickstarter program covers the following topics:
Module 2 – Entrepreneurial Data

Topic 1 – Purpose, Products, Promotions
Topic 2 – Customers, Competition
Topic 3 – Benefits, USP and Call to Action
Topic 4 – Essential Website Stats
Module 3 – Commercial Website Design

Topic 1 – 5 second rule
Topic 2 – Headlines, Images, Bullet Points
Topic 3 – Offer, Contact and Call to Action
Topic 4 – Responsiveness and UX (user experience)
Module 4 – Social media success

Topic 1 – Social Media Shortcuts
Topic 2 – 4P's of Social Media
Module 5 – Future Digital Trends
Kickstart Quiz (Assessment)
The most valuable lessons I took out of the Kickstarter program was all about social media success and some awesome shortcuts which have saved me a bit of time (including outsourcing some of it where possible). I like that there is a downloadable and printable worksheet to complete as you go along the course.
The WebDev Accelerator Program is what I would call the eBusiness Institute's 'second' introductory course, and I think it should be done after you complete the Digital Marketing Kickstarter program. It features slightly more in-depth information and is longer, but is still very much targeted at beginners as an introductory course. Each module contains a workbook to download and complete as you watch the videos.
"The WebDev Accelerator Program is an online course suited for beginners, with step-by-step video tutorials to turn you from a total beginner to knowledgeable in digital marketing and certified in website design."

Matt Raad
Who is Web Dev Accelerator for?
Web Dev Accelerator is tailored to beginners who don't know a lot about online business or building websites, but that want to learn new digital skills to earn an income online. It is great for students looking to get into an online career, or for someone wanting to change careers. It is also appropriate for start-ups and business owners who need to build a website for their business and want to generate leads and present themselves professionally online, without paying thousands for a website.
Who is the Web Dev Accelerator course NOT for?
If you already know how to build websites, are familiar with WordPress and are already making money from your website, then Web Dev Accelerator probably won't teach you anything new.
Module 1 – Prepare for Launch

Topic 1 – Goals and Purpose
Topic 2 – Products and Benefits
Topic 3 – Customers and Competition
Module one – prepare for launch is focused on unpacking some of the factors and frameworks you should understand before creating your website – for example understanding the reason for doing so, understanding why, and then conducting due diligence into products and services to understand where the value chain lies and how your website will fit into this landscape in order to maximise your potential sales.
Module 2 – Accelerated set up

Topic 1 – Domain names and Hosting
Topic 2 – Essential Accounts
Topic 3 – Introduction to WordPress
Module two – accelerated set up is all about getting the basics sorted. This includes explanations on how websites run, how they are hosted, registering domain names, where the files sit, how to interact with files using cpanel. These concepts are explained well with diagrams and worked examples, and recommendations are given on services like hosting providers, free tools and where to find help such as hiring a techie.
Module 3 – Shortcuts for SEO

Topic 1 – SEO essentials
Topic 2 – Keyword research
Topic 3 – Competition research
Module three – shortcuts for SEO are all about search engine optimisation to improve your chances of ranking on the first page of search engines (like Google, Duck Duck Go and Bing) – called moving up the SERPS (search engine results pages). By following the plain-speak and basic 'white hat SEO' essential tips and tricks in module three of web dev accelerator, its more likely your website and content will rank, providing a source of organic traffic (page visitors) to your website.
Module 4 – Super fast site mapping

Topic 1 – Creating a sitemap
A sitemap is a layout or structure for your website – just like a blueprint or diagram for a physical machine or building. The sitemap makes building your website easier, and module four explains how to draw up your sitemap using their proven site layout template and theme – you basically just have to fill in the blanks (and your ideas of text, images and data) to create a professional looking website.
Module 5 – High performance home page

Topic 1 – Essential elements
Topic 2 – Home page layout
The home page typically gets the majority of visitors, and it can be a place where first impressions count. Matt and Liz explain in module 5 – high performance home page that you have only a few seconds to impress their visitors otherwise they will 'bounce' off your site (click back or close the tab). Module 5 teaches strategies to design an eye catching homepage to hold peoples attention and draw them into your site and your 'CTA's (call to actions – such as 'Get a FREE quote' by ringing this number)
Module 6 – Guided website build

Topic 1 – Initial setup and Settings
Topic 2 – Adding plugins
Topic 3 – Theme, Homepage and Content
Topic 4 – Compliance pages, Header and Footers
Topic 5 – Blog, Posts, Categories and Tags
Topic 6 – Security and finishing the site
Module six, the site build express is where Matt and Liz bring all the lessons so far to build a simple, functional, powerful wordpress website that is easy to SEO optimise and grow. Easy to follow tips allow you to create your website the correct way, in simply a matter of hours you will have your very own site live.
Module 7 – Making Money from websites

Topic 1 – Local business strategy
Topic 2 – Automated Portfolio Strategy (PS. This is the strategy that I personally use for my website portfolio)
Topic 3 – Buy and renovate website strategy
The final module talks more about the business strategies for monetising websites, tips on how to use these strategies and how they can complement each other. I personally go for topic 2, which is the automated portfolio strategy.
How long does WebDev Accelerator program take?
I think you could easily power through it full time within a week, however it would be much better to take it slow, and work through this over several weeks to a month, digesting and unpacking the information and following the worked examples on your own website alongside the videos – that way you aren't just listening and watching the videos, you are actually doing it alongside in real-time and can pause, rewind etc when you need more clarification.
If you are looking to do WebDev Accelerator part-time and are able to commit to one hour per day, at least 3-4 times per week, you should be able to complete the course within 6 weeks.
Summary of WebDev Accelerator
The WebDev Accelerator program is all about building a cash-flowing website, with the aim to create a site worth thousands of dollars which you could actually sell on flippa if you wanted to at the completion of the course. This course teaches you how to build profitable sites that rank on Google and get traffic, and is perfect if you want to create a digital agency to build websites for local businesses as a way to generate immediate cash flow, or if your timeframe is longer – to hold onto the sites and create a portfolio (called portfolio sites – this is what I do and currently hold a portfolio of websites, and am wanting to buy more). Full time it can be powered through in a week, but a more realistic time frame to fully absorb the information is to work part-time over 4-6 weeks.
This is hands-down one of my favourite courses from the eBusiness Institute. So much of business and entrepreneurship is actually all about mindset. When it comes to personal finance, we know it is only 20% knowledge but actually 80% behaviour (like in Pareto's Law) – and behaviour comes from our mindset. The Words of Wealth program was something I really connected with, and getting advice from Matt Raad as a role model and someone I look up to as an advisor and mentor was a really positive experience.
Module 1 – Intention
Module 2 – Beliefs
Module 3 – Growth
Module 4 – Confidence
Module 5 – Discipline
Module 6 – Focus
Module 7 – Focus
Module 8 – Community
Module 9 – Acceptance
Just be advised, this isn't a 'passive course' and it was quite challenging working through some of the self reflections. This is a short course, however you will need to commit to and take it seriously, and it may push you out of your comfort zone and force you to face a lot of confronting aspects of your personal life. I felt personally attacked at times (haha), but overall I think I came out all the better for it, and it is something I will be redoing on a regular basis.
Digital Investors (also called Digital Profits) is the eBusiness Institute's intermediate-level training program, and is a treasure trove of information. In addition to video content that took me months to properly watch, rewatch, understand and extract every little bit of information, they provide valuable spreadsheets, documents, worksheets, cheat sheets and even access to their own tech support for finicky behind-the-scenes website stuff.
This course focuses more on the strategy of buying and renovating a website to either hold in your portfolio or sell. It covers the due diligence required to ensure you don't buy a lemon, and of course how to maximise your profits on sale. Matt and Liz draw from their extensive experience in mergers and acquisitions and apply this industry knowledge and experience to the digital business arena.
But don't stress! It's still quite beginner-friendly and you could easily jump straight into it, although my advice is to complete the courses in the order I have listed them here in this eBusiness Institute review (i.e. Digital Kickstarter, WebDev Accelerate, Words of Wealth and then Digital Investors).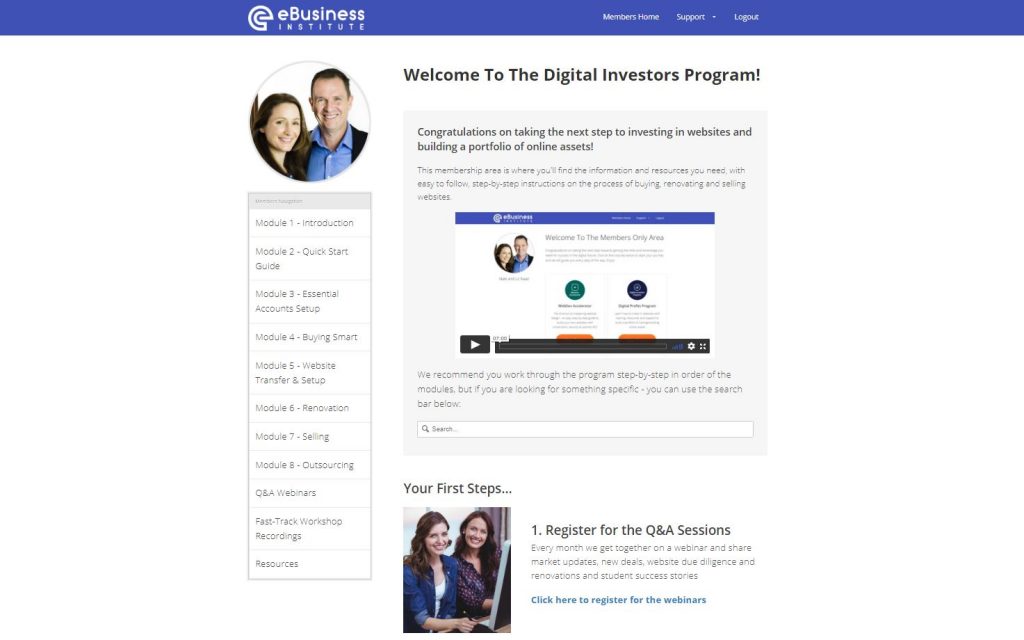 Who is the Digital Investors program for?
The eBusiness Institute Digital Investors program is for anyone who wants to build semi-passive, automated income streams from online businesses and not have to trade their time for money like in a conventional job. I think its PERFECT for those on the path to FIRE, who are looking for a learning opportunity into a high quality side hustle which can evolve into providing a full time income.
Digital Investors is great for those who have had some experience in the workforce, who understand the difficulties of traditional employment, who have a basic knowledge and understanding of finance and investing, and especially those who maybe have had a go at a few side hustles but who are seeking more novel ways to create income streams that don't require as much time.
Finally, I think its suited for those looking to diversify their investments and plan for their financial future and retirement. Websites are a form of online business, and one of the three conventional pillars of wealth (Business, Shares and Property). Understanding alternate forms of investments is a great way to diversify your wealth portfolio, and reduce overall risk. Building a successful site means you have created an online asset that can provide you a level of cash flow that you could get from other asset classes such as shares or property without such a large level of capital investment or risk.
Who is the Digital Investors Program not for?
The Digital investors program is not for anyone who thinks they can do the course and hit FIRE straight away. It is NOT a get-rich-quick scheme, and it will likely take 12-18 months or more for your brand new website builds to start ranking, getting traffic and making money. Whilst buying and renovating websites to make money can be quicker, I am dubious whether you could replace your income for at least 12 months – you really need to understand the lessons and practice the strategies on starter sites before investing larger amounts on buying websites. It really follows the crawl-walk-run methodology, and if you can't commit to this process and give it the time it deserves, then you probably shouldn't be doing Digital Investors.
If you are already operating multiple websites, making several thousand dollars per month profit from your automated website portfolio, digital agency, or from buying and selling websites, then you might want to look at applying for the champions program instead. They do limited intakes around August, and you can skip down to read more about it below.
The Digital Investors Program contains the following:
Module 1 – Introduction

Topic 1 – Strategy and Valuation
Topic 2 – Shopping lists and Golden Rules
Module one is the overall strategy session, where Matt and Liz Raad explain how to create and or buy sites for your portfolio, how you can renovate them, where to look for value in listings, buying strategies and shopping checklists and the rules of thumb when buying websites.
Module 2 – Quick start Guide

Topic 1 – Buying your first website

Topic 2 – Introduction to WordPress
The quick start guide is a rapid recap on WebDev and goes through exactly how to buy your first starter site (i.e. the one you will learn on, and most likely crash, trash and have to recover and fix!), how to transfer it to your ownership and how the websites are built using the WordPress open-source (free) website building software.
Module 3 – Essential Accounts set up

Topic 1 – Hosting and domain names
Topic 2 – Essential accounts list
Topic 3 – Account setup tutorials
Basically, module three walks you through all of the different accounts and tools you will need to find, evaluate, value, buy, manage, grow and monetise your websites. It explains what the tools are, how to set them up, pros and cons between some, and compares paid vs free tools you can use.
Module 4 – Buying smart

Topic 1 – First sweep analysis
Topic 2 – Niche evaluation
Topic 3 – Due Diligence
Topic 4 – Negotiation and Payment
This is a large module. This covers how to find websites, filter out the crap, actually analysing whether the seller is being truthful (due diligence – just like buying a property), understanding the topic (niche) and whether it is worth going into and how you will plan out your future content plan, determine some of the risks involved, how the website is performing as a business and quantify them into a dollar value to work out how much you should pay for a site. It provides tips on negotiation and getting the best deal, as well as safety and security tips when paying for a website and receiving the logins and files.
Module 5 – Website Transfer and Set up

Topic 1 – Website Transfer process
Topic 2 – Updating nameservers and emails
Topic 3 – cPanel, Affiliate links and Analytics
Module 5 covers the three stages of website transfer from the seller to you the buyer, ensuring everything is in your name and accounts. This is critical to ensure you have full ownership and control of the asset, and to ensure you are credited for any profit the website is making by ensuring things like online sales, and advertising and that the affiliate links are credited to your account, as well as setting up analytics so you can gather information and data on how to grow your online business.
Module 6 – Renovation

Topic 1 – Website setup checklist
Topic 2 – Renovation action plan
Topic 3 – Increasing conversions
Topic 4 – Increasing profits
Topic 5 – Increasing traffic
Module six is one of the best value topics you can cover. It provides Matt and Liz's unique strategies and checklists to increase the function of a website – improving user experience, growing traffic, and increasing conversions, sales, and profits for the business. A renovation action plan is created, and then executed.
I must admit, I didn't pay much attention to module 7 as I rather arrogantly thought to myself, I am going to buy, build and hold these websites forever as long as they can make me money. But going back recently to rewatch, module 7 is all about preparing your websites for sale, and then selling them for top price. My additional advice is to enlist the help of a website broker, to get you the maximum sale price.
Module 8 – outsourcing is the single most important module and lessons you will ever learn. This covers how to leverage your time and money by effectively outsourcing and delegating using the MRAAD rule of thumb – Maximum Return Activities, Automation and Deletion! This covers what why we outsource, what we can outsource, how we outsorce and how we can find an outsourcer or contractor to do the work for us – including the most important interview questions to ask. Matt and Liz provide templates you can use to post a job on places like Freelancer and Upwork, as well as ways to obtain sample work, assess competence, and a confidentiality legal agreement you can get your outsourcers to sign.
Fast-Track Workshop recordings
Digital Investors Fast track workshop
The fast track workshop is a condensed version of the Digital Profits (Digital Investors) program, which are recordings of the Digital Profits fast-track workshop. This is great for time-poor people or if you want to reinforce some of the major lessons from the Digital Investors (Digital Profits) program, but obviously can come across as a bit repetitive if you've already done Digital Profits. I would highly recommend doing it anyway though.
Digital Investors Q&A
The Digital Investors Q&A webinars are recordings of the live Q&A webinars, which include live due diligence reviews, website analysis and website renovation reviews. You can actually participate in these monthly, and it's a great way to network, get inspiration and content ideas, keep up to date with the latest tools, trends, tactics and procedures or simply to ask Matt and Liz a specific question in front of everyone. I would highly recommend watching every one of these as you pick up new gems each time, as well as get valuable answers to questions submitted by other students.
Summary of the Digital Investors Program
Digital Investors (also called Digital Profits) is the eBusiness Institute's intermediate-level training program, and is the real heart of the eBusiness Institute training programs to set you up for online success. It is a treasure trove of information -in addition to video content that took me months to properly watch, rewatch, understand and extract every little bit of information, they provide valuable spreadsheets, documents, worksheets, cheat sheets and even access to their own tech support for finicky behind-the-scenes website stuff.
The goal of the DI program is to educate you with the skills you need to create an online business that produces you with thousands of dollars of semi-passive, automated income every month. Whilst this is not a get-rich-quick scheme, if you commit to the program and do it correctly, over several years you will learn a valuable skill set and be able to grow a portfolio of sites that will help you reach Financial Independence.
The 3 Day Digital Investors Workshop with the eBusiness Institute
Matt and Liz read host the 3 day digital investors workshop which is usually held in the third week of August. It is possibly the largest website investment conference in Australia, held in Brisbane and regularly attracts over 1000 attendees. Due to CV19, physical in-person conferences have become tricky so they have taken a lesson from their own book and gone online!
The three day digital investors workshop is three full days of intensive website investment training, featuring dozens of industry experts and guest speakers to cover everything from buying, building, renovating and selling websites, behind the scenes tech, business structuring, hiring outsourcers, business strategy and mindset.
I have attended 3 x the 3 Day Digital Investors workshop, and one of most valuable things I took away from it was the networking opportunities- being able to link in with like-minded entrepreneurs and web masters and being able to work together on projects such as guest posting to mutually benefit and grow all of our websites.
It is only during the end of this 3 day workshop (and after completing Digital Investors) that you can lodge an expression of interest into the champions 12 month high level mentoring program.
The Champions program is the eBusiness Institute's highest level training and mentoring program. It is an invitation-only custom mentoring program that has one intake around mid August. I always said to myself once my website portfolio turns over $10,000 per month then I will sign up to it. I know this sounds like a bit of a chicken-or-the-egg scenario, and the whole point of the champions program is to ACTUALLY GET your websites to the point of producing significant income, but being on the path to financial independence makes it a hard choice to invest a significant amount of money and time into it.
However, to put it in perspective, I have already recouped the money I have invested in the Digital Profits program by implementing all of Matt and Liz's advice (which resulted in a significant increase in traffic as well as better monetisation strategies). This did put me on the fence as to whether I should sign up to the course – however since I reached my milestone of semi-passive business income ($10,000 per month) I took the jump and have signed up and am participating in 2021/2022.
I don't want to comment too much as I haven't actually done the full Champions course, however I have a close friend who has completed the Champions mentoring course, and who was so impressed with it that he signed up for another year. He tells me the most valuable part of Champions is not the content, but rather the networking and mentoring opportunities, allowing him to be connected with people, services and businesses he needed to scale his digital agency and ultimately, which allowed him to quit his full time career as an engineer to focus on purely websites and running his new digital marketing agency.
You can't actually sign up to this program directly, as it is exclusively reserved for only certain graduates of the Digital Investors (Digital Profits) program. Matt and Liz are actually really picky over who they let into the Champions Program – you will need to submit an application to join and they will not let you enrol unless you have successfully graduated from Digital Profits and have started a portfolio of well performing websites. In the past there was actually an in person interview after attending the live events, but these days due to COVID this is all held online. I think this is great because firstly it reduces any time wasters, but secondly it is also for your protection and makes sure you are the right person for this program – in essence they aren't letting you go to Uni without finishing the digital profits high school first.
I think Matt and Liz are picky about who they let into the course because they really want the right type of person. For example, someone who is a whizz at websites but who has a bit of a poor mindset and wont turn up or put in the effort probably isn't the kind of person they are looking for, so they wont be let in. Wheras someone who is a lot more junior and who perhaps doesn't have a lot of skills or experience in the area but who is disciplined, and committed to turning up every week and just focusing on consistent 1% improvements every day, then that person is going to get approved.
I can't really talk much more about it than that, as I've actually signed a Non Disclosure agreement to not discuss contents of the Champions course because it is confidential / commercially sensitive material – basically they don't want me taking their Intellectual Property and giving it away to everyone on here for free, and to be honest I have probably said too much already. But so far I am really enjoying the course and learning heaps – at this stage, I am three-quarters of the way through, and still loving every session. But as my friend found, the most valuable thing I have gotten out of it is the networking and support from Matt and Liz and the community.
Live events with the eBusiness Institute
The eBusiness Institute host several live events throughout the year. Due to complications with Covid-19 and not being able to host physical seminars, a lot of these have gone online. This is actually where I started to pay more attention to the eBusiness Institute, after going to one of their three-day online seminars. I learned quite a bit on this three-day seminar, and it really piqued my interest leading me to actually sign up to the digital profits program.
Critics of these seminars have rather cynically categorised them as just spruiking for the eBusiness Institute, to try and get you to sign up to either the Digital Profits program (intermediate) or the Champions program (advanced) to make money. Initially this was kind of what I thought too as I do generally have a bit of healthy skepticism about what I read online, however after learning more about Matt and Liz and how the eBusiness Institute works, my personal opinion is that they are two genuine people sharing their passion about helping others. Matt and Liz reached financial independence decades ago, and only continue to run the eBusiness Institute because it is their passion and they are totally hooked on digital entrepreneurship – it turns out they actually donate a significant amount of their time and income as prominent Angel Investors. They are also pretty humble people and don't blow their own horn or publicly advertise donations (because they aren't looking for Kudos or approval).
Why do Matt and Liz Raad Run the eBusiness Institute?
I believe that Matt and Liz Raad truly love teaching, and have a passion for entrepreneurship and online business. I can see how enthusiastic and passionate they are during every online class, and they really get a kick out of hosting the live events. During a recent live event for the CaptainFI audience, Matt was asked "If you reached FI then why do you continue to work" and his response was pretty simple and really resonated with me. I have actually interviewed Matt again for the CaptainFI podcast, and I posed that question to him again so we could all listen to his response, but it basically boils down to;
They are passionate about online business and education.
They are entrepreneurs and want to grow their business as much as possible.
They want to change as many lives as possible.
They love the social interaction they get through the eBusiness Institute.
They can't "Do nothing" – this would "Drive them crazy" – the eBusiness Institute gives them framework, structure and purpose.
How I found training with the eBusiness Institute
I like the way the eBusiness Institute run their training packages. It is all done via distance, over the cloud. The content is primarily in the form of self-paced online guided training videos, as well as downloads such as worksheets, guides and other instructions. This is a massive plus for me as I am generally pretty time poor, so being able to access and complete this at my own pace was a massive plus for me – I would never be able to attend the live workshops or seminars due to working full time and long hours.
I am also typically a predominantly kinesthetic learner – I have to learn by touch, feel, seeing and doing. So the usual 'writing style' blogs, books or ebooks are not my preferred technique of learning. The videos actually show step-by-step guides and Matt and Liz put up 'over the shoulder' videos and screen recordings where they show exactly what they are talking about. It's all done in an instructional video that you can pause, rewind and rewatch.
For example, when talking about keyword research and SEO, they show the exact tools they are using and how to set them up and all the little tips and tricks and 1%ers and timesavers. This was super important for me as I am a really practical guy so I wanted to follow along in real time by dual screening with their tutorial videos on one screen, and my blog and tools on the other screen.
The other huge benefit is the interactive community on their Facebook pages, where if you get stuck you can simply post and usually someone who has experienced the same issue jumps in straight away with recommendations. I use these two forums A LOT, and it saves me having to go to my techie every single time, as often it can be a really quick fix.
The champions program has been great because of the accountability aspect, it is live, twice a week (depending on whats going on in the world and M+L'z lives) and they provide challenges and homework to go through. It has been awesome scaffolding for me leaving full time work as it has provided some sense of a structure or timeline, and its been something challenging and fun to do – from website build challenges, guest posting, public speaking and networking. It has taken me out of my comfort zone but helped me develop my skills as an online entrepreneur.
Feedback from other eBusiness Institute Students and Graduates
The eBusiness Institute typically gets great student feedback, both from current students and graduates. The following is some awesome feedback from recent graduates.
"Thank you Matt and Liz for everything you have done for me. The skills I have learnt in this program has opened my eyes to world of possibilities. From a mine worker to owner of a digital agency. Funny where life takes you when someone gives you the tools to take control of it!"

Chris Dinham, Perth, WA. FIFO mine worker to Digital Agency Owner.
I have retrained as a website designer in my mid 40's. I now have my own digital agency and am President of my local business networking group. I'm looking forward to the big sell-out in 5 years and will hold onto my portfolio of purchased and bought sites.

Amanda Steele, Melbourne, Vic. Now Works From Home Digital Agency Owner:
The information I am learning on this course is priceless, it has already helped me change my life dramatically. From customer service/admin (being tied 9-5 life and the work phone) to becoming the companies digital marketing consultant, earning a sweet pay-rise and choosing my own hours – all in the space of 1-2 months!

Despina Gavoyannis, Byron Bay, Northern NSW
This is an extremely well thought out, highly structured program delivered by two very experienced and talented educators, trainers and leaders.

Malcolm Grenness, Hobart
Technical support from the eBusiness Institute
Technical support from the eBusiness Institute has been great. I had a couple of bugs initially and got locked out of my account, and thankfully Toni from their technical support team was able to troubleshoot. They answer emails to the support inbox fairly quickly, although it is difficult to get a phone number to contact – often they will call you back if you have left a support form or request to technical support but this is always from a private number (from my experience).
Community support from the eBusiness Institute
Another very valuable source of support from the eBusiness Institute comes from their private and confidential Facebook groups which I talked about earlier, which they will add you to the respective ones depending on your tier of membership. I have found these to be full of insightful discussion, and people will respond almost immediately. Currently, the Digital Investors group has over 1100 active members who will provide feedback and support, and are generally open to things like collaboration and guest posting.
Price of the eBusiness Institute courses
I will endeavour to keep this up to date, however these obviously are subject to change. As far as I am aware the pricing structure is (in AUD $)
There is a 30 day no questions asked full money-back guarantee if you decide these courses arent for you. Which I think is pretty cool and just goes to show the genuine nature of Matt and Liz Raad and the eBusiness Institute. Clearly, you could take advantage of this, do the training and seek a refund, but I would guarantee you there is so much more value to be found in being an active member of their community rather than just doing the dodgy.
Special Offer for CaptainFI readers
To provide some more Value to encourage people to sign up to the courses, Matt and Liz are offering a few bonuses for CaptainFI readers who sign up to the Digital Profits program by basically chucking in a heap of freebies and access to their other courses when you buy Digital Investors. This is copied directly from their website, but you will need to check here whether these are still available;
BONUS #1 — WebDev Accelerator Program

Learn how to build your own website in one day that you can sell to a local business for $1000+ or keep to build your portfolio for free.

BONUS #2 — 5-Year Access To All Inclusions

Get 5-years of access to the Digital Investors Program including all the materials, updates, resources, monthly Q&A webinars with Matt and Liz and even the support and deal-check calls.

BONUS #3 — 4x Calls With Your Own Private Coach

You get 4 calls with your own dedicated coach so you never feel like you're alone on this journey of making passive income a part of your life.

BONUS #4 — 1x FREE Pass For A Family Member

Give a family member the gift of a $4,475 Digital Investors Program that will teach them the digital skills to become independent and set them up for a successful future.

FAST ACTION BONUS — 2x Private Sessions With Matt or Liz (LIMITED TIME ONLY)

Get two private sessions with Matt or Liz to look over your website deal, big or small. Whether it's your very first buy or it's a big website purchase, you'll feel safer and more confident knowing an expert has checked out the website before you buy.

eBusiness Institute – Bonus special offer
FREE eBusiness Institute Digital Investors Masterclass – How To Buy & Renovate Websites For Passive Income
Conclusion
As I said earlier, I wish I'd known about the eBusiness Institute earlier in my blogging and online business career. I feel like I would have saved a tonne of time and beginner mistakes.
To summarise the training programs from the eBusiness Institute:
The WebDev Accelerator course shows you how to design and build professional websites.

The Digital Investors Program shows how to start buying, renovating, and selling (or keeping) websites for passive income.

The Champions Program shows you how to grow and scale a digital business using systems, teams and automation, whether you want to start an agency or build a large website portfolio that pays you passive income for as long as you own the assets.

eBusiness Institute
I was initially hesitant to sign up to this course due to the costs and time involved, however I am now seeing returns in excess of what I invested in this course every month as a result of the significant changes I made to my portfolio of websites, thanks to the course and several guided strategy sessions and mentoring from Matt and Liz where they went through my sites with a fine tooth comb – and I still have SO much more information from them to implement to my portfolio to unlock more potential gains. I feel like there isnt enough time in the day, especially when I am trying to achieve a work/life balance and maintain Financial Independence!
I have now got a portfolio of 19 different content websites which I make semi-passive and scalable income through Amazon Affiliates, Google Adsense, Managed Ad Networks, Advertising, Guest posting, Sponsored content and bespoke affiliate programs. As I have scaled and created new sites, I have followed Matt and Liz's teachings about outsourcing and built a trusted team to help build and run my sites, in particular paying writers to produce content – which I would never have been able to do alone since 19 websites is a lot of content!
Remember though, its not a get rich quick scheme. It takes a serious commitment and there is time you need to commit to learning the syllabus, watching all the videos, attending the webinars, completing the assignments, following through with your accountability calls and of course actually putting the stuff into practice and building the websites (or getting them built via an outsourcer). Don't be under any illusions – this takes time, effort and money. The less time or effort you put in, the more you will need to pay outsourcers, and vice versa. However, the mindset shift I have personally learned has been life changing specifically regarding outsourcing and building a trusted team.
If you're interested in a career making money online, then I'd highly recommend checking out their courses. Start with the the free eBusiness Institute Digital Investors Masterclass to see if it's the right fit for you. If you continue on and decide to pay for the subsequent courses, I think you'll find that provided you put the effort in, you'll recoup your costs if you follow the course guidelines and information. Although like anything, there is no guarantee and you will only go as far as you take yourself. So don't expect miracles – but if you turn up, but the effort in, and just focus on the 'Reps, Reps, Reps' like they teach, then amazing things will happen for you over time.
Remember – many people start a website or online business and then give up when they don't see instant results. Well that is NOT how the internet works, it takes time to build a successful website, and to rank in search engines and get traffic. Matt and Liz are great in that I think they do a really good job of communicating and teaching this, and they have been really helpful for me in answering questions and helping optimise my site, but the most important thing I have gotten out of this course by far is the abundance mindset, the requirement to think long term, and the motivation to just keep turning up, keep producing great content, and to always think of the reader first! Signing up does and doing the course doesn't guarantee performance – only you can make that happen.
If you've got any more questions, don't hesitate to reach out to me! There are a bunch of us website developers and eBusiness graduates lurking in the Financial Independence Australia group if you get stuck.
FREE eBusiness Institute Digital Investors Masterclass – How To Buy & Renovate Websites For Passive Income
Next upcoming free eBusiness Institute live webinar and Q&A session
The next upcoming free eBusiness Institute live webinar and Q&A session is TBA
This opportunity is for anyone who missed the first one a few months ago. The last session was absolutely incredible, because we had nearly the full 1000 registrations the post-webinar Q&A went for hours, in the end we had to finish up because it was so late, we were exhausted and lost our voices
This will go for a couple of hours and provide an overview of the different techniques and strategies (such as local business sites, portfolio, affiliate marketing, rank and rent and directory strategies) and finish with a decent Q&A with everyone afterward where you can ask anything you like.
Last time was pretty cool it generated so many raw questions about Matt and Liz's business and journey we actually ended up recording a podcast about them which I'll be releasing soon. For more info and context, you can head over to the blog to read two of my most relevant articles about this;
1. Making money online – https://captainfi.com/make-money-online
2. My eBusiness institute review (review and experience of the eBusiness Institute) – https://captainfi.com/ebusiness-institute-review
I am not being paid to promote this, but please just be aware obviously M+L will be promoting their course during the webinar and they do have a rather persistent email marketing system which some find a bit aggressive. There is a load of awesome information and strategies presented that they give away for free, and there is of course no obligation to sign up for anything, but they will obviously be wanting to promote their course in exchange for giving away all the info.
Limited spots available, register seats here for the FREE live webinar and Q&A session: https://ebusinessinstitute.com.au/ref.html?p=CFI&w=diw1p