This eBusiness Institute review considers whether the eBusiness Institute courses are good value for money and explores the various courses offered.
eBusiness Institute Review: How to make money online with Websites
The Good
Step-by-step guides with multiple worked examples, plus plenty of worksheets, checklists and other downloadable content
Distance learning syllabus – can complete at own pace
Access to network of trusted, tried and tested resources, support services and outsources – Matt and Liz go over and above to help their students, including personal phone calls to check progress and keep you motivated
Extremely comprehensive – covers EVERYTHING you could possibly need to know about websites, SEO and due diligence in one easy to access place.
Beginner, intermediate and advanced courses means this is appropriate for everyone from first time starters to those with experience
The Bad
There's a cost investment – both to pay for the courses (but you'll make that back in earnings when you get your sites up and running!) as well as to invest in either building or buying a starter site and using paid tools and outsourcers
Requires a serious time commitment – will not achieve anything without dedicating at least an hour per day (but all good things require hard work)
Will typically not see any results for 6 – 12 months so it can be easy to lose motivation and give up
Unable to download training videos – can only stream online
Forum is hosted on Facebook, rather than on their site directly – issues if you wanted to stay anonymous on social media
Verdict: Matt and Liz from the eBusiness Institute are legit, and the courses work.
Free eBusiness Institute trial with code: CFI
I receive emails and comments on the daily asking about the eBusiness Institute, asking if it is legit and whether you should do their courses. Whether you should do it or not is extremely personal and depends on your financial situation and goals – but hopefully this eBusiness Institute review helps you make that decision.
For me personally, I wish I discovered the eBusiness Institute long before I started in websites and blogging, as it would have saved me hundreds of hours of time and rookie mistakes, which translated directly to significant monetary loss. I have written this eBusiness Institute review to answer all of the frequently asked questions I receive, as well as provide an unbiased and thorough review of my experience taking the course.
Full disclosure – I am a paying student of Matt and Liz, and have completed all of their training packages bar the Champions high level mentoring program which I am currently undertaking at the moment. If you do wish to enrol in the courses, you can get a free trial using this CaptainFI bonus sign up link.
CaptainFI is reader supported, which means we may be paid when you visit links to partner or featured sites.

What is the eBusiness Institute?
First up, what actually is the eBusiness Institute? If you've already listened to my interview with the founders of eBusiness Institute, Matt and Liz Raad, then you'll already know that the eBusiness Institute is a training provider that teaches people how to build, buy, operate and sell profitable websites and digital businesses in order to make money online. This includes Adsense websites, Amazon affiliate websites and other specialised niche or blog websites.
Matt and Liz Raad show you how to build these sites, combine them to build a portfolio, how to renovate or flip them for a profit, and finally how to run a digital marketing agency for local businesses. They focus on due diligence, SEO (search engine optimisation) and outsourcing as the three main pillars of successful (profitable) website operation.
"The key to success and what we understood right from the beginning is when you look for a website to buy, you're buying something that's answering a question or solving a problem. And that's the key to making money online, answer questions and solve problems."

Matt and Liz Raad, eBusiness Institute
The eBusiness Institute focuses on original content creation as a white-hat SEO technique to enable you to outrank your competitors and build organic traffic with high conversion onto affiliate links and other advertising.
As I've already mentioned, eBusiness Institute is run by Matt and Liz Raad who live in Brisbane, Queensland where they are raising their young family. Matt and Liz Raad are website investors, angel investors and leading educators in digital marketing, website design and website monetisation. They are recognised as the Australian experts in flipping websites. After getting to know them quite well I would describe them as honest, hard working, diligent and nurturing people, as well as one of the most impressive and dynamic business couples I have come across.
How I discovered digital business through the eBusiness Institute
I have a really interesting story regarding the eBusiness Institute. I actually started building websites as a side hustle with a friend who had actually done some of their courses. While my friend raved about the courses, being a bit of a tight arse I didn't want to invest the money myself, so I basically self taught myself a lot of these skills via YouTube, blogs and whatever information I could learn from my friend. I was already making decent money online and using digital business as a side hustle, so I rather arrogantly figured I didn't need to undertake any of this training.
After attending one of their online seminars and learning more about Matt and Liz I became really interested in their business model and how they created websites as a way of becoming financially independent. I invited Matt and Liz from the eBusiness Institute to the CaptainFI podcast, and interviewed them for over an hour all about their history.
After I heard their story and learned about their business success, I finally spent the money on the course. I realised there was a heap of stuff I was either doing wrong or missing from my sites in my website portfolio. I have since watched every single piece of their content at least 5 times, and seem to pick up new gems each time. This has led to some massive gains in traffic to my websites and overall has allowed me to nearly double the income my sites are generating – well and truly recouping the initial cost of the course.
I was initially hesitant to sign up to their courses due to the costs involved (which seem to be set deliberately as a way to weed out time wasters), however I am now seeing returns in excess of what I invested in this course every month as a result of the significant changes I made to my portfolio of websites. I started with the Digital Kickstarter, and then did the WebDev accelerate, Digital profits and finally the words of Wealth mindset program. The several guided strategy sessions and mentoring from Matt and Liz was amazing – they literally went through my sites with a fine-tooth comb – and I still have SO much more information from them to implement to my business portfolio to unlock more potential gains.
I've also just started Champions recently too, which is really challenging me and I'm learning a lot about websites and online business, sales, marketing, SEO and improving my mindset.
FREE eBusiness Institute Introductory course with code: CFI
Matt and Liz Raad from the eBusiness Institute
Coming from humble farming backgrounds, this couple actually met whilst studying at university and managed to spark each other's fire for financial independence. Dropping out of university in pursuit of financial independence, they learnt the harsh realities of the business world when they unwittingly invested their entire life savings into a failing manufacturing business! Neither of them being one to admit defeat, through hard work, sheer will power and at times a 90% savings rate, they were able to reinvest almost every dollar they made to turn the struggling business around into a profitable venture.
In order to never make the same mistake again, they educated themselves about due diligence and to prove it to themselves they even began buying and selling small businesses, scaling up as they went. Eventually, they found themselves in the corporate space of mergers and acquisitions for high net worth investors and business owners.
In doing this, they discovered the power and leverage of online business and how they could use them to escape the corporate world – and began building and buying their very own websites. Fast forward 12 years later, and today they have an incredible portfolio of online businesses and investments which is now generating a 7 figure passive income! Being true entrepreneurs, they are absolutely hooked on the game and admit that despite being financially independent that they will never 'retire early', and so continue to reinvest almost all of their earnings into a diversified portfolio of business, shares, gold and real estate.
They now live in South East Queensland where they are raising a family, giving back to the community as prominent angel investors, and are passionate about educating people about the power of investing and online businesses. When they aren't buying or selling websites or analysing potential investments, they run the eBusiness Institute teaching people how to do exactly what they did – using online business to transition out of a conventional job and reach financial independence.
Training packages from the eBusiness Institute
Matt and Liz offer a variety of training packages through the eBusiness Institute which range from beginner through to intermediate and advanced courses. They feature content that is heavy on blogs, content creation, due diligence on buying and selling sites, search engine optimisation, tips and tricks, traps to avoid (such as "black-hat" or dodgy SEO), and how to recruit, outsource and scale your business.
"Why are you wasting your time doing a $5 per hour job? Learn how to outsource and automate!"

Matt Raad
The courses follow a logical progression from free introductory courses, webinars and Q&A sessions through to intermediate and advanced training programs. If you want to learn how to buy and sell websites, check out Matt and Liz Raad's free training from the eBusiness Institute.
FREE introductory eBusiness Institute courses with code: CFI
The Digital Marketing Kickstarter program is a fast, easy beginners course that the eBusiness Institute runs to give you a quick introduction to valuable digital skills that you will need to buy, design, build, run and sell websites and digital businesses. It can be completed in as little as one day if you rush, but I would suggest taking it slowly and doing it over a number of days so you can really take the time to digest and implement what you are being taught.
The Digital Marketing Kickstarter program covers the following topics:
Module 2 – Entrepreneurial Data

Topic 1 – Purpose, Products, Promotions
Topic 2 – Customers, Competition
Topic 3 – Benefits, USP and Call to Action
Topic 4 – Essential Website Stats
Module 3 – Commercial Website Design

Topic 1 – 5 second rule
Topic 2 – Headlines, Images, Bullet Points
Topic 3 – Offer, Contact and Call to Action
Topic 4 – Responsiveness and UX (user experience)
Module 4 – Social media success

Topic 1 – Social Media Shortcuts
Topic 2 – 4P's of Social Media
Module 5 – Future Digital Trends
Kickstart Quiz (Assessment)
The most valuable lessons I took out of the Kickstarter program was all about social media success and some awesome shortcuts which have saved me a bit of time (including outsourcing some of it where possible). I like that there is a downloadable and printable worksheet to complete as you go along the course.
The WebDev Accelerator Program is what I would call the eBusiness Institute's 'second' introductory course, and I think it should be done after you complete the Digital Marketing Kickstarter program. It features slightly more in-depth information and is longer, but is still very much targeted at beginners as an introductory course. Each module contains a workbook to download and complete as you watch the videos.
The WebDev Accelerator program contains:
Module 1 – Prepare for Launch

Topic 1 – Goals and Purpose
Topic 2 – Products and Benefits
Topic 3 – Customers and Competition
Module 2 – Accelerated set up

Topic 1 – Domain names and Hosting
Topic 2 – Essential Accounts
Topic 3 – Introduction to WordPress
Module 3 – Shortcuts for SEO

Topic 1 – SEO essentials
Topic 2 – Keyword research
Topic 3 – Competition research
Module 4 – Super fast site mapping

Topic 1 – Creating a sitemap
Module 5 – High performance home page

Topic 1 – Essential elements
Topic 2 – Home page layout
Module 6 – Guided website build

Topic 1 – Initial setup and Settings
Topic 2 – Adding plugins
Topic 3 – Theme, Homepage and Content
Topic 4 – Compliance pages, Header and Footers
Topic 5 – Blog, Posts, Categories and Tags
Topic 6 – Security and finishing the site
Module 7 – Making Money from websites

Topic 1 – Local business strategy
Topic 2 – Automated Portfolio Strategy (PS. This is the strategy that I personally use for my website portfolio)
Topic 3 – Buy and renovate website strategy
The WebDev Accelerator program is all about building a cash-flowing website, with the aim to create a site worth well over $3,000 which you could actually sell if you wanted to at the completion of the course. This course teaches you how to build profitable sites that rank on Google and get traffic, and is perfect if you want to create a digital agency to build websites for local businesses as a way to generate immediate cash flow, or if your timeframe is longer – to hold onto the sites and create a portfolio (called portfolio sites – this is what I do and currently hold 5 websites, and am wanting to buy more).
This is hands-down one of my favourite courses from the eBusiness Institute. So much of business and entrepreneurship is actually all about mindset. When it comes to personal finance, we know it is only 20% knowledge but actually 80% behaviour (like in Pareto's Law) – and behaviour comes from our mindset. The Words of Wealth program was something I really connected with, and getting advice from Matt Raad as a role model and someone I look up to as an advisor and mentor was a really positive experience.
Module 1 – Intention
Module 2 – Beliefs
Module 3 – Growth
Module 4 – Confidence
Module 5 – Discipline
Module 6 – Focus
Module 7 – Focus
Module 8 – Community
Module 9 – Acceptance
Just be advised, this isn't a 'passive course' and it was quite challenging working through some of the self reflections. This is a short course, however you will need to commit to and take it seriously, and it may push you out of your comfort zone and force you to face a lot of confronting aspects of your personal life. I felt personally attacked at times (haha), but overall I think I came out all the better for it, and it is something I will be redoing on a regular basis.
Digital Investors (also called Digital Profits) is the eBusiness Institute's intermediate level training program, and is a treasure trove of information. In addition to video content that took me months to properly watch, rewatch, understand and extract every little bit of information, they provide valuable spreadsheets, documents, worksheets, cheat sheets and even access to their own tech support for finicky behind-the-scenes website stuff.
This course focuses more on the strategy of buying and renovating a website to either hold in your portfolio or sell. It covers the due diligence required to ensure you don't buy a lemon, and of course how to maximise your profits on sale. Matt and Liz draw from their extensive experience in mergers and acquisitions and apply this industry knowledge and experience to the digital business arena.
But don't stress! It's super beginner friendly, although my advice is to complete the courses in the order I have listed them here in this eBusiness Institute review.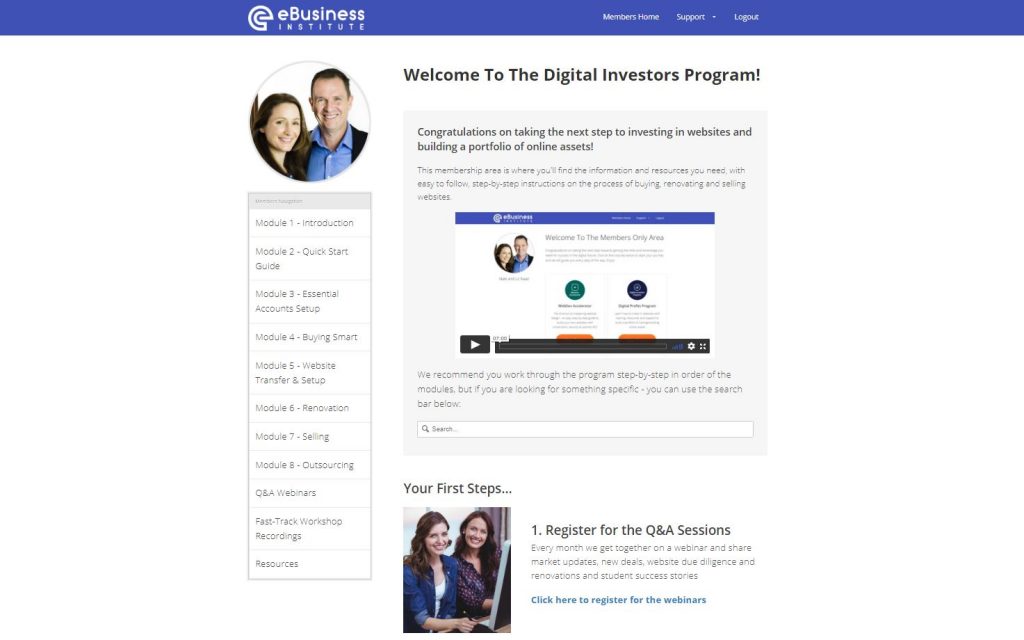 The Digital Investors Program contains the following:
Module 1 – Introduction

Topic 1 – Strategy and Valuation
Topic 2 – Shopping lists and Golden Rules
Module 2 – Quick start Guide

Topic 1 – Buying your first website

Topic 2 – Introduction to WordPress
Module 3 – Essential Accounts set up

Topic 1 – Hosting and domain names
Topic 2 – Essential accounts list
Topic 3 – Account setup tutorials
Module 4 – Buying smart

Topic 1 – First sweep analysis
Topic 2 – Niche evaluation
Topic 3 – Due Diligence
Topic 4 – Negotiation and Payment
Module 5 – Website Transfer and Set up

Topic 1 – Website Transfer process
Topic 2 – Updating nameservers and emails
Topic 3 – cPanel, Affiliate links and Analytics
Module 6 – Renovation

Topic 1 – Website setup checklist
Topic 2 – Renovation action plan
Topic 3 – Increasing conversions
Topic 4 – Increasing profits
Topic 5 – Increasing traffic
Fast-Track Workshop recordings
Fast track workshop
The fast track workshop is a condensed version of the Digital Profits (Digital Investors) program, which are recordings of the Digital Profits fast-track workshop. This is great for time-poor people or if you want to reinforce some of the major lessons from the Digital Investors (Digital Profits) program, but obviously can come across as a bit repetitive if you've already done Digital Profits. I would highly recommend doing it anyway though.
Digital Investors Q&A
The Digital Investors Q&A webinars are recordings of the live Q&A webinars, which include live due diligence reviews, website analysis and website renovation reviews. You can actually participate in these monthly, and it's a great way to network, get inspiration and content ideas, keep up to date with the latest tools, trends, tactics and procedures or simply to ask Matt and Liz a specific question in front of everyone. I would highly recommend watching every one of these as you pick up new gems each time, as well as get valuable answers to questions submitted by other students.
The Champions program is the eBusiness Institute's highest level training and mentoring program. It is an invitation only custom mentoring program. I always said to myself once my website portfolio turns over $10,000 per month then I will sign up to it. I know this sounds like a bit of a chicken-or-the-egg scenario, and the whole point of the champions program is to ACTUALLY GET your websites to the point of producing significant income, but being on the path to financial independence makes it a hard choice to invest a significant amount of money and time into it.
However, to put it in perspective, I have already recouped the money I have invested in the Digital Profits program by implementing all of Matt and Liz's advice (which resulted in a significant increase in traffic as well as better monetisation strategies). This did put me on the fence as to whether I should sign up to the course – however since I reached my milestone of semi-passive business income ($10,000 per month) I took the jump and have signed up and am participating in 2021/2022.
I don't want to comment too much as I haven't actually done the full Champions course, however I have a close friend who has completed the Champions mentoring course, and who was so impressed with it that he signed up for another year. He tells me the most valuable part of Champions is not the content, but rather the networking and mentoring opportunities, allowing him to be connected with people, services and businesses he needed to scale his digital agency and ultimately, which allowed him to quit his full time career as an engineer to focus on purely websites and running his new digital marketing agency.
You can't actually sign up to this program directly, as it is exclusively reserved for only certain graduates of the Digital Investors (Digital Profits) program. Matt and Liz are actually really picky over who they let into the Champions Program – you will need to submit an application to join and they will not let you enrol unless you have successfully graduated from Digital Profits and have started a portfolio of well performing websites. In the past there was actually an in person interview after attending the live events, but these days due to COVID this is all held online. I think this is great because firstly it reduces any time wasters, but secondly it is also for your protection and makes sure you are the right person for this program – in essence they aren't letting you go to Uni without finishing the digital profits high school first.
I can't really talk much more about it than that, as I've actually signed a Non Disclosure agreement to not discuss contents of the Champions course because it is confidential / commercially sensitive material – basically they don't want me taking their Intellectual Property and giving it away to everyone on here for free. But so far I am really enjoying the course and learning heaps!
Live events with the eBusiness Institute
The eBusiness Institute host several live events throughout the year. Due to complications with Covid-19 and not being able to host physical seminars, a lot of these have gone online. This is actually where I started to pay more attention to the eBusiness Institute, after going to one of their three-day online seminars. I learned quite a bit on this three-day seminar, and it really piqued my interest leading me to actually sign up to the digital profits program.
Critics of these seminars have rather cynically categorised them as just spruiking for the eBusiness Institute, to try and get you to sign up to either the Digital Profits program (intermediate) or the Champions program (advanced) to make money. Initially this was kind of what I thought too, however after learning more about Matt and Liz and how the eBusiness Institute works, my personal opinion is that they are just two genuine people sharing their passion and helping others. Matt and Liz reached financial independence decades ago, and only continue to run the eBusiness Institute because it is their passion and they are totally hooked on digital entrepreneurship – it turns out they actually donate a significant amount of their income as prominent Angel Investors.
How I found training with the eBusiness Institute
I like the way the eBusiness Institute run their training packages. It is all done via distance, over the cloud. The content is primarily in the form of self-paced online guided training videos, as well as downloads such as worksheets, guides and other instructions. This is a massive plus for me as I am generally pretty time poor, so being able to access and complete this at my own pace was a massive plus for me – I would never be able to attend the live workshops or seminars due to working full time and long hours.
I am also typically a predominantly kinesthetic learner – I have to learn by touch, feel, seeing and doing. So the usual 'writing style' blogs, books or ebooks are not my preferred technique of learning. The videos actually show step-by-step guides and Matt and Liz put up 'over the shoulder' videos and screen recordings where they show exactly what they are talking about. It's all done in an instructional video that you can pause, rewind and rewatch.
For example, when talking about keyword research and SEO, they show the exact tools they are using and how to set them up and all the little tips and tricks and 1%ers and timesavers. This was super important for me as I am a really practical guy so I wanted to follow along in real time by dual screening with their tutorial videos on one screen, and my blog and tools on the other screen.
The other huge benefit is the interactive community on their Facebook pages, where if you get stuck you can simply post and usually someone who has experienced the same issue jumps in straight away with recommendations.
Technical support from the eBusiness Institute
Technical support from the eBusiness Institute has been great. I had a couple of bugs initially and got locked out of my account, and thankfully Toni from their technical support team was able to troubleshoot. They answer emails to the support inbox fairly quickly, although it is difficult to get a phone number to contact – often they will call you back if you have left a support form or request to technical support but this is always from a private number (from my experience).
Another very valuable source of support from the eBusiness Institute comes from their Facebook groups which I talked about earlier, which they will add you to the respective ones depending on your tier of membership. I have found these to be full of insightful discussion, and people will respond almost immediately.
Price of the eBusiness Institute courses
I will endeavour to keep this up to date, however these obviously are subject to change. As far as I am aware the pricing structure is (in AUD $)
FREE eBusiness Institute courses with code: CFI
Conclusion
As I said earlier, I wish I'd known about the eBusiness Institute earlier in my blogging and online business career. I feel like I would have saved a tonne of time and beginner mistakes.
I was initially hesitant to sign up to this course due to the costs involved, however I am now seeing returns in excess of what I invested in this course every month as a result of the significant changes I made to my portfolio of websites, thanks to the course and several guided strategy sessions and mentoring from Matt and Liz where they went through my sites with a fine tooth comb – and I still have SO much more information from them to implement to my portfolio to unlock more potential gains.
If you're interested in a career making money online, then I'd highly recommend checking out their courses. Start with the free eBusiness Institute course to see if it's the right fit for you. If you continue on and decide to pay for the subsequent courses, I think you'll find that you'll recoup your costs if you follow the course guidelines and information. If you've got any more questions, don't hesitate to reach out to me!
Further reading
Captain FI is a Retired Pilot who lives in Adelaide, South Australia. He is passionate about Financial Independence and writes about Personal Finance and his journey to reach FI at 29, allowing him to retire at 30.