How to Make money online by buying or developing profitable online businesses and digital properties (websites) through the use of Content, Search Engine Optimisation, advertising and affiliate marketing.
How to make money online
The World Wide Web. The internet. Google. It's changed our lives, the way we interact with each other, and the way we do business. It has now become an increasingly important asset class, and a rapidly growing industry as we delve into the generation of 'the internet of things'. Websites can be incredibly profitable online businesses, and many bring their owners in more money per month than they could ever spend. Some websites sell for hundreds of millions of dollars! So how do people and businesses make money online, and with Google?
"Digital skills are becoming more important and more valuable than ever before – now is the time to educate yourself and be ready for the changes that are coming."

Liz Raad, Website developer and owner
The Good
Diversify your income streams
Incredibly simple to understand
Work from home
Leverage your time – work 4 hours a week!
Retire Early on semi passive income
Do not need fancy computer or any software
The Bad
Significant initial time investment to learn, test and adjust
Investment into formal training costs and courseware
Risks of starting a business
Takes 6+ months to see decent results
Must have reliable access to internet
To see best results, need at least $1000 to help outsource jobs and scale
Verdict: Making money online with websites is an essential skill in the digital age
For free training with the eBusiness Institute use affiliate code: CFI
I have experimented with this over the past year, built a portfolio of successful websites (portfolio sites) which create revenue and I have begun paying myself income from it. In only one year, this income has surpassed the dividends I receive from nearly 7 years of consistent investing in the stock market.
I am reinvesting my website income back into the portfolio to grow this income stream, but also a portion of it into index funds and real estate to diversify. Websites are fast becoming one of my best avenues to become Financially Independent.
If you want to skip this introduction to making money online, you can go straight to my full in depth review of the eBusiness Institute and read everything I have learned from their online courses!
This website is reader-supported, which means we may be paid when you visit links to partner or featured sites, or by advertising on the site. For more information please read my Privacy Policy, Terms of Use, and Financial Disclaimer.
Introduction to making money online
Internet real estate or 'Digital Properties' is a rising area, where successful domains carve out their place in space. They have changed how we live our lives, seek information and make transactions – Think about how you buy real estate? There's a good chance you would open up your laptop or tablet, fire up your browser and punch "real estate (area)" into Google.
This will link you to sites with high traffic, high domain authority or similarly searched terms, through a process called Search Engine Optimization (SEO – a topic we will come back to later). And more than likely, in Australia, this will send you to something like realestate.com.au1 – a popular site which now has one of the highest market share for online property listings and research.
What about cars? You do the same thing and get sent to http://www.carsguide.com.au2 – The same thing happens for almost any topic. Savvy customers know that they can do their research online, often at times cutting out a middle man. The net result is consumers are getting better value, businesses are able to reach a wider user base, and information is more freely available.
An overall blanket term for this is 'e-commerce', but individuals and businesses can make profits online in several areas – such as;
Selling physical products in an online store, such as books, cars, real estate, holidays – anything really
Generating leads and customer enquiries to sell to local businesses
Selling intellectual property such as eBooks, newsletters, videos, templates or other information
Selling services – i.e. accounting, brokerage, budgeting, online training courses or other once off services
Selling subscription services such as paid membership to stock tipping newsletters, personal growth coaching, or even media (i.e. streaming services)
Affiliate marketing: connecting customers to suitable businesses and products and taking a percentage share of the sales
Advertising: a motorcycle blog may sell advertising space to motorcycle manufacturers or motorcycle accessory retailers to try and target their audience
Sites need to attract visitors. These are referred to as interactions or traffic. Things like social media marketing on platforms such as Instagram, Facebook, Twitter and YouTube can spread awareness and generate a user base or following which can be directed to the website – or can be monetised on the social media plaform directly.
Search engine optimization (SEO) is another method to increase site interactions. This is a technique where the content of the website and its pages is specifically optimised to make it rank better in search engine results (Google being the main one). By looking at what the majority of users are searching for, you can adapt your language and content to meet their search terms and better answer people's questions.
For example, in the pilot training industry, the phrase 'flight schools near me' is a much more commonly searched phrase than 'flying training organisations'. Accordingly, someone running an aviation website is much better suited to naming their article 'flight schools near me' to generate more organic traffic to the site.
10 steps to make money online
To make money online with websites, all you need to do is build a functioning site, produce content to get traffic and then monetise it. To distill the process down into 10 steps;
Figure out what your goals are and choose a niche – eg Travel, Automotive or Parenting
Develop a business plan: what is your business idea, what does your site do, and how will it work?
Register a domain name and choose a hosting service. – BlueHost3 make it easy to get started, and can do both for you. There are a few other hosting providers out there, so make sure to do your own research, but BlueHost are good for a 'cookie cutter' first approach.
Build your website – I highly recommend you use WordPress4 (get BlueHost to install WordPress4 onto your sites back end cPanel)
Create your content
SEO your content – Keywords, Content and Links (there are a number of online tools to help with this)
Create a social media platform – promote your site, share your articles and engage with your community
Regularly post new content – post new content to your website (and also share this on social media) – Google knows if you stop
Register for Google Analytics – Analyse your website traffic – optimise your traffic and content to maximise your traffic
Monetise the site – in accordance with your business plan. Usually Google Adsense is the first way people make money online with Google.
Many sites make their money online with Google Adsense, but they can be monetised from a variety of ways as explored earlier in the introduction. One of the most popular, other than Google AdSense, is by using affiliate marketing such as the Amazon associates program. This is where you review or recommend products and provide a link to where your audience can buy them on amazon and receive around 4% sales commission.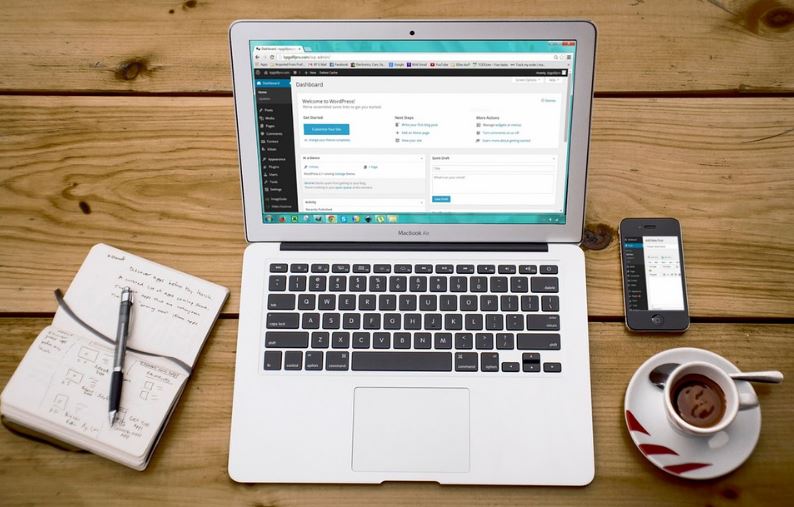 How to buy a site to make money online
If you are not quite up to the challenge of building your own niche site and branding – you can actually buy one that is already made!
Flippa is a great website for starting out looking at a website, and Empire Flippers is another great one. Just cruise the listings and see what you can find. You will get an idea of what the website is about, how it makes money, what the monthly earnings are and what the asking price is.
In general, when you are looking to buy a website the first thing you will look at are the monthly earnings and where they are coming from. Generally speaking, The price tag for a website is usually a multiple of the monthly earnings; an average figure being 30x monthly earnings. However, depending on the niche, competitors and 'moats', SEO optimisation and quality of the content, the site could range from 10x to 70x monthly earnings.
Actually, many people 'flip' websites just like you can with real estate – they look for a bargain site that they can improve or 'renovate' to improve the sites domain authority and profitability – which could include;
Optimising content for SEO
Adding content
Increasing backlinks to the site
Improving the User Experience (UX) and Time on Page
Further monetisation
Once website 'flippers' have increased the earnings, they can then sell the website for proportionally more. If you picked up a distressed website that had a grreat backlog of content but low monthly earnings because of poor SEO and monetisation, you could fix these issues up and fairly quickly see an increase in traffic and profitability. You might have been able to pick up this site for only 10x, but after you renovate the site it could be worth closer to 30x – or if you did a really amazing job you might even get up to the mythical 70x multiplier zone! You could then keep this site as a cash cow to produce good money in the way of passive income to support your lifestyle, or you could 'flip' the site and take your profits to invest into yet another (and maybe bigger) website purchase and renovation!
if you want to learn how to buy and sell websites, check out my detailed review on Matt and Liz Raads courses from the eBusiness Institute, or you can head over and directly check out Matt and Liz Raads free training from the Ebusiness Institute5.
Hosting your site
Hosting, or Website hosting is required to run your website. The Host will quite literally, 'put up' your site to the World Wide Web by uploading its content (files and structures) from their servers and making them available to people. Think of the host as just another computer that holds your website files. Most people will access your site through search engines like Google, but they can directly type in your website name (domain name) and go straight to it.
The first step to building your site is to choose and buy a domain, and then have it pointed (directed) to your hosting provider. I recommend you choose a standard .com domain, with no hyphens or dots or anything in the domain name – keep it simple! If you want a .com.au address you will need to register this against an australian business entity with an ABN (might rank your site in search engines quicker or build trust with Australian readers, but again, not worth doing IMO).
Hosting comes in a variety of forms;
The cheapest and easiest is shares hosting, which is more than adequate for starting up – think of it as cheaper but… noisier and less capable – kind of like sharing your home with room mates.
For better performance under higher page demand or with larger hosted files, you might need to upgrade to a VPS or Virtual Private Server – but this will usually triple your hosting costs – this is kind of like a duplex, or self contained apartment within an apartment block (except your website walls are 'virtual')
The final tier in performance is dedicated server hosting which tends to be a lot more expensive (think around 10x the cost) but is a necessity for acceptable performance of large and very popular sites with lots of traffic.
Once you have an account with a hosting provider, they will allow you to log into the 'backend' of your site using the Control panel (cPanel) – this is just how you access the host computer. This back end is very important but can easily be screwed up if you don't know what you are doing, so its important to choose a web host with good 24/7 customer support that can help you use the cPanel.
Not all web hosting providers are equal – some are better than others. Things to consider are the performance of the hosting (how much storage you have and how quick your site will load), customer support, security and privacy protection, ease of use and finally in my opinion the last factor is price. Don't cheap out on price here honestly, because site performance and ease of use are much, much more important to the success of your website. Even relatively small websites can easily make enough income to recoup the cost of hosting services.
Using BlueHost to host your website
If you have ever thought about Launching a blog, a website for your business, or you just wanted to play around starting a website as a side hustle, then you will know you need a good web hosting service to host your website. BlueHost make it incredibly easy to get started, have great performance along with extremely competitive pricing for hosting services.
Check out my full Review of BlueHost hosting services here for more information about how you could use BlueHost web hosting to launch your own site. You should check out others on offer though, because many hosting providers offer insane discounts on random sales to try and fill their servers. Once your site grows, you might want to explore some dedicated hosting providers tailored to your needs, but to start off, BlueHost are pretty good.
How to produce content for your website
The easiest and simplest way to produce content for your website is to write it yourself. This is how everyone starts. And if it is a specialist niche website in which you have qualifications and interest in, maybe this is a requirement. Like me, you may just absolutely love talking about it.
However if you want to run multiple sites, and really scale your content, then you need to look at hiring writers and editors.
Initially, you can find them on places like Freelancer, Upwork and Fiver. As you get more experienced, you can then look at doing things like hiring journalists or writers by posting advertisements in forums or things like facebook groups specific to the websites niche.
Another option is to use AI generated content, which is evolving but does have its challenges. There has been some commentary that 'google doesn't like AI written content' but there have also been a number of webmasters who have come out to say they use it quite successfully. At the end of the day though, the content has to be edited and it must make sense, answer the readers questions and produce value.
Using Adsense to make money online
One of the first ways you can monetise your website to make money online is using the Google AdSense program. Google will run ads on your website (you can control the amount, type and placement if you wish) and share the revenue with you. Google get companies contacting and paying them directly, and then they farm out these ads to various websites – taking a third of the profits for brokering the deal and passing on 68% of the revenue to you. Your website must comply with the AdSense program policy (for example you must have original content)
It is super easy to join (you basically just need a Google account and a website that is getting some traffic) and most applicants will get approved within a week or so. However, if you are like me, they will decline your site MANY times without providing any reasons why. Two of my sites were said to have had 'Nonsensical content' which made me laugh. Either way, stick at it and keep applying and you will get it approved eventually (but it did take me many months to get it finally approved).
To get reviewed, you will need to copy and paste your Google Adsense code snippet into your website – an easy way to do this is to modify your header.php file in the WordPress theme editor (theme files). This way, when the google bot crawls your website, they can find the unique snippet and confirm this website is owned/controlled by you.
You will also need to verify your identify with Google, which will include standard verification techniques. To receive payment, you will actually need to provide a physical address as they will mail you a PIN which you will need to verify on your Google AdSense login.
Once you are verified and approved for Adsense, there are some options for how you choose to display ads. Google AdSense can be run automatically – although this will tend to 'vandalise' your website and put loads of ads literally everywhere which looks really tacky. Doing this, you benefit from their algorithms and you will get more advertising revenue – but this could damage your user experience and growth of your site, meaning it could lower your revenue in the long term.
A better choice I think, is to use a plugin like AdvancedAds which you can use to choose specifically where you would like the ads to be displayed on your website. This is a little trickier to set up, but well worth the effort. You essentially can follow along to any number of YouTube guides to set up your styles of ads, and then where they display. It can be tricky to know when and where to place ads, but its fun experimenting with it to see what works for you.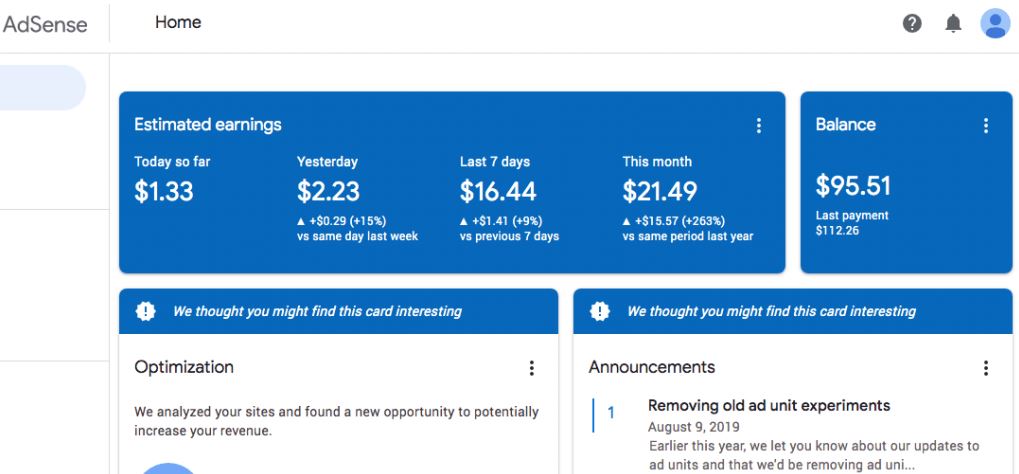 Generally, the more ads you place on the site and the more traffic you have, the more revenue you will earn. You earn revenue two ways – by impression (for someone scrolling past the ad and seeing it) – or by clicks. This is because Google charges their clients to advertise based on these two metrics. Google bots will crawl your site and their artificial intelligence programs will try and match up the ads to your audience based off your content and their broswer history and cookies. Clicks are worth way more than impressions – and can be up to $30+ per click depending on the niche or type of ad.
Don't be discouraged if it starts off very small – my first few payments from Google AdSense were tiny, and even now it only makes up a very small amount of the revenue that the website portfolio makes. I now mostly deal directly with companies to negotiate ad space and will probably be slowly removing ad agencies from my websites over the next year.
Using affiliate marketing to make money online
Affiliate marketing is probably the most common way people use websites to make money online. This is a type of sales or marketing funnel, and can be very effective when used well. Affiliate marketing is basically the same thing as getting a sales commission for helping sell a product, so the concept has been around for ages.
Companies love them, because they can help effectively outsource some of their marketing budget – meaning they don't need to spend as much on conventional marketing budgets for things like print media, radio, television, community outreach or even Google or Facebook ads. This is because they can rely on their affiliates to provide a source of customers and hence revenue stream for the business.
Affiliate marketing is especially powerful for scaling fintechs or other technology or software businesses. This is why many software and technology businesses heavily focus on affiliate marketing – the most notable being Amazon
and the Amazon Associates Program
6. Amazon actually accounts for nearly 40% of all online sales in the US7 and they are increasingly expanding worldwide.
Amazon
associates is a program similar to Google Adsense, where you apply and Amazon to become an affiliate – they will review you and your website or social media for suitability and if you get approved, you can begin reviewing and linking to products on Amazon. If someone follows your link and makes a sale, you will receive a sliding commission or 'bounty' depending on the product – ranging from 0 to 10%, but typically around 4% of the sales price.
For example; if you want to buy this sweet Apple Airpods with Charging Case (2nd Gen)
, then the blog picks up 6% of the sale price as commission. This is because the Amazon affiliate program has a set commission structure that depends on the type of the product – however beware, during COVID-19 amazon slashed their commission rates8, which seriously impacted affiliates who had developed websites for this purpose and relied on this income – an important lesson to never rely on only one source of income!
It is also worth mentioning that the conversion rate on Amazon is on average less than 1% – but of course this depends on how well you've marketed whatever it is your advertising. If you have optimised the page, well represented a product and fully primed a customer to make the purchase after clicking through the link, then your conversion rate might be higher. Similarly, just randomly throwing in affiliate links that don't really relate to your content probably isn't going to work either.
Doing the numbers, for a site getting 10,000 users a month, if you did a great job and got a click through rate of 1%, it means you might get 100 clicks to Amazon. Based off the average conversion rate on Amazon, you might make one sale a month. On an average product of $100 or so, and your average 4% commission rate, your affiliate commission would be $4. This is actually almost smack on what the CaptainFI blog earns from amazon associates – about $4 per 10,000 users per month.
I like affiliate marketing, because it can be a great way to earn a small amount of passive income for a product that you already personally know, use and like. This doesnt have to be just through the amazon associates program, because many compaies offer direct affiliate programs.
For example, right here on CaptainFI.com, I sometimes talk about digital products I personally use such as share trading platforms, portfolio tracking software, budgeting tools and even my personal bank accounts. I never recommend you go ahead and use any particular products – I just review my experience of using them and compare them. Usually, once I have done this I reach out to the company and try to get a sign up bonus for my audience which is usually honored through an affiliate link – which means if people decide to take up the offer then this blog receives a small affiliate commission. These affiliate arrangements are much more profitable.
Optimising SEO to make money online
Search Engine Optimisation is the name given to a broad range of techniques and activities designed to help improve the performance of your site. This means improving your Domain Authority, how high you rank in Google searches, and ultimately how much traffic your website receives.
My favorite SEO tips include;
Having at least 30 articles
Regularly post content, at least one article per week.
Ensure you have a sitemap
Concise Excerpt, Abstract, Introduction and Conclusion (this will help reduce bounce rate)
Make sure your pages and articles are not marked as 'no-index'
Completely original articles – do NOT plagiarise or you will be red flagged
Have articles that are at least 1000 words long
Feature original images
Enable people to comment on articles and always reply to comments
Feature links to quality and relevant external websites (but not too many)
Internal links to pages within the website
Don't forget to Tag images with links and complete image alt data
Correct meta descriptions (don't spam irrelevant keywords, the images need to relate to the content)
Proper use of H1, H2, H3, H4 headers
Use of appropriate and relevant keywords
Avoid Keyword stuffing, link farms or any other silly SEO 'hacks' that don't work
A lot of this I picked up from Osmosis, however since doing proper training courses on SEO and website optimisation through the eBusiness Institute I have been able to stop wasting time on things that don't work, and concentrate on MRAs (Maximum Return Activities).
Also, a good SEO suite is important. I have been using The KW finder from Mangools SEO suite as I find it the best and easiest to use.
To optimise articles after you have written them, Surfer SEO is one of the tools I then use.
Leveraging Social media to earn money online
You can leverage social media to promote and direct traffic to your websites, or even be paid for advertising to promote certain products directly on social media itself. There is a huge industry of influencers that online marketers and advertisers use to achieve their business needs.
Like websites though, you need to be aware of certain regulations. For example, paid testimonials are illegal in the medical niches, and there are a lot of restrictions in the finance niche also.
My recommendation is to always set up social media accounts to compliment your websites. They provide legitimacy to both customers and send social signals to google that your website is real (and not just MFA – Made For Adsense / Made For Amazon). You can also deliver awesome value to your audience and build a 'modern email list' simply by recycling chunks of content from the website onto social media.
Canva Pro is an awesome way you can make graphics for your websites and for social media posts, especially visual-based platforms Instagram. Read my full review of Canva Pro here.
SmarterQueue is an awesome way to get all of your social media posts organized and scheduled for automatic posting. I have over 2500 social media posts scheduled to post across my 19 websites. I am working on a full review, but love this tool, to reduce time spent on social media, and you can get a free Smarterqueue extended trial with this affiliate link. You can check out my review of Smarterqueue HERE.
How I learned to make money online
So this begs the question, how did I learn all this? Where did I get the information, what support community did I use, and who patiently mentored me and answered my questions? Well to be honest, I can say that I learnt a lot of this stuff online and by trial and error, but I did also have a lot of help along the way. Believe it or not, you can actually learn quite a bit online. There is a wealth of free information available you can access through Google and YouTube.
I was quite lucky to have a friend who runs a digital marketing agency as well as a number of their own portfolio sites who was able to point me in the right direction.
I would encourage you to just get out there and give it a go, register a domain and start creating content – the business plan can evolve over time. For example, I started my first website as a joint partnership with a web developer on a random blog topic I was interested in and liked writing about, and this gave me the confidence and experience to start my own new sites on my own.
To learn more about both finance and building websites I created this blog (which has absolutely exploded) because I was interested in financial independence. Actually, since then I have created a handful more, refining the process and getting better and more efficient each time. I have actually got a heap of websites, all on different topics which interest me – making it really fun! I am even at the stage of buying websites now that are already made, rather than building them from scratch.
You don't need a mentor or guide to get started, but it will be very beneficial in terms of not making mistakes, and ensuring you see the quickest growth possible (bearing in mind, you generally wont make any money for 12 months with most portfolio sites unless your REALLY good, but you can get a site ranking in only a few months in certain circumstances). I made pretty much all of the mistakes possible, I look back and wonder how I actually made it work – and the answer was actually in having an experienced friend point out my mistakes and guide me, but also in the thousands of hours I put into them.
So where did my friend learn how to to build websites? He paid for an online web development training course and mentoring package. I was dead set against this initially because I was highly skeptical of online 'fake gurus' and courses that teach you how to make money, and thought it was all a scam.
Over time though I started to see some revenue on my websites – mostly because of the sheer amount of content I was writing across all of them, and google started to pick them up, as well as I started to grow social media followings. I had really benefited from my friends experience when it came to SEO and he would help me with tips and tricks on the website – by this stage they were charging in the tens of thousands to build or consult for a build, and in the thousands per month to maintain his corporate clients websites for his digital marketing and SEO agency.
Now despite my healthy skepticism and constant jabs at doing the course, I actually still signed up for one of their advanced three day training courses. My web developer friend had spoken of some of my successes to his mentors Matt and Liz Raad from the Ebusiness Institute Australia – who I think found it quite interesting that I had cobbled together something on my own, and he managed to twist their arm into letting me come along to their workshop despite not having any of the pre-requisite qualifications or initial training packages completed. To be really cheeky, I even asked for another ticket so my friend could come along to the event too and learn more about websites! Due to COVID-19, this conference was all held online and was actually a lot of fun.
During the workshop, I actually learned a shit load of great stuff. During it I made some big changes to the layout, structure and SEO of my websites. Which had an almost immediate impact on the traffic I was getting to the blog and where I was ranking on google (for example, this blog currently ranks on page 1 or spot 1 for quite a few of the keywords I am targeting). Based on a few affiliate arrangements as well as advertising, the revenue across my portfolio sites is now in the thousands of dollars per month, and I have set up appropriate company structures and am paying myself out a small portion of the profits. It is still early days, but my target has been to get them to do $10,000 per month! How is that for Financial Independence?!
What's more, I'm actually signed up to become an ongoing student of theirs. I am doing their online training course on how to build, buy and sell websites. Yep. That is right, I am converted, and I can see the business case. Now that the website portfolio is making money, it seems a 'no-brainer' to not be reinvesting this into training and professional development. I feel silly I was so pig headed about not doing the course earlier and kind of embarrassed that I was arrogant enough to think I could do it myself based off stuff I found on a YouTube channel for free. Of course, I have been burnt before on similar kinds of things, so I don't regret my skepticism – and at any rate I am on the right track now. I can't help but feel it might have been more profitable if I had just done the course earlier though – but time to focus on the now, not the past (or too far ahead in the future either!)
In this world, I suppose sometimes we also need to admit when we were wrong. I am increasingly seeing the value of using my time smartly and efficiently, and so having all of the information on web development provided to me in a convenient package from experienced presenters with extensive industry experience is looking increasingly attractive to me. The time alone it saves me is worth the investment, not to mention the networking opportunities within the industry.
I wrestled with whether or not I should share my personal experience with them because I wanted to maintain my anonymity online, but after I made them promise that 'mums the word' and we would be keeping my identity a secret, I actually interviewed them for the CaptainFI Financial Independence Podcast – they have an incredibly inspiring story and you can hear it on the Podcast interview HERE. This couple are not the standard 'FIRE' type; they are incredibly successful entrepreneurs and business owners that have amassed more than enough wealth than they could ever need, and now they spend their time helping teach others, as well as being prominent angel investors. So who are they…

In exchange for a mention on the blog, they offered to give out some free training on websites and digital business, and this online course material is provided for CaptainFI readers through the link below. This will hopefully accelerate you in your website development skills to help diversify your income into this lucrative side hustle – which has now fully replaced my full-time flying income!
You can access it through this custom link for Captain FI readers. There is no commitment to sign up to anything, but you can get an idea about what kind of training they offer and whether it might suit you – they offer a number of different specific training packages depending on what your objectives are, and the training is mostly time spent watching videos. For example, they have ab-initio beginner courses, right through to advanced training. I actually cover everything I have learned and what you can expect from them in my detailed eBusiness Institute review.
If you do choose to sign up you can use the referral code to access the free website training.
Verdict: Making money online with websites is an essential skill in the digital age
For free training with the eBusiness Institute use code: CFI
Websites I am currently selling
After completing the eBusiness Champions course and getting a pretty gobsmacking valuation on a couple of my sites bringing the portfolio valuation into the Seven Figures region, I started to consider the possibility of buying and selling sites, and even stashing some of that money towards the farm. I had not really thought about the possibility of 'selling out' in much detail before, but have decided to sell some of the smaller sites to reduce workload, provide additional revenue and improve cash flow and profits. This 'pruning' lets me focus on writing for my passion sites (CaptainFI, the gardening site and my aviation site), as well as raises some cash towards the dream hobby farm.
As a result I have a few sites I am open to selling to anyone who wants to get started with this side hustle with their first starter or established content site. They range from 1 to 3 years old, with various backlink profiles, number of published articles and traffic.
What's included;
Domain name (some are very valuable)
Backlink profile (and other off page SEO)
Live site (set up as per eBusiness institute guidelines)
Home page with 3+ core purpose pages
Privacy policy, contact us, terms and conditions
Logo, design and graphics
WordPress theme with category widgets (themegrill)
WordPress plugins
AAWP and Advanced Ads Pro premium plugins installed and set up (these will cost approx $50 per year to update)
Core purpose articles published (full on page SEO completed as an example of what to do for further articles)
Rights to use any paid images used on the site from a paid stock database (majority used are royalty free)
Pseudonym author with story and unique images (headshots)
12+ months Content plan (not written)
Keyword research spreadsheet (completed – plus a quick tutorial from me on how to do it and evaluate the keywords).
Facebook page
Twitter account
Instagram account
Gmail account
Google drive (with relevant documents)
Traffic: up to 1000/mo* (NB most starter sites are around 50)
Income: up to $100/mo (mainly Amazon/Adsense) *
Some guidance / coaching from me on getting it up and running
*no guarantees, depends on site, some affiliate networks you will need to apply for
You'd need to:
Get the domains transferred into your name (I will provide the transfer keys – your hosting provider will walk you through this)
Get a hosting service (I recommend either BlueHost or VentraIP)
Transfer the website files to your hosting service so you can host the website files on the domain name (I will provide a .ZIP file of the backup on day of purchase)
Switch out my Google AdSense and Amazon affiliates account to your accounts (not that they are making much money if any, as these are starter sites – but with consistent article posting and social media engagement they will grow over the next 12-24 months).
Get subscriptions for the premium plugins when they expire in 12 months (AAWP and Advanced Ads Pro – approx $50 a year
Write articles or hire a writer on upwork, format and publish them on the site
Interact and build a social media community, share articles from the sites or get a social media scheduling tool subscription
Find a techie on upwork to help you run the technical stuff (like updating plugins, fixing/troubleshooting, helping you get your google analytics and adsense connected)
Niches covered include;
(Starter – 2 year old)
Bicycles
Motorbikes
Barbecues
HomeBrewing
Survivalist / prepping
Pools
Beds / sleep / mattress
Aged care
Fitness
Four wheel driving*
(Established – 3+ years old)
Fatherhood
Van life and camping
Permaculture
Pets
Weddings (pending purchase)
Vegan recipes (pending purchase)
Crossbows (pending purchase)
*Prices (USD): Starter site: $5,000, Established site: $10,000 (The four-wheel driving site is $10k due to a very desirable and hence valuable domain name).
Sales would be subject to an NDA as there's a fair bit of communication and information exchange in the handover, and I'd be happy to give you some pointers setting it all up and ongoing guidance but of course, that's no guarantee of success.
Would recommend only eBusiness institute students or those highly motivated to learn take an interest as there's a bit to wrap your head around initially.
Once you get it sorted out and automate your shit, it's a great side hustle that has potential to grow into a full on 'semi-passive' business over a few years (for example I'm making more revenue now than when I was flying).
Whilst these are professionally set up starter affiliate marketing content sites from an eBusiness champion graduate, word of warning, it's not easy in the beginning and you need to persevere for it to succeed, it will likely to take a year or longer to see decent results. Buyer beware!
Send me an email through the contact form or get in touch via the socials if you are;
1. Interested in online business
2. Have read my articles on content websites and making money online. < https://captainfi.com/make-money-online >
3. Have listened to my podcast interviews with eBusiness institute < https://captainfi.com/matt-and-liz-raad >
4. Have read my review of the eBusiness Institute or are a current student of Matt and Liz's
Finally… please don't message if you are 'just curious' about websites – I've posted a lot of great info here and elsewhere on the blog which should be more than enough to get you started
Conclusion
I have experimented with earning money online over the past year, and built a portfolio of dozens of successful websites which create revenue in a variety of ways including direct advertising, affiliate marketing and lead generation. I have really enjoyed the process, and have begun paying myself a small income from it.
In only a few years, this income has surpassed the dividend income I have built from nearly 7 years of investing, including years of consistent investments into stock market index funds. I am reinvesting this income back into the websites, but also into index funds and real estate to diversify. Websites are fast becoming one of my best avenues to become Financially Independent, and all you need is a solid internet connection and a computer!
Keep a realistic expectation though – most web developers won't see a yield for at least 12 months or so depending on how good they are, but once you do start seeing returns, it quickly snowballs.
Learning how to earn money online is a crucial skill for future proofing your income, and can seriously accelerate you towards Financial Independence. Making money online for passive income is much quicker than just being frugal, doing online surveys, selling stuff on Facebook Marketplace and investing your savings alone. Of course, if you waste the money you earn online then there isn't much point either – the key being you need to reinvest most of it to grow your passive income even faster!
Check out the full interview with Matt and Liz Raad from the Ebusiness Institute on the CaptainFI Podcast here to learn about making money online, and make sure to read my full, in depth review of the eBusiness Institute and everything I have learned on the course!
Have you found ways to make extra money online? Let me know!
Reference List:
'WordPress', Wikipedia. Accessed online at https://en.wikipedia.org/wiki/WordPress on Jan 4, 2023.
'How To Buy & Renovate Websites For Passive Income', Ebusiness Institute. Accessed online at https://go.ebusinessinstitute.com.au/masterclass/?cookieUUID=1f78a9da-4a2a-427f-8631-d538eab88d4d&cookieUUID=cf066bc3-3534-4f2c-8a13-9126d825d001&affiliate=30 on Jan 4, 2023.
https://www.amazon.com.au/?&_encoding=UTF8&tag=captainfi-22&linkCode=ur2&linkId=053e6ec7e1daa0ca62eda3670dd82742&camp=247&creative=1211
'Everything You Need to Know About Amazon's Affiliate Program', Alan Draper, Business2Community. Published (updated): Dec 14, 2022. Accessed online at https://www.business2community.com/affiliate-marketing/everything-you-need-to-know-about-amazons-affiliate-program-02246461 on Jan 4, 2023.
'Amazon slashes commission rates for program that gives publishers a cut of sales', Annie Palmer, CNBC. Published: April 14, 2020. Accessed online at https://www.cnbc.com/2020/04/14/amazon-slashes-commission-rates-for-affiliate-program.html on Jan 4, 2023.
https://smarterqueue.com
Captain FI is a Retired Pilot who lives in Adelaide, South Australia. He is passionate about Financial Independence and writes about Personal Finance and his journey to reach FI at 29, allowing him to retire at 30.