An Honest making Sense of affiliate marketing affiliate marketing course review by Captain FI
In the rapidly evolving world of digital entrepreneurship, affiliate marketing has emerged as a game-changing modern strategy for individuals seeking to earn passive income online. And one name that stands out in the realm of affiliate marketing is Michelle Schroeder-Gardner.
Known for her immense success and transparency as a blogger and affiliate marketer, Michelle has curated her experiences and knowledge into an acclaimed online course called "Making Sense of Affiliate Marketing." In this affiliate marketing course review, we'll delve into the key aspects of this course to help you decide if it's the right choice for your affiliate marketing journey, and whether the course is all its cracked up to be.
The Good
Expert Guidance: Michelle's proven track record in affiliate marketing and transparency with her income reports lends credibility to the course, assuring students that they are learning from a genuine expert.
Suitable for all Levels: Whether you're a complete beginner or an experienced marketer, "Making Sense of Affiliate Marketing" accommodates learners of all levels.
Practical Tips: The course offers several practical, actionable tips and techniques that can be applied immediately to improve your affiliate marketing performance.
Learn valuable information about using an affiliate marketing review as a great business model
Access to Michelles private affiliate marketing facebook group
Bonus Materials and free resources: Michelle includes valuable bonus material on related topics, such as Pinterest marketing, Meta Ads campaigns, legal considerations and increasing email conversions, which adds further value to the course.
The Bad
Price: Some may find the course fee relatively high compared to other online affiliate marketing courses, however considering the detailed guidance and the potential return on investment, I think it is well justified.
Focus on Blogging: Although the course provides insights into various marketing channels, it primarily centers around blogging as a foundation for affiliate marketing link insertion.
Zero SEO (Search Engine Optimisation) training included
This is not a video-based course and is primarily (90+ %) text based, although there are a few great videos from featured experts included which go for about 2 hours.
At times lacking detailed examples and tutorials – a focus on telling or checklists, but not showing and explaining
The focus is on USA-based affiliate marketing strategies – this is the largest affiliate marketing industry by far and most affiliate marketers will target the USA market regardless of their location, but it may be slightly different if you are targeting a market outside the USA.
Verdict: Making Sense of Affiliate Marketing by Michelle Schroeder-Gardner is a comprehensive and well-crafted course for aspiring affiliate marketers. At $197 it is well worth the money and significantly cheaper than similar courses.

Captain FI readers can get a bonus by using this affiliate link to sign up and also Check out Michelle's FREE ebook – Making sense of cents Affiliate Marketing eBook.
This website is reader-supported, which means we may be paid when you visit links to partner or featured sites, or by advertising on the site. For more information please read my Privacy Policy, Terms of Use, and Financial Disclaimer.
Meet Michelle Schroeder-Gardner
Before we dive into the course details, let's take a moment to understand the driving force behind "Making Sense of Affiliate Marketing." Michelle Schroeder-Gardner is a finance blogger and entrepreneur who achieved financial independence at an early age through her blog, Making Sense of Cents. Her immense success as an affiliate marketer and blogger, earning over six figures per month, has inspired countless aspiring affiliates to follow in her footsteps.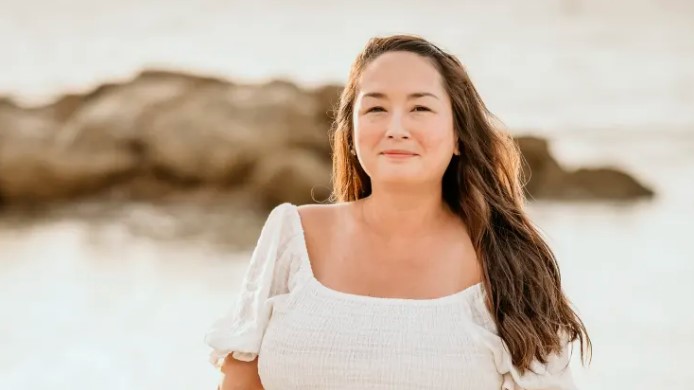 My name is Michelle Schroeder-Gardner and I run the award-winning personal finance blog, Making Sense of Cents. I started blogging entirely as a hobby, and I have now earned over $5,000,000 blogging, with over $2,000,000 of that coming from affiliate marketing. My writing and advice has been featured on sites such as CNBC, Time, Business Insider, Oprah, Huffington Post, Forbes, Cosmopolitan Magazine, Zillow, US News, Nasdaq, MSN, and more. When I'm not blogging, you'll find me exploring via sailboat (we used to RV full-time!) with my husband and daughter. We sold our house in 2015 and have been traveling full-time since!"

Michelle Schroeder-Gardner
I recently interviewed Michelle for the CaptainFI Financial Independence Podcast about her journey to Financial Independence.
Michelle managed to crack the secret to success with social traffic from Pinterest, where she was able to run many successful paid marketing campaigns and drive significant traffic to her blog, Making Sense of Cents, where she was able to monetize the traffic through affiliate marketing. In an awesome feedback loop, by publishing her monthly blog income reports, she was able to drive even more traffic and affiliate sales, sending her income skyrocketing.
I have followed Michelle's blog making sense of cents for a long time, and really enjoy her transparency on topics such as her monthly blog income reports which have been a huge motivator for me to improve my affiliate marketing online and try different affiliate marketing strategies on my own site.
Michelle has made over (USD) $500,000 from one single blog post (spoiler alert for the course: its working as an affiliate for BlueHost), and in total her blogging income has exceeded USD $5 Million over the past decade, averaging a gross income of $760K for the past 5 years working just 10 hours a week. These days, she spends her time with her family switching between living in a sailboat, travelling in an RV and a cabin in the Colorado mountains.
The course has all the details about her affiliate marketing results and how her blogging income increased dramatically, enabling her to live this lifestyle.
My Affiliate Marketing review- is it worth it?
If you're not earning money through affiliate marketing, then you are leaving money on the table. It is a legitimate and scalable way to make money online (from anywhere in the world!).
Is an online affiliate marketing course really worth it?
YES! That is a resounding, passionate 100% YES. Affiliate marketing is an awesome way to earn money online whilst helping others by promoting great products and services you use and love, and doing an online affiliate marketing training course is a brilliant way to save yourself time and increase your chance of success.
How much money can you really make from affiliate marketing?
So, can you really make money blogging, even if you arent a brand-new blogger, and is affiliate marketing worth it?
Some affiliate marketers post about making a six-figure online income each month – whilst I haven't reached that level yet (and to be honest I am slightly dubious of some of the claims some internet marketers put out), I make money blogging, and regularly reach a five-figure monthly blogging income (that is around $10,000). My best month ever making affiliate income was $70,428 (profit) from driving over $350,000 in affiliate sales! I have been regularly blogging about financial independence for the past 5 years and doing affiliate marketing fairly passively for the past 3 years across a portfolio of websites.
Making Sense has grown beyond my wildest dreams. Over the last five years, I've grossed an average of $760,000 per year in passive income by providing advice on how to start investing, which financial products to use, and how to tackle other money decisions.

My husband and I have reached financial independence, and we've saved enough to retire whenever we want. This has allowed me to live my ideal lifestyle: I work just 10 hours a week and travel full-time on our sailboat. I am regularly out snorkeling, exploring and hiking.

Best of all, we have plenty of time to spend with our six-month-old daughter.

Michelle Schroeder-Gardner
I think for most people that it's going to be fairly realistic and achievable to build a profitable blog within 6-12 months, and to earn at least $1,000 per month in affiliate income by the 12-18 month mark at a 'hobby' level of ongoing effort – provided they undertake proper education and set their websites up accordingly (that means good keyword research, good quality content, and appropriate linking and SEO strategies).
For those who want to do affiliate marketing full-time or really go hard at it, a five-figure ($10,000+) monthly affiliate income goal is definitely achievable by the 24-month mark provided as before, proper education is taken, and they take a meticulous level of detail to their website layout, content strategy and SEO optimization.
I have also seen countless numbers of people fail with affiliate marketing and online business, usually because they are unwilling to put in the work – for example, giving up after one failed site. They often then go on to the next 'Shiny thing' in the hopes of getting rich quick. Usually this is as a result of not publishing enough content (or poor quality content), poor keyword selection, not using SEO appropriately or by partnering with dodgy affiliates to push poor products. It truly is a numbers game -which is why I run a portfolio of websites, not just one – the same as my investing strategy!
How quickly does affiliate marketing work?
How long is a piece of string?! Haha. But seriously, there is no 'one size fits all' answer to this. It depends on the techniques and the affiliate marketing strategy you apply, and how much effort you put into it. Personally, I use blogging – for my skyscraper (long format) review articles I target longtail keywords with buyer intent and low competition.
This is because I want to generate Organic traffic (I don't want to pay for the traffic!) – it does take a while to build up enough content and EEAT (Expertise, Experience, Authority and Trust) for google to recognise, index and rank all of your content and to start seeing great organic traffic numbers. I generally say to people, if you are doing Keyword research and SEO right, publishing at least one great quality article per week, building a social media presence and networking (off-page SEO) to get backlinks, then it might take you 12 or 24 months to start seeing good results.
For those who want quicker results, there ARE strategies out there such as purchasing websites (online businesses) which are ALREADY making money through affiliate marketing (and other sources usually such as display advertising or selling digital products such as an eBook, course or membership).
Another way to 'speed up' the process of generating affiliate income is by running targetted paid ads through both Google (for the google search engine results page) as well as Meta (Facebook and Instagram) however these are advanced techniques and its easy to waste a lot of your hard-earned money if you don't know what you are doing. If you want to try paid ads, I would recommend you watch Michelle's expert guest section on paid Facebook ads within the course carefully and do a lot of further reading before starting small ($100 a day or so) and testing your strategies before you start spending serious money on paid advertising as a part of your affiliate marketing strategy.
Michelle's affiliate income report examples
The following images are some screenshots Michelle's affiliate income reports. Usually, your affiliate arrangement will come with an affiliate dashboard and an affiliate manager. On your affiliate dashboard, you will see a homepage or snapshots like this, where you can track your affiliate performance and see metrics like number of clicks, actions, sales amounts, commissions, conversion rates, earnings per click and total payouts.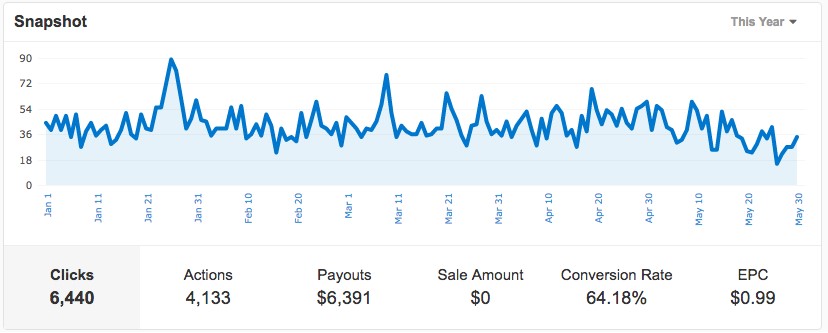 Making Sense of affiliate marketing Course Overview
"Making Sense of Affiliate Marketing" is an online course designed to cater to individuals who are new to affiliate marketing as well as those who want to optimize their existing affiliate strategies. The course is structured into several modules, each covering specific aspects of affiliate marketing, and offers a comprehensive learning experience.
How do you access Making Sense of Affiliate marketing
Making sense of affiliate marketing is hosted through Teachable, which is on the 'back-end' of the site. All students need to do is navigate to the site, create an account and pay, and then use their log ins to access the coursewear.
Features of Making Sense of affiliate marketing course
Thorough Content: One of the standout features of this course is the depth of content it offers. Michelle leaves no stone unturned as she covers everything from affiliate program selection and legal considerations to advanced marketing techniques. The content is well-organized and presented in a manner that is easy to understand, making it accessible for beginners.
Real-life Examples: Michelle peppers the course with real-life examples of her own successful affiliate marketing endeavors. These anecdotes serve as valuable insights into the practical application of the strategies being taught, adding significant value to the learning process.
Exclusive Community: Upon enrolling in the course, students gain access to a private Facebook group where they can connect with Michelle and fellow affiliates. This community aspect fosters networking opportunities, provides a platform for sharing experiences, and enables members to seek advice from those who have already achieved success with affiliate marketing.
Time Flexibility: The course is self-paced, allowing students to learn at their own convenience without feeling rushed. This aspect is particularly beneficial for those with busy schedules, as they can progress through the content without added pressure.
Lifetime Access: Free updates for life
Making Sense of Affiliate Marketing Course Modules
Making Sense of affiliate marketing is spread across the following modules
Welcome
This is the introduction to the course, provides access to the workbook and details to join the exclusive facebook group – the making sense of affiliate marketing facebook mastermind group
Module 1: What is affiliate marketing
Why Affiliate marketing is Great
The Basics of Afffiliate marketing
How Affiliate links work
Module 2: How to Find and Apply to an Affiliate Program
The Amount of traffic you need
How to determine what your readers want
Worksheet: Brainstorm what your readers want
How to find an affiliate program
80+ Affiliate program ideas for different niches
Worksheet: Affiliate programs you are interested in
Affiliate tracking spreadsheets.
Module 3: Follow the Rules
Requirements and disclosures
Understanding Nofollow and Sponsored links
What to do if you live in a Nexus State [This is a oddly USA specific issue that's NEVER come up for me]
Module 4: How to Get your Readers to Convert
The tool you need to master affiliate marketing
How to build trust
Worksheet: How to pick the right affiliate product to promote for your brand
Deep linking 411
The importance of your click-through rate
the Value of a Bonus
Worksheet: My Bonus Ideas
How to have Affiliate marketing success
Improving your top 10
Worksheet: Improving your Top 10
Module 5: Strategies and Ways to promote affiliate links
Introduction to the Different Strategies
Creating successful Affiliate reviews
Worksheet: Creating the perfect affiliate review
Teaching with Tutorials
Having helpful Resources Page
Using interviews to drive sales
The Money is in the List
Your Average Blog post can lead to affiliate success
How to Rock Affiliate Marketing on social media
The crazy impact pintest can have
How I've earned over $500,000 from One Affiliate Product
Worksheet: Strategies to promote affiliate products
Module 6 – Rinse and Repeat
The importance of a Strong Relationship with your affiliate manager
Maintainign your Affiliate marketing Strategy
Worksheet: Regular Maintenance Checklist
The things you DO NOT want to do
Making your Affiliate Marketing strategy long lasting
Tips to improve your affiliate earnings around the holidays
Worksheet: Tracking your Affiliate income progress
Bonuses
How to Always get Approved to an Affiliate Program
VIDEO: How to Drive Thousands of visitors to your blog with Pintrest (33:02)
9 things you must do when something goes viral
How to increase your page views
Worksheet: My affiliate products and services
Worksheet: The perfect affiliate link checklist
VIDEO: How to maximise your reach, your impact and your revenue with Facebook ads with Monica Louie (39:00)
Editing and writing strategies that will take your content to the next level
VIDEO: How to legally protect your blog (32:48)
Making Sense of Affiliate Marketing course content example – The top 10 Things you Do NOT want to do (when Affiliate Marketing)
The following section is a small exerpt of titles from Michelles course from module 6. In this module, she covers off her Top 10 affiliate marketing mistakes, and explains why each one is a no no. Below are the top 10 affiliate marketing mistakes that you should avoid at all costs:
Don't just slap affiliate links on your website and expect conversions.
Don't turn all of your posts into affiliate advertisements.
Don't only mention the positives.
Don't promote every single affiliate product that you come across.
Don't copy from others.
Don't provide false reviews.
Don't let a large commission convince you to promote a product.
Don't just regurgitate sales copy from the affiliate program.
Don't forget to disclose an affiliate link.
Don't forget to track your affiliate links.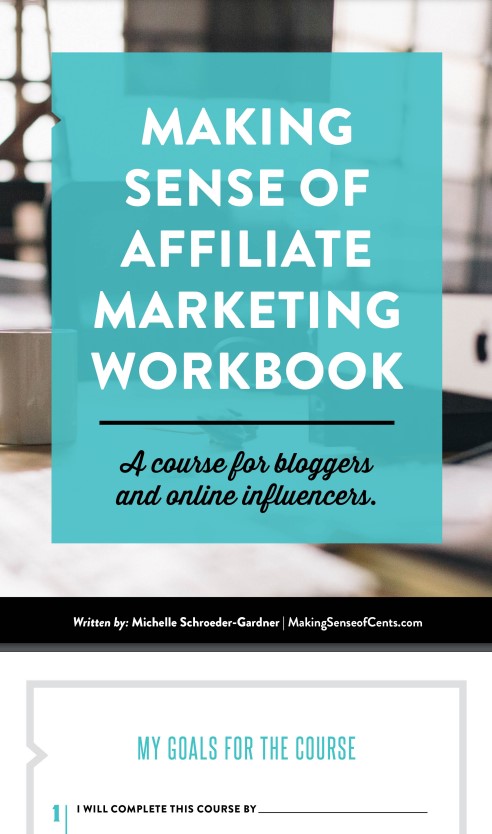 As part of the course, Michelle Schroeder-Gardner has created a private Facebook community called the "Making Sense of Affiliate Marketing Facebook Group." This community is only available to those who have enrolled in the course.
I have asked questions and connected with a number of people in the group, however my understanding is that the majority of members are fairly new to affiliate marketing, so you need to take the feedback with a pinch of salt (if you catch my drift).
What is the purpose of the Facebook community?
The purpose of the Making Sense of Affiliate Marketing Facebook Group is to provide a platform where course participants can ask questions, share their experiences, and learn from each other. The community serves as a forum for ongoing learning and support, supplementing the course materials.
In this Facebook group, members can:
Ask Questions: The group is a space where members can ask questions related to the course content and receive answers from their peers or directly from Michelle.
Share Success Stories: Members are encouraged to share their success stories to motivate each other. These can be valuable real-world examples of the principles taught in the course.
Learn from Others: The community offers an opportunity to learn from other bloggers and entrepreneurs who are also implementing affiliate marketing strategies.
Stay Updated: The group can also provide updates on the course content, industry news, and other relevant affiliate marketing information.
By fostering a sense of community, the Making Sense of Affiliate Marketing Facebook Group aims to enhance the learning experience of the course participants and provide ongoing support as they navigate their affiliate marketing journey.
Captain FI's Honest Making Sense of Affiliate Marketing Course Review
I enjoyed taking Michelle's course Making sense of affiliate marketing. Whilst I was hoping for more video content and more 'concrete evidence / examples', it was still a great course, especially when you consider the price being so low for what you get,
I think it's great for beginners, new affiliate marketers, and anyone involved in affiliate marketing just as a way to check any blind spots or knowledge gaps you might have. Whilst I am not a beginner and have been doing this for a couple of years, I was still able to take away a heap of lessons – as well as three major learning points to apply to my own affiliate income strategy (to hopefully make more affiliate income).
Verdict: Making Sense of Affiliate Marketing by Michelle Schroeder-Gardner is a comprehensive and well-crafted course for aspiring affiliate marketers. At $197 it is well worth the money and significantly cheaper than similar courses.

Captain FI readers can get a bonus by using this affiliate link to sign up and also Check out Michelle's FREE ebook – Making sense of cents Affiliate Marketing eBook.
Having said that, there are definitely areas this course could do with improvement. For example, the following topics are pretty light on, and I consider them pretty important for affiliate marketing;
Google Analytics
Content creation and management
Keyword
Email Marketing
Captain FI's key learning point takeaways from Making Sense of Affiliate Marketing
These three big take-away points were
Pretty links and link cloaking
Facebook ad campaigns
Overdoing link insertion
Pretty links and link cloaking
Michelle teaches us to use a pretty simple tool called Pretty links. This is a WordPress plugin which you can use to redirect (or cloak) links in order to make them look more appealing to visitors. For example, you wouldn't want to click on (this hypothetical URL) www.myblog.com/XTT%29fhdwbhdwggwdggddgw – it kind of looks like a dogs breakfast and potentially spammy/unsafe
Instead, you can use pretty links to cloak the link (redirect it) to something like www.myblog.com/product – which you can see looks much cleaner.
The massive hidden benefit, which is something I have struggled with, is when affiliate partners CHANGE YOUR LINK. It is very annoying, and happens regularly. If you don't stay on top of it, it can mean lost affiliate income. Having pretty links is super easy, because you simply change the affiliate link within the pretty link plugin once, and you don't have to go through and change it each time on your blog posts.
Bit.ly is also another great tool you can use for link shortening and I have used this for social media too.
Its worth noting through as Michelle points out, you aren't allowed to link cloak for products you are promoting through Amazon Associates (but you can use Amazon's short code link which works well).
Facebook ad campaigns
I have previously been a bit of a newbie to paid advertising campaigns, somewhat overcome by the 'Dogma' that is organic traffic prioritization amongst bloggers and online marketers. The standard belief is well, why would I ever pay for paid traffic (which stops the moment I stop paying), when I can just use good content to get recurring organic traffic for free?!
Well yes, I have managed to successfully run a portfolio of websites without using paid traffic and ad campaigns, but the truth is I have been leaving money on the table. When I experimented with boosted posts I didn't really know what I was doing and although I achieved success promoting affiliate sales, I wasn't properly capturing ad campaign data or testing different ads and this ultimately meant I paid a higher price per conversion.
After watching How to Maximize Your Reach, Your Impact, and Your Revenue with Facebook Ads by Monica Louie, I began experimenting within the meta ads manager and actually running campaigns with different ad sets, in order to split test different ad copy, target audiences and outcomes (i.e. impression vs link click). I can confidently (and happily) say that I was able to get my cost per link click on Facebook from $1.22 and on Instagram from $2.67 down to $0.88 per click across all of Meta (Facebook, Instagram, Messenger etc).
Whilst that might not sound like much, thats a 34 cent saving per click, and for my most recent 3000 click campaign I have saved myself over $1020 – recouping the cost of Making sense of affiliate marketing SEVERAL times over – with obviously much more savings when compared to my (very expensive) Instagram boosts. I have learned a very valuable lesson that the Meta ads manager is one major tool you shouldn't ignore when running paid ad campaigns to drive affiliate sales, and ignoring it is at the peril of your blog income.
Overdoing link insertion
OK so I have definitely been guilty of overdoing the link insertion in the past, something that is common with newbie affiliate marketers and anyone new to being an online business owner (especially when it comes to affiliate marketing income). As a brand new blogger after joining managed affiliate programs, it can be tempting to simply spam out affiliate products in blog post after blog post, hoping to build passive income.
Instead, follow Michelle's perfect affiliate link checklist and insert the link only a couple of times (as she suggests, at the beginning and end of the article).
Feedback for areas for improvement needed in the making sense of affiliate marketing course
As I mentioned above, there are some areas for improvement in MSOAM. Whilst its not intended to be the one-stop-shop or ultimate how-to guide for making money online, and for the price I think you are definitely getting a lot of value. As a graduate of the eBusiness institute champions course, which is an intensive year-long training and mentorship program (that is also several orders of magnitude more expensive haha!), I picked up that the following areas are kind of glossed over – I think you will need to do further research and training in these areas if you want to be successful;
Google Analytics
Michelle talks about the importance of scanning your top 10 articles and analyzing what potential affiliate links you can insert, but there isn't really any mention of how to set up a google analytics account or how you actually go through and analyze your google analytics results (for example looking at bounce rate or user engagement). Setting up your google analytics is a CRUCIAL step for blogging, and regularly reviewing your google analytics and traffic is a cornerstone for successful affiliate marketing.
Google Analytics is the way you track your key metric – your outbound affiliate link clicks. Whilst Michelle talks about the affiliate conversion rate (the number of sales divided by the number of clicks), which IS a very important metric about your audience (and a measure of pre-selection or how 'hot' your affiliate leads are), you also need to know the number of outbound affiliate link clicks in order to keep your affiliate manager honest and to get an understanding of patterns of normal traffic flows from your blog. If you don't track and manage this closely, you could be sending affiliate sales and not even being paid for them!
For example, I have in the past been sending affiliate clicks through to a product, but due to an error they were not being recorded in my name. By checking google analytics and my outbound traffic, I was able to identify this, and bring it up with the affiliate manager to have rectified. That one mistake was costing me over $500 per month in lost revenue!
There is pretty much no mention of SEO in the course, which is wild because for me, SEO and organic traffic is basically 90% of my affiliate marketing monetization strategy.
To put it bluntly… you won't be able to do any affiliate marketing unless you have traffic to see those links. Unless you have somehow built up a huge social media following, or have a ton of money ready to throw away on paid traffic (through Google and Meta ad campaigns), it's going to be insanely difficult to rank your articles and build organic traffic without an understanding of SEO.
Basically, SEO is all about getting your content shown to the world – and there are a number of crucial things you need to be aware of if you want your content to rank and begin getting organic traffic – such as Keywords, User Search intent, Content Quality, On page metrics, and Backlinks. You can read more about SEO in my guide to Search Engine Optimisation
This is an epic video by ahrefs about SEO and affiliate marketing
Keyword Research
Whilst usually thought of as a part of SEO, Keyword Research is vitally important for affiliate marketing. For example, Michelle briefly introduces doing review articles as part of your content strategy, however you MUST look at the keyword research. The crux of building a successful online business is traffic – without traffic (eyeballs) you have no one to sell to. So you must get the Traffic in order to make affiliate sales. Keyword research is all about understanding what drives traffic, and what is the user intent behind that traffic.
As I mentioned above, SEO is like 90% of my business strategy, so understanding keyword research and things like buyer intent, search regions, primed keywords, as well as targeting long tail keywords with high search volume and low competition, is really the key to driving not only traffic, but the right kind of traffic that will ensure a high conversion.
Content Creation
Michelle touches on content creation with review content – for example, content showing the product being used, your feedback and recommendations, as well as getting an editor and editing techniques, but again overall its pretty light. Content creation is absolutely key when it comes to succeeding with affiliate marketing. Basically, you need long-form content that is GOOD. You have to stand out from your competitors. It would be good if Michelle went into deeper detail regarding outsourcers, getting writers, and setting up systems for automation. The cost of good content production (writing and editing) is also pretty high, so it would be good to see some realistic numbers behind content creation and management costs, versus the income it drives.
Social Media Marketing
Mentioned in the course is a large section on Pintrest marketing. I don't have a lot of experience with Pintrest – I did try it for a few years but ultimately found it wasn't working for me with the skills I had, so I switched to focus on Facebook and Instagram. With that being said, I am going to re-attack the Pintrest strategy with the advice from Michelles course, but I am cautiously optimistic on this regard.
However, I believe that Facebook, Instagram, Twitter (now 'X') and Threads (by Instagram) really shouldn't be glossed over, and it would be great to get some more information about social media marketing strategies for other social platforms. For example I create short condensed 'snippets' of my blog review articles, as well as an eye catching graphic, and have an automated social media tool called SmarterQueue which automatically posts these according to a posting schedule. This drives social traffic to my blog, and because it is automated it saves me a lot of time. I fill the cue in batches, and recycle content that is evergreen (that will stay relevant).
I also personally don't know anything much about affiliate marketing on YouTube, which is something I am interested to learn, but which wasn't covered either.
It would be good to see information about different social media marketing tools available, techniques to use, and tips and tricks such as automation and outsourcing
Email Marketing
Michelle mentions the importance of email marketing, and the need to grow your email list. However, she doesn't provide any concrete examples about HOW to begin collecting emails, tools we can use, how to encourage people to join your mailing list, or how to run successful email marketing campaigns. Again, I am not an expert in this regard, and only have an email list that subscribers can use to be notified whenever a new article comes out. It would be good to have some more information about how to be successful with email marketing.
Making Sense of Affiliate Marketing positive student reviews
There are a lot of positive reviews about Michelle's course making sense of affiliate marketing online. Her course has had over 6,000 students graduate, which is a pretty impressive number. I have seen a lot of positive reviews online, but, you always need to take these with a pinch of salt. Especially when the reviews have been hand-picked by Michelle for advertising, or they are being used by her affiliates to promote the course and receive a commission share of the course fee.
The following are three (positive) reviews from students – however its important to also seek out negative reviews, which we will cover in the next section.
"Since taking Michelle's course 5 months ago, my monthly page view average has been 36,715 but my affiliate marketing income has grown from an average of $272.94 per month to $4,400.19 per month. That's more than 1,500% growth! Within just 5 quick months, I've made more than $21,000 directly from the affiliate marketing tips in this course…. I made more than $10,000 in just March 2017 alone! Low page views is not an excuse for low affiliate marketing income. You don't have to struggle to earn a few dollars a month. Invest in yourself & get educated to start building your business right away. Let Michelle show you how an expert does it!"

Saira Perl, Blogger, MomResource
"Michelle is unbelievable. I had a decent amount of traffic, but struggled with using affiliates wisely. I used to get really overwhelmed with affiliates and would be disappointed when I didn't see results from the enormous amount of effort I was putting into it.

Michelle was able to quickly identify what needed to be changed and within one month, my income rose 40% and has since quadrupled only 4 months after working with her! My income was $6,469.50 before I talked to Michelle, immediately jumped to $9,362.64 the next month and is now $24,680.25 (four months later) and climbing!

Michelle is my go-to person for step by step affiliate income strategy."

Rosemarie Groner, Budget Guru, The Busy Budgeter
"Reading Michelle's income reports each month made me realize the huge potential there is to make more money online. Even as a blogger with an established site over 8 years old, I knew that there was so much that I could learn from Michelle because she's had such incredible success! Watching her income climb each month has really motivated me to change up my affiliate strategy and be more intentional with my efforts."

Jessica Bishop, TheBudgetSavvyBride.com
Making Sense of Affiliate Marketing negative student reviews
Whilst there are a lot of positive reviews, Michelle has also received criticisms for her course being overly simplistic, lacking detail and worked examples, and overall for focusing more on telling rather than showing or teaching. The following are some negative reviews which I think is important to balance the positive reviews, but of course remember to take everything again with a grain of salt as I suspect there are some sour grapes here over Michelles success online.
I got a refund on this course

I've been working online full-time for about 13 years and I took this course to up my game in affiliate marketing. The course is so basic that it won't even help beginners. The person that created the course seems to have just gotten lucky with their affiliate marketing success. None of the tools and techniques listed here will drive your growth. I have WAY more experience than this person and it's a shame that beginners won't realize that they aren't learning anything helpful. They sent me an email asking for feedback. I told them what I said above. I received a refund immediately and they kicked me out of the Facebook community even faster.
Don't buy this course

I knew Michelle and a few other bloggers who recommended her course so I felt safe in the purchase. However, after going through it, I realized that all of the things she taught were tips I could have found on Google.

I looked for the tips I thought she would share; the kind that was giving her the $50k+/mo through affiliate marketing. But nothing. And I don't think it's because they just simply don't exist and that she just happened to do the normal affiliate steps better than others.

It's either one of two things:

1. She's better at doing than teaching. Some people just aren't good teachers, and remembering to include all of the tips that got them to where they are.
2. She's not willing to share everything she did so the competition with affiliate marketing will be lower.

I'd like to think it's not the second option, but I sometimes wonder. Now, it could just be the simple formula of finance niche + good/consistent traffic + trusting/loyal audience + social proof = more income in affiliates. Most likely that could be the case. Sadly, she doesn't cover this (or parts of this formula) in her course and how to get there. I feel like the course was just a way for her to create another revenue stream so she's not completely dependent on traffic and affiliates. My impression is that it's not to help others, which is very sad.

Lastly, I'd like to see what courses she took that helped her with affiliates and selling in general. When I look at the way she sells/promotes ANYTHING, I think she's a pro and that she learned it somewhere. I don't think it came naturally to her. Unfortunately, she doesn't share that in blog posts and she doesn't teach the BIG things she does to sell/promote in her course.
An Okay Course – but nothing ground breaking

I bought the Making Sense of Affiliate Marketing Course and it was interesting, to say the least. In my opinion, it was an overall informative course. However, I didn't like that it was all reading and no video or audio. I think it could be made better in those respects. Overall, the information was spot on. As of right now, I have not been able to build a successful affiliate marketing business from it but I'm certainly working on it. I think in another year or so I will have a successful affiliate marketing business.
How much does Making Sense Of Affiliate Marketing cost
Making sense of affiliate marketing currently costs (USD) $197. You can either pay upfront, or in two monthly installments. The Price has not changed since the course was released in 2016.
Money back guarantee
Making Sense of Affiliate Marketing does offer a 30-day money-back guarantee (full refund). To receive it, as per the terms and conditions on her website you must "show that you went through the course and took action" – although from speaking to Michelle, there hasn't been a situation where she hasn't issued a full refund to someone who has requested it. I think this is more to try and discourage people from giving up before they have even started.
Making sense of affiliate marketing Coupon code
Michelle doesn't allow coupon codes for MSOAM, although if you sign up for Making Sense of Affiliate marketing with the Captain FI affiliate link she generated for me, you should find yourself a nice little bonus 😉
Free Making Sense of Affiliate marketing eBook
Check out Michelle's FREE ebook – Making sense of cents Affiliate Marketing eBook.
Who is the Making sense of affiliate marketing Course Good For?
This course is great for beginners and those not ready to invest thousands into affiliate marketing training courses. However, having said that at such a low price point, it is almost a no-brainer for anyone who has an online business, makes money online, or uses affiliate marketing – just like I did, you might pick up a couple of awesome tips to improve your revenue or bottom line.
I think you will get the most out of the course if you have already started blogging and are looking to use affiliate marketing to monetize your website, however, even if you haven't started a website yet then it still provides a great insight into how you could potentially set up your business, and ways to set out your website and content.
Don't expect miracles – this isn't a one-stop-shop to learn everything about making money online, blogging and affiliate marketing. It is however, a bloody good introduction and well worth investing the time and some money into doing.
Conclusion
Making Sense of Affiliate Marketing by Michelle Schroeder-Gardner is a comprehensive and well-crafted introductory course for aspiring affiliate marketers. From covering the basics to exploring advanced strategies, the course equips students with the basic knowledge and tools they need to start the right way in this highly rewarding field.
In my honest opinion, as an online affiliate marketing course, making sense of affiliate marketing is bloody great. Whilst it is not going to teach you everything you need to know to become successful, I think its well worth doing. In combination with a blogging course and learning a little about personal finance and search engine optimization, I think you would be well-positioned for success.
The relatively low price tag and the potential to achieve substantial passive income through affiliate marketing makes it a worthwhile investment for serious learners. Furthermore, the added benefit of joining an exclusive community in the Facebook group offers ongoing support and inspiration throughout the journey, helping you to work through any challenges or pitfalls you might face and to not give up!
In conclusion, if you're committed to mastering affiliate marketing and learning from one of the industry's best, "Making Sense of Affiliate Marketing" is undoubtedly a course worth considering. If you're not earning money through affiliate marketing, then you are leaving money on the table.
So, are you ready to take the plunge and learn the secrets of affiliate marketing success with Michelle Schroeder-Gardner?
Verdict: Making Sense of Affiliate Marketing by Michelle Schroeder-Gardner is a comprehensive and well-crafted course for aspiring affiliate marketers. At $197 it is well worth the money and significantly cheaper than similar courses.

Captain FI readers can get a bonus by using this affiliate link to sign up and also Check out Michelle's FREE ebook – Making sense of cents Affiliate Marketing eBook.
Other Affiliate Marketing Courses
I have also personally taken the eBusiness Institute courses about online business – building, buying, rennovating, operating and even selling websites. I started with Web Dev, then did Digital Investors, and even did the 12 month Champions program as well as the mentoring packages. I credit Matt and Liz with teaching me many lessons that led to my success with online business and affiliate marketing.
Frequently asked questions (FAQ) about Making Sense of affiliate marketing
Answers to Frequently asked questions about making sense of affiliate marketing
Can you really make money from affiliate marketing?
Yes – I have personally made over $400,000 of income through affiliate marketing over the past 5 years. My highest month was $70,428, although my monthly average is usually around $10,000 – a game changer for my personal finance situation.

Michelle speaks about how she has been able to make over $500,000 from one blog post as an affiliate for BlueHost.
How can I be successful in affiliate marketing?
To be successful in affiliate marketing, make sure your affiliate reviews are honest. You should strive to only promote high quality products that you use and have in-depth knowledge on, with detailed, accurate reviews, and ensure that you make the required disclosures.
What are the golden rules of affiliate marketing?
Only promote products you genuinely know and love, and be 100% honest.
Is Affiliate marketing legal?
Yes affiliate marketing is legal, however only where the commercial relationship between both parties is clearly outlined to the reader – for example, when the affiliate is paid or benefits from their referral. In certain industries (such as the medical field), affiliate marketing is subject to further restrictions and licensing.
What should I avoid when affiliate marketing?
Don't just slap affiliate links on your website and expect conversions, Don't turn all of your posts into affiliate advertisements, Don't only mention the positives,don't promote every single affiliate product that you come across, Dont copy from others, Dont provide false reviews, Dont let a large commission convince you to promote a product, Dont forget to disclose an affiliate link, dont forget to track your affiliate links, and dont just regurgitate sales copy from the affiliate program.
How to start affiliate marketing?
The best way to start affiliate marketing is to start your website, podcast or social media channels and consistently produce good content to grow your audience. Once you have a regular audience or source of traffic, its worth investing in learning about affiliate marketing with some kind of training. Once you understand the basics, you can register for entry level affiliate marketing programs such as Amazon associates, as well as affiliate marketing aggregators such as ClickBank, ClickUp, Impact or Commission Junction.
Making sense of affiliate marketing free download
Whilst there may be copies of making sense of affiliate marketing available to download for free, you should never pirate an online course or someone else's intellectual property. You run the risk of downloading malware and viruses, as well as potential future legal action. If you want to complete the course, I recommend you pay for it.
What is affiliate marketing Australia?
Affiliate marketing in Australia is the process of promoting other peoples products and receiving a commission for referring sales to them.
Captain FI is a Retired Pilot who lives in Adelaide, South Australia. He is passionate about Financial Independence and writes about Personal Finance and his journey to reach FI at 29, allowing him to retire at 30.