Pearler Review; a complete review of the Pearler investment platform from an experienced and long term investor on the path to Financial Independence. Reviewed, updated and republished 28th September 2022, originally published March 2019.
The Good
CHESS sponsored Australian share market trading
US share market trading (including fractional shares)
ROund up and auto invest for investing Automation
Culture of long-term investing, not gambling
No investing experience is necessary – portfolio example templates and educational materials
Automated US tax form (W8-BEN) lodging
Over 65,000 users
The Bad
Not for active traders / day trading
No live data or research reports
High FX fees (but lower than other brokers)
Microinvesting (Pearler Micro) expensive at low balances
Can take up to 4 days to set up
*$5.50 Flat fee trades if pre-purchasing Brokerage credits using Pearler Cash, otherwise $6.50 flat free trades with 'Pay as you go'
Verdict: Pearler has been built specifically for the FI community – long term investing with Pearler is simple and can be automated. Pearler is the share trading platform I use for my ETF portfolio, but you should consider whether it is right for you.
Pearler investment platform
This article is general information that reviews where Pearler is currently at, discusses my use of the platform, and ultimately aims to help you answer for yourself whether it might be a good brokerage option for investing to build wealth on the path to Financial Independence.
Pearler is a share trading (stock brokerage) platform specifically built for those on the path to reaching Financial Independence. With $5.50 CHESS sponsored trades (pre purchased in pearler credit, otherwise $6.50) and free trades on some ETFs, access to global markets, microinvesting, round ups and automatic investing features (auto invest), it is specifically designed for those on the path to Financial Independence and wanting to passively grow wealth.
"Pearler: Informal, mainly Australian – something impressive: "That landing was a real Pearler, mate!"
Pearler's crowning 'Pearl' is its Autoinvest feature which lets someone automatically invest so they can put investing on auto pilot and cruise toward FI hassle free. Read on for my full breakdown of the Pearler brokerage platform and my experience using it.
If you would rather listen, make sure to check out the Interview with Kurt Walkom, one of the founders of Pearler, on the CaptainFI Podcast.
CaptainFI is not a Financial Advisor and the information below is factual review information, not financial advice. This website is reader-supported, which means we may be paid by advertising on the site, or when you visit links to partner or featured sites. For more information please read my Privacy Policy, Terms of Use, and Financial Disclaimer.

Introduction to the Pearler investment platform
The Pearler investment platform has a heap of great features that are specifically tailored to the FI community that help you invest in shares, as well as CHESS backed $5.50 trades (pre-purchased Pearler credit, otherwise $6.50). Actually, the founders designed Pearler to be the clear choice for those on the path to FI out of all brokerage platforms, wanting to help you make better financial decisions and build wealth through long term investing.

The Team behind Pearler has big plans to eventually create a 'Financial Marketplace' where you can access a heap of free peer reviewed information and access to industry award winning and low cost products for investments, bank accounts, loans, insurance and more – perhaps similar to affiliate review companies like Canstar, Finder or ProductReview, but then going one step further and actually being trusted to provide or broker the product themselves.
"A world without chronic financial stress"

Kurt Walkom, Pearler
For now though, they have entered the marketplace as a tailor built investing platform for those on the path to FI. With competitively low brokerage costs, no fees and awesome FI features, Pearler's aim is to help you reach Financial Independence rather than profit off you.

Management and team behind Pearler – Founded by 3 friends.
Founded by 3 friends: Pearler was co-founded in 2018 by three University of New South Wales alumni: Kurt Walkom, Nick Nicolaides and Hayden Smith – you can read more about them on the UNSW Founders page here.
"We are building a secure place where you find the right financial products to suit your situation and goals, empowering you with the skill and confidence to use them. Investments, savings, loans and insurance from multiple providers, all in the one place. Starting with investing for all Australians."

Kurt WalKom, CEO and co-founder Pearler
Want to make more money to invest?
Before we go any further, if you are interested in knowing how to make more money in order to invest towards reaching financial independence check out my detailed article how to make money online.
Features of Pearler
Pearler offers a range of features and tools that would be valuable to anyone on the path to Financial Independence. Straight up, I think their automated investing tools are the most useful; specifically their Autoinvest feature to put your investing on autopilot, and their Autodeposit to build your cash account.
Pearler also offers a way to help track your progress with Goal Tracking, You can track your progress to Financial Independence, compare your portfolio to Financial Independence community leaders with Finfluencer Portfolios, and an awesome way to help keep yourself accountable is with Shareable Portfolios.
Pearler also offers an information packed blog, a moderated forum (under their AFSL) called the Pearler Exchange, and a myriad of tools such as a Compound interest calculator, Investing duration calculator, Investing amount calculator, Investing frequency calculator and Franking credit calculator. They also have Sharesight integration as standard which is handy!
Automation is hands down the most important behaviour to reach Financial Independence; Set and Forget and Collect! Did you know some of the worlds best investors are either people who forgot about their investments, or who had actually died? Check out this article on Business Insider based on information from US investing giant Fidelity. Although this article has been disputed by popular finance blogger Saverocity, everyone agrees that automatic investing and stretching out your portfolio re-balancing intervals as long as possible (such as yearly) is the best way to 'emotion proof' your portfolio and protect it from yourself!
If I am honest – The reason I switched to Pearler is that when I reviewed my investing decisions over the past three years, I almost never stuck to my regular investment plan. Sure – I 'roughly followed it' but it wasn't perfect – and as a result, I did myself a disservice. Previously I had used online brokers to manually lodge my trade (purchase)
Pearler Auto Invest feature
Automated investing using auto invest is a game changer for passively building wealth. Not only will Pearlers Autoinvest automatically invest in the following four ways to meet your target allocation, but the Auto deposit tool will allow a direct debit from your bank account into your Pearler CTA account.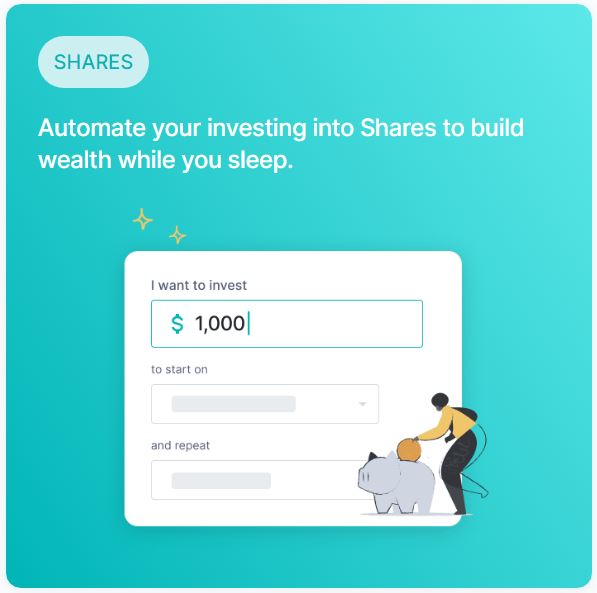 Single share furthest below target weight
Single share of my choice from my portfolio
Rebalance to target weights
Equally across target weights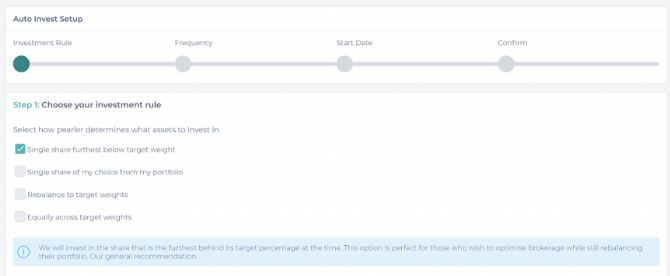 Round Up
Pearler have now introduced their new Round Up feature which links to your bank account and takes the spare change from everyday purchases and automatically invests it every time the balance hits $10. This can be activated though the Automate tab and is part of the Autoinvest feature.
Investing options through Pearler?
On your Pearler brokerage account, you can invest in all Australian listed stocks, as well as all US listed stocks. With the availability of global stocks through Australian and US domiciled funds such as ETFs and index funds, you can get exposure to the global stock market, as well as things like bonds, REITs and listed investment companies.
Pearler recently launched Pearler Micro, which is a microinvesting tool to help investors get started
Pearler have Sharesight integration using an API – which is great because it means its automatic and you don't have to do anything! To link your Pearler brokerage account to Sharesight, follow the guide below under 'how to use pearler'.
The Pearler Exchange (pearler forums)
Pearler have created an online forum called the Pearler Exchange. You can access this through your normal Pearler investor log in. The Pearler Exchange is great because it is a moderated forum that is covered by Pearlers AFSL – meaning they have a vested interest (ehhem legal requirement from ASIC) to keep bullshit out of their website.
This means each thread has passed quality control, making it a safe environment to both ask questions, and to provide information if you have experience and the knowledge to do so.
The Pearler Blog
Pearler have an online blog packed with helpful articles regarding investing and financial independence. I have even published a few articles there which you can check out here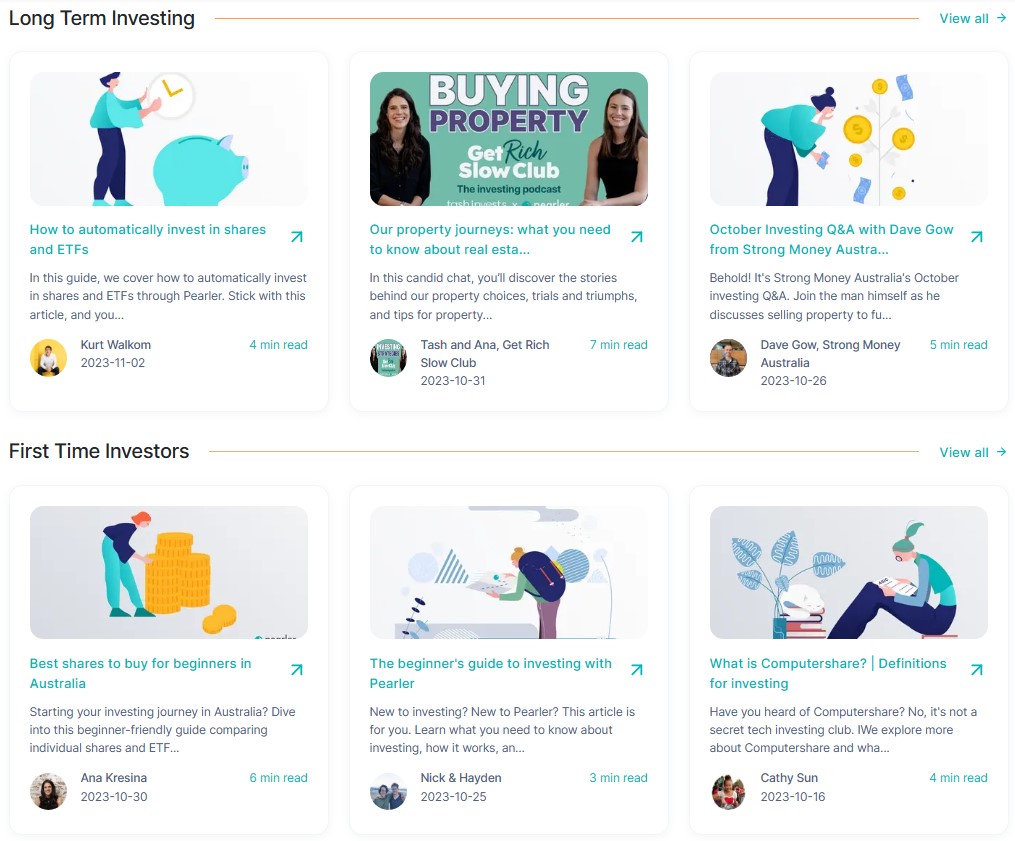 Pearler online calculators
Pearler has a heap of online finance and investing calculators.
My favourite one is the Financial Independence Calculator, which is pretty comprehensive. It is inspired by the Aussie Firebug's original design, but has been simplified into a neat online tool.
You input data such as your date of birth, annual income (pre-tax or after tax), annual spending, super balance, brokerage balance, expected market growth and inflation rates, and then based on your expected passive income and annual investment contributions it will spit out a figure when you can retire using the two step (brokerage draw down + dividends, and then superannuation) retirement strategy, as well as some handy charts to visualise potential growth.
Other useful calculators found free on pearlers website (under Learning -> tools) include;
Compound Interest calculator: Standard compound interest calculator for expected investment growth
Investment duration calculator: A 'reversed' compound interest calculator to plan how long it would take to reach a long term goal by investing
Investment amount calculator: A 'reversed' compound interest calculator to plan how much you need to regularly invest to reach a long term goal by investing
Shares investment frequency calculator: A calculator which works out how often you should invest to maximise your efficiency due to the effect of brokerage versus investment growth. This is a really useful tool!
Franking credit calculator: Tells you how much your franking credits are worth, useful for understanding your after-tax dividend worth and planning your tax refund.
Pearler Profiles
Pearler allows shareable profiles, where you can see exactly how other people invest. This includes some of the most popular online writers, bloggers and content producers including Tash Invests, Aussie Firebug, Queenie Tan, Dave from Strong Money Australia, Aleks from brokegirlwealth, and of course myself – you can check out my profile and how I am investing right now. But it's not just these larger accounts, actually, everyone can share their profile publicly if they choose to.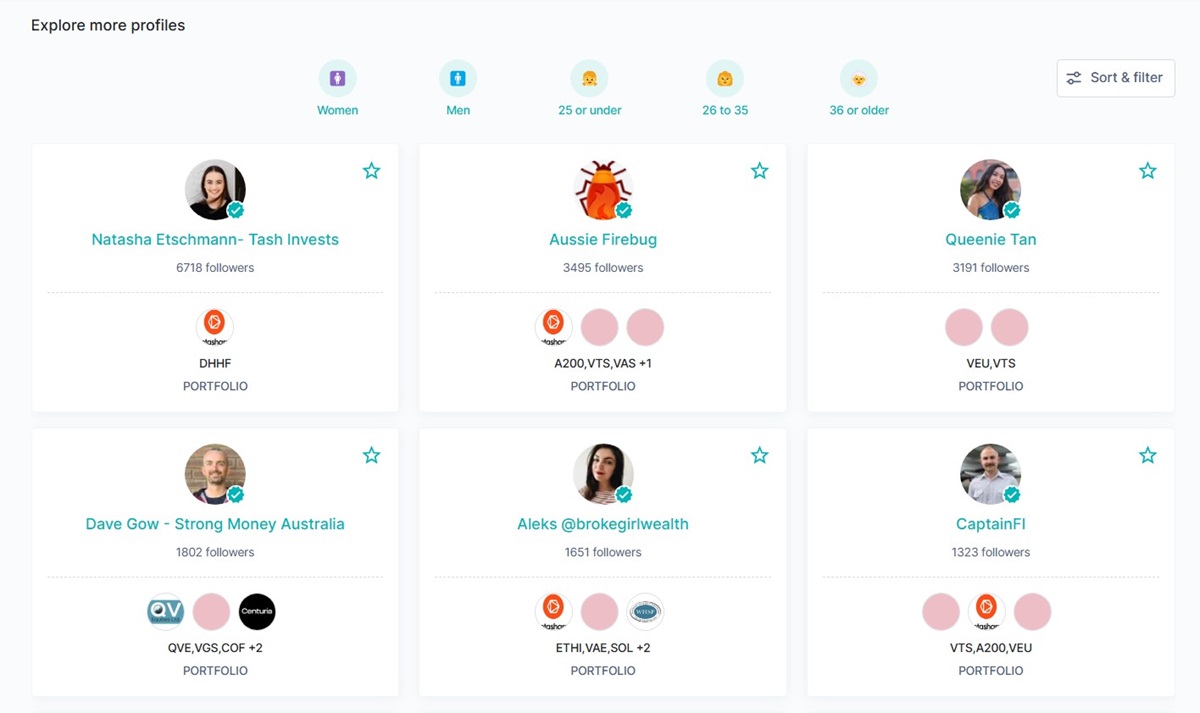 Pearler has a shareable portfolio feature where you can opt to publicly share your profile. This will only show the percentages you invest in – and not the total amount.
Pearler features request board
Pearler even has a feature request board where you can ask them to do stuff and add new features. You can submit as many as you like, and see how other feature requests are polling.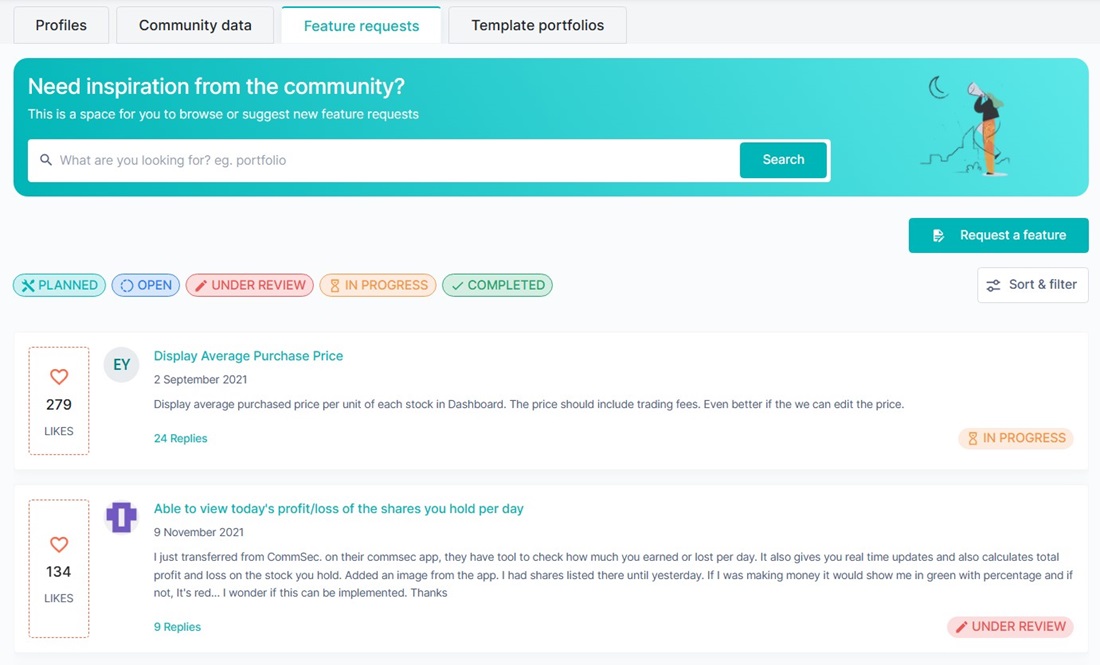 You can also look through the list of Planned, Open, Under Review, In Progress and Completed requests to get an idea of how quickly Pearler is responding to the communities requests, which I think shows great transparency and a real genuine commitment to serving the community. One of my absolute favourite completed requests is shown below!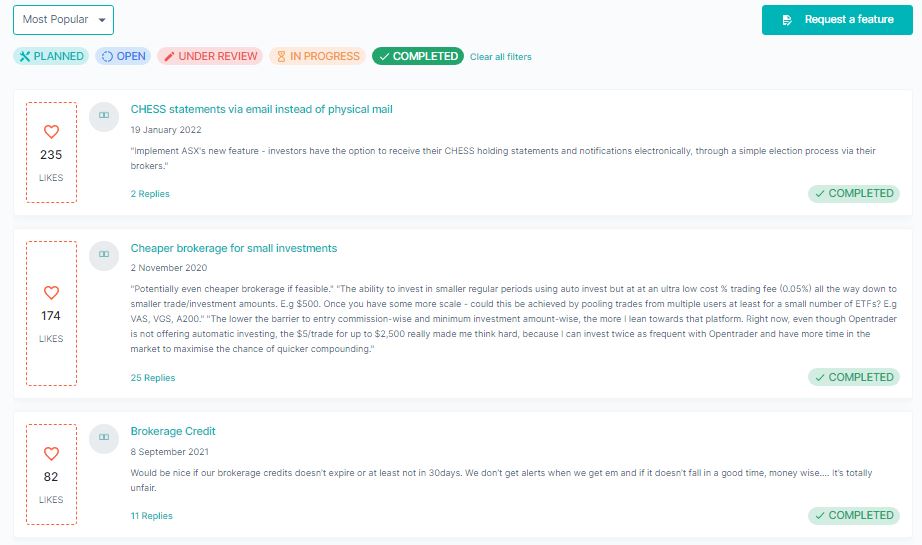 Pearler fees and brokerage
Pearler has a very simple fee structure when compared to other online brokers. They don't really charge fees (with a couple of exceptions), and brokerage for share trades (Aus or US) is a flat $6.50, or for the brokerage free ETFs, it is free (as the fund providers will pay the brokerage for you to entice you into buying the ETF).
You can also prepay and save on brokerage – by buying $55 in Pearler Credit for brokerage, you can get an additional $10 worth of brokerage for free, making your total cost only $5.50 per investment, which is a pretty cool perk.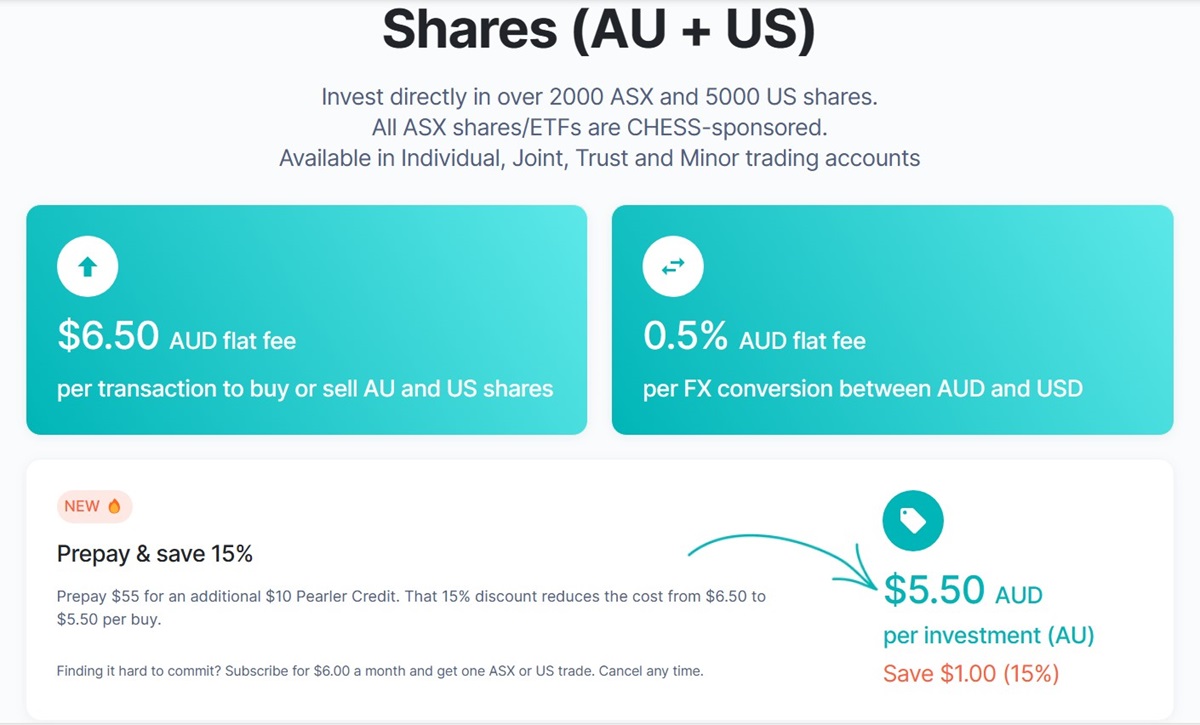 To put it in perspective, most of the big four banks charge sliding scale brokerage which can end up costing hundreds (or even thousands of dollars on a huge transaction!). Realistically though, if you are on the path to FI, you would know the benefit of Dollar Cost Averaging into the market as soon as you earn your money – so your trade size will usually not be ridiculous so we need a fair comparison. Most of us regular folk will be more in the vicinity of under $5,000 per month, so $5.50 is a very fair price IMO.
For a share parcel of $2,000, Pearler provide the following table for brokerage, including US conversion costs – showing how you still get ahead investing through pearler in the majority of cases, with Stake providing the cheapest alternative for current Australian CHESS sponsored share trading (but lacking an Auto invest feature).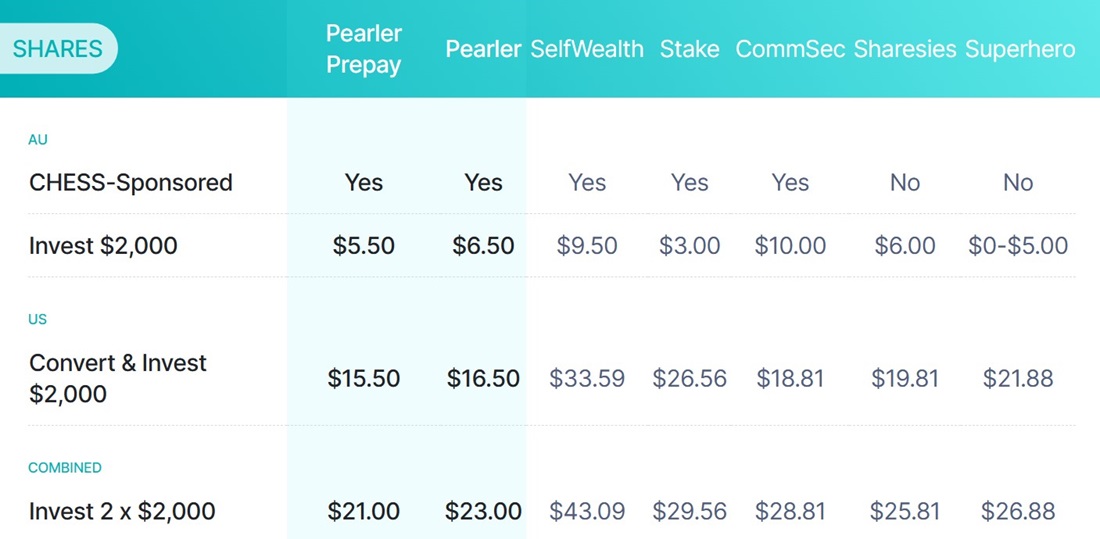 All Australian-based platforms that offer US trading charge foreign currency exchange (FX). Pearler charges 50bps or 0.50% for transactions, meaning it costs you $5 for every $1000 you move across to your US share portfolio cash funding account (and vice versa – the fee applies when you withdraw from your US share portfolio cash funding account). This is pretty expensive but still cheaper than most other Australian Brokers.
US shares transfers attract fees depending on which system is used.
Transferring US shares into Pearler from another broker;
Transferring US shares out of Pearler into another broker
ACATs cost $65 USD per account
DTC costs $35 USD per holding
DRS costs $55 USD per holding
DWAC costs $130 per holding
Pearler for Non Australian residents
Can I invest with Pearler if I'm not an Australian resident?
You currently cannot invest with Pearler if you are a resident or tax resident of another country.
Brokerage Free ETFs with Pearler
Pearler offer Brokerage Free ETFs (ETF securities) when you buy and hold, as a way to encourage long term investing. Pearler are able to achieve this because they have partnered with like minded ETF managers at eInvest, ETF Securities and VanEck, and the ETF managers absorb the cost.
This is because the ETF managers actually really want long term investors in their ETF securities as it greatly helps their business model. They pay the brokerage on your behalf to Pearler (so Pearler get paid!), the ETF manager gets a long term client, and you get brokerage free ETFs – everyone wins!
You can now invest into over 43 brokerage free ETFs, which means you can invest more regularly (benefitting from compound interest), and your investments work harder as you don't lose any money to transaction costs. This is especially important for investors who are wanting to regularly invest with small amounts, as previously brokerage costs would have eaten away at your returns since they are such a high percentage of investing small amounts.
So what's the catch on brokerage free ETFs? Well you just have to hold the ETF securities for more than a year. If you decide to sell before the year is up, you will get charged the standard $6.50 or $5.50 (prepaid) brokerage on each transaction (buy and sell).
Are Pearler CHESS Sponsored?
Yes – your Pearler account is CHESS sponsored. This is important, as CHESS (Clearing House Electronic Sub-register System)  sponsorship ensures you are the legal owner of your investments, and the ASX tracks your personal name and ownership using your Holder Identification Number (HIN) against that individual share holding.
Not all investing or brokerage platforms are CHESS sponsored (for example many MicroInvesting platforms are not CHESS sponsored) and this could create a headache if they ever collapse – it is unclear how you will get your shares back and basically you might have to rely on the 'goodwill' of the company to get your holdings.
Not being CHESS sponsored also means that the company that holds your shares in custodianship could potentially make money using your share holdings in unscrupulous ways – for example they might retain your dividends, profit by 'lending out' your shares to short sellers, or use the collective voting rights of its customers holdings for their own interest. Pearler doesn't do any of this nonsense, and your shares are securely held by you.
It is worth noting that Pearlers micro investing tool, Pearler Micro, is not CHESS sponsored because it uses a managed fund style custodian account to hold the underlying ETFs, so its just the main Pearler Shares platform which is CHESS sponsored.
Funding and Margin lending with Pearler
Pearler allows you to fund your trades using an inbuilt Client Trust Account (CTA) arranged through a Macquarie Bank (Macquarie Bank Client Trust Account) and do not offer Margin lending.
The Macquarie Bank Client Trust Account contains a sub-holding for each Pearler account, and this is where your direct debits for the Autoinvest feature is billed. You can top up your Macquarie Bank Client Trust Account using Pearler's Autodeposit feature which supports a regular direct debit (which you can conveniently line up with your pay day).
Because this is a client trust account it is not held in your name individually. This means you do not get an account name, number and BSB, and you do not control the funds or receive interest on your balance like you would with a Cash Management Account (CMA) which some other brokers use.
Personally, I would prefer a CMA however this currently does not integrate with their Autoinvest feature. Ultimately, you shouldn't really bother keeping much money in these accounts anyway, and your best off leaving it in an Online High Interest Savings Account until you need to use it. I quite like having the funds direct debited from my outside bank account into the CTA and then invested through the auto invest tool.
Joint investing with Pearler
Pearler offers digital joint accounts, which mean you can complete a joint application step (even if you already have an individual account). You just need to complete your co-holders details and you can then hold individual and a joint accounts simultaneously. To switch between them use the 'accounts' tab under 'settings' – this way you can track your progress to FI using both individual and joint accounts.
Trust investing with Pearler
Pearler as of 2022 now offers the option to invest via a trust. This is useful if you have a family or discretionary trust and use this as an investment vehicle, as you can now open a Pearler trust account.
Investing for kids – Pearler Minor Trading Account
Pearler now offers Pearler headstart which means you can invest in your childs name. This can have some tax saving implications however it is best to do some research and consult a financial advisor and tax accountant before investing for your kids, as there can be some interesting little quirks and complications under Australian tax law when it comes to investing for kids. The investment options and fees are the same as those available in Pealer Micro.
Pearler recently expanded to provide US share trading. All you need to do is follow the prompts on your Pearler account to open an OFX account (the company which contracts the foreign exchange side of the house). You simple place orders as you would for AUS shares, and OFX takes care of the US funding side of the house.
US market (NYSE/NASDAQ) opens at 1:30am – 8am Sydney time during the wintertime (First Sunday in November to the second Sunday in March) or at 11.30pm – 6am Sydney time during the summertime (First Sunday in April to the first Sunday in October).

US market Opening times, Pearler
US share trading costs $6.50 per trade.
US order brokerage will always be deducted in AUD from your primary AU cash account (Not Pearler Primary cash USD).
Pearler only supports individual, joint or minor accounts for us share trading
You can buy and sell fractional units of US shares
Autoinvest is now availiable on US markets
W8-BEN tax form is automatically completed and filed by Pearler for free when you open your Pearler US share trading account
US Dividends are credited to your Primary Cash (USD) account

Foreign exchange fees are 50 basis points – 0.5%, or $5 per every $1000 transferred between USD and AUD – which is fairly high, but cheaper than many other brokers.
US shares are custodially held under your name by Pearlers brokerage partner Drive Wealth. DriveWealth is a member of the SIPC and according to the Pearler website, investors are insured for cash and securities up to $500,000.
"DriveWealth custodies Securities and Other Assets held in your Account at approved Depository Trust Company Custodians ("DTC Custodians"). DriveWealth holds all positions in nominee name with the DTC Custodians; DriveWealth maintains all records related to the holdings in your Account.

Pearler, 2022.
Pearler mobile app
Pearler now has a mobile app now for both Android and iOS (apple) users available on both the Apple app store and Google Play store.
I downloaded it and had a play around – it works fine and you can do everything. But then I deleted it.
Why – because I don't want easy access to Pearler on my phone. The whole point was to automate my investing using the Pearler Auto invest feature and then let it tick away in the background. Having the app on my phone is just a distraction and potential temptation to log in and hawk eye my shares (this may be tempting and fun with a little dopamine rush, but it is bad from a long term investor behavioural mindset point of view).
On Monday, 21st March 2022 Pearler launched their Microinvesting option, Pearler Micro. Pearler Micro was created to help you start investing, and features 8 diversified portfolios to choose from and no minimum transaction size.
The Good
Choice of 10 different ETF funds
No fees if your balance is below $50
All-in-one, Ethical and thematic investment options
No brokerage costs
Round up and Auto invest features.
The Bad
Not CHESS sponsored
Does have a monthly fee which erodes your balance
Transferring from Pearler Micro to Pearler Shares is a capital gains event for taxation purposes
Not linked to Sharesight yet.
You can make investments via once off financial transactions, by using the round-up or with automated investing using the auto investing feature.
Pearler micro doesn't have a brokerage fee, but instead has a small monthly fee depending on the number of funds you hold. Pearler Micro is all about helping you master the passive investing learning curve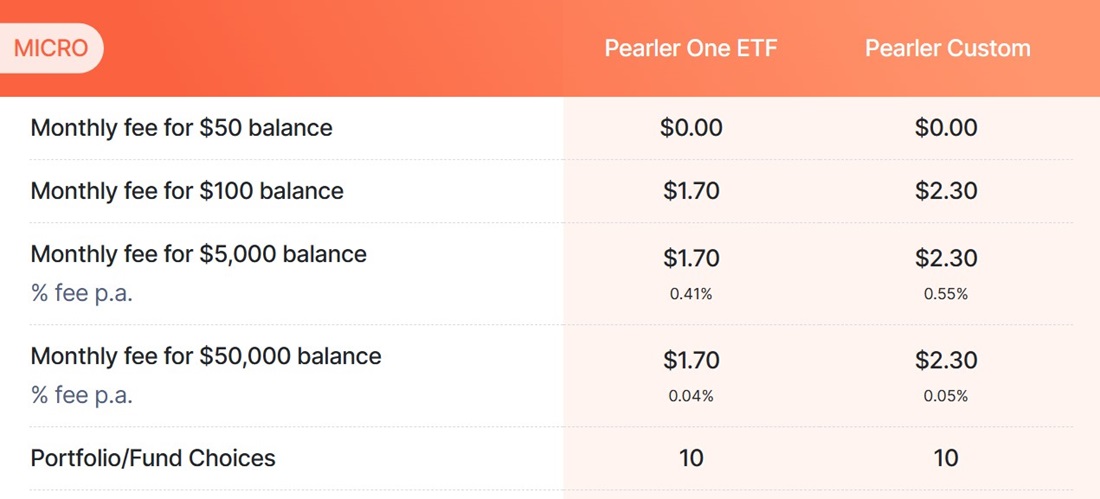 However, there is a monthly fee, which puts Pearler Micro in a similar category as Raiz Invest and Spaceship Voyager, but making it the cheapest of these three. It is important to realise that monthly fees can eat away at small balances – on a two fund $1000 portfolio, the Pearler Micro fees would be $2.30 a month or $27.6 per year, or 2.8% of the portfolio's value – which is pretty high when we consider investing in a general sense we want to keep it well below half a percent!
If we look at a 10% theoretical long term average return on this hypothetical portfolio being $100 per year, we can see the fees actually gobble up one quarter of our return, or 27.6%!
We must realise though, that micro investing is not a sensible long term investing strategy, it is purely an educational tool for those at the start of their investing journey. I personally would not keep more than a few thousand invested in micro-investing platforms due to this fee drag, and it makes sense to move them over to conventional brokerage platforms such as the main pearler platform. You will have to work out what thresholds are appropriate for you.
How to use Pearler
My suggestion to you is that you only sign up to make a pearler account under the proviso that you have read this review properly and understand the service enough to make sense of the Product Disclosure Statment (PDS) and the terms of service. You always need to do your own research.
Make sure you read these and that it suits your personal circumstance – noting that I am not a financial advisor and this information is for general information only. What might be appropriate for me, may not be appropriate for you.
I contacted Pearler and went through this early access request application to create a pearler account, and after a few weeks was granted access. The process to sign up overall took about an hour or so, and you will need your phone for two factor authentication. These days it is much smoother and quicker.
I found it a bit frustrating having to manually type codes across and there were a few bugs which I reported to the development team, but thankfully these were looked into straight away.
Once I got in, I set up my pearler account, FI goals and my target portfolio. Whilst it isn't perfect, I roughly chucked in my details and it gave me some pretty cool information about time to FIRE. They also have some neat calculators on the site.
Setting up your target portfolio is pretty straightforward – you can either search individual ticker codes, or you can do what I did which was to just select from the 'Popular ETFs' tab. Once I had added my target holdings, there is simply a sliding scale (or a percentage you can type in) to adjust what your target is – when its what I roughly wanted I clicked 'lock' (padlock icon) – and this is what it came out with.
Of course, these are just the ETF index funds, setting an equal weight 1/3 split of A200, VTS and VEU to passively build wealth. You need to do this to use the auto invest feature which I will explain next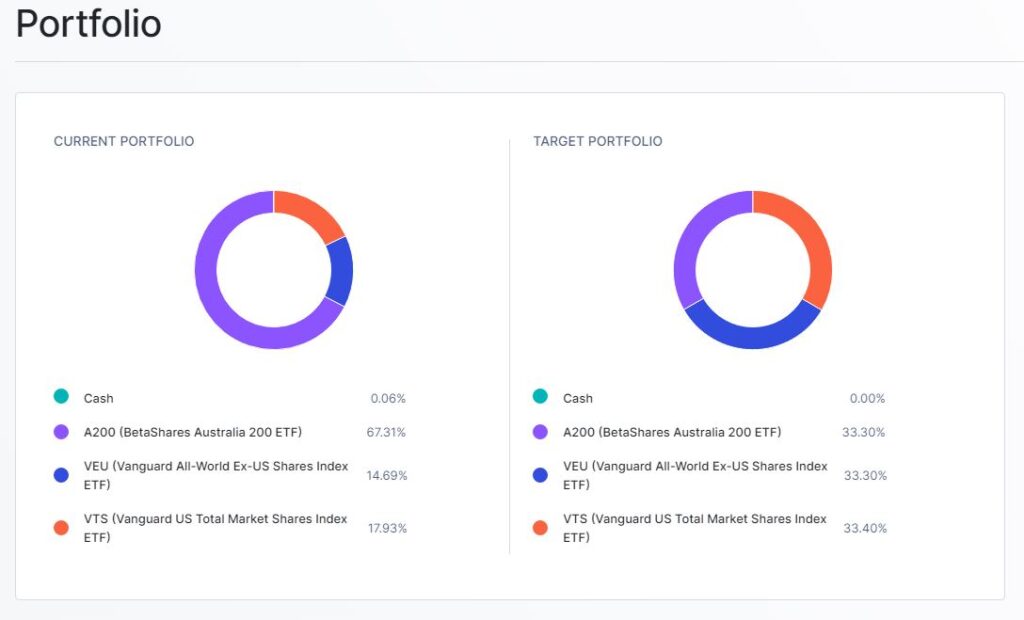 How to Invest with Pearler
To start buying my stocks, I transferred $1000 from my linked bank account into my Pearler share trading account. I didn't have to do this in my bank at all, and this was all requested and authorized through the Pearler platform with two factor authentication. The money took a few days to clear into my account.
After my first $1000 transfer settled, I logged into Pearler and manually purchased some Betashares A200 ETF. I told Pearler I wanted to spend up to $1000, and clicked 'Buy' – they neatly figured out this would get me 9 shares, charged me my $9.50 brokerage fee, and then settled the trade – NB the brokerage price has now been lowered to $6.50 ($5.50 with prepaid).
This then neatly replicated on my Sharesight account.
How I use AutoInvest to invest in ETFs
Because I wanted to regularly invest in shares (and let compound interest do its thing), I have set up my auto invest automation by selecting an automated direct debit from my bank account and a 're-balance to lowest share'. This means when my pay is deposited into my bank account, a chunk of it will automatically be sent to my Pearler brokerage account. The auto invest will then be automatically trigger an investment straight away into which ever ETF makes up my lowest target split.
I actually wanted to trial the auto invest, so I switched to Pearler purely to start investing using the AutoInvest feature. This is awesome and I use it to purchase $2000 of shares every fortnight, against my target allocation.
My allocation strategy is simply to buy the lowest share out of an equal one third split of A200, VTS and VEU. Nothing super exciting or crazy here, just simple, auto invest investing into three ETFs which give me access to nearly every single stock in the world (market cap weighted index).
It worked so well, I haven't disabled it and will let it just do its thing for the foreseeable future. You need to do your own research on financial decisions to figure out if this is going to work for you, but auto investing has been a massive game changer for me in terms of my investing anxiety. Knowing it is on auto pilot to invest regularly just one less thing to worry about – I just set and forget and let Pearler and my ETFs do the heavy lifting.
CaptainFI's Pearler account
After a few years auto investing with Pearler, the account is doing pretty well. I had been updating this every month in my Net Wealth reviews, but this is what it's looking like in 2022.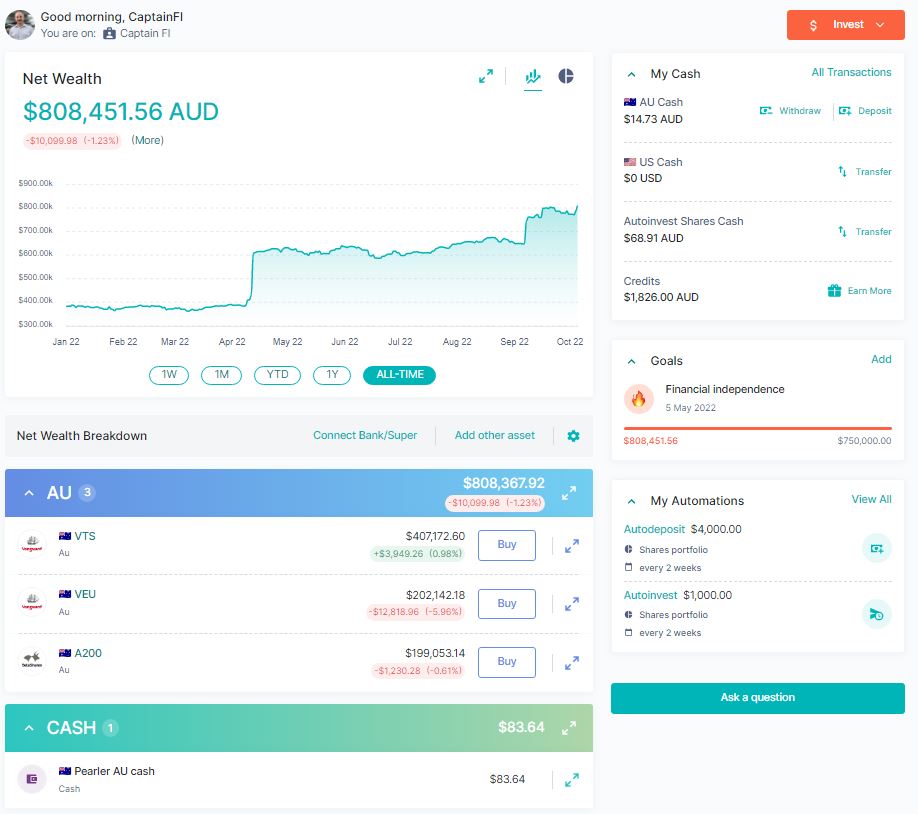 I basically set up my auto invest and just let it do its thing, chucking any windfalls and extra cash I had into whatever my lowest split was. It worked really well, but since retiring from full time flying I have turned off the auto invest – I still make money online, and between any income I make and dividends, I do still frequently invest the surplus.
I received my Letter from the ASX in the mail giving me my new Pearler sponsored HIN, and was then able to link Pearler to my Sharesight account. It is OK to have as many HINs as you like, as they can all be tracked by the same share registries and by Sharesight for portfolio tracking,
It is not an issue having multiple HINs and having investments across multiple brokers, especially since I use Sharesight to manage all of my portfolio tracking.
Pearler also offer an option to automatically directly link to ShareSight for portfolio tracking too, so there is no need to manually import trades. This is SUPER simple and for me was literally one click of a button – since when you sign up and verify your identity, everything is on their systems backend and Pearler and ShareSight are integrated through an API.
This means if I make Automatic trades using Pearler's 'AutoInvest' feature that it will be immediately linked to my ShareSight portfolio, alongside any other trades I have made from other brokerage platforms.
The linking process worked well, but it looked a little glitch-y from the Pearler user log in side (as if it had not been linked even though it was) – I reported the issue to the Pearler team and they got into fixing it that same day.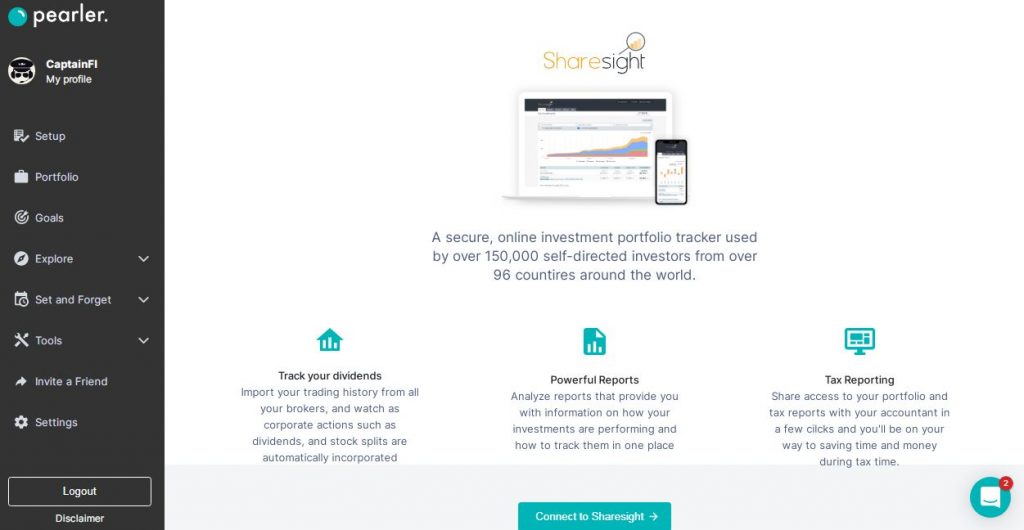 Conclusion
Pearler provides a share trading brokerage platform for those on the path to Financial Independence – and it's industry leading prices and FI investing features make it stand out from the competition. Notwithstanding, Pearler's crowning 'Pearl' is the Autoinvest feature. This lets you put your investing on auto pilot and cruise toward Financial Independence stress free! I love the auto invest feature, and use it to invest every fortnight using the 'rebalance by least split' mechanic.
Pearler has over 50,000 investors and a rapidly growing user base, and I think everyone interested in FI should at least create a Pearler account and set a goal within pearler to check it out – for those at the very start of their journey check out Pearler Micro, and for those more experienced have a go investing using the auto invest feature I can almost guarantee you will never go back.
Automated investing with Pearler has been a game changer for letting me invest regularly stress free, and was the main reason I switched to the Pearler investment platform. Make sure you do your own research on financial decisions though – I read everything I could about Pearler before I started investing using auto investing. Ideally having a bit of investing experience will help you maximise what you get out of Pearler, but no investing experience is necessary.
I have enjoyed learning about Pearler and chatting to Kurt Walkom and the team. I have found the platform easy to use, and I think the company is destined for great things. I actually have so much faith in them that not only have I started investing in ETFs through the platform, entrusting them with over $400,000 worth of my life savings, but I am actually helping them to build the company too, by providing feedback, contracting, and with a small angel investment in the company early on.
I have found Kurt Walkom and the team to be hard working, genuine and transparent people and can't wait to see them succeed. It is not just 'another broker' and I think it is probably the easiest way to invest in ETFs – Pearler is heading for some amazing things!
Do you use Pearler or have you been researching it for shares trading? Let us know your experience in the comments below!
Other brokers to choose from
Big 4 banks
Fintechs and smaller banks
Microinvesting platforms
Pearler Sign up code
Pearler has provided a generic Community sign-up code ("COMMUNITY") that will give you all of the benefits of a previous sign up code ($10 pearler credit for brokerage), however, this is not an affiliate link as there is no affiliate-based commission per sign-up (to be clear, I am not paid by Pearler for anyone who signs up using this link). Due to ASIC guidance on 'Dealing by Arranging', I can't provide an affiliate link (i.e. be paid for sign ups) for Australian investing-based services, groups or companies as this is likely to be dealing by arranging and thus providing a financial service – which I do not do and am not licenced to do.
Check out my monthly Net Worth Updates as well as my Personal Resources page where I share all of the tools I use to reach Financial Independence.
Financial Disclaimer
Financial Disclaimer: CaptainFI is NOT a financial advisor and does not hold an AFSL. This is not financial Advice!
I am not a financial adviser and I do not hold an Australian Financial Services Licence (AFSL). In this article, I am giving you factual, balanced information without judgment or bias, to the best of my ability. I do not know your personal circumstance or financial situation. I am not giving you any general or personal financial advice about what you should do with your investments. Just because I do something with my money (or use a particular service or platform) doesn't mean it is automatically appropriate for your personal circumstances. I do not recommend nor endorse any financial or investment product, and my usage or opinion of any product should not be interpreted as an endorsement, advertisement, or intent to influence.
I can only provide factual information based on my journey to Financial Independence, and that is provided for general informational and entertainment purposes only. I make no guarantee about the performance of any product, and although I strive to keep the information accurate and updated as it changes, I make no guarantee about the correctness of reviews or information posted. When it comes to investments, past performance is no indicator of future performance as returns can be volatile, reflecting rises and falls of the underlying investments.
Remember – you always need to do your own independent research and due diligence before making any transaction. This includes reading and analysing Product Disclosure Statements, Terms and Conditions, Service Arrangement and Fee Structures. It is always smart to compare products and discuss them, but ultimately you need to take responsibility for your use of any particular product and make sure it suits your personal circumstances. If you need help and would like to obtain personal financial advice about which investment options or platforms may be right for you, please talk to a licensed financial adviser or AFSL holder – you can take the first steps to find a financial advisor by reading this interview, or by visiting the ASIC financial adviser register and searching in your area.
For more information please read my Privacy Policy, Terms of Use, and Financial Disclaimer.
Captain FI is a Retired Pilot who lives in Adelaide, South Australia. He is passionate about Financial Independence and writes about Personal Finance and his journey to reach FI at 29, allowing him to retire at 30.