My partner and I enjoyed a one-week Tasmania road trip together. Here's our itinerary, some tips we made ourselves for next time, some of the costs involved, what we loved and didn't love!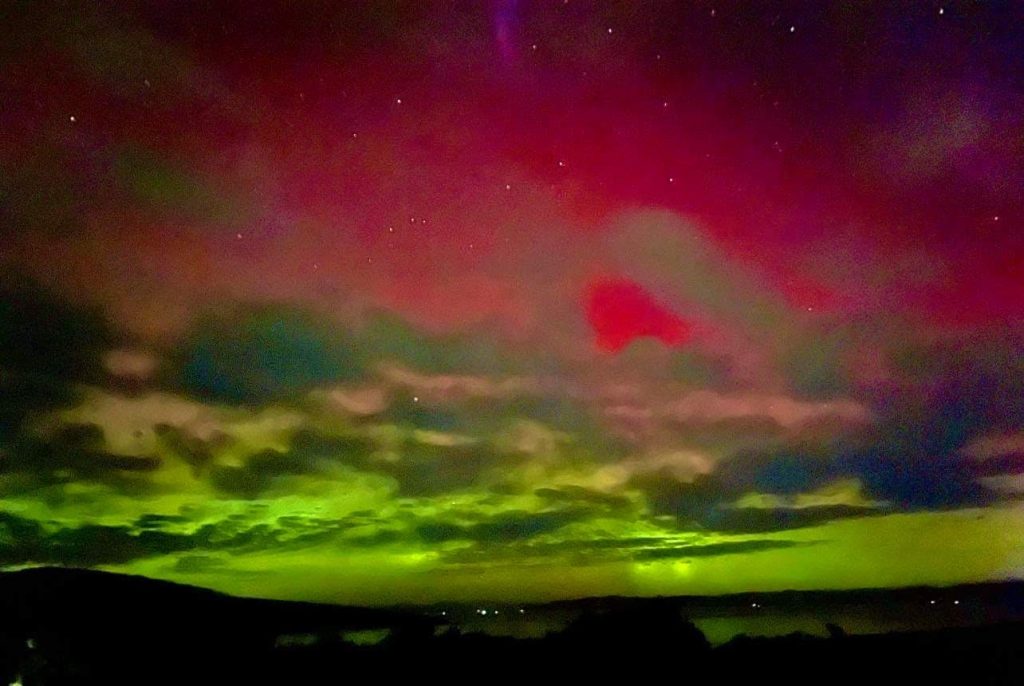 Our itinerary
My lovely partner put together this awesome Tasmania itinerary for us:
Day 1: Arrival to Tasmania
5pm: Arrive Airport, have dinner (sushi)
5:55pm – 8:15pm: Flight to Hobart
8:30pm: Pick up Car rental
9:00pm: Check in at Airbnb in Hobart
Dinner: Pizza take away
Day 2: Drive to West Coast
Breakfast: Dandy Lane
9:00am: Begin road trip to Queenstown through the Derwent Valley
Driving break: Mt. Field National Park – Russell Falls and Horseshoe Falls walk (60 mins) – NB Found LOTS of magic mushrooms growing here!
Lunch: Westerway Rasberry farm (pick your own) – Berries, Ice creams, gins and spirits
Driving break: Lake St. Clair walk (45 minutes) with afternoon tea @ the lodge
Driving break: Iron Blow Lookout
Driving break: Franklin Nature Trail (30 minutes)
7:00pm: Check in at Airbnb in Queenstown
Dinner: Confluence Hotel Queenstown CBD.
Day 3: West Coast Wilderness Railway tour, return to Hobart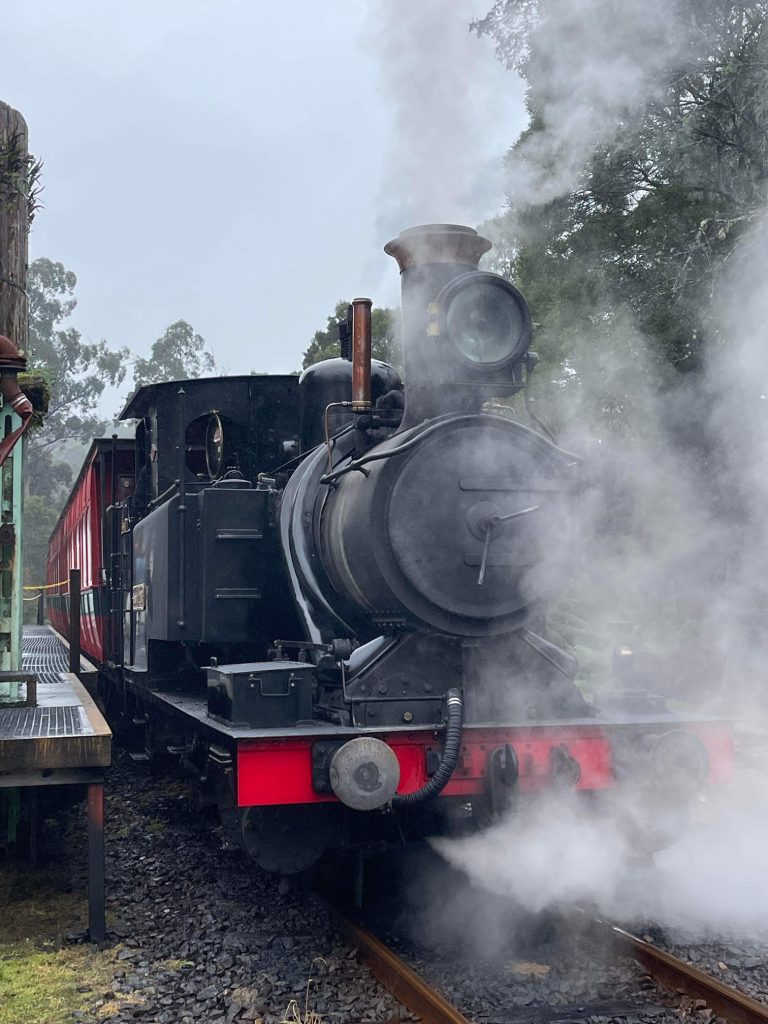 Breakfast: West Coast Wilderness Railway restaurant (at Queenstown train station)
9:00am – 2:30pm: West Coast Wilderness Railway Rack and Gorge Train Tour (Queenstown to Dubbil Barri and return)
~4 hour drive back to Hobart – Various stops on way home (Distilleries, small towns) on way home
8:00pm: Check into Airbnb Hobart
Dinner: Nara Thai, Moonah, Hobart. This was an exceptionally good restaurant and very good value for money
Day 4: Hobart
Breakfast: Salamanca markets and food stalls
9:00am – 12 noon: Salamanca market, food stalls, Salamanca place, parliament house, Hobart docks
Lunch: Flippers seafood cafe and Van Diemans land creamery ice cream parlour at the Hobart Docks
12:15pm – Ferry to MONA museum
1:00pm-4:00pm – MONA museum. Worth checking out, very very… different.
4:00pm – Ferry back to Hobart
Sunset – Drive to the summit of Mount Wellington to watch sunset. Very windy and cold!
Dinner: Mures upper deck seafood restaurant ($$$) – Excellent restaurant, however, expect to pay about $150 per head for a lovely experience with drinks.
Evening drive: Aurora Australis viewing and Star Gazing – South Hobart dark sky area – Goats Bluff Lookout *NB check the solar storm forecasts for Aurora activity, sightings are uncommon. You will need a camera with an option for a longer exposure (5-10s or more) or know how to work a phone camera settings to get this.
Day 5 – Hobart and Port Arthur
Breakfast: Scallop pies from a bakery
Morning: shopping in Hobart CBD for Blundstone boots. Hop on Hop off city explorer bus
Morning Tea: Cascade Brewery
Lunch: Old Richmond town, Wattlebanks Cafe & providore. Ice cream, sweet shop, bakery, whisky tasting.
Afternoon: Drive to Port Arthur
Activity: Tasmanian Devil Unzoo Experience* (probably skip this one, it wasn't great)
Activity: Port Arthur Historic Site and memorial garden
Drive back to Hobart
Dinner: Dana eating house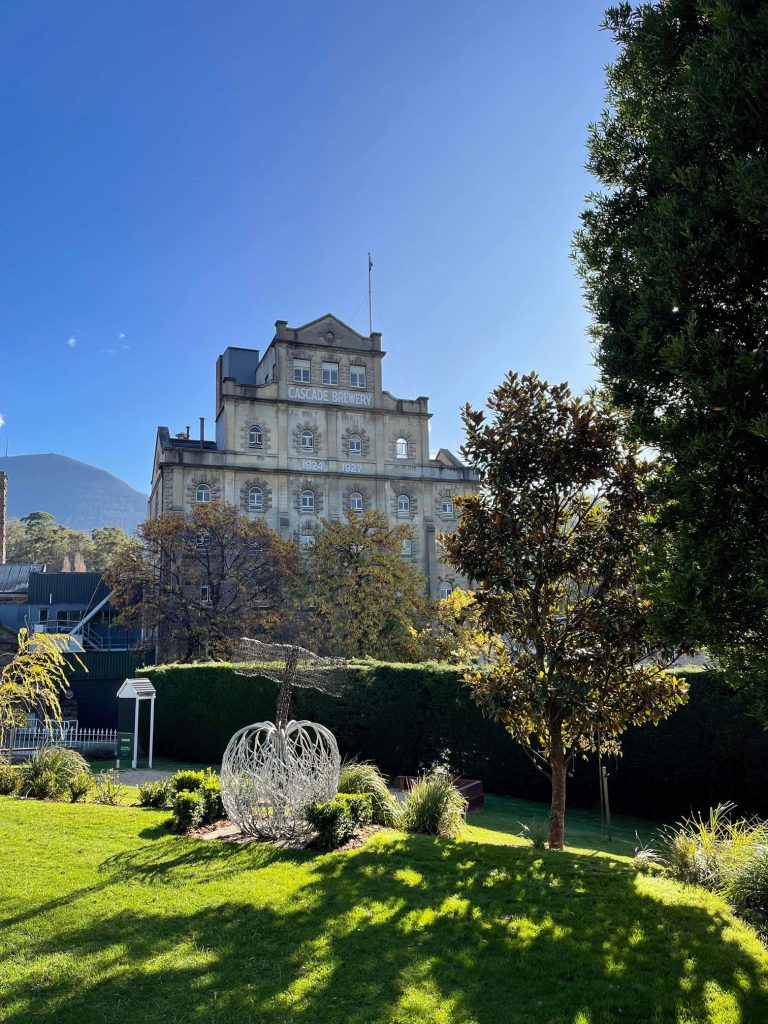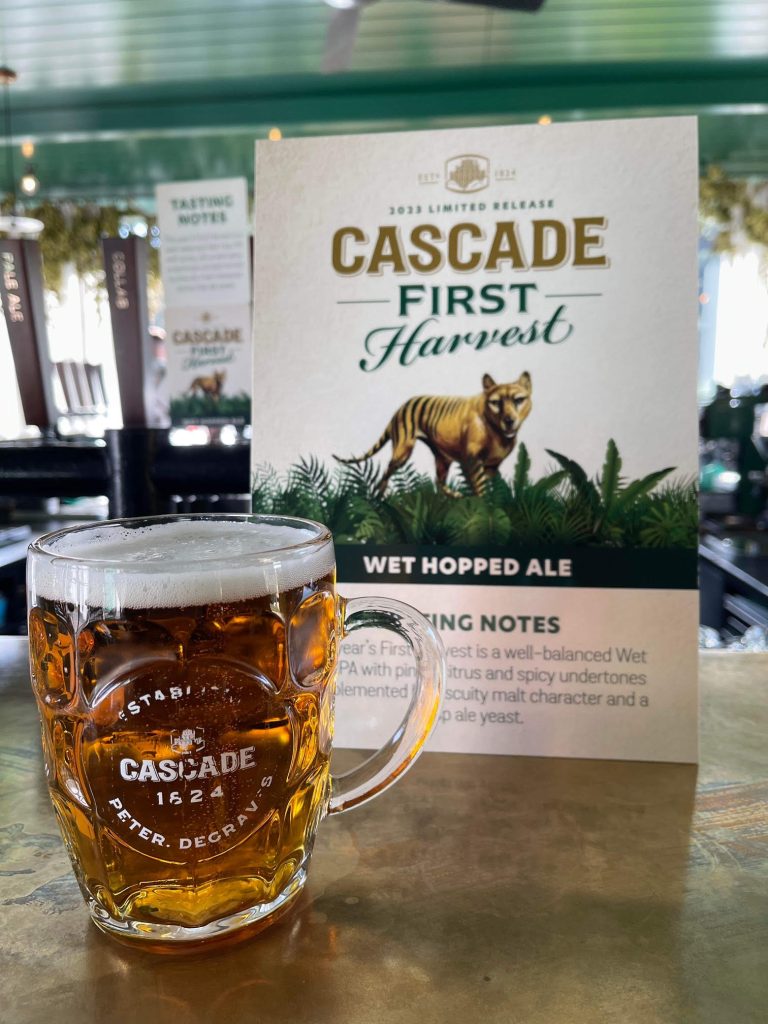 Breakfast: Bakery on the way to the Ferry
9:00am: SeaLink Ferry to Bruny (~20 mins) – Get tickets online or can pay at the gate
Once off ferry, Drive full length of Bruny down to the old lighthouse. Then slowly work way back to the Ferry, checking out;
Cape Bruny Lighthouse,
Bruny Island scenic flights
Bruny wines
Truganini lookout at the Neck. Worth the climb and please read the information boards and pay your respects.
The Bruny Island 'refrigerator sourdough' – locally made fresh sourdough bread, cakes and biscuits in a couple of old fridges at a farm gate for sale using the honour system (can leave cash in the slot or transfer money online). Some of the BEST sourdough I have ever had!
Bruny island beer co and Bruny island cheese co – amazing craft beer and wonderful cheese (but $$)
Get Shucked oyster bar
House of Whisky (this was EXCELLENT – but expensive – cheaper to buy the same whisky at home)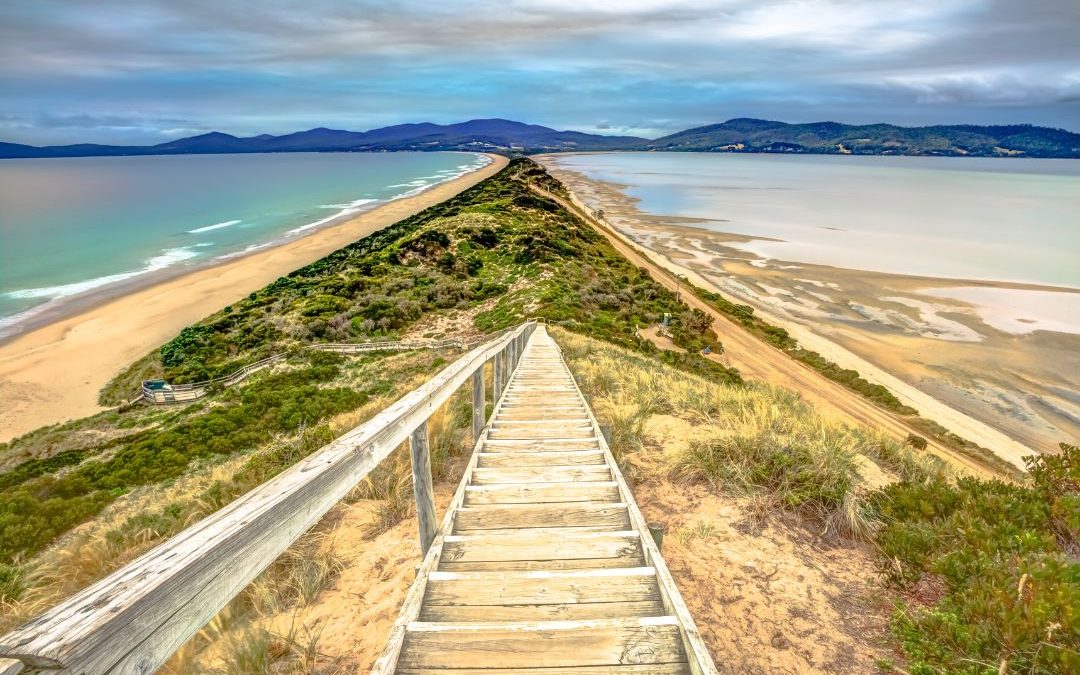 5:00pm: Sealink Ferry back to Hobart (~20 mins) – Worth walking up the front for a look, but often very chilly and windy so bring a jacket!
Dinner: Grazing at home on Bruny Island produce (still very full from the restaurants and oysters on Bruny island)
Late evening: Star Gazing and Aurora sightings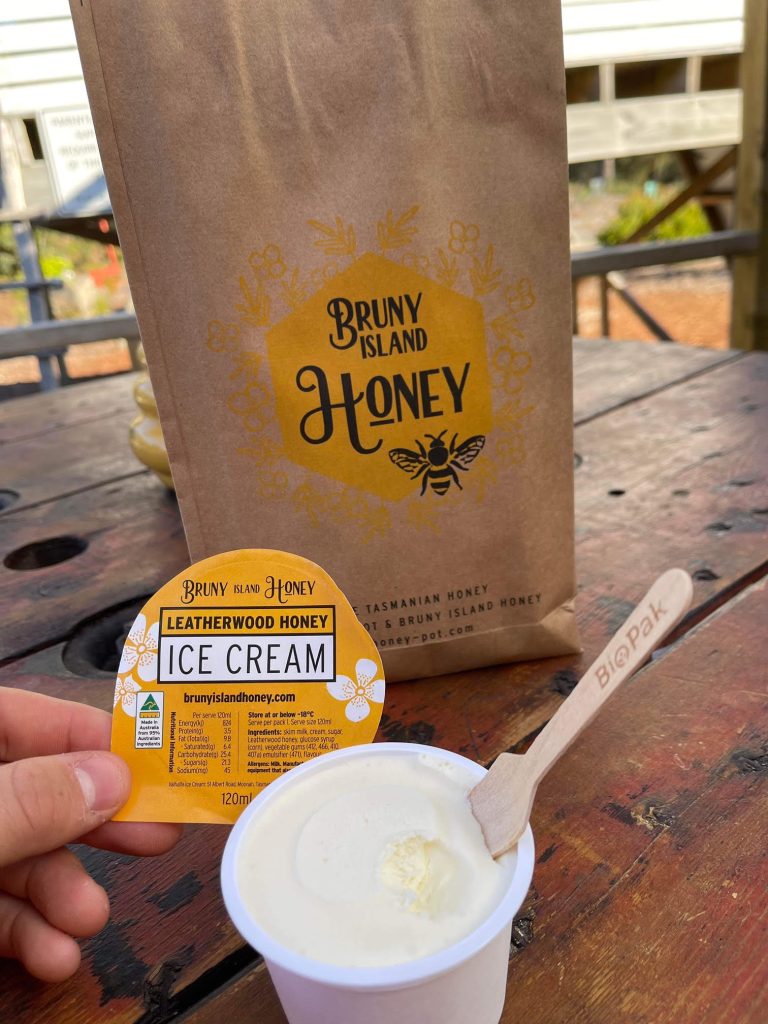 Day 7 – South Hobart
Breakfast: Bruny Island sourdough, honey and cheese
Drive ~1.5 hours: Hastings cave and thermal springs
Lunch: Kermandie Hotel
Afternoon: Tahune adventures treetop walks amongst Huon pines
Dinner: Drunken Admiral – Seafood platter for two (which actually fed four of us!)
Day 8 – Depart Tasmania back to Adelaide
Breakfast: Cafe in city centre, last-minute shopping
10:30am – return rental car to Airport
11:00 am – Check-in, coffee in airport lounge.
12:00-1:30pm – Flight back to Adelaide
Tips for next time
Since driving all way to Queenstown and west coast, I think it would have been better to go to Strahan next time and stay overnight in Strahan. It felt like too much driving to go there and back in two days (3-4 hours driving per day)
Instead of driving up to Bay of fires for a day trip, would be better to have had an Airbnb in Bicheno, done the Port Arthur day trip then continued up to Bicheno and stayed overnight, and gone up to St Helen's.
After Bicheno, would have been good to include a night in Launceston and visit attractions around there before returning south to Hobart.
Maria island, Freycinet National Park, Coles Bay and Wineglass bay lookout would have been great to check out but we had the in-laws with us and they couldn't hike, so an option was the day-cruise trips from Hobart wharf but we didn't have time (they are also $$$). So we decided to skip this time and will check when we come back.
To see the Aurora australis you need a very clear sky, low light conditions, solar flare action and a crescent moon. Ideally high pressure system (synoptic) and light wind to help disperse cloud and fog. We were able to see visible beams and green and red glows. If using iPhone, use 10s exposure and 2x aperture, or use the LIVE photo option and in post editing select a 30s exposure for best visual effects.
Tasmanian unzoo experience at Port Arthur was a bit underwhelming, but it was cool to see the Tasmanian devils being fed. I'd suggest trying one of the other wildlife parks.
We spent $3000 on a hire car and Airbnb accommodation for one week ($1000 for the car and $2000 for accommodation) – a large motorhome (4 berther with two double beds) would have been cheaper at only $2000 for the week so I'd encourage anyone flying across to consider this option. Small campers are even cheaper starting at $700/wk, but this wouldn't have been appropriate for us as too cramped – but the large motorhome with two double beds would have been perfect and would have also given us a bit more flexibility to check out places. We went in autumn and The weather was really lovely and warm the whole time.
If you are not too far from Geelong (or don't mind driving) and are going for longer than a week, then consider running the numbers to just take the ferry across and bring your own car / campervan / caravan. The ferry tickets are expensive – when I did a few test bookings on the spirit of Tasmania for 4 adults, car and caravan, with a four bed sleeper cabin each way it was between $2500-3000. Our flights from Adelaide were about $400 each return with baggage – so in total flights with car hire was $2600, and with accommodation, it was $4600. This means if you are going for over a week it's generally cheaper to take the ferry and your car, and it's definitely cheaper to take your own camper / caravan, but for shorter trips under a week it's usually cheaper to fly and just hire a car / camper when you get there.
If you have them, make sure you bring your camera and a tripod. We just used our phone cameras and my partner was disappointed she missed some great opportunities.
Don't forget a beanie, good wind/waterproof jacket, sunglasses and a good hat. Extra points if you remember to bring long-johns (thermal underwear) and under shirts. The weather can change quickly. Dressing in layers is helpful to manage the weather. My Aldi jacket has a removable fleece liner which is fantastic. If you are going to go on walking trails or hiking, especially on the west coast or central highland, then probably take some good quality waterproof hiking boots and some gaiters.
I'd have liked to have spent time hiking Mount Wellington, but because of the in laws health restrictions we chose to give it a miss and drive up. When we come back, we are definitely going to park at the base and hike to the summit (4500ft!)
Drunken admiral seafood platter for two was nice, but definitely not worth $216 ($188 plus 15% public holiday surcharge, plus an additional 1% surcharge at the end for paying via card). I guess it's one of those things you just do once. The food was the same standard as the kiosks in the docks, but the atmosphere was really cool as the restaurant is decorated to look like the inside of an olden ship with loads of cool decorations.
Tasmanian whisky is nice, but you'll find it available for sale MUCH cheaper (ehhem half the price) back home at Dan Murphy's. It's a bit of a tourist trap. The tastings are also ridiculously priced – some places we paid $30+ for a nip (half a shot), and tasting paddles (4 whiskeys) were over $100. We enjoyed the tastings as part of the whole experience of being on holiday and trying new things, but only brought home a couple 100ml bottles to take home and share with friends at a home-tasting night.
Tasmanian craft beers are awesome, there are some cool hop farms down here you can actually drive past and even a hop museum you can visit that's not too far from Russell falls and the raspberry farm. I brought a heap of Bruny Island and other Tasmanian craft beers back home to share with mates. Just check the expiry dates as at three venues we found expired beer still for sale which really annoys me as craft IPAs are best consumed fresh. One mead we tried smelled rotten and made me gag! You can check out my article HERE on how I brew my own beers at home too.
Mures upper deck seafood restaurant was a real highlight. Enjoyed the meal, experience, presentation and service. At $150 per 'surf and turf' (King island beef and Tassie Crayfish) it was very expensive for four of us, and we only got half a Cray each. Before we left Adelaide I had gone to the fish market and picked up 4x1kg Crays for $300 and a wheel of Brie, so we got to have one each, eaten the traditional way with a load of sourdough, pickled sliced white onion, cracked pepper, and some cheese. Both experiences were great, but I know which one I will be doing again in the future (the $320 option, not the $700 one haha!)
To check out next time: Cradle Mountain, Cataract Gorge in Launceston, Freycinet national park, Tamar Valley wine region, Dove lake and do more hiking!
Have you made a Tasmania road trip itinerary before? What would you recommend, that I may not have mentioned here? Please let me know, so I can add it for next time! I do love a bit of Slow Travel.
Captain FI is a Retired Pilot who lives in Adelaide, South Australia. He is passionate about Financial Independence and writes about Personal Finance and his journey to reach FI at 29, allowing him to retire at 30.