Up bank review from an experienced personal finance expert and long term investor on the path to financial independence. Is this digital bank safe?
Up bank: The Good
Excellent mobile application with 24/7 chat support
Features instant PayID, OSKO and BPAY
Supports Mobile pay: Apple, Google, FitBit, Samsung
Bank @ Post available
Can have as many savings accounts as you like and all earn interest
Up bank: The Bad
Only one debit card is issued – can't do Barefoot buckets easily
No physical branches
Have to contact customer support to get your sign up bonus
ATM fees apply at non 'big 4 banks'
Verdict: Up bank is safe and easy to use. Get $10 FREE to try it out here
Up Bank is an innovative Australian digital bank that offers entirely digital, cloud based personal banking through the Up mobile application. Because of this, and their strong focus on technology and rapid development, they are often categorized as a 'neobank".
With over 200,000 customers, Up bank is targeted at a millennial audience and has had two years of proven functionality with outstanding reviews, winning Up several industry rewards such as 'Digital disruptor of the year' and 'Best digital bank'.
This article will explore Up Bank and my experience using its services to determine whether I will personally remain a long term Up bank customer and move away from traditional banks.
"Up is a digital bank designed to help you organise your money and simplify your life."

Up Bank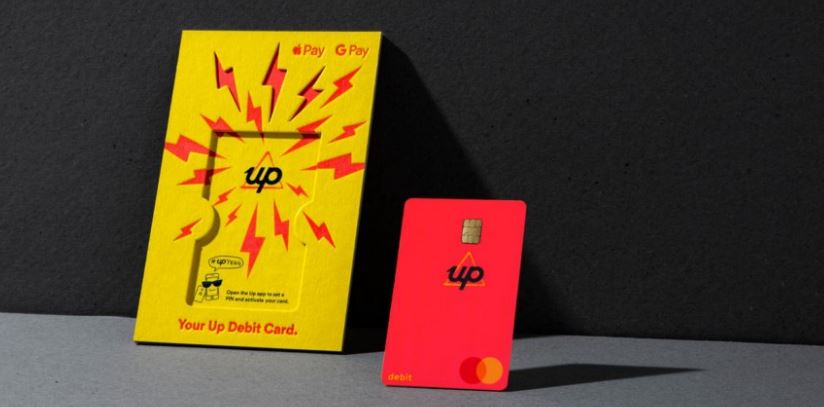 Up Bank review
Up Bank was co-founded by Dominic Pym and Grant Thomas under a Melbourne based tech development company called Ferocia. Partnering with Bendigo Bank and Adelaide Banks for their financial licences, as well as Google for their cloud based system, Ferocia developed the Up bank platform in 2017/18 and begun offering banking services through the Up mobile application in 2018.
The team behind Ferocia know a thing or two about devloping mobile banking applications, since they were the ones who previously designed Bendigo and Adelaide Banks mobile banking applications – making them ideal business partners to work with.
Up Bank offer debit card transaction services through MasterCard, have great customer service, innovative features like Apple and Google pay, Round up and expense tracking. Users over 16 can sign up and be using Up bank in under 5 minutes by downloading the app and providing very basic identification. With over 200,000 active users, Up bank has been a revolution for online banking, as younger people flock to it for its simplicity, value and features.
UP Bank transaction account – Everyday Account
Up Bank provide a standard no fee transaction account linked to a MasterCard debit card.
They provide an awesome level of spending tracking – They provide Automatic Merchant ID (Vendor identification), spending categorisation as well as location and time stamps – you will never be left clueless reading through your bank transaction history ever again!
Like a handful of modern banks, Up Bank provides a round up feature on their everyday account – you can choose automatic round ups on purchases and have the change transferred to your linked Saver Account.
The Up bank Everyday account also has all of the standard features you would expect from a bank account – Automated transfers, as well as modern instant transfer payment options including;
PayID instant transfer
Osko instant transfer
BPAY
Apple Pay
Google Pay,
Samsung Pay
Fitbit Pay
Garmin Pay
Transferwise overseas payment integration
Realistically, this means you don't even need to take your wallet with you, and can link your phone or smart watch!
UP bank savings account – Saver Account
If you make five eligible card transactions per month using your linked everyday Account, you will qualify for the best interest rate on your Saver Account up to a maximum balance of only $50,000. This has historically been one of the highest available online savings accounts rates across all of the banks – and is currently 1.6% (although it is subject to change).
Within Up, you can set up as many savings accounts as you would like – this makes it very easy set up your 'barefoot buckets', 'Ramsay splits' or your sinking funds (such as Holiday savings, Emergency fund, Christmas savings etc). All of these individual savings accounts qualify for the same high interest rate by making the five transactions on your Everyday Account card. You can customise each of these with specific goals, as well as automatic transfers and the round up functionality from purchases to help you save quicker.
Up bank mobile app review
As mentioned, everything through Up bank is done through the Up Bank mobile application, which is pretty game changing. Up is entirely cloud based with their whole corporate infrastructure managed by Google, and the app is the only user interface – there are no branches, no website log in and even no phone banking.
You can do everything in the app that you could possibly think you might need to.
Clearly a lot of thought has gone into this applications development – The app presents itself cleanly and very well, providing an awesome graphical User Interface (UI). I found it intuitive and easy to lean how to use, setting up my linked accounts and texting with their support team via their in app live chat function.
Overall, it was a great User Experience (UX) and clearly the team behind Up know a thing or two about mobile banking application development.
This is clearly an app developed with tech and user experience in mind foremost, rather than a traditional bank just wanting a mobile app with user experience as an afterthought. And you would hope so too, since there aren't any alternative options to use Up bank.
UP bank fees and charges review
UP Bank don't charge any account keeping or transaction fees, and you won't pay ATM fees overseas or at most Major Aussie ATM's either. They do not charge foreign transaction fees – these purchases are also facilitated through MasterCard, and use MasterCard's competitive foreign exchange rate with no additional FX spread charged.
"Protip: When using Up overseas, we recommend choosing to pay in the foreign currency as opposed to AUD when given the choice. This lets you take advantage of the great rate you get by being an Upsider, instead of the rate the merchant terminal chooses to give you."

Up Bank
Up also doesn't charge ATM fees overseas (however they will not reimburse you if the ATM operator charges you a fee, like ING bank does)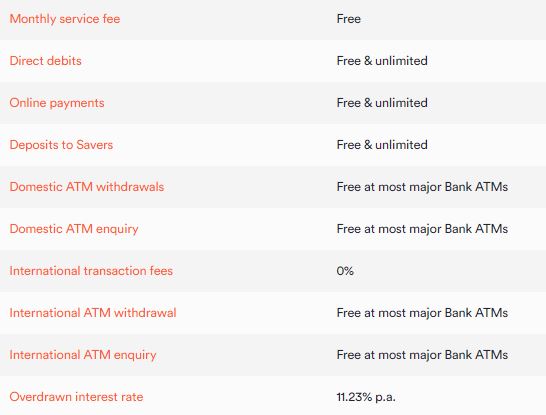 For the full list of terms and conditions, you need to read their Product Disclosure statement here.
Up bank review – Customer support
With no face-to-face option (because they don't have branches,) customer support with Up bank is a little different. Whilst not having physical branches is nothing new in the modern banking community, Up bank only offer limited phone support.
This means the best way to contact customer support through is email or via their inbuilt live chat function in the Up app. Having said that, the app works really well with an average support time of under 5 minutes because they have employees available 24/7.
There is a support number though, which is on the back of your card that you get when you sign up.
Up bank also have brought in [email protected], so if you have physical currency or cheques, these can be deposited at Australia Post.
What I like about Up bank
I love how innovative, efficient and sustainable Up bank's business model is. By transitioning to a digital only service, they cut out significant cost overheads (as well as annoying in branch time wasting) and ultimately pass the savings onto you in the form of higher interest rates, better product features and great customer support. It is like ING Bank on steroids.
I personally love their Fee free structure, round up feature, multiple savings accounts that all get the high interest rate, as well as PayID and Osko functionality – although these should probably all be considered standard in modern online banking systems.
I am yet to fully explore and try out their integrated automatic payment categorization system (Merchant ID, categorization, location and time stamps) over a few months, but if this system works well, it will effectively eliminate the need for third party expense tracking software like PocketSmith or WeMoney. This ultimately will simplify your personal finances, and is a good thing.
Lastly, they listened to customers and finally introduced a [email protected] system. You can now use your Up bank card and pin to deposit cash and cheques through Australia Post.
This is super important for someone on the path to Financial Independence since we are often participating in the second hand economy (and we might get paid in cheques for certan side hustles).
What I don't like about Up bank
The biggest thing I don't like about Up bank is their limited phone support. I find ringing up and negotiating to be one of my most successful strategies for getting better deals on things – including when I am dealing with my bank.
Having said that, Up bank don't offer any other conventional banking services like loans or insurance so it probably doesn't matter too much, and their in app support has been good so far. When they expand however, I would like to see phone service added.
Finally, a point of contention is that they aren't strictly 'ATM fee free'. They claim that you wont pay ATM fees on all 'Major banks ATMs' but this leaves to question what is a major bank? Is it the big four only? Or does it include subsidiaries?
I much prefer ING banks blanket statement of 'No ATM fees, ever!' and hope that Up will follow suite soon. They also don't explicitly state there are no ATM fees overseas, and say that overseas operators 'might' charge you – what do you think? Of course they will bloody charge you!
Up Bank review – Am I switching to Up bank?
Yes. I actually opened an Up bank account as I wrote this article, and I will be keeping it and road testing it out over the next little while. I am not going to close my old accounts with other banks just yet, because I like having a few options (which is useful when one of the banks network goes down for a day or two like when I got locked out of UBank!), so they serve their purpose and don't cost me anything.
I am excited to trial out Up bank and see how it can help me track my expenses. As most of you will know, I have currently been using PocketSmith and WeMoney to track expenses, and if I can have it automatically taken care of within my own bank this just cuts down on the amount of 'extra things' I have to deal with and thus simplifies my life.
Signing up to Up Bank
It took me 5 minutes to download the app, fill out the details required (Drivers licence information and Tax file number) and verify my account. They said it might take 10 business days, but it only took 4 days before my snazzy, fluorescent orange card turned up in the mail.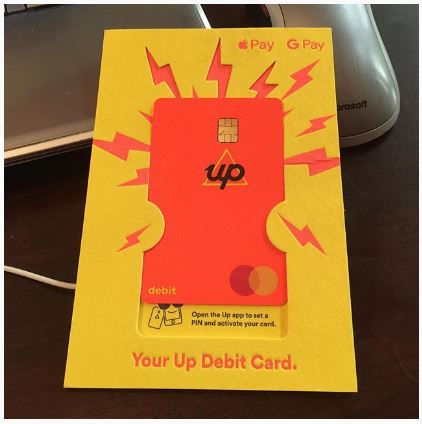 Keen to test out my snazzy little card, I carried it in my hot little hands down to the shops to make a transaction. I'm still a bit behind the times and don't use Apple pay, Google pay or even Retina-scan-palm-reader-DNA-sample pay that Amazon is apparently working on. So I cued up with a handful of blueberries and brandished my card – awkwardly waiting the few moments that the card reader took to process its first transaction.
Up Bank then neatly categorized this purchase as 'Home' since I bought it from a grocery store, and it was automatically tagged as groceries. Which is close enough.
Up Bank also provided a timestamp, location and logo of the grocery store, alongside the purchase amount, and how much of my change had been 'rounded up' into my savings account (5 x $1.99 punnets cost $9.95 and the remaining 5 cents was transferred to my linked savings account). This is way more information than ING tells me and is in a very useful format (ING, like all conventional banks, spits out something that looks like its come out of the matrix).
I am also currently exploring their different account structures and pay split features, which can be used automate my income splits (i.e. the barefoot investor buckets).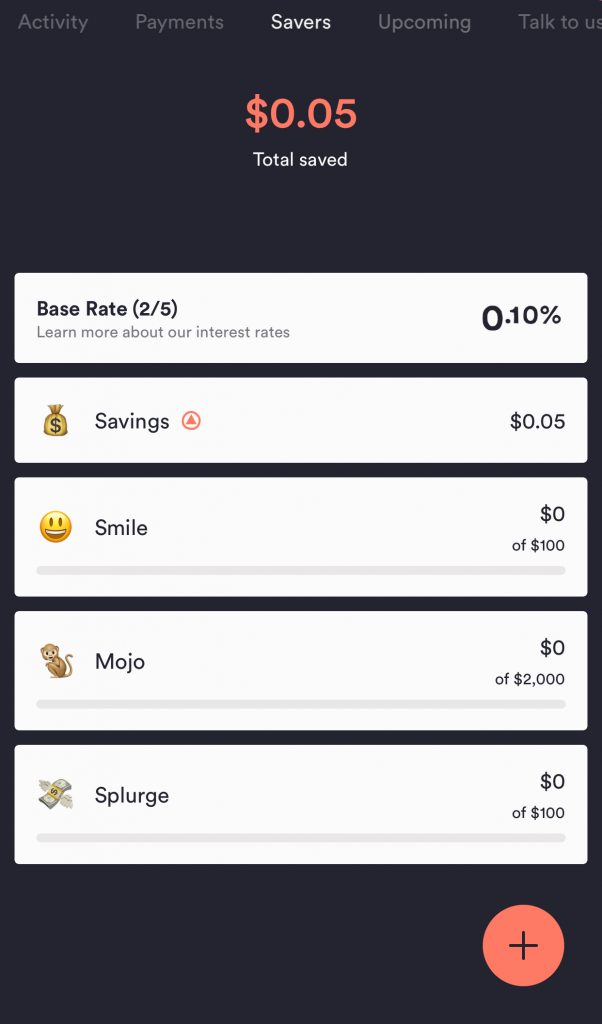 Up Bank review Frequently Asked questions
Answers to frequently asked questions about Up Bank
Who is Up Bank owned by?
Up bank was founded by Dominic Pym and Grant Thomas from Ferocia. They operate as a subsidiary of Bendigo and Adelaide Bank
Are Digital banks safe?
Digital banks are incredibly secure, using encryption software and two factor authentication. It has been recognised that digital and mobile banking and payment can actually be safer than carrying around debit cards. This does not make you completely safe from fraud and scams however, so you still need to follow basic security protocols.
What is an Up account
An Up account is an account with Up Bank – either an everyday account or a bonus saving account, which are both managed via the Up mobile app.
Is Up bank good?
Yes, Up bank is great. Fast, easy to use and secure. They offer low fees and a competitive interest rate, and the mobile app has many great features including spending trackers.
What is Up bank?
Up Bank is an innovative Australian digital bank that offers entirely digital, cloud based personal banking through the Up mobile application. Because of this, and their strong focus on technology and rapid development, they are often categorized as a 'neobank".
Is Up bank safe?
up Bank features next generation security features and encryption, and the safety of accounts backed by Bendigo and Adelaide Bank.
How does Up bank work?
Up Banking works through the Up mobile app, and users get an everyday transaction account and a bonus saving account. Up manages the money like a conventional bank – aggregating balances and lending it out in accordance with fractional lending practices to generate credit in the economy. Up bank can also sell your aggregated spending data to investment firms.
An interview with Up Bank
After I published the article, I reached out to the team behind Up Bank to have a chat. I have been chatting to Paul Tagell who is their head of marketing, and he schooled me on a bunch of stuff I got wrong about them (whoops) and also let me know about a bunch of other cool features I hadn't discovered yet (like pay splits).
To give Up Bank a chance to talk about a bit more about Up Bank, its features and how someone on the path to Financial Independence can use them, as well as put the hard questions on them regarding data retention (and similar tricky subjects), I gave Paul a long list of questions to answer.
What is your position, experience and investment in Up Bank?
My name is Paul Tagell, and I'm the Head of Marketing for Up. I've worked for Ferocia since before Up was launched. We're a small team, so everyone chips in to make sure things run smoothly. I don't hold any equity in Up.
What is Up bank, and what is a 'neo' or digital bank?
Up is a digital bank designed to help you organise your money and simplify your life. This means that under the hood it's a bank account, but a bank account that's organised in quite a different way to what you might be expecting or have experienced with other banks.
A digital bank is a bank that doesn't have any branches. A neo bank is basically just a new bank. We're not huge fans of these definitions though as we see that Up is the best of all worlds. Up is built by engineers and designers who work for a tech company, called Ferocia, but backed by one of the oldest and most trusted banks in Australia, Bendigo and Adelaide Bank.
As an Upsider, this gives you the stability and security of a big bank with the innovation and cutting edge tech you get from a company that lives and breathes design and development.
How long has Up Bank been in business?
Up has been accepting new customers since October 2018. Since then we've had more than 300,000 people join the Upside and we are now Australia's highest rated banking app.
Is Up Bank a profitable business? Can we expect it to stick around long term?
Up is backed by Bendigo and Adelaide Bank which is more than 160 years old. Any deposits you put into Up are held by Bendigo Bank and are therefore covered by all the same guarantees as any other bank account in Australia. We're definitely building Up for the long term.
What is Up Banks business model?
At the moment Up provides spending and savings products, which are both deposit products. All banks make money from either fees or margin (or both). We tend to favour margin at Up (over fees).
Up is in a fortunate position being a collaboration between an Australian technology company (Ferocia) and a fully licensed bank (Bendigo Bank) who offer products on both sides of the ledger, and are therefore able to generate margin from deposits.
How can Up bank help someone on the path to Financial Independence?
There's a bunch of ways that Up helps people achieve their financial goals. We recently did a relatively in-depth write up of ways Upsiders have used Up to make their financial lives easier and achieve their goals (whether that's saving more, understanding their spending better or even simply by making engaging with their money more fun and engaging.
Does Up bank sell my transaction history and purchasing data? Aggregated or otherwise?
No.
Can I get a home loan with up bank?
At the moment Up doesn't offer home loans, but who knows the future will bring.
Not at the moment.
Can I get a second debit card linked to the same up bank account?
At the moment you only get one physical debit card for your Up account as well as digital wallets you can use as soon as you've joined. Being able to have multiple debit cards is something we're looking at but for people who follow the Barefoot approach or similar, we have some concepts that are unique to Up called Covers & Forwards and Pay Splitting that are worth looking into. These let you automatically split your pay into Savers (which you can set up instantly) and then Cover purchases from a specific account of your choosing.
What makes up bank different from ING, or other neobanks like 86,400? Why should people choose up bank?
The first thing to keep in mind is that Up is built first and foremost by engineers, designers and dreamers, who set out to challenge assumptions and limitations in banking, so it's much more than just a bank account with a new logo slapped on it.
While most banks sell accounts, Up offers a beautifully designed ecosystem of carefully crafted tools to remove stress and empower Upsiders to reconnect with their money – kinda like a magic dartboard for your money. Some of the best reasons people should consider trying Up include:
Understanding where your money really goes.
Instant notifications keep you updated any time you make a purchase or get charged. Our modern, full-colour activity feed shows exactly where you're spending and provides automatic weekly and monthly spending insights.
Saving like you've never saved before.
Save without lifting a finger thanks to incredible features that make saving easy and fun. Round Ups automatically save the change from your purchases while Saver Pools let you actually feel your savings grow. Split payments and let you carve up your pay straight into your Savers the second it hits your account. You can then use Covers & Forwards to stick to a budget.
Bills — getting ahead and staying ahead.
Say goodbye to late fees and nasty surprises. Up learns about your regular charges and bills and shows you when they'll be charged next, so you know how much you really have to spend in the weeks ahead.
Looking to bank overseas, without the fees?
If you're shopping online, Up offers free-free international banking. Looking to send money internationally? Our Transferwise integration is one of the fastest and cheapest ways to send money overseas.
Say goodbye to hold music with support on tap.
We're here to help — any time you need a hand just swipe across to Talk to Us in the app to quickly chat with an actual human…
Will Up bank abolish all ATM and transaction fees like ING?
For the most part, Upsiders don't use that much cash. We support almost all the digital wallets so for most Upsiders, ATMs and cash is definitely a secondary consideration and not the primary way they pay for things.
Despite that, most of the bigger Australian banks let you use their ATMs for free and with Up you can also use Bank @ Post to deposit cheques and cash and withdraw money at any Australia Post outlet in Australia.
We're also one of the first banks in the world to support using EFTPOS over Apple Pay, which also means you can withdraw money when you're at the supermarket or anywhere offering cash out if their merchant terminal supports it.
This does mean that there are a few smaller ATM networks you can't use for free, but you'll be told how much they intend to charge you before you withdraw any cash.
How can people track their expenses with Up bank?
There are a lot of ways… Every time you buy something using Up – IRL or online – you'll get a push letting you know how much you were charged and how much you've got left in your account. Great for seeing if you've been overcharged and understanding how much you've got left to last you till pay day.
Your spending is then organised in our full-colour activity feed which removes ambiguity about where you've bought something by showing where, when and how much you spent at a particular place. You can even see how much you've spent at a particular brand or shop by tapping into the insights tab for each brand or shop.
Helping you better understand your spending habits is one of the things Up does really well. One of the hardest things about money is knowing where you spent it. Up makes it easy to understand your spending habits by automatically categorising your purchases so you're always across where you're spending your cash.
Up comes ready with a deep and intuitive set of spending categories so you spend less time sorting transactions and more time using insights to nail your money goals.
The other way Up helps people track their expenses is by automatically learning about your regular charges and predicting when they'll be charged next. We call this Upcoming Bills and it helps you know how much you've already committed so you know what you've really got to spend in the weeks ahead.
According to Up Bank, what are some of the key steps people can take to save money, become wealthier and reach financial independence?
We can't answer this as we're not financial advisors, but a while back we put together a post about a few ways Up can help you spend wisely and our 2nd Birthday post also has some serving suggestions. We're currently working on a piece which talks about all the way Upsiders have told Up has helped them beat money stress and achieve their financial goals, so I'd love to send a link to that also once it's done as it's really inspiring.
Where can we find out more about Up bank?
The best place to find out more about Up is our website.
It's also worth remembering that trying Up isn't hard – it only takes a few minutes to join and there aren't any monthly fees to worry about. Closing an account is also as easy as chatting to us so start small and see how you go.
Up Bank promo code
If your keen to give it a go yourself, you can head over to their website and use the promo code 'CFI' – or alternatively you can use the Hook a Mate Up code URL below. This should give you $10 – $5 immediately, and another $5 after you make some transactions (like buying 5 punnets of blueberries which is what I did!)
Up Bank Captain FI promo code: CFI
Conclusion
Up is an innovative Australian digital bank that offers entirely digital, cloud based personal banking through the Up mobile application. With over 300,000 customers, including me, they have a proven track record and a very easy to use platform.
This review covered some of the functionality of Up Bank, why I like it and a few of the things I don't like, however overall I am pretty impressed. I think its a great option for anyone on the path to Financial Independence looking for an online personal bank
In the interests of full disclosure I am still hedging my bets with a secondary more 'conventional' bank account (ING bank) until I build up enough experience and trust with Up Bank, but I have been really happy with my service through Up so far
….plus their orange card is even more obnoxiously fluorescent orange than INGs card, so that way when I flash it people REALLY know that I have read the Barefoot Investor.
Want to know where Captain FI Banks?
Check out my Personal Resources Page and my Net Worth Updates.
Captain FI is a Retired Pilot who lives in Adelaide, South Australia. He is passionate about Financial Independence and writes about Personal Finance and his journey to reach FI at 29, allowing him to retire at 30.