BetaShares Australian market Solactive ASX 200 (ASX:A200) ETF review from an experienced and long term index investor.
Betashares A200 ETF aims to track the Solactive Australia 200 index, which is the top 200 Australian publicly traded companies by market cap according to the Solactive index.
The Good
Lowest MER of all Australian index funds at 0.07%
Does not contain derivatives
Typically returns a strong dividend
The dividends come with franking credits
High liquidity – easy to buy or sell shares
The Bad
Run by a for-profit company (Betashares) as opposed to a not-for-profit company (Vanguard)
Doesn't contain small caps
High dividend yield might not be tax effective in the accumulation phase for those with high incomes
Verdict: A200 is a cost-effective Exchanged Traded Fund that tracks the Australian share market index using the Solactive Australia 200 index
CaptainFI is not a Financial Advisor and the information below is not financial advice. This website is reader-supported, which means we may be paid when you visit links to partner or featured sites, or by advertising on the site. For more information please read my Privacy Policy, Terms of Use, and Financial Disclaimer.
The details
Betashares A200 was founded on the following benefits;
Low Cost – management costs of .07% p.a, the lowest cost Australian shares available on the ASX

Portfolio Diversification – in a single ASX trade, investors gain exposure to the largest 200 companies listed on the ASX

Physically backed – funds hold physical securities that comprise the index – no derivatives used for index tracking

Transparent – portfolio holdings, value of the funds assets and net asset value per unit available daily on the BetaShares website

Liquidity – available to trade on the ASX like any share

BetaShares
A200 invests in accordance with the Solactive 200 Index of Australian shares. This is slightly different to the S&P ASX 300 index, in that it does not include companies from 201-300 on the index. Due to the higher weighting by market cap of financials and materials (mining) in the index, this is shown in A200's sector allocation above. A200 also invests heavily in healthcare, industrials and real estate which are all huge parts of the Australian economy.
A200 has its top 10 holdings in Commonwealth Bank, CSL construction Limited and BHP, reflecting the sector allocation as per the index. The top 5 exposures make up just over 30% of the portfolio, and the top 10 making up 44.5%. These blue chips that make up a higher percentage of the portfolio are good, stable earners which typically produce strong dividends.
Performance
A200 has produced a 4.56% dividend yield in the year ending 31 August 2019, which I think is pretty good. For an investor following a Thornhill style dividend investing approach, this allows you to safely draw on your portfolio using the 4% rule from dividends alone (no need to sell any parcel of shares – not that that is a bad thing), plus surplus to reinvest into future shares. The Capital value of the share price of A200 will also steadily track the index, and should expect to see growth as per the index over time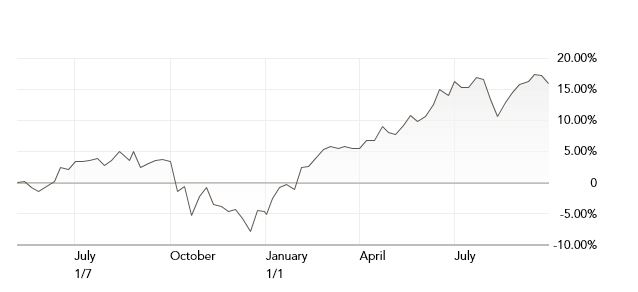 A200 vs VAS
Similar to the discussion between US ETFs VTS (Vanguard) and IVV (BlackRock iShares), there is a choice to be made in the Australian market between the Vanguard offering VAS and the Betashares offering A200. VAS historically had twice the management fee of A200, but given they recently reduced this to a MER of.10% makes it more attractive.
A200 is still cheaper in terms of management fees, but it is worth noting each ETF actually tracks a slightly different index: VAS tracks the S&P ASX 300 index vs A200 which tracks the Solactive 200 index.
Summary
A200 is a simple, low management fee Aussie ETF that gives investors exposure to the Australian share market. It contains the top 200 Australian publicly traded companies by tracking the solactive 200 index. A200 passes on alldividends to its shareholders due to the trust structure, and the capital growth of its portfolio is reflected in the growing A200 share price.
I hold A200 as a part of my core 'three fund' index ETF portfolio. However, just because I have a particular investment doesn't automatically make it appropriate for you to copy me. You should do your own research and ensure it is appropriate to your circumstance and risk tolerance – if you get stuck, chat to a licensed financial advisor about sorting out your investments.
Answers to frequently asked questions about the Betashares ASX A200 Exchange Traded Fund
What is the A200 management fee?
The Betashares ASX A200 ETF has a management fee of 7 basis points, or 0.07% per annum. On a $10,000 investment, this amounts to $7 per year. This is incredibly cheap and is the lowest of all Australian ETFs.
What is the ASX A200 dividend yield?
The Betashares ASX A200 ETF has had an annualised dividend yield of 4% (plus franking credits) according to Sharesight.
Financial Disclaimer
Financial Disclaimer: CaptainFI is NOT a financial advisor and does not hold an AFSL. This is not financial Advice!
I am not a financial adviser and I do not hold an Australian Financial Services Licence (AFSL). In this article, I am giving you factual, balanced information without judgment or bias, to the best of my ability. I am not giving you any general or personal financial advice about what you should do with your investments. Just because I do something with my money (or use a particular service or platform) doesn't mean it is automatically appropriate for your personal circumstances. I do not recommend nor endorse any financial or investment product, and my usage or opinion of any product should not be interpreted as an endorsement, advertisement, or intent to influence.
I can only provide factual information based on my journey to Financial Independence, and that is provided for general informational and entertainment purposes only. I make no guarantee about the performance of any product, and although I strive to keep the information accurate and updated as it changes, I make no guarantee about the correctness of reviews or information posted.
Remember – you always need to do your own independent research and due diligence before making any transaction. This includes reading and analysing Product Disclosure Statements, Terms and Conditions, Service Arrangement and Fee Structures. It is always smart to compare products and discuss them, but ultimately you need to take responsibility for your use of any particular product and make sure it suits your personal circumstances. If you need help and would like to obtain personal financial advice about which investment options or platforms may be right for you, please talk to a licensed financial adviser or AFSL holder – you can take the first steps to find a financial advisor by reading this interview, or by visiting the ASIC financial adviser register and searching in your area.
For more information please read my Privacy Policy, Terms of Use, and Financial Disclaimer.
Captain FI is a Retired Pilot who lives in Adelaide, South Australia. He is passionate about Financial Independence and writes about Personal Finance and his journey to reach FI at 29, allowing him to retire at 30.