As one of the Big 4 banks in Australia, NAB (National Australia Bank) is worthy of good consideration for business or personal banking with its well-established online and app services, accounts and contribution to improving sustainability practices and mitigating its carbon imprint. Read on for my full NAB Bank review
The Good
Fee-free everyday transaction accounts
Easy online banking, and app
Budget tools and calculators on the website
Commitment to improving sustainability
NAB can organise interpreters for those who might need it
Plenty of physical branches around for those who prefer it
Wide range of accounts and products available
Competitive interest rates
Reputation as one of the 'Big 4'
The Bad
Some ethical considerations to ponder
Not the best rates for home loans
Reviews are hit and miss
Unequal security options for users who don't have windows devices
Unreliable customer service – many bad reviews
Verdict: Lots of pros for using NAB Bank but also lots of bad reviews. A Digital bank and broker may suit your needs better?
CaptainFI is not a financial advisor and this article is not financial advice. This website is reader-supported, which means we may be paid when you visit links to partner or featured sites, or by advertising on the site. For more information please read my Privacy Policy, Terms of Use, and Financial Disclaimer.
Introduction – NAB bank review
Formed in 1982, the National Australia Bank has experienced many ups and downs over the last few decades but ultimately survived and thrived within the Australian Banking arena. Currently being one of the Big 4 banks in Australia, NAB are one of the legitimate choices for Australians to consider when pondering where to place their hard-earned cash. This review will aim to break down some of the key considerations that us Aussie's should ponder when considering moving our hard-earned cash to NAB.
Is NAB (National Australia Bank) one of the 'Big 4' banks?
Alongside Commbank, Westpac and ANZ, NAB is classed as one of the 'Big 4' banks in Australia. To help understand what being a 'Big 4' bank means, it's useful to know that there are three main components that are assessed when being assessed as a 'Big 4' bank which are the comparison of total earnings, the total customers and market capitalisation (the value of a company that is traded on the stock market).
It is also interesting to understand that Australian Government has a 'Four Pillars Policy' which prevents each of these banks from merging with each other. The aim of this policy is to provide financial market stability for Australians which are thought to have played an important part of Australia's financial navigation through difficult times such as the Global Financial Crisis, although this policy is not without its criticisms.
Is NAB a good bank?
The personal NAB experience of those close to me has been mixed along with their reputation being a little hit and miss. NAB seem to either get glowing reports of great branch staff and service, and helpful online representatives from those who have had a great experience, OR those having a terrible experience of untrained and rude staff, missing money or delayed settlements (refer to productreview.com.au for some interesting reads) but bear in mind there are two sides to every story.
To determine if NAB is a good bank for YOU specifically, it may just be up to the luck of the draw which is both unhelpful and unprofessional in my opinion.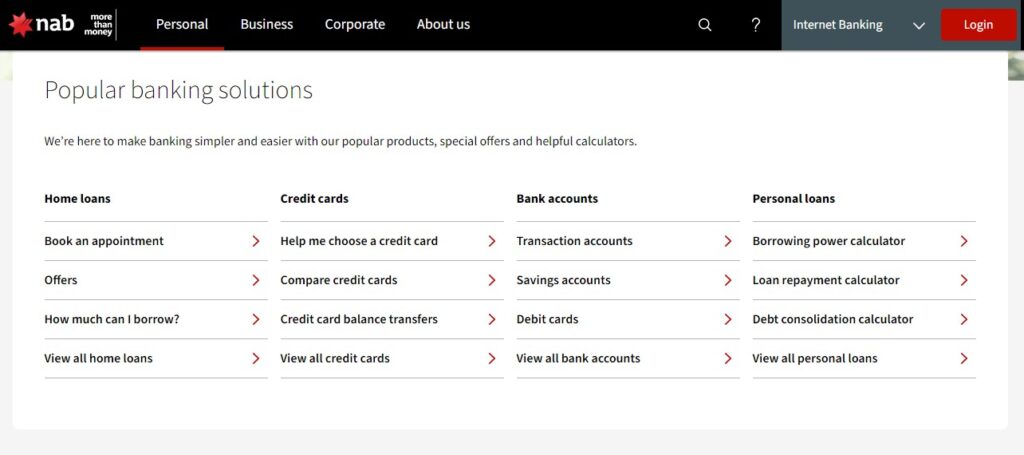 Who owns NAB?
NAB is a locally owned public company meaning that the shareholders themselves 'own' the company.
Is NAB a safe bank?
Look, in 2022 data breaches are more and more common and NAB is by no means in the clear. They do take their security seriously, as you'd expect being such a big bank, and employ additional security features to authenticate large transfers of money, or new payees being established, however there have been incidents of data breaches in the past which required significant pay-outs to those affected.
In recognising the importance of security on our personal devices, NAB offer free trials and discounted software for Microsoft Windows users (*cough* what about all the Mac users? *cough*) however really, these days, you can find discounts and free trials around quite easily.
In relation to the safety of your money sitting with NAB as a financial institute, the Australian Government guarantee on deposits ensures that up to $250,000 of funds per person are protected and would be refunded through the FSC (Financial Claims Scheme) if something terrible were to happen to the financial institute.
What kind of accounts does NAB bank have?
NAB offers a wide variety of bank services for personal, business and corporate clients. Their main personal services include:
Bank Accounts
Classic Banking – $0 fees and you receive a VISA Debit card
Retirement Account – $0 fees and you receive a VISA Debit card
iSaver – 0.05% Interest Rate, or BONUS 0.25% if you meet the requirements but only for 4 months whilst meeting the requirements
Reward Saver – 0.01% Interest Rate, or BONUS 0.24% if you meet the requirements
Term Deposits – All very low but ranging from 0.25% for 12 months, to 0.30% for up to 60 months
Credit Cards – Fee free and cashback options may be available pending meeting the appropriate requirements
Personal Loans – $5-$55,000 available over a 1-7-year term however at this point in time the rates aren't very enticing
Homes Loans – A variety of home loans and establishment options pending your situation, however like many other NAB products, interest rates aren't anything to write home about…
Super and Investments (including SMSF's)
Insurance options available for key assets
Overseas banking availability if required
NAB also offer a product called 'Private Wealth' which seems to involve discounts and reduced rates for certain types of products… would love to see a Cost Benefit Analysis to really delve into the legitimacy of this more.
To their credit, NAB seems to be the only Big 4 bank that offers unconditional fee free everyday transaction accounts which to me is a big bonus as sometimes using those 'buckets' to keep your cash separated is really helpful, as we all know Scott Pape wouldn't be keen to be paying a ridiculous fee for this 'privilege' each month!
Does NAB have an App for internet banking?
Yes, NAB offers an easy-to-use App that once logged in via your personal four-digit passcode, shows all accounts held with the Bank, and provides a quick and easy overview of balances and account types.
The app is smartly designed to ensure that the options for the user are laid out clearly, and that actions such as transferring money, paying bills, and blocking cards are not time consuming nor complicated.
The app rarely has any downtime, and the customer service has been well above average for a bank which is so well established and is also managing physical branches, not just an online/app-based service.
Also, for all you Barefoot Investor fans out there, you can even go into each of your accounts on the app and rename them as per our old mate Scott's buckets strategy. Check it out here if you're not familiar with this pivotal piece of Australian financial work!
Does CaptainFI have an account with NAB?
Yes. I have a $360,000 mortgage with NAB Bank for my property development and so far it has been fine. It was all organised through a mortgage broker which means I didn't have to do all the leg work, but there was seriously still a shit load of paperwork I had to fill out which was annoying. We have an offset on an interest-only construction loan which has been great, off the top of my head I can't remember the interest rate but it was pretty decent for financing a small development.
I simply put $1000 a month into the offset account and then the mandatory interest repayments get automatically sucked out of that, so its working fine. I can log into the online banking and see how the loans are structured and payments I have made.
I forgot my log ins (I have so many!!) and have had to speak to customer support a few times and each time they have actually been refreshingly pleasant and easy to deal with.
NAB equity Builder
NAB offers the NAB equity builder which is a loan product for Debt Recycling allowing you to turn a non tax deducible PPOR home loan into a tax deducible loan for share investing. I am in the process of writing a separate review article on this and will link it when its completed, but I will more than likely be using the NAB equity builder when I buy my property (if they will let me!).
Advantages of using NAB bank
Fee-free everyday transaction accounts (the only Big 4 bank with no fees for everyone!)
Great online banking with a simple yet comprehensive layout
Easy to use app with the ability to quickly move money internally or to another person/organisation/investing account
Able to go into a NAB branch and speak to a staff member if this is something you enjoy!
Recognition for efforts in improving sustainability
Budget tools and calculators on the website
Potential for great local customer service
NAB can organise interpreters for those who might need it
A potential 'one-stop-shop' for those who like to keep everything neat
Disadvantages of using NAB bank
Some ethical considerations to ponder
Not the most competitive rates for home loans
Rates for savings accounts for the general population aren't very impressive
Reviews are hit and miss
Unequal security options for users who don't have windows devices
Unreliable customer service
FAQ's about NAB Bank:
Is NAB bank good for home loans?
NAB seem to offer a variety of home loans that would likely cover most people's requirements. They do offer split loans, offset accounts, low deposit loans for those struggling to get into the market and also a product called a Family Home Guarantee which is targeted at supporting single parent households to get into the property market.
Having spoken to a recent friend who acquired an Investment property through NAB, she seemed to find it to be an easy and simple process and was happy to recommend her local mortgage broker to me. From reading into this, I think making that connection with a branch manager or home loan specialist in your local branch is a positive as it gives them the accountability that you're not far away and can come and see them in person if things aren't moving along as they should.
Is NAB bank ethical?
In 2022, it's great to see that individuals are being more involved and concerned with the companies they choose to engage with based on ethical considerations. There are now some great resources around, such as the Ethical Consumer Group who have a website that provides a helpful, quick overview of different companies and products and the main ethical considerations that you can consider.
Within their site, they've done some base level research and identified that NAB do have some pros within the ethical sphere such as being Carbon Neutral, being listed in the 2021 Global 100 (the top 100 most sustainable companies in the world) and receiving other high scores for corporate sustainability and climate change mitigation. However, that's certainly not the end of the story.
Whilst NAB seem on one hand to prioritise ethical and sustainable practices, they also seem to play a significant role in global deforestation, financing fossil fuel (dirty fossil fuel and extreme fossil fuel), land grabs (backing companies that are involved in illegal logging, evictions, child labour, inadequate compensation and food shortages) and (not that we need ANYMORE concerns) interest rate rigging, according to our friends at the Ethical Consumer Group.
Look, I think it's pretty clear to say that NAB are not the most ethical bank out there, however hopefully in the future their 'commitment' to improving their practices improves.
Can I open a NAB account online?
Yes, NAB offer the ability to quickly and easily open online accounts via their website and even within their app.
Is NAB the biggest bank in Australia?
No, NAB isn't the biggest bank in Australia. Generally, NAB sits in the third or fourth position of the 'Big 4', pending the year.
Conclusion – NAB Bank Review
Overall, this NAB Bank Review has confirmed what we all knew, that NAB are one of the key players in the Australian banking area. They offer decent and up-to-date online banking and app access, which is pivotal these days for them to stay 'in the game'. They also have a wide variety of products for the everyday Australian covering transactional and savings accounts, business banking, personal and home loans and some pretty generic but somewhat helpful advice on their website too. They run the NAB home equity builder program for debt recycling which is pretty cool.
Whilst they may not be the cleanest bank around in terms of ethical considerations, they do take their security seriously and, pending the NAB representative you speak to, are genuine in caring about their customer's experience. NAB seem to be able to cover most of your banking needs and while feedback from customers varies a fair bit, any other bank will likely have mixed reviews too.
Further reading – other Bank reviews
Check out my list of bank reviews here to see how the competition stacks up, and to find the right bank for your journey to Financial Independence
CaptainFI is reader-supported, which means we may be paid when you visit links to partner or featured sites.
Captain FI is a Retired Pilot who lives in Adelaide, South Australia. He is passionate about Financial Independence and writes about Personal Finance and his journey to reach FI at 29, allowing him to retire at 30.