Rich Dad Poor Dad by Robert Kiyosaki book review by a long term investor who has reached financial independence, how does it stand up 25 years later?
Rich Dad Poor Dad by Robert Kiyosaki offers invaluable financial insights by contrasting the money philosophies of two father figures in the author's life. Kiyosaki emphasizes the significance of financial education, acquiring income-generating assets, and questioning traditional job security. The book encourages a shift towards entrepreneurship, calculated risk-taking, and strategic wealth creation.
The Good
Strong emphasis on acquiring passive income producing assets
A great introduction to investment and money mindset
The Bad
Large real estate investing emphasis, which has a higher barrier to entry compared to investing in stocks
Encourages using leverage to accumulate wealth and invest which introduces extra risk
Can be a little oversimplified and not go into specific strategies
Verdict: Although a fairly controversial and often heavily criticised book, Rich Dad Poor Dad is a modern classic of personal finance.
CaptainFI is not a Financial Advisor and the information below is factual review information, not financial advice. This website is reader-supported, which means we may be paid by advertising on the site, or when you visit links to partner or featured sites. For more information please read my Privacy Policy, Terms of Use, and Financial Disclaimer.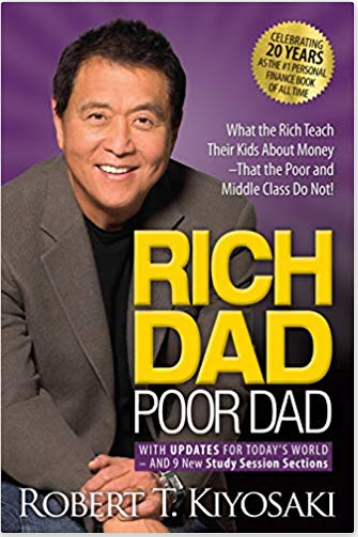 Rich Dad Poor Dad book review
"Rich Dad Poor Dad" by Robert Kiyosaki is a game-changing read for anyone seeking financial wisdom and a fresh perspective on wealth-building. Kiyosaki imparts invaluable insights and practical advice that can revolutionise the way you approach money.
Divergent Philosophies
Kiyosaki contrasts the financial philosophies of two father figures in his life: his biological father ("Poor Dad") and the father of his best friend ("Rich Dad"). This comparison forms the foundation of the book, providing a thought provoking exploration of traditional vs. unconventional financial wisdom. It challenges deeply ingrained beliefs about money and invites readers to consider alternative paths to financial success.
This will resonate with many in the FI community due to the similarities of going against the grain of conventional society's approach to investing, lifestyle and finances.
The Power of Financial Education
One of the book's key messages is the importance of financial education. Kiyosaki advocates for learning about money, investing, and financial literacy. He emphasises that this knowledge is essential for making informed and empowered financial decisions. It's not just about saving to accumulate wealth, but about understanding how to make that wealth work for you in the most effective and efficient ways.
Assets and Passive Income
Kiyosaki's "Rich Dad" advocates for acquiring income-generating assets, such as real estate, stocks, and businesses. This concept challenges the conventional notion of working solely for a paycheck and encourages readers to think strategically about building wealth through multiple income streams. It shifts the focus from the linear approach of trading time for money to the exponential potential of leveraging assets to generate ongoing income.
"The poor and middle class work for money. The rich have money work for them.'

Robert Kiyosaki
The Myth of Job Security
Kiyosaki challenges the notion of job security which is far more significant in today's landscape, and highlights the importance of entrepreneurship and taking control of one's financial destiny. It invites individuals to consider the risks and rewards of entrepreneurship and self-reliance, emphasising that true security lies in one's ability to create and manage their own financial opportunities.
Questioning Conventional Wisdom
The book encourages readers to critically assess societal norms and traditional financial advice. Kiyosaki urges us to challenge the status quo and consider alternative approaches to achieving financial success. This calls for a mindset shift, prompting individuals to evaluate their own financial beliefs and make intentional choices that align with their long-term goals.
"The main reason that over 90 percent of the American public struggles financially is because they play to not lose. They don't play to win."

Robert Kiyosaki
Taking Calculated Risks
"Rich Dad" promotes taking calculated risks and being open to opportunities that can lead to financial growth. This can be a transformative mindset for individuals looking to step out of their comfort zones. It encourages thoughtful risk assessment and strategic decision-making, empowering individuals to seize opportunities that have the potential to propel them towards their financial objectives.
Controversial Points
While the book provides powerful insights, it does oversimplify certain financial concepts and does not provide enough concrete, actionable advice for all readers. it's important for readers to approach the book with a critical yet open-minded perspective, deciding which principles resonate with their own financial journey.
Summary
If you're still wondering what the difference between an asset and a liability or what leverage is, I'm not sure how you stumbled across the FIRE community, but this book will help clear it up for you. "Rich Dad Poor Dad" acts as a beacon of financial enlightenment, shedding light on fundamental concepts that are often overlooked or misunderstood. It lays the groundwork for a solid financial education, allowing readers to begin to navigate the complex world of money with confidence.
I read this book before I started investing and while it doesn't give you specific advice on how to invest and start buying income-producing assets, it really ignited a fire in my belly which drove me to eventually discover the FIRE community and the amazing benefits of passive income. The narrative serves as a catalyst, sparking a newfound sense of purpose and determination to take control of one's financial destiny. It's not just about amassing wealth; it's about creating a sustainable and fulfilling financial future that aligns with your life goals and aspirations.
For those starting their investing journey it's important to remember there is a whole host of resources out there from podcasts to books. Once you start out along the path you can never really get enough education.
You may be able to borrow this of his other book Cashflow Quadrant for free from your local library, but if you want a copy for yourself or to give someone, you can get the book pretty cheap online
Check it out on Amazon, listen to it through Audible or buy it from Australia's local bookstore Booktopia
Financial Disclaimer
Financial Disclaimer: CaptainFI is NOT a financial advisor and does not hold an AFSL. This is not financial Advice!
I am not a financial adviser and I do not hold an Australian Financial Services Licence (AFSL). In this article, I am giving you factual, balanced information without judgment or bias, to the best of my ability. I am not giving you any general or personal financial advice about what you should do with your investments. Just because I do something with my money (or use a particular service or platform) doesn't mean it is automatically appropriate for your personal circumstances. I do not recommend nor endorse any financial or investment product, and my usage or opinion of any product should not be interpreted as an endorsement, advertisement, or intent to influence.
I can only provide factual information based on my journey to Financial Independence, and that is provided for general informational and entertainment purposes only. I make no guarantee about the performance of any product, and although I strive to keep the information accurate and updated as it changes, I make no guarantee about the correctness of reviews or information posted.
Remember – you always need to do your own independent research and due diligence before making any transaction. This includes reading and analysing Product Disclosure Statements, Terms and Conditions, Service Arrangement and Fee Structures. It is always smart to compare products and discuss them, but ultimately you need to take responsibility for your use of any particular product and make sure it suits your personal circumstances. If you need help and would like to obtain personal financial advice about which investment options or platforms may be right for you, please talk to a licensed financial adviser or AFSL holder – you can take the first steps to find a financial advisor by reading this interview, or by visiting the ASIC financial adviser register and searching in your area.
For more information please read my Privacy Policy, Terms of Use, and Financial Disclaimer.
Captain FI is a Retired Pilot who lives in Adelaide, South Australia. He is passionate about Financial Independence and writes about Personal Finance and his journey to reach FI at 29, allowing him to retire at 30.