ING Bank review from a long term customer, financial independence enthusiast and experienced investor
ING: The Good
No Fees! No account or ATM withdrawal fees
Multiple Transaction accounts each with unique VISA cards
Features instant PayID, OSKO and BPAY
Supports joint accounts
Bank @ Post available
ING: The Bad
Interest Paid on one Savings Maximiser only
Must deposit $1000 per month and make 5+ card transactions a month for it to be fee free
No physical branches
Have to contact customer support to get your sign up bonus
Verdict: ING Bank is a great bank, but read on to see why I also use Up Bank
CaptainFI readers score a free $50 from ING using promo code: FKQ674
I've been a personal customer of ING bank for over 5 years now, and to be honest, I couldn't ask for a better bank. I use it conservatively (no credit cards for Captain FI just yet!) with just a couple of Orange Everyday accounts and a Savings maximiser for my emergency fund.
I don't think I have ever paid a cent in fees or ATM charges – and I even get a bit of interest paid out to me on the balance of my emergency fund.
This is perfect, since I am frequently travelling the globe and need an easy way to access my cash without getting stung with hefty international transaction fees. ING Bank has actually saved me thousands in fees since I switched!
This article is for anyone with Australian residency who is looking to open up a fee free online bank account that can be used in Australia and around the world.
CaptainFI is reader supported, which means we may be paid when you visit links to partner or featured sites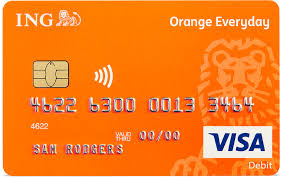 ING Bank in Australia
ING (International Netherlands Group) bank itself is actually a Dutch international banking and financial services corporation, started in 1991 through the Merger of previous banking corporations. Its global headquarters is in Amsterdam, but it also has offices all around the world.
If the first thing that comes to mind when you think of ING bank is the comedian Billy Connolly, then your probably around the same vintage as me. He was featured on a lot of their early advertising, which kind of made ING seem like 'the Aldi of banks' – a little different, but good different?
Some of them were just plain cringe-worthy, but most just make me laugh when I go back to watch them these days (especially the ones that featured 'the internet' and other 'cyber' themes from around the dot com boom).
Of course times have changed, and ING have moved on from Billy Connolly, awkward 'dot com boom' era ads and Smooth talking British Orangutans. ING Bank has now settled on the much more attractive redhead Isla Fisher to spearhead the face of their $10 Million dollar PR campaign to re-brand ING bank as a conventional 'main' bank rather than a quirky side offering – and boy has she done wonders for the company!
You might not realise it, but ING Group is actually one of the biggest financial companies in the world with assets over USD $1 trillion (check out ING's income stats here). It is frequently ranked as one of the top 30 banks world wide, and has and over 40 million customers (with about 2 million of those in Australia alone).
ING Group's primary business is banking (retail, direct, commercial, investment, wholesale and private), but they also offer asset management and insurance services such as superannuation.
ING began offering banking to Aussies in 1999 with ING Bank Australia Limited, headquartered in Sydney, NSW. ING's Australian division alone made over AUD $440 million in profit in 2019, by managing (investing) nearly AUD $45 Billion worth of Aussie's savings, as well as profits from writing AUD $63 Billion worth of loans.
They also signed up nearly half a million Aussies for bank accounts in 2019 (thanks barefoot investor!) So its actually a sizeable player in the Australian banking industry, and has significant capital behind it to ensure customers satisfaction and safety – which is ultimately linked to total shareholder return, right?
ING Banks online everyday account: Orange Everyday
An Orange everyday is the basic transaction or 'checking' account I use with ING bank. I actually have a few of these, because I like to separate certain pools of money (such as sinking funds for my car expenses) and I like having a couple of visa debit cards as a backup.
Whilst I don't think you get much (if any) interest for money in these accounts, for me the real benefit is that they are pretty much fee free. Of course, you need to consult the ING Orange everyday Product disclosure statement to be truly sure of their fee structure, because I am sure there are some things that might potentially cause you to cop a fee (overdrawn account maybe?) its just that this has never happened to me.
ING Banks online high interest savings account: Savings maximiser
The Savings maximiser is ING Banks high interest online savings account. Of course, as official RBA interest rates change, so too does the interest yield on pretty much every banks savings account (and lately the tendency has been for them all to drop). Not withstanding, ING Bank still offer a very competitive rate (compared to other banks savings accounts) when you have a linked orange everyday transaction account and meet a few criteria with it;
"Simply deposit your pay of $1,000+ per month and make 5+ card purchases that are settled (not pending) each month to get these benefits the following calendar month."

ING Bank Australia
In my opinion, it would be great to be able to have multiple savings maximisers linked to the same (or multiple) Orange Everyday accounts, but alas this is not how it works. So I personally just have one savings maximiser, and I keep some of my emergency fund here in cash (with the majority of my emergency fund being parked in my mortgage offset account).
Check out ING Banks Savings Mazimiser Product Disclosure statement for the full terms and conditions
ING Banks mobile application
ING Banks mobile app is simple, straightforward and everything you need. It displays all of my accounts, transaction history and is very easy to make transfers with. This has been very handy both at home and when overseas, especially making purchases I didn't quite understand (for example trying to figure out 'inbuilt gratuities' – tips, at American bars I just open the app to see just how much they have debited).
Its also handy when I need to make sure I have enough money in my account and quickly load up my card by transferring between accounts.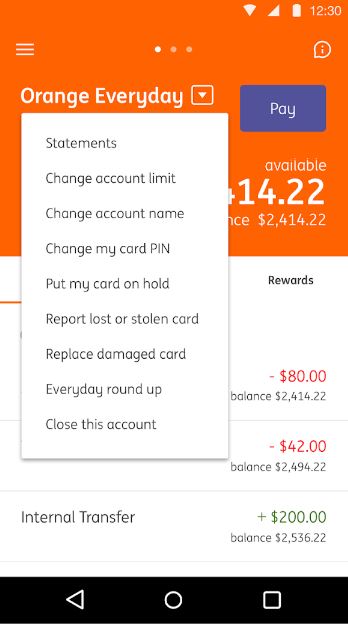 Face to Face transactions with ING Bank
Most people don't care, but some *cough* Boomers *cough* don't like that ING doesn't have any physical branches in Australia.
One of the ways ING Bank is able to maintain such a low fee service is by maintaining low cost overheads – and one way of doing this is to actually avoid having physical branches all together. As a typical millennial, I salute this move as it means there is a lower chance of me ever having to stand in a cue in a bank and have to deal with another human being (I still occasionally have to do this for business banking with other providers or when I need cash overseas and I dislike it!).
During COVID-19, ING Bank actually had something like 80% of their employees working from home – and why not, since they all technically work 'remotely' from the customer anyway?
There are of course some things I need to do 'in person' banking for – for example stashing cash I have earned from my side hustles or selling things, or cashing sweet sweet affiliate marketing checks from my eCommerce businesses (although this hasn't happened much unfortunately!). Luckily, ING Bank have a deal with Australia Post – you can simply go into any post office branch to deposit checks or cash in person.
Features I like about ING Bank
PayID – I don't have to give out a BSB, account number and name anymore – I just set my PayID which keeps my details protected (super handy for selling things)
ING Bank supports OSKO instant payments – this really helps when buying or selling things second hand
'Round up' – I can round up purchases to the nearest $1 or $5, and send the difference to my brokerage account which encourages me to invest more.
No Fees – I don't ever pay any account keeping, transaction, international purchase or ATM fees – EVER! ING actually even refunds me ATM and international transaction fees when I am charged by other companies or banks.
Good interest rate – I get a competitive interest rate on the emergency fund in my savings mazimiser (Side note – it might not be the absolute highest available but I could not be bothered changing banks to earn an extra 2 cents per month in interest though)
Other products from ING Bank
ING Bank do have other products and financial services; of course they offer Credit Cards, but they also offer personal loans and home loans, and sell Insurance and Superannuation products. I don't have any personal experience with any of these other products, but you can find out more on their website if you are interested.
Security and safety with ING
I was recently a victim of identity theft / fraud whereby some loser opened up a mobile phone in my name using an old address they scammed (presumably from a data spill or stolen old mail) and tried to use it to scam me by switching financial services to it for 2FA.
Thankfully, ING bank were all over this. I spoke to a security expert on the phone for over two hours where she went over everything needed to fix this situation – including helping me with my other financial accounts (even other banks) and a statement for police.
They asked me not to go into too much detail on here due to social engineering concerns, but rest assured I was very impressed by the level of security and how helpful they were.
ING Bank sign up promo code
For now though, if your dead set on joining ING Bank, they have given me a promo code to share with you which should credit your account with $50 or $100 depending on what bonus they are offering at the time – you just need to create an Orange Everyday and a Savings Maximiser, deposit $1000 and make 5 transactions on your Orange Everyday Visa Card. Money for Jam in my opinion!
ING Promo code: FKQ674
Frequently asked questions about ING Bank
Answers to frequently asked questions about ING Bank
Is ING bank a good bank?
Yes. ING is a good bank to bank with, and consistently ranks highly among customer satisfaction surveys.
Is ING bank safe to bank with?
Yes, ING is incredibly safe to bank with. ING has nearly 60,000 staff members and over 40 million customers over 40 different countries – with assets in excess of USD $1 Trillion. They have mature security protocols and an excellent fraud team.
Who is ING bank owned by
ING bank Australia is owned by the Internationale Nederlanden Groep, a dutch banking company.
Why is ING the best bank?
ING is one of the best banks because of their focus on customer service and low fees. They provide an excellent product at an industry leading price.
Is ING a big bank?
Yes. ING (Internationale Nederlanden Groep) is one of the worlds largest banks. Globally, ING has nearly 60,000 staff members and over 40 million customers over 40 different countries – with assets in excess of USD $1 Trillion.
Is ING an online bank?
Yes, ING is an online bank in Australia. This is how they provide such cost effective services with lower overheads and thus pass on lower fees to customers.
How Strong is ING bank?
ING is considered an extremely strong bank, with excellent security and safety protocols. Globally, ING Bank has nearly 60,000 staff members and over 40 million customers over 40 different countries – with assets in excess of USD $1 Trillion.
What does ING bank stand for?
ING bank stands for Internationale Nederlanden Groep which is the name of the Dutch company that owns ING Bank Australia. Internationale Nederlanden Groep is one of the worlds largest savings bank.
How do I deposit cash ING Australia?
The easiest way to deposit cash into your ING Australia account is using Bank at post – at Australia post, tellers will scan your card and take your cash, depositing it into your account.
How long does a transfer from ING take?
OSKO and PayID and BPAY transfers are instant, and standard Bank transfers take between 1-2 days.
Can I pay with my phone ING?
Yes, with ING bank Australia you can configure Google pay and Apple pay as a fast, secure and convenient way to pay using your phone.
Conclusion
ING Bank are a typically a free free and convinient bank which have helped me in my journey to Financial Independence. They are especially useful for me because of how much I travel internationally, because they do not charge internatonal transaction or ATM fees. I switched to ING Bank over 5 years ago when I realised I was paying over $300 per year in account keeping and transaction fees with my previous bank. Not only have they saved me over $1,500 in fees since, they also have provided me competitive interest rates and a very easy to use online platform.
A better bank than ING?
So what about the competition for good old ING bank? Well I was recently made aware of what is probably their most potent competitor: Up Bank.
UP Bank is an innovative Australian digital bank that offers entirely digital, cloud based personal banking through the Up mobile application. Because of this, and their strong focus on technology and rapid development, they are often categorized as a 'neobank". With over 200,000 customers, Up bank is targeted at a millennial audience and has had two years of proven functionality with outstanding reviews, winning Up several industry rewards such as 'Digital disruptor of the year' and 'Best digital bank'.
I have recently opened an account with Up Bank, and you can check out my Up Bank review here. They seem to have basically combined ING bank and expense tracking software like PocketSmith or WeMoney. As far as I can see, Up are a massive disruptor in the banking sector and have been poaching ING customers left, right and center. Check out my review and see for yourself!
Some of my Favorite ING Advertisements
They always say to leave on a joke – Checking out old TV advertisements can be a laugh and a bit of a blast from the past. Check out three generations of marketing from ING below.
Captain FI is a Retired Pilot who lives in Adelaide, South Australia. He is passionate about Financial Independence and writes about Personal Finance and his journey to reach FI at 29, allowing him to retire at 30.