This Flippa Review looks at the details surrounding the purchase and sale of websites and online businesses through Flippa.com
The Good
Biggest online business market place
Easy to use – Flippa guide you through the whole sale
Provide buyer protection
Tips, articles and resources on their website
Flippa has an auction model as well as Buy it Now function
The Bad
Flippa take a % commission on sales – fees may be higher than competitors
Auction model can create higher risk for both parties, depending on negotiations
Can be difficult for first time sellers to get the best price
There are some restrictions on how much money can be used to buy a website
There can be a lack of privacy for sellers – buyers can see how much money you're making
Verdict: Flippa helps guide you through buying and selling websites, providing feedback as well as resources. Whilst they are not the cheapest platform, I will be continuing to use Flippa to buy, renovate and hold websites for a portfolio cash flow strategy because they offer a premium service.
Introduction
Flippa is a marketplace where you can buy and sell websites and online businesses. It's a great way for people of all skill levels to go into business for themselves or just get some extra cash. The internet has grown exponentially in the last 10 years, and so too have the opportunities for making money online. One of the easiest ways to do this is by buying and selling websites or online businesses. Websites can be listed for as little as $10 on Flippa, but they usually cost more than that. The average website sell costs about $3,000 – which doesn't seem like a lot of money if you consider how much time goes into building a site from scratch or how much it would cost to buy one pre-built! You might not know where to start if you're new but you don't need to worry too much because Flippa offers tips on how best to create listings that attract buyers as well as how much money websites typically sell for in their respective categories.
What is Flippa and how does it work?
Flippa is an auction-style website with a focus on the buying and selling of businesses. Businesses are bought by purchasing Flippa URLs or Flippa packages, which include domains with established websites. Sellers have the option to sell their business for an asking price, or allow Flippa to offer it in an auction format. If Flippa doesn't meet that asking price within 2 months, then Flippa releases the seller from its obligation to sell at that price.
Every Flippa listing provides detailed information about the business being sold, including its revenue model, growth potential, current traffic levels etc. Buyers can use this information as a starting point to evaluate the business and whether it would be a good purchase.
Flippa can be used to purchase any kind of business, whether you are interested in purchasing an online florist or an established pizza shop. Currently, many Flippa listings are for websites, but there are also listings for mobile applications and physical goods.
Many people use Flippa to purchase websites or online businesses once they've completed their own website. Flippa is useful for flippers (people who try to turn a quick profit by buying and selling sites), because it makes the process very straightforward.
The biggest benefit of using Flippa to sell your business is the exposure that it provides. The Flippa market place is visited by thousands of users per day, all actively searching for businesses to buy.
Advantages of buying a website or online business through Flippa
The main advantage of buying a website or business through Flippa is that Flippa has an easy platform to use and they make the process smooth and streamlined for both parties.
The Flippa platform also provides buyer protections to reassure buyers so they will be more likely to complete their transaction.
Flippa guarantees authenticity by requiring sellers to disclose certain information about themselves. Also, Flippa does not allow the sale of infringing content.
When selling websites on Flippa, Flippa guides you through all aspects of your sale – from beginning at listing, to the end, once the sale has been completed. Flippa handles payments, manages any negotiations between buyers and seller, oversees escrow accounts if necessary, etc..
The other benefit of using Flippa is that Flippa has a large audience of potential buyers and Flippa keeps track of all sales made. Flippa can send you an email when anyone purchases one of your sites in the future. This provides great passive marketing opportunities, and it can lead to repeat customers or referrals if you do a great job for them.
Flippa's auction model allows high-bidders to purchase a website even if they would not be able to afford it through a straight purchase method. For example, someone who is looking to buy the site at $100,000 might only have enough money for a down payment of $10,000. However, the bidder might not be able to afford the site on Flippa.com and may wait too long before expecting a sale to come along. The Flippa auction model allows that bidder to bid on websites on Flippa for as low as $1 and then try their luck at winning auctions based on how much they can pay for a website (or rather how little).
Flippa also has an escrow service like Ebay where the money is held until both parties are satisfied with the transaction. This gives buyers peace of mind and reassurance that they will get what they paid for.
Disadvantages of buying a website or online business through Flippa
There is a high success rate on Flippa, which means that there are few listings for sites with problems. This can be both good and bad news – you might not get the chance to buy an undervalued site!
Flippa takes a % commission from the total sale price (including any overage). Flippa's fees may seem excessive compared to other website marketplace companies like Empire Flippers or Sedo.
Another downside of selling through Flippa would be if buyers do not pay or complete their purchase because it ends up being too much work. Flippa does its best to avoid this by making sure all parties understand what they will need in order to finish a successful transaction and goes so far as mediating negotiations when necessary.
You are not guaranteed the sale. The auction model creates increased risk for both parties, which can result in lost revenue to either party depending on how negotiations go. For example, if you list your site at $100,000 and no one bids above it during the first week – then you might end up selling the site below market value because there were no bidders interested enough to out-bid each other. You may be able to sell directly without having an open auction where anyone could come along with any price they see fit. Also sellers must pay fees upon closing their sales (although this is usually much less than what PayPal charges).
The biggest drawback of using Flippa to sell your business is that it can be difficult for first time sellers on the platform to get the best price. When selling your website on Flippa, you cannot control who buys your site. You also have no guarantee that bidders will complete their purchase of your site until they actually pay you for it and transfer ownership to them (at which point Flippa has already taken its commission).
There are many scammers out there trying to steal people's money or personal information by pretending to be buyers interested in purchasing a business online through Flippa. It can help if you do some research into what scams look like before listing your own business, but this might increase the amount of time spent vetting potential buyers – increasing costs for everyone involved with the sale process (including sellers themselves).
Another disadvantage for Flippa users is that there are some restrictions on how much money can be used to purchase a website. Transfers over $100,000 must go through escrow while transfers under $100,000 still require valid identification information or an accepted payment method (such as PayPal). This doesn't really affect most site sales but it can be problematic for those who are trying to purchase an expensive site.
There is lack of privacy which means people can easily see how much money you're making from each transaction. If a person really wants to figure out what kind of business model works well on Flippa, they don't have to look any further than your listing page because everything becomes public knowledge at some point during the sale process.
How to buy a website or online business through Flippa?
You might want to start by checking out the Flippa marketplace which has a huge variety of starter sites, established sites, affiliate sites, e-commerce stores, SaaS (Software as a service) businesses, blogs and heaps more.
A website or online business can be bought through an auction process on Flippa. This is a simple way of buying and selling websites, mobile applications and other internet based assets by the web industry professionals like developers, marketers etc. You can buy sites that are already making money (income generating) & then run them for yourself or you may choose to invest in new projects / startups with potential to generate revenue.
There are two ways of buying a website or online business through Flippa's platform:
– Bid on an auction that is upcoming (you need to place your bid before the auction closes)
– Buy it now – if you see something you like, you can pay for it right away using this option without waiting for any bidding process. However, some sellers might still choose auctions even if they want their assets sold immediately so be sure to check with them first!
The price range varies depending on factors like domain name age & authority, traffic levels and monthly earning potential of these sites / businesses. You will find both cheap as well as expensive websites listed on Flippa at all times; however, keep in mind that just because the price is low doesn't mean you are buying a great deal. Also, some of these sites might be sold for much lower than their earning potential so it's good to do your research before jumping in!
Let's say you find a website that is listed for sale on Flippa.com and it has been making $500 per month with 20,000 monthly visitors according to the seller (seller claims these details in his or her listing). You should not just believe this information blindly because there are many cases where sellers inflate their earnings / traffic numbers due to which buyers end up buying websites at much higher prices than they actually deserve! Also, keep in mind that some of these sites might be sold along with other assets like domain names, logos & trademarks so do your research before placing any bids or buy now offers.
In addition to the above, you should also consider the following factors while buying a website or online business from Flippa:
– How much is this site making?
– Is it an established brand with good SEO rankings and organic traffic?
– Does its revenue model have potential for growth in terms of earnings or monthly visitors?
If you are bidding on an auction make sure that your bid is within market price. Do not get carried away by emotions like excitement & competition because these things can cause you to overbid which might lead to loss instead of winning! If there are no other bidders at the moment, don't worry – keep watching as someone else may join at any time. When placing a bid on auctions, you should also leave a backup bid in case your main one gets outbid. This is a good strategy that prevents you from losing the auction entirely.
In case of buy now offers, be sure to check out all benefits and terms & conditions offered by the seller before making any payments because some of these deals might just seem too good to be true! Once again, do your research carefully in order to avoid getting scammed or ending up with assets that are not worth anywhere near what you had paid for them.
Doing proper due diligence on Flippa can help save time & money while purchasing websites / online businesses but make sure to keep an eye on market prices as well so that no one tries taking advantage of you simply due to lack of knowledge about website valuations! If something seems suspicious at any point during this process, you are always free to get in touch with Flippa's customer support for more information. TheWebsiteFlip.com offer some great tips for how to do due diligence when buying a website. You can find the tips here.
Once you find an interesting listing click "Bid" next to it in order to increase your position against other bidders for this website. Make sure you set up alerts so that when the auction ends you will get notified via email immediately! The final step before buying a website from Flippa is clicking "Buy Now" once there's only one bidder left (the highest) after which you will immediately receive an email asking you to pay the winning bid and transfer details.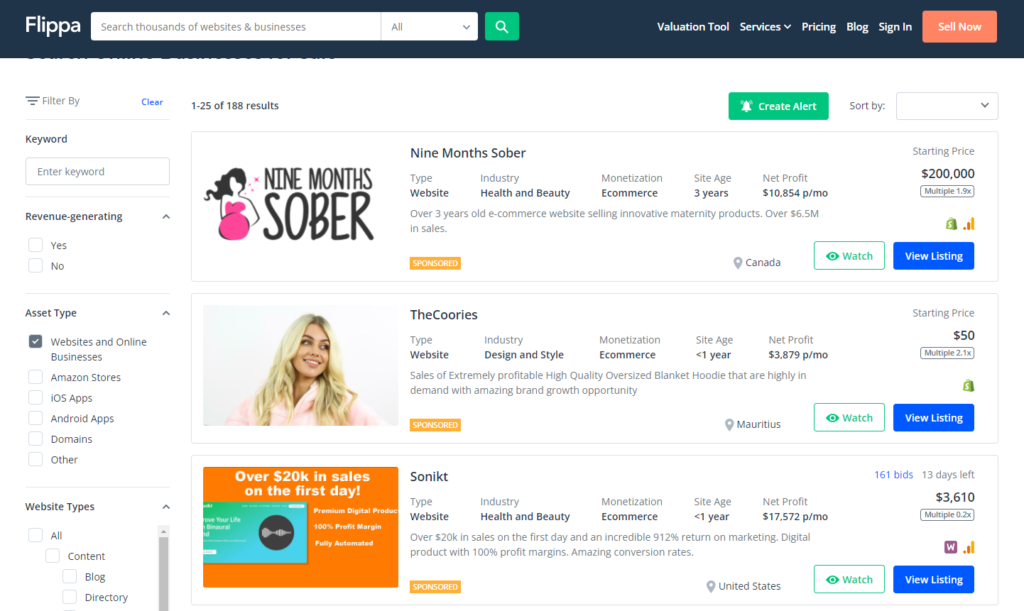 Once your payment is confirmed, Flippa sends you a password which unlocks access for purchasing or transferring data from the site that was sold through the Flippa website platform.
One thing we would like to mention here is that after making any bids on websites listed on Flippa, read all of their terms and conditions carefully as not every seller accepts escrow transactions (meaning: payment in installments). If you do so, make sure they have a good feedback score and there are no negative comments left by previous buyers.
There's nothing more frustrating than spending money on something only to find out it doesn't work properly anymore because some crucial features were changed without informing the buyer. Flippa sellers are expected to be honest with their buyers and keep the website as it was described in its original listing.
Selling online businesses through Flippa
Selling websites or online businesses is not an easy task. Many sellers underestimate the time required to get things done, and forget that buyers are human beings with emotions just like themselves.
Therefore, it is important to keep the following five tips in mind when you are selling online businesses through Flippa.
Tip #01: Make your listing interesting.
Tip #02: Provide as much information about the business as possible.
Tip #03: Clearly define all terms of sale and payment, including Escrow fees.
Tip #04: Set a reasonable price for the site that you are selling on Flippa. Don't forget to include some extra cash in case something goes wrong with the transaction during escrow.
Tip #05 : Be available via email (and preferably through Skype) until closing is complete – be patient, even if buyers ask questions multiple times! They need to make sure they fully understand everything before committing their money to buy.
Selling a website or an online business is a great way to make money. However, not all Flippa websites are created equal and there is some important information newbies should know before they jump in the deep end of website flipping on this platform.
There are many people who have made a lot of money through selling their online businesses on Flippa. The platform has over $200+ million worth of transactions happening each year, and that number continues to rise.
It's important to acknowledge that you never really get your initial investment back when selling a site through Flippa. The reason for this is because most people will try and buy low and sell high; however, many newbie sellers often find themselves trying to sell their sites at or above what they paid for them which means it's probably going to cost you more than once if you want out of the site (or business). This also brings up another point about buying good companies rather than good deals on bad businesses.
When selling an online business via Flippa, there are certain fees associated with finalising the transaction – they vary depending on whether you choose auctions or "Buy It Now" option. Once again, this also includes credit card processing fees. You will find all relevant details after clicking on 'List Your Site' button when creating your listing page; if buyers want to ask something about any additional costs involved in completing the purchase/sale process they can contact the seller directly.
How can I sync my Google Analytics web properties with Flippa?
Google Analytics is an advanced and powerful web analytics tool that Google offers free of charge. You can use it to track how many visitors come on your website, what pages they visit most often, which countries they are from etc., giving you a clear picture over the effectiveness of your marketing efforts. However, if you happen to sell or buy online businesses via Flippa (or any other marketplace), there might be some work involved in getting this data available through the platform dashboard so that both parties know whether negotiations have been successful or not.
There are two ways of doing this: either by setting up a Google Analytics web property for the website you want to sell and then syncing it with Flippa, or vice versa – creating a separate property on your account and linking it to any website that you would like to buy. In both cases, however, there is some work involved in getting the data from one platform into another.
Frequently Asked Questions (FAQs) about buying and selling websites & businesses on the Flippa platform
Is it safe to buy on Flippa?
A: These days everything is secure – you can be sure that any business listed here will have passed a quality control check before it goes live which protects both buyer and seller from scams or loss of money over due diligence errors by either party. Keep in mind though, as always when dealing with unknown people online: do your research (due diligence) properly! Make use of tools available at Flippa to ensure scammers are less likely to succeed such as phone verification, advanced fraud protection and background checks.
As long as you keep yourself safe, there is nothing to worry about when buying on Flippa! And if something does go wrong – it's covered by Square Trade so you can get your money back. However, this may take some time…
How do websites make money without selling anything?
A: You don't need to sell anything from your website in order for it to make money, as long as you have a monetization method. Monetization methods include having an online shop, selling ad space or memberships to exclusive content.
Many websites make money from affiliate marketing. In this case, the website owner signs up for a program that pays them when someone they refer to an online shop or service makes a purchase within a certain period of time. This is how you get free products and services by using various apps on your phone!
Adsense is another great way to monetize a website without selling anything directly from it. You can add adverts at strategic places in order to generate revenue from visitors viewing them. Depending on your content, ad frequency and other factors such as location should be carefully considered before implementing Adsense onto your website however so as not to alienate users with too many advertisements while browsing the site.
Does Flippa have any buyer protection in place?
A: There are three ways to protect the buyer on Flippa: Escrow, PayPal and Flippa's Buyer Protection. In an auction-style listing you can choose either escrow or Paypal as your payment method, but not both at once. With a fixed price sale you have to use Flippa's protection system only.
How much does Flippa cost?
A: As Flippa describe, "A success fee is payable when you sell and this is calculated as a percentage of the sale price." There are also fixed price listing fees which vary depending on exactly what you are selling. All the prices can be found on their website here, and are also shown in the images above.
Summary of Flippa review
It can be pretty easy to find a good deal on Flippa; however, some of those deals are for sites that nobody wants. This means you will have an uphill battle trying to sell the site and often times it is easier (and cheaper) just keeping hold of the website yourself until an interested buyer comes along rather than spending money promoting your business with adverts or SEO services which may not work at all.
A wise investor would quickly agree that buying a great business with potential over gaining access to someone else's bad web asset makes much more financial sense in the long run as well as being less time consuming. As always, keep in mind your personal financial situation and whether buying or selling a website makes financial sense for you. You can always consult a financial advisor if you feel that's what you need to do, before committing to an investment. You can read my article here, to help you decide whether you need a financial advisor or not.
There are many factors that come into play when you're looking to buy or sell a website. I hope this review of Flippa will help give an understanding of what the process looks like and how it can work for your business. If you've thought about buying, selling, or investing in a company on Flippa but haven't yet made up your mind, hopefully this review helped you to make a decision.
There are of course other companies out there such as Empire Flippers, who have another platform for buying and selling websites and online businesses. You can check out my review of the Empire Flippers website here.
My eBusiness Institute review also dives a bit deeper into how you can make money with websites. You can read my review of how to make money with websites here, as well as my podcast with Matt and Liz Raad from the eBusiness Institute here.
Captain FI is a Retired Pilot who lives in Adelaide, South Australia. He is passionate about Financial Independence and writes about Personal Finance and his journey to reach FI at 29, allowing him to retire at 30.