Find out if ME bank is a good choice for your savings and transaction accounts, credit cards, loans and home loans with this ME Bank review. Learn more about what kind of value they provide their customers.
The Good
Competitive, low interest rates
Wide range of financial products
App is easy to use
Has PayID
Quick and easy to open up an account
You can use several cards for various accounts (easy to set up Barefoot buckets)
Backed by BOQ
Has the Ed. School of money video resources on the website
The Bad
No physical branches, which some people prefer
ME's lending policy can tend to be restrictive
Some customers have complained about the bank's online banking system
You may find better home loan interest rates elsewhere
Phone customer service availability is limited
ME has had some recent bad press
Verdict: ME Bank is great for digital transaction accounts, but isn't the best for mortgages.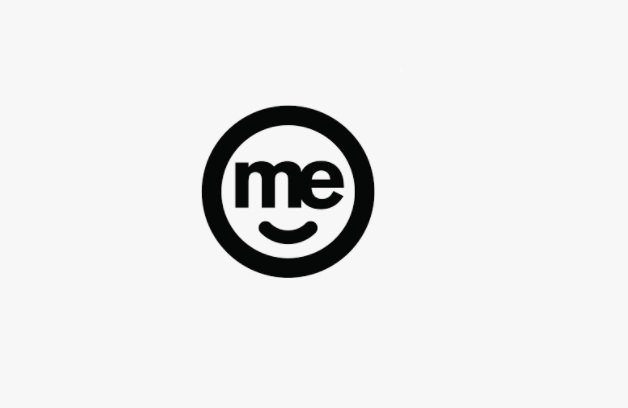 Introduction – ME Bank Review
ME bank (Members Equity Bank) is a financial institution that offers savings and transaction bank accounts, credit cards, loans and home loans. The online banking service for ME bank is available to all customers 24 hours a day. This ME bank review will cover the basics of ME bank such as what they offer, how they compare with other banks and whether or not they are good value for money.
What is ME Bank?
ME bank, also known as Members Equity bank was started in 1994 and offers banking services to both business & personal customers. It is a digital bank without any physical branches, but with a call centre based in Australia. They claim that being branchless means they can offer lower fees and higher returns. They support several charities and they even have online educational support videos called 'Ed. School of Money.'
What does ME Bank offer?
ME bank offers a wide range of products, including:
Banking and savings accounts: everyday transaction accounts, online savings, term deposits and business deposits.
Home loans
Low rate credit card
Personal loans
They also have their online 'Ed. School of Money' which comprises short 15-minute video episodes, educating on a variety of money related topics including getting on top of debt, teaching children about money, learning about home loans and various other topics.
What kinds of accounts does ME bank have?
ME offer several financial products including:
An everyday transaction account with options for 5 different coloured cards, meaning you could easily set up your Barefoot buckets with these. Applying is easy and you can have the digital card to add to your digital wallet within 5 minutes. There are also no account keeping fees or minimum deposits with this account.
You can also open up an online savings account. If you open up an online savings account along with your everyday account, and make at least 4 Tap n Go settled purchases per month, you can qualify for up to 1.00% p.a bonus interest on balances up to $250,000 in your online savings account. You can check the website here for the exact description of the criteria.
There are term deposits which have no set up fees, no account keeping fees and with interest paid monthly, annually or at maturity. There's also an interest calculator on the website which allows you to calculate what your estimated return would be on amounts you're investing for particular periods of time, as you can see in the image below.
There are business savings accounts and business term deposit accounts too. The business savings is fee free and interest is paid at the start of the month. The business term deposit also has guaranteed returns and a choice of interest paid monthly, annually or at maturity.
There are also home loans you can apply for, and you can compare the rates on the website here, using the home loan calculator.
A low rate credit card with no annual fee and an 11.99% p.a variable interest rate.
You can apply for personal loans too but at the time of writing this, ME was not accepting any new applications for personal loans, until June 2022, according to their website.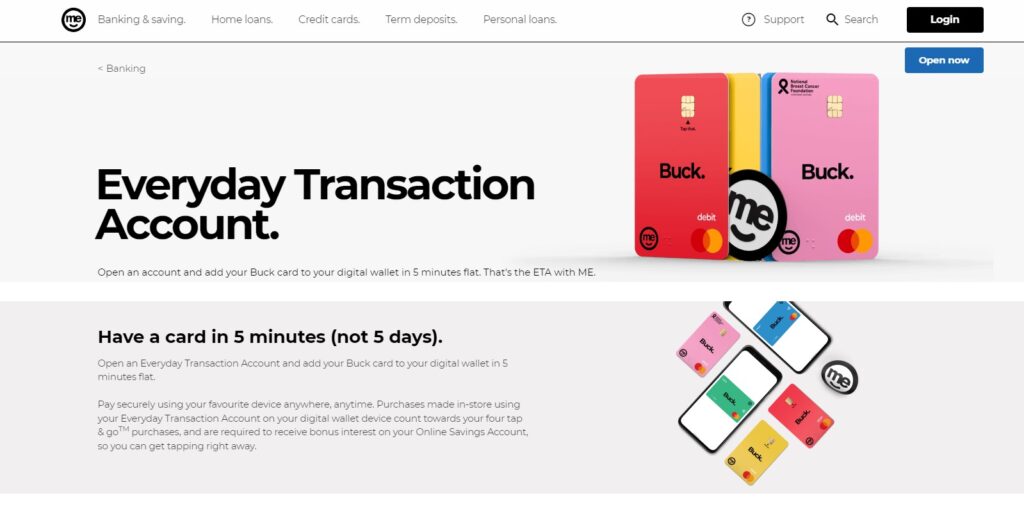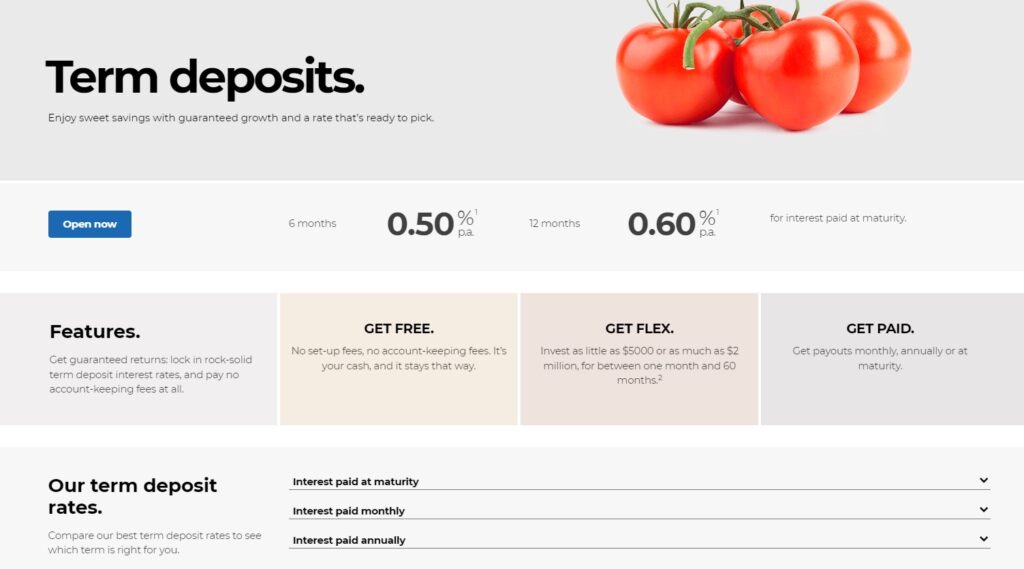 Is ME Bank a safe bank?
The Australian Government protects your savings with ME bank with a deposit guarantee. The Financial Claims Scheme (FCS) ensures your money is protected, so the quick answer to this question is yes. ME bank is a safe bank to use and is a subsidiary of the BOQ (Bank of Queensland).
Who is ME bank owned by?
ME Bank was founded as SMHL (Super Member Home Loans) and it became a subsidiary of the BOQ (Bank of Queensland) in July 2021.
Does ME Bank have an app?
Yes. The mobile app makes digital banking super easy. You will need your customer ID and access code, you'll need to verify your mobile number with an SMS authentication, and set up a PIN (or use touch ID or face ID). Once this is all set up, you can do all your banking via the app.
Advantages of using ME Bank
ME bank offers a wide range of products and services, making it an excellent choice for both personal and business banking.
The bank has very competitive rates on savings accounts (your money is better off in a savings or term deposit anyway (or invested in shares) as there are many dangers with holding onto your cash).
ME bank also offers great value home loans, with low interest rates, comparable to other rates in the market.
The customer service team is friendly and helpful, and you can talk to them on the phone 8am-8pm Mon-Fri, and 9am-5pm Saturdays AEDT. You can also contact the customer service team online, or even by post.
You can use pay ID to receive instant payments from other banks.
The mobile banking app is easy to use, and allows you to check your balance on the go.
ME bank has a great online portal with lots of information and tools to help you manage your internet banking, including an excellent range of calculators to help you budget and plan for the future.
The 'Ed. School of Money' is a great resource on their website with lots of helpful informative video episodes on various money related topics.
You can open an ME bank account online in just a few minutes, the process is easy and you don't need to be an Australian resident to apply.
The bank has a strong online presence, making it easy to apply for a loan or manage your account online
ME Bank is backed by one of Australia's largest banks (BOQ), so you can be assured that your money is in safe hands.
Disadvantages of using ME Bank
ME's lending policy can tend to be restrictive, according to some borrowers.
No physical branches for those customers who prefer the personal customer service interaction of dealing directly with a teller representative.
Some customers have complained about the bank's online banking system, citing it as being difficult to use and at times unreliable.
You may find better home loan interest rates elsewhere
Phone customer service availability is limited – if you're unable to reach them by phone, you can try online.
ME has had some recent bad press, regarding criminal charges over alleged misleading conduct
Does Captain Fi have a bank account with ME Bank?
Yes, I recently opened up an account with ME. The signup process was fast and easy and I opted for a transaction account for everyday banking as well as an online saver account. I've started with just $100 in the transaction account. I do like the user-friendly interface and the quick delivery of digital cards. The term deposit was tempting too and I may still consider this in the near future.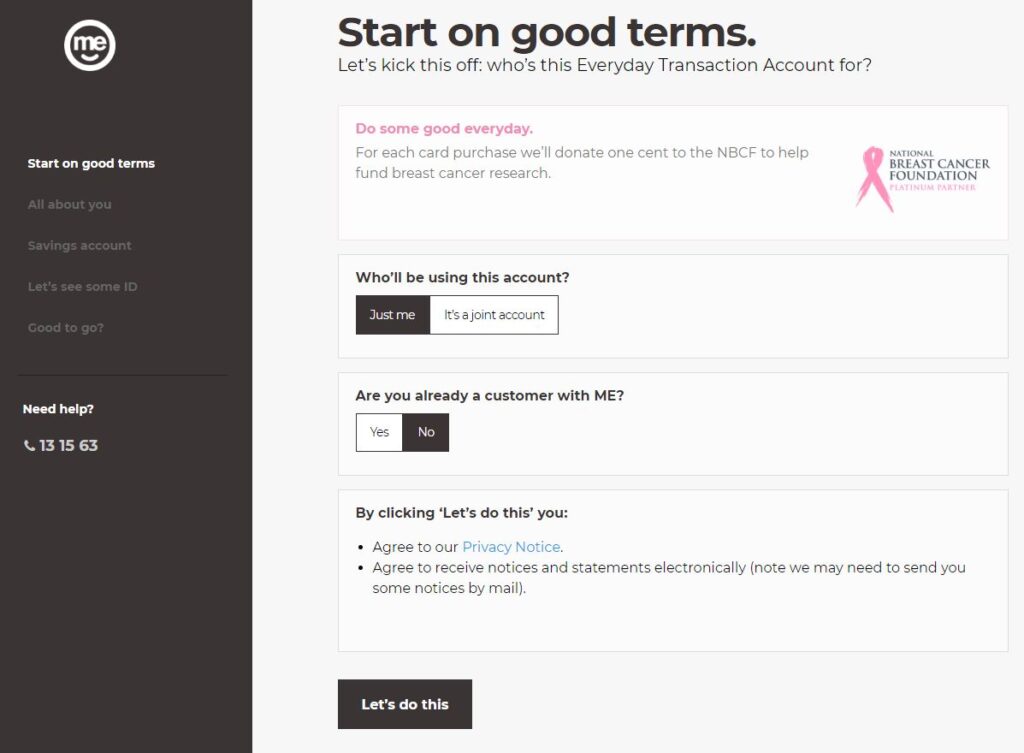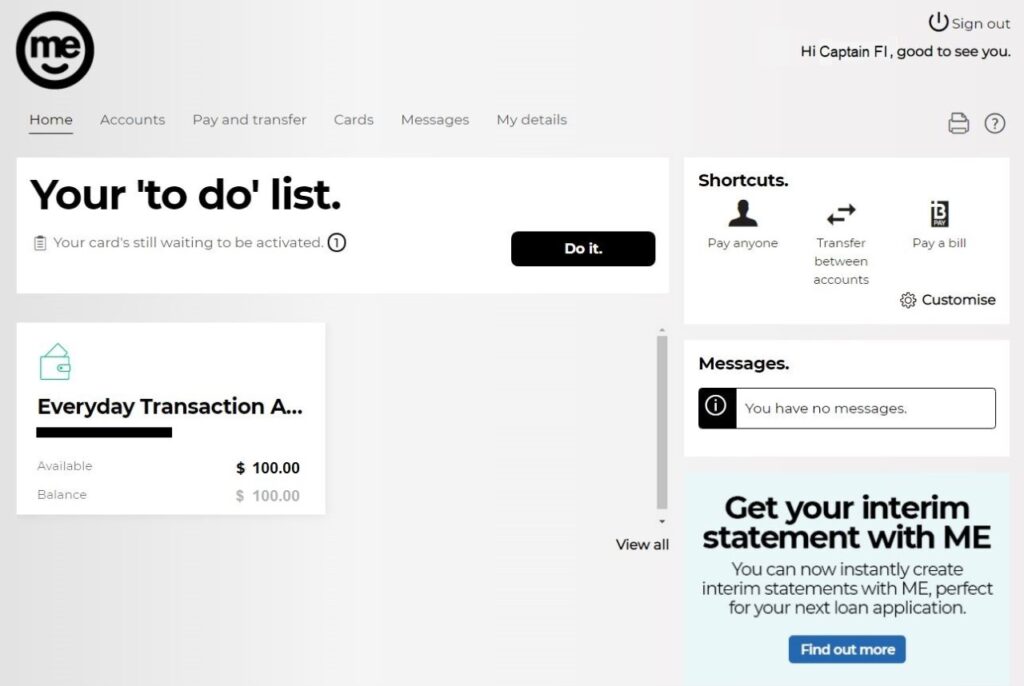 FAQ's (Frequently Asked Questions) about ME Bank
Are digital banks safe?
This is a question that has been asked many times in the past, and it is a valid one. After all, we are trusting our money to an online-only institution, which can be scary for some people. However, digital banks have come a long way in terms of security and safety measures, and as long as you take the proper precautions (like using strong passwords and two-factor authentication), your money will be safe. In fact, according to research, digital bank customers are actually safer than those who use traditional institutions. So if you're looking for a more secure banking option, a digital bank may be right for you. You can find more info on digital banks in Australia in this Finder review here.
There are several banks on the market that only operate digitally these days. You can read my digital bank reviews below for an idea of how they compare:
Up bank (you can read my full review of Up bank here)
U bank (my full review here)
ING Bank (my full review here)
86 400 (my full review here)
Is ME bank a good bank?
Yes, Members Equity (ME) Bank is a good bank. It has competitive interest rates, an easy to use app and website, good customer service and is backed by the Bank of Queensland.
Does ME Bank have an online savings account?
Yes, and when you open up an online savings account along with an everyday transaction account, you can qualify for bonus interest, as specified on their website here.
Does ME bank have ATMs?
You can use any of the 2,100 atmx by Armaguard ATMs, any BOQ ATM or any ATM of the big 4 (Westpac, CBA, ANZ or NAB) in Australia without any ATM fees. You can also withdraw cash at any Australia Post outlet in Australia and if you have a Buck card, you can withdraw money at any ATM in Australia for free. If you're charged a fee, you will get refunded within 30 days.
Is ME bank backed by the government?
Your savings in ME bank are protected by the Australian government's deposit guarantee. ME bank also has a strong financial position and is backed by the BOQ.
Is ME Bank good for taking out a home loan?
ME Bank is an ok option for taking out a home loan. They offer competitive interest rates and have a wide range of products available, but their lending policy can be restrictive.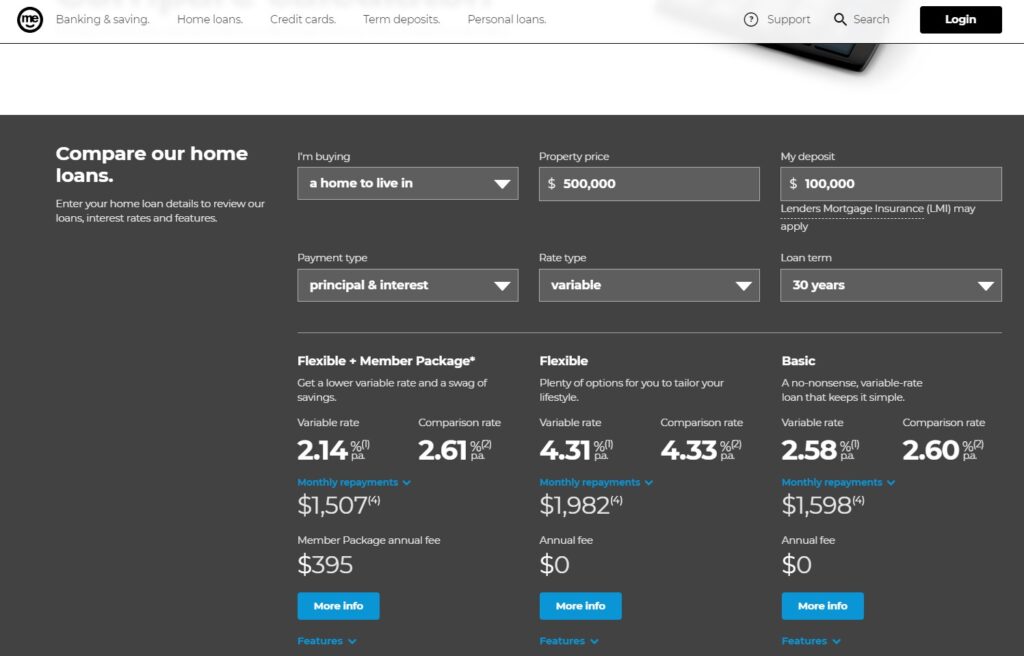 ME bank also has a good reputation for customer service, which is important when choosing a lender. Rather than talking to them directly, going through a broker will ensure you get the most competitive rate;
However, it's worth comparing ME Bank with other lenders to ensure you're aware of what else is out there and to make sure you get the best deal possible. Make sure you read the terms and conditions carefully so you know what you're signing up for, and to ensure you decide on the right home loan for you.
If you're looking for a home loan, ME Bank should definitely be one of your top contenders.
Summary – Members Equity Bank review
ME bank is a good value for money option if you are looking for an online-based banking service. They offer transaction accounts, savings accounts, credit cards and loans with competitive interest rates that can be set up within minutes of opening the account. The main downside to this bank is they don't have branches so their customer service isn't as strong as some other banks who also have physical locations where you can visit in case of emergencies or even just to chat with someone face-to-face. However, considering how much stress people feel when dealing with queues and personnel in branches at times, ME's lack of brick and mortar offices might not be such a bad thing!
Do you have an account with ME Bank or any other digital bank? What has been your experience with them? Let us know in the comments!
Further reading – other Bank reviews
Check out my list of bank reviews here to see how the competition stacks up, and to find the right bank for your journey to Financial Independence
Financial Disclaimer
Financial Disclaimer: CaptainFI is NOT a financial advisor and does not hold an AFSL. This is not financial Advice!
I am not a financial adviser and I do not hold an Australian Financial Services Licence (AFSL). In this article, I am giving you factual, balanced information without judgment or bias, to the best of my ability. I am not giving you any general or personal financial advice about what you should do with your investments. Just because I do something with my money (or use a particular service or platform) doesn't mean it is automatically appropriate for your personal circumstances. I do not recommend nor endorse any financial or investment product, and my usage or opinion of any product should not be interpreted as an endorsement, advertisement, or intent to influence.
I can only provide factual information based on my journey to Financial Independence, and that is provided for general informational and entertainment purposes only. I make no guarantee about the performance of any product, and although I strive to keep the information accurate and updated as it changes, I make no guarantee about the correctness of reviews or information posted.
Remember – you always need to do your own independent research and due diligence before making any transaction. This includes reading and analysing Product Disclosure Statements, Terms and Conditions, Service Arrangement and Fee Structures. It is always smart to compare products and discuss them, but ultimately you need to take responsibility for your use of any particular product and make sure it suits your personal circumstances. If you need help and would like to obtain personal financial advice about which investment options or platforms may be right for you, please talk to a licensed financial adviser or AFSL holder – you can take the first steps to find a financial advisor by reading this interview, or by visiting the ASIC financial adviser register and searching in your area. For more information please read my Privacy Policy, Terms of Use, and Financial Disclaimer.
Captain FI is a Retired Pilot who lives in Adelaide, South Australia. He is passionate about Financial Independence and writes about Personal Finance and his journey to reach FI at 29, allowing him to retire at 30.