VEU is Vanguards answer to a stock market index ETF that covers the whole world minus USA. This is a diversified index fund which seeks to track the performance of the FTSE all-world es US index. This is tailored for investors who want global performance, but also have significant holdings in US stocks or otherwise are seeking diversification away from the US giants. It is worth noting for Australian investors, that VEU comprises about 5% Australian equities (which might be a slight double up if you are really worried about strict investing portfolio balancing)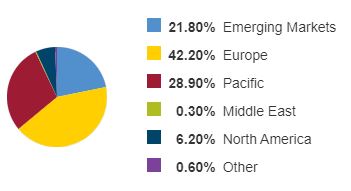 The Details
VEU is a highly diversified fund, comprising 3101 stocks with a market capital of (USD) $37 Billion (August, 2019).
Top 10
Its top ten holdings (below) account for only 10.3% of the total fund, demonstrating its diversification.
Management fee of VEU
The Management Expense Ratio for VEU is also quite low, at a respectable .08% MER. This means it just costs $8 per $10,000 invested per year with Vanguard int he VEU fund. Vanguard had recently reduced this cost from .11%, showing their commitment to rock bottom ETF funds. The Vanguard company itself is a unique in the industry as is owned by shareholders and therefore motivated to provide the best service at the lowest price (unlike some investment firms).
Sectors
VEU has a higher weighting of almost a quarter of its holdings in the financials sectors (think banks, insurance etc), followed by Consumer Goods (such as Food producers, Shops and Clothing). Industrial, Health care, Consumer services and Technology and Oil and Gas make the next five biggest sectors, with the final three of its top ten being Basic Materials, Telcos and Utilities companies.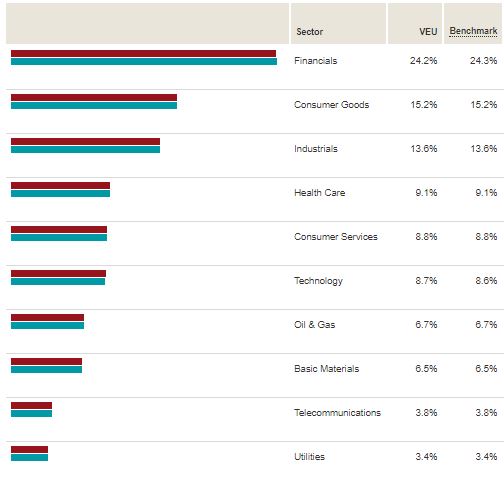 Economic exposures
The US economic powerhouse is deliberately excluded from this stock market index ETF. This leaves Japan, the UK, China, France, Switzerland, Canada, Germany and Australia to comprise its top eight economic exposures – this represents two thirds (66%) of the total fund as shown below.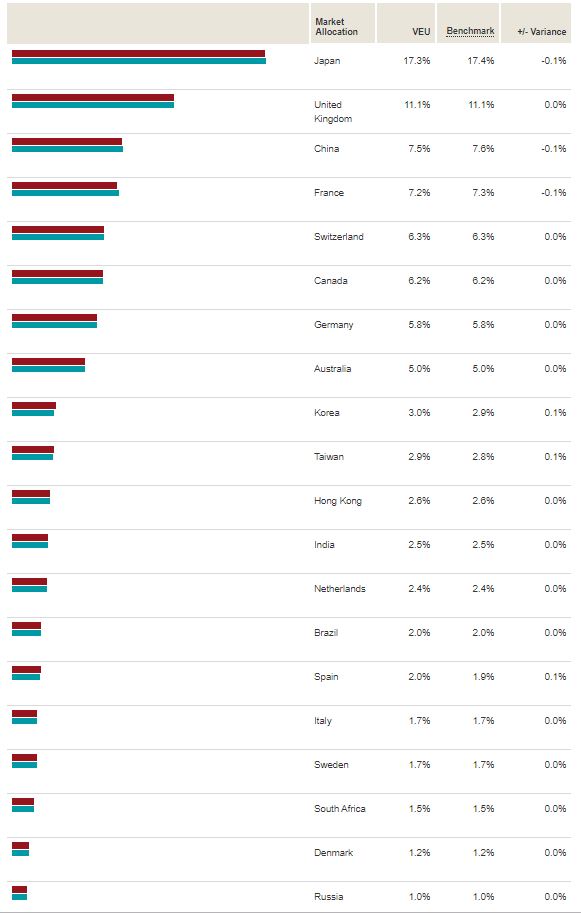 Performance
VEU has provided investors with good total returns over the long term. Capital growth has been steady but volatile, as seen below. In addition to capital growth, VEU has on average paid a 3.28% dividend – however being global shares, this has no franking credit attached to it. This is a pretty solid dividend return, which means to follow the 4% draw down rule in the retirement phase you wouldn't need to sell many parcels of shares at all (not that selling share parcels is an issue, the capital growth of remaining shares will cover this if its done sustainably)
Why I own VEU
I bought VEU in an effort to diversify away from the 'Home Bias' of Australian stocks, and hedge my bet against US stocks. Although I love the juicy franked dividends of Aussie stocks, I am exploring other markets to protect myself from changes within Australia; economic or legislative. Although VEU does have about 5% Australian stock, I picked it as a good way to diversify into global markets. I am not too worried about investing portfolio re-balancing; I'll just buy whatever is good value at the time.
Holding this Stock market ETF gives me awesome exposure to some global giants like Nestle, Alibaba, Samsung and Toyota. When Aussie and US stocks are booming, I will quietly be loading up on VEU as per my 'DDH' investment strategy to build up my globally diversified Get FI ! Portfolio and be less dependant on home markets.
Summary
I think Vanguards VEU Stock index ETF is a great product for a rock bottom management fee. I recognise their holdings as household name products, and want exposure to growth and earnings from those companies. Are you a shareholder in VEU or have you found another way to globally diversify? This is one Stock ETF I think is really going to help me to achieve FI.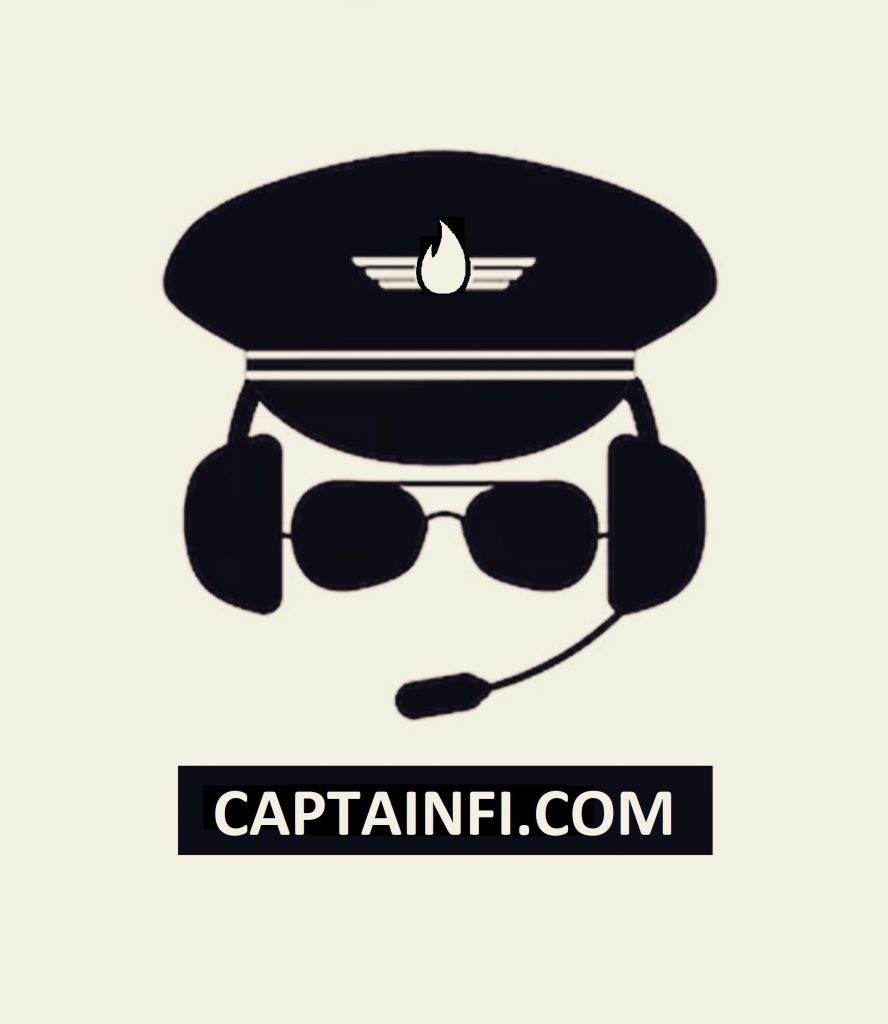 Get FI !
Captain FI is a Retired Pilot who lives in Adelaide, South Australia. He is passionate about Financial Independence and writes about Personal Finance and his journey to reach FI at 29, allowing him to retire at 30.