ANZ Bank Review – ANZ is the biggest bank in New Zealand and a popular choice for many Aussies. Here's my full ANZ bank review.
ANZ is one of the 'Big 4' Banks in Australia and is also the biggest bank in New Zealand. ANZ is worth checking out if you are looking for a provider for personal banking services. ANZ has a mobile banking app for easy access to banking on the go. ANZ is also committed to sustainability in its business practices, such as reducing its greenhouse gas emissions and carbon footprint. There are many loyal existing ANZ customers, but also a growing amount of negative ANZ reviews. Keep reading for the full ANZ Bank review.
The Good
Fee-free accounts if you meet certain criteria, like minimum monthly deposits
Easy to use online portal and mobile apps
Helpful budgeting tools
Useful online calculators
Good progress with sustainability initiatives
Translating and interpreter services if required
Working to improve business practices after the Banking Royal Commission inquiry
Plenty of physical branches for those who prefer dealing directly with ANZ staff
The Bad
Poor online customer service reviews, highlighting potential for improvement
Not the most competitive home loan rates
Low-interest rates on savings accounts
Identified for wrong-doing at the Banking Royal Commission
Many reports of terrible customer service
Verdict: Plenty of products and services available, but in my opinion, there are better rates and home loans out there.
CaptainFI is not a financial advisor and this article is not financial advice. This website is reader-supported, which means we may be paid when you visit links to partner or featured sites, or by advertising on the site. For more information please read my Privacy Policy, Terms of Use, and Financial Disclaimer.
ANZ stands for the Australian and New Zealand Banking Group, with its head office in Melbourne, Victoria. ANZ's history extends as far back to 1835 with its foundation in the Bank of Australasia, which later merged with Union Bank of Australia in 1951, to become ANZ. A further merger in 1970 with the English, Scottish and Australian Bank, brought it closer to the bank we know today.
This history of mergers has seen the ANZ Bank become the largest bank in New Zealand and the third biggest bank in Australia by market capitalisation, making it one of the biggest banks in Australia.
Is ANZ one of the 'Big 4' banks?
The ANZ Bank is known as one of Australia's 'Big 4' banks, along with the Commonwealth Bank (CommBank), Westpac and NAB. To be classified as one of Australia's 'Big 4' banks, each are assessed on 3 criteria, including market capitalisation, number of customers and total earnings.
The existence of the 'Big 4' banks in Australia is no accident. The Australian Government's 'Four Pillars Policy' prevents these banks from merging with each other, with the intent of providing stability in Australia's financial markets.
During difficult financial times, such as during the GFC, it's thought the policy provides Australia with a strong financial foundation. However, some critics of the Four Pillar's Policy say it limits diversification and differentiation.
Is ANZ a good bank?
Deciding if ANZ is a good bank presents a challenge. Each of the Big 4 banks have between 20-25% each of Australia's personal banking customers, and they all score pretty low with online customer reviews.
ANZ is no exception, with an average score of 1.2/5 and some say that's generous, as you can't give them less than one. Criticisms of ANZ bank include poor customer service, lack of product knowledge, poor communication, locked accounts, being kept on hold for extended periods or being transferred to multiple staff with the problem not resolved.
Let's face it, dissatisfied customers are the ones most likely to hop online to have a vent. If all your banking is going smoothly, ideally you don't notice it, and it kind of just happens in the background of life. So if you consider all the customers that don't post a review, it's possible the negative vibe is a bit one-sided.
When it comes to family and friends using ANZ, their take is similar with the other 'Big 4'. ANZ provides a good range of banking products and services that tempt people to give them a go, but can drive customers away with poor customer service if things go wrong.
Who owns ANZ bank?
ANZ is a publicly listed company listed on the Australian Stock Exchange (ASX) and the New Zealand Stock Exchange (NZX). You can buy shares in ANZ, and it's these shareholders that essentially own ANZ Bank. A lot of people would own ANZ shares through their super fund.
Is ANZ a safe bank?
Not to put a too finer point on it, but major banks face multiple cyberattacks on a daily basis. There is nothing more enticing to a cybercriminal that an institution with lots of customers, and lots of money.
With that in mind, ANZ takes its customer's data security very seriously. As cyberattacks become more persistent, the 'Big 4' banks have had to lift their game when it comes to protecting your personal information and money.
Like the other 'Big 4' banks, ANZ is not without data breaches over the past few years. In 2021, it was reported that some staff still retained access to ANZ internal platforms after their contracts finished, potentially providing cybercriminals with a 'way in'.
ANZ, like the other big banks, take these breaches very seriously, learn from them and increase security moving forward.
On top of this, the Australian Government provides added peace of mind with the Financial Claims Scheme (FCS). This is a federal government guarantee to refund up to $250 000 per person if ANZ, or another major Aussie bank, collapsed. Cybercrime: The darker side of digital disruption | ANZ
What kind of accounts does ANZ bank have?
ANZ Bank's forte is personal and business banking. ANZ provides a comprehensive range of products and banking services, including:
Bank Accounts
ANZ Access Advantage – $0 fee if you deposit a minimum of $2000 per month, or meet other criteria
ANZ Online Saver – 0.05% standard variable rate, with a bonus 0.10% when you meet other criteria
ANZ Progress Saver – 0.01% base interest rate, with bonus 0.14% when you meet other criteria, like deposit at least $10 in a month, with no withdrawals. Fees waived for kids.
Term Deposit – range of deposit sizes and terms, from $5 000 to $99 999 and 7 days to 60 months. Interest rates from 0.05% – 0.20%. ANZ Advanced Notice Term Deposit provides a slightly higher rate, but they're all pretty low.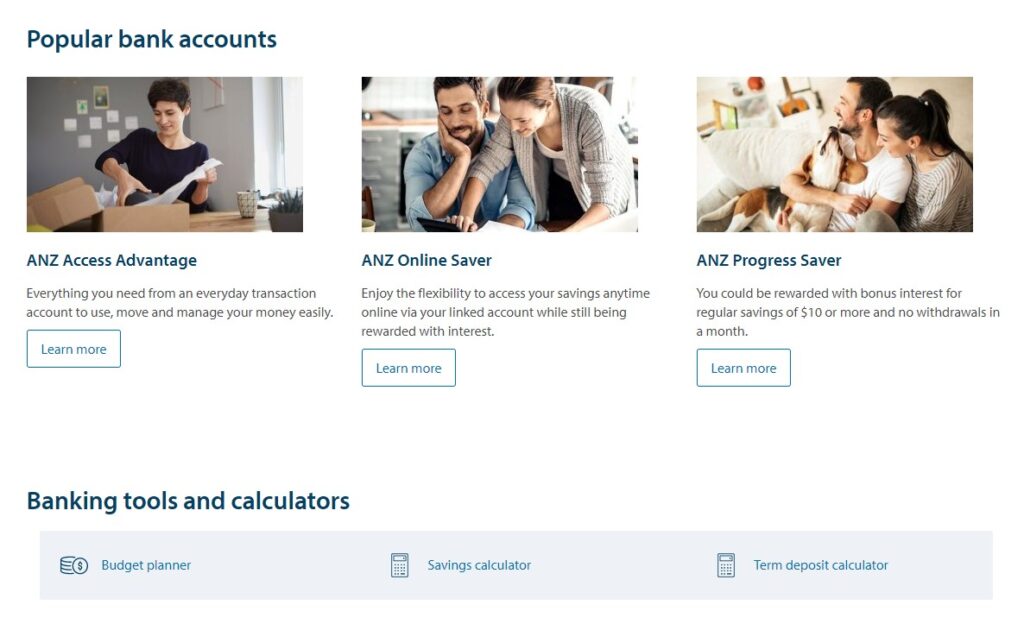 Credit Cards – 0% balance transfers for a set period, cash back and no annual fee offers available for limited times. Interest rates range from 12.49% to 21.24% (which is on the high side, even for the 'Big 4'). Qantas Frequent Flyer points also available on some cards. Credit Cards | ANZ
Personal loans – borrow $5 000 to $50 000, from 1 to 7 years. Fixed or variable rates range from 8.99% to 10.50%.
Home loans – An ANZ home loan doesn't seem like anything to write home about – they have a range of home loan products for home buyers, at interest rates comparable to the other 'Big 4' banks.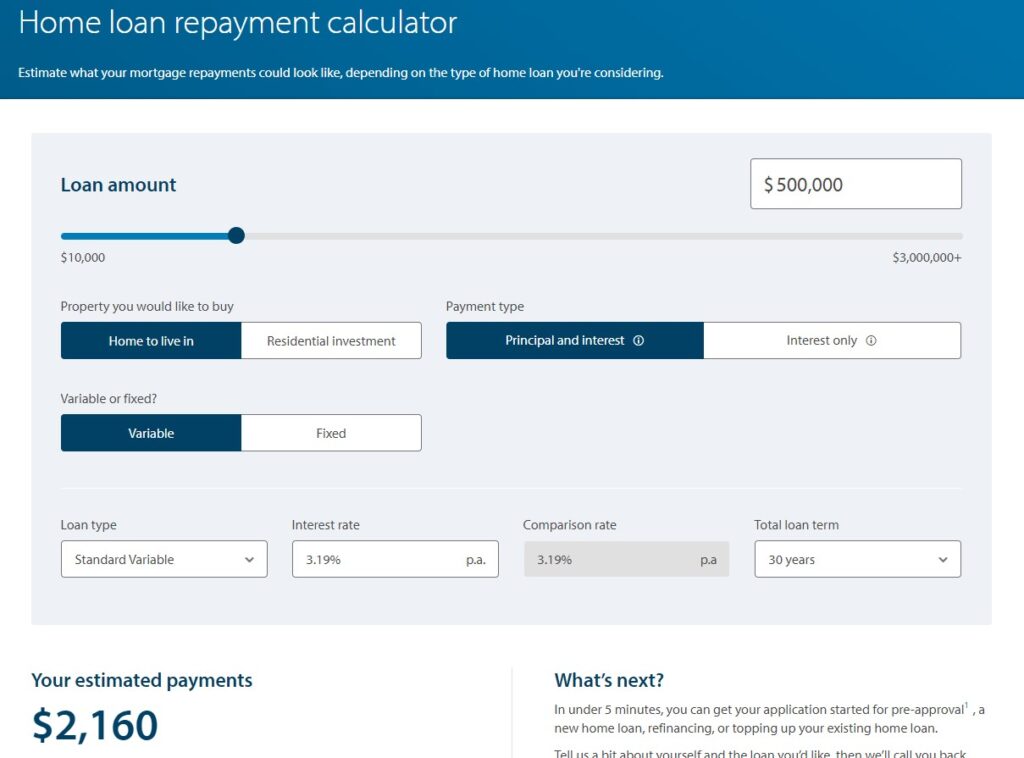 Superannuation – ANZ offers Smart Choice Super Fund, Smart Choice Pension fund and a hub account for Self Managed Super Funds.
Insurance – ANZ is able to provide insurance for home, contents, landlord, car, life and income protection.
Overseas banking – ANZ can facilitate overseas banking for travellers.
Private Banking – ANZ Private provides a comprehensive private banking service to high net worth individuals. This includes investment strategies, debt management, family wealth management, risk management, philanthropy, personal banking and Super.
Does ANZ bank have an App?
ANZ helps with banking on the go, by having a mobile banking app for Apple and Android. It also has an authentication app called ANZ Shield that provides a one-time passcode for identity verification when you use ANZ Internet banking.
ANZ's banking app is easy to use, and once you download it, it's pretty easy to navigate. The layout is user-friendly and facilitates banking functions such as bill paying and fund transfers. There aren't many reports of the app having downtime. The last time the ANZ was in the news with payment issues was in 2021 when its PayID function was affected, but overall, the app comes across as being pretty reliable.
Does Captain Fi have an account with ANZ bank?
No. I have friends and family using ANZ and some of them have shared their opinions with me, as well as information I have found online. I may consider an everyday account with ANZ later this year for my personal banking.
Advantages of using ANZ bank
Fee-free bank accounts if you meet conditions, such as a minimum monthly deposit
Handy mobile app for banking on the go
Good internet banking portal
Nationwide branches for those who like dealing directly with ANZ personnel
Commitment to sustainability practices
Online tools for budgeting
Online calculators
Interpreter and translating service if needed
Committed to making improvements from the Banking Royal Commission
Reasonable home loan rates compared to other 'Big 4' banks
Disadvantages of using ANZ bank
Poor online customer service reviews, highlighting potential for improvement
Not the most competitive home loan rates
Low-interest rates on savings accounts
Identified for wrong-doing at the Banking Royal Commission
FAQs about ANZ bank:
Is ANZ bank good for a home loan?
ANZ bank offers a selection of home loans suitable for most homeowners, and their interest rates seem comparable to the other banks. For principal and interest repayments, on owner-occupier loans, ANZ offers a standard variable rate at 2.99%. and their fixed rate offering is at 3.99%. For example, at the time of writing, NAB had 2.19% for basic variable, 3.67% for variable with offset and 3.99% fixed rate.
The ANZ Simplicity Plus loan has a standard variable rate at 2.19%. To be eligible for the cheaper rate, borrowers must have at least a 30% deposit. While you can redraw funds if your payments are ahead, it's a no-frills loan, so has no offset account or split loan options.
Most mortgage brokers can compare home loan products across a variety of lenders so you might want to consider a mortgage broker when it comes to deciding if ANZ is really the best option for you.
Home Loan options and comparison | ANZ
Is ANZ ethical?
ANZ is doing some positive things when it comes to ethical conduct. ANZ is rated A- for its commitment to the Carbon Disclosure Project. This is the highest rating for a member of the 'Big 4' banks. This score is for ANZ's efforts with leadership, awareness, disclosure and management when it comes to things like reducing greenhouse gas emissions as part of their business model.
ANZ also scores 85/100 for the Standard and Poor's environment, corporate governance and social performance (S&P ESG) score.
ANZ has been certified carbon neutral since 2010 and is committed to renewable energy use, such as wind power.
On the downside, ANZ, like the other 'Big 4' banks, is still engaging in unethical practices such as financing fossil fuels, nuclear weapon production and land grabs. However, overall ANZ seems to be doing well in the ethical practice space but still has some room for improvement.
ANZ | Shop Ethical! company profile
Is ANZ an Australian bank?
While the ANZ bank is called Australia and New Zealand Bank, ANZ's head office is based in Melbourne, Australia. It's essentially an Australian bank, but no doubt to NZ, it's a bit like Russell Crowe, Split Enz and pavlova – New Zealand until it's declared Aussie from this side of the ditch!
Can I open an ANZ account online?
ANZ online platform and mobile banking apps let you open accounts online, which can be easier than having to go into a branch.
Does ANZ bank have branches?
ANZ has approx. 570 branches, not only in Australia and NZ, but also overseas in places such as the US, UK, Asia and Europe. There have been media reports of ANZ closing branches, but ANZ claim this is in response to customers' changing behaviour, such as a preference for online banking.
Does ANZ bank have ATMs?
It's reported that ANZ has up to 900 branded ATMs throughout Australia. While many ATMs are located at branches, they can also be found in convenient places, such as shopping centres. In 2020, Armaguard Group bought ANZ's offsite ATMs. However, ANZ still looks after its own branch ATMs.
Conclusion – ANZ bank review
In conclusion, ANZ seems to be keeping pace with the other 'Big 4' banks, and is worthy of consideration when looking at your banking provider. ANZ offers a full range of personal banking products and services.
If you're looking to open a bank account, as one would expect, they provide several bank account types, such as transaction and savings, as well as term deposits. ANZ also offers credit cards, personal loans and home loans.
When it comes to ethical considerations, ANZ is scoring above average compared to the other 'Big 4' banks. However, they are still implementing improvements after being identified for wrongdoing in the Banking Royal Commission.
Online customer reviews are far from flattering, but when a bank services a large section of the community for generations, they are not always going to get it right. However, their efforts in the ethical and sustainability space suggest ANZ is doing its best to live up to its slogan of 'Thrive at ANZ'.
If you're interested in becoming an ANZ customer, you can always compare bank accounts or other ANZ products on comparison sites such as Finder and Choice, to help you decide.
Alternatively, if you walk into a physical branch, no doubt there will be somebody there you can talk to who will explain the benefits of ANZ and answer any questions you might have.
Further reading – other Bank reviews
Check out my list of bank reviews here to see how the competition stacks up, and to find the right bank for your journey to Financial Independence
Financial Disclaimer
Financial Disclaimer: CaptainFI is NOT a financial advisor and does not hold an AFSL. This is not financial Advice!
I am not a financial adviser and I do not hold an Australian Financial Services Licence (AFSL). In this article, I am giving you factual, balanced information without judgment or bias, to the best of my ability. I am not giving you any general or personal financial advice about what you should do with your investments. Just because I do something with my money (or use a particular service or platform) doesn't mean it is automatically appropriate for your personal circumstances. I do not recommend nor endorse any financial or investment product, and my usage or opinion of any product should not be interpreted as an endorsement, advertisement, or intent to influence.
I can only provide factual information based on my journey to Financial Independence, and that is provided for general informational and entertainment purposes only. I make no guarantee about the performance of any product, and although I strive to keep the information accurate and updated as it changes, I make no guarantee about the correctness of reviews or information posted.
Remember – you always need to do your own independent research and due diligence before making any transaction. This includes reading and analysing Product Disclosure Statements, Terms and Conditions, Service Arrangement and Fee Structures. It is always smart to compare products and discuss them, but ultimately you need to take responsibility for your use of any particular product and make sure it suits your personal circumstances. If you need help and would like to obtain personal financial advice about which investment options or platforms may be right for you, please talk to a licensed financial adviser or AFSL holder – you can take the first steps to find a financial advisor by reading this interview, or by visiting the ASIC financial adviser register and searching in your area. For more information please read my Privacy Policy, Terms of Use, and Financial Disclaimer.
Captain FI is a Retired Pilot who lives in Adelaide, South Australia. He is passionate about Financial Independence and writes about Personal Finance and his journey to reach FI at 29, allowing him to retire at 30.