What is Finder? Finder is a comparison site that allows you to compare products and services to find the best deal. So how do you use it and can you really trust it? Read on for the full Finder review.
The Good
FREE to use
Helps you to save money by comparing products
Fast and easy to use site
Covers a wide range of products and services
You can use it for a free credit score rating
Your personal information is kept safe
Finder has user reviews
Has an app
Contains blog posts on various topics
The Bad
Finder may be inaccurate sometimes and lead users astray
Finder may not always have the most up-to-date information
Can be a bit confusing for new users
Finder's customer service team take time to respond to you
Finder has had some negative press and was fined by the ACCC1 for misleading users
Conflict of interest regarding affiliate kickbacks
Verdict: Finder is FREE, easy to use, and a great choice as a comparison site.

Introduction – Finder review
With so many companies vying for our money and attention it becomes increasingly difficult to find the right deal, find answers to our specific questions about a product or service and whether we can pay a better price elsewhere or not. There are also a lot of comparison apps and websites out there, it can get confusing as to which is the best which to trust. So, we decided to check out and review Finder, the fastest-growing comparison site.
We hope the following information helps clear up any confusion you may have had regarding Finder and helps you make an informed decision about whether you can trust Finder for professional advice and helpful information.
In today's society and especially with the current economy the way it is following the recent pandemic, everyone is looking to save some money and find some bargains – and if you aren't, you should be – therefore this website can assist you with that. Whether you are a family or a single person, you can visit Finder and it will give you comparison prices for financial products, flights, insurance, super funds, virtually everything.
What is Finder?
Finder is a comparison website2 that compares prices for different products and services from different providers. It can be used to find the best deal on a purchase, or to compare the costs of different services. Finder also includes user reviews and ratings to help you make an informed decision.
The website is free to use, and you can find information on a range of products and services, including:
Travel
Insurance
Banking
Energy providers
Retailers
It is similar to Compare the Market3, iselect,4 Choice5 and many others that work in the same way.
What is Finder used for?
Being a comparison website, Finder is used to help you make informed decisions about some important purchases in life such as home or life insurance, you can see your credit score, go over credit card options, loans, compare bank accounts and other products, and even check shopping deals and so much more including hotels and flights. Comparison sites are a great way to save money, make money and get better deals.
Sites such as Finder are useful tools for those who know what they want and would like to compare prices and make sure they know and understand what a particular competitor may be offering.
Who Started Finder?
Finder was founded in 2006 by Fred6 Schebesta and Frank Restuccia but the Finder site was launched in 2012. In 2020 Finder launched their app on iOS and Android, further expanding their company allowing more customers to find their site and get the relevant help they needed. Before Finder was founded Fred and Frank created a digital agency called Freestyle Media which was highly successful and was later sold in 2007. Finder is now in over 10 countries and over 24 million people make decisions on Finder whether it be insurance, holidays or purchases. Also, Fred Schebesta was awarded EY (Ernst & Young) Entrepreneur7 of The Year 2017 Australian National Winner, Services Category, EY Entrepreneur Of The Year 2017 Australian Regional Finalist, Eastern Region. And was also awarded EY Entrepreneur Of The Year 2017 Australian National Finalist, Eastern Region.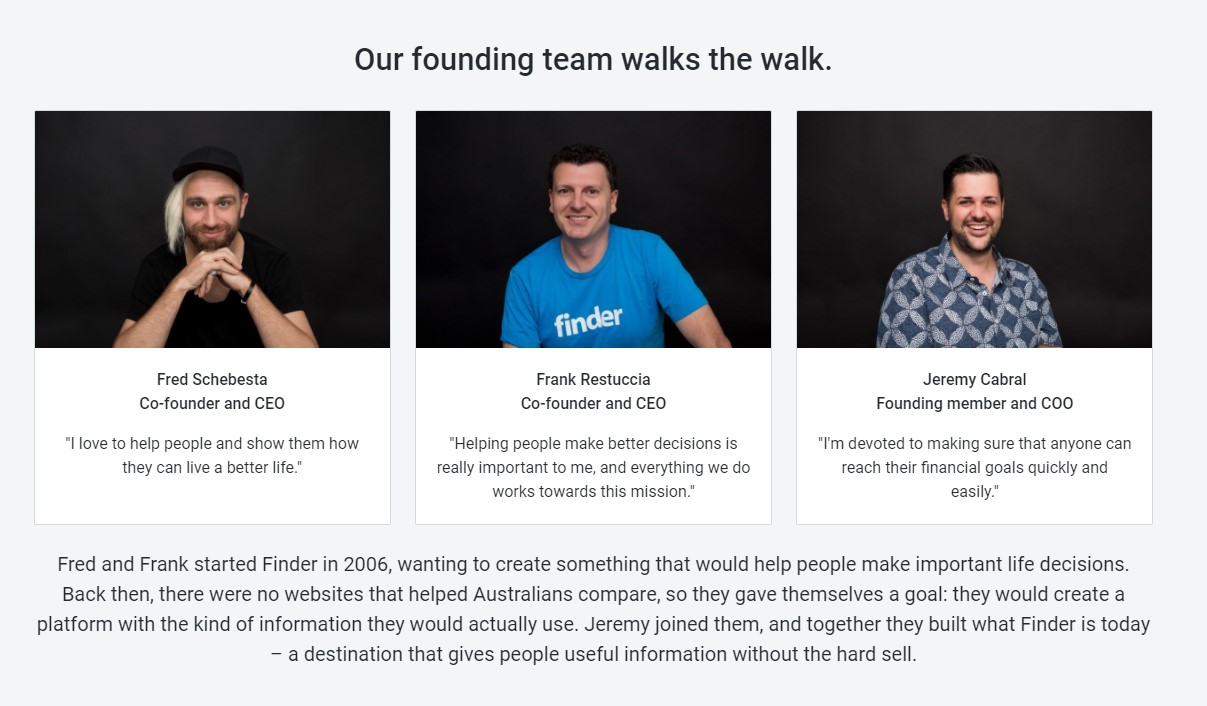 Hive Empire Pty Ltd is the parent company of Finder and the Finder team has now grown to over 100 people who all work passionately to give the best user experience possible.
How do you use Finder?
Finder is a website that compares different products and services so you can find the best deal. You can use Finder to find a broadband plan, credit card, or insurance policy. You can also use Finder to find out the best time to buy a flight or purchase a product.
Finder has a search bar where you can enter the product or service you want to compare. The website then suggest the best deals available from different providers. You can read reviews of each product or service before making a decision.
You can also use Finder's tools and calculators to help you make decisions. For example, the savings calculator tells you how much money you could save by switching providers. The budget planner helps you create a budget and track your spending.
Like most comparison sites, Finder is easy to use. Create a profile and login. On the homepage, go to the left tab and a drop-down box appears. Select the one that is most relevant to you, such as insurance8, travel etc.
Comparison sites take all the hard work out of scouring through the internet or going to travel agents and shows you exactly what you're looking for.
Does Finder have an App?
Yes, there is a Finder App that is available on both the App Store and Google Play. The app is easy to use and is designed to make it easy for you to find what you're looking for, whether you're at home or on the go. It's also a pretty advanced money management app, allowing users to buy crypto, track their spending, track bills, categorize expenses, keep an eye on all bank accounts, super and investments in one place. The Finder app was a Fintech awards winner in 2021 and has been featured on Yahoo finance, The Today Show and Sunrise.
We Money have a similar app that allows you to track your spending and view all your accounts in the same place too. You can read my We Money review here.
What are the advantages of Finder?
Free to use
Helps you to save money through comparisons
It's fast and efficient, so you can get the job done quickly.
Finder provides access to a wide range of products and services.
It has a powerful search engine that can help you quickly find the information you need.
You can find your credit score through a credit enquiry, as well as useful info surrounding credit scores
Partner with them to advertise your products or services
Find the best shopping deals
Your personal information is kept safe
Finder has user reviews so you can read about other people's experiences before making a decision. This can be helpful if you want to find out more about a product or service before purchasing it.
Blog posts are included within the site, as seen in the image below, on a range of different topics
Finder has an "Alerts" tool that allows users to set up price alerts for specific products or services
Finder team have awesome feedback for excellent customer service
What are the disadvantages of Finder?
Finder may not always have accurate information and may lead users astray
Finder may not always have the most up-to-date information
Can be difficult to know how much the services cost until you actually try to use them. This is because many of the services offered are not prominently featured on the home page, and instead must be accessed through menus or search functions
Finder's customer service team may take time to answer your queries or help you, which can lead to frustration if you're trying to resolve a problem
Can be a bit confusing for new users
Some negative press regarding a fine for misleading customers re: health insurance comparisons
Can I trust Finder?
Ultimately, Finder is an affiliate / advertising website which exists to make money. This means that there is an inherent conflict of interest regarding what information they show you – it is in Finders interest to show you an affiliate offer or deal which has the highest possible kick back for them, regardless of whether it is the best deal for you as a consumer.
One thing which should be mentioned here is that Finder was fined by the Australian Competition and Consumer Commission ACCC1 for misleading customers who believed they were comparing health insurance to a broader range of insurers than they actually were. The site claimed around 65,000 policies were comparable when in fact the number was considerably less. The site made this statement regarding the matter; "the site was corrected as soon as we became aware of the issue. We worked closely with the ACCC to review and confirm the data on our site. We've ensured our data is accurate, and most importantly, meets our customers' needs."
However, overall I believe yes, you can generally trust Finder – with the proviso that you should always do independent research from multiple sources before making a purchase decision.
Finder has plenty of great articles and appears to take its security and that of its customers seriously. You can find Finder reviews on Product Review9 and 90% of users recommend it on Reviews.io; you can check all the relevant reviews, or leave feedback yourself. Your personal information is kept safe through their security standards and procedures.
Finder has end-to-end encryption to ensure your data is safe and secure. There can be an issue however when you choose to share your data with 3rd party companies, you may be bombarded with emails, texts and phone calls, and some of the companies contacting customers aren't in the same country.
FAQ's (Frequently Asked Questions) about Finder
Is Finder free?
Yes. Finder is 100% free to use. Many comparison sites and apps are free. They make most of their money by selling advertising spaces on their sites. Finder's mission has always been to help people make informed decisions about many of life's necessities by making things easy to navigate and find.
"I love to help people and show them how they can live a better life." Fred Schebesta – Co-CEO
How does Finder make money?
Like many free websites, Finder earn money from third-party products or services. When you click a link and make a purchase on that site, Finder makes money from that purchase via an affiliate kickback. Finder also sell banners and other advertising on their site and in emails and on social media, since display advertising provides income. They also promote partner-sponsored articles and videos which are typically labeled "presented by".
Affiliate marketing
Display advertising
Sponsored articles and videos
Final Thoughts – Finder review
Overall, Finder is a great website and app which can help you save money, provide you with general advice and help you make more informed decisions. They have some wonderful feedback of good service online, from thousands of users across Australia and worldwide. Finder appears to have excellent customer service from their customer care team and many customers who have provided feedback through a positive review, to reflect this.
They have something for everyone from cryptocurrency to business loans, answers to insurance questions, and flight deals. They have a high rating on Trustpilot too, and they have good data encryption to keep your data and contact details safe, but once you share it, prepare for the advertisers to contact you. I do like Finder and use it a lot, but generally I am wary of choosing to share your data. 
As with any comparison or review site you need to consider that comparison sites make money from promoting products – the effect is they may promote only services offering them highest affiliate kickback to make them the most money. Finder has been in trouble with the ACCC for this regarding insurance plans, and have since addressed the issue.
As always, if you're looking to purchase financial products, insurance or you're looking to switch your super, you may need to seek professional advice, or even talk to a financial advisor, based on your personal financial situation.
Have you had a great experience with Finder? Did Finder help you make better decisions regarding a product or a service? Let us know!
Reference List:
Our founders, Finder.com.au. Accessed online at https://www.finder.com.au/our-leadership-team on April 5, 2023.
Our Mission, Finder.com/nz. Accessed online at https://www.finder.com/nz/about-us on April 5, 2023.
Compare Life Insurance Australia, Finder.com.au. Accessed online at https://www.finder.com.au/life-insurance on April 5, 2023.
'Finder.com.au', Product Review. Accessed online at https://www.productreview.com.au/listings/findercomau on April 5, 2023.
Captain FI is a Retired Pilot who lives in Adelaide, South Australia. He is passionate about Financial Independence and writes about Personal Finance and his journey to reach FI at 29, allowing him to retire at 30.