VAS is Vanguard's offering for an Australian ETF. It tracks the S&P/ASX 300 index, which is the top 300 Australian publicly traded companies by market capital. This is majority exposure to Australian markets, with a very small exposure to foreign markets – Vanguard claim as of Aug 2019 review that the foreign market exposure is 3.3% of the entire fund. Vanguard claim that this fund is suited to buy and hold investors seeking long term capital growth with tax effective income along the way.
Vanguard manage VAS in accordance with their principles of;
Competitive long-term performance Vanguard's investment approach provides investors with an efficient way to capture long-term market performance.

Diversification The Fund invests in a diversified portfolio of securities, which means the Fund is less exposed to the performance fluctuations of individual securities.

Low cost investing The Fund has low ongoing fees as we strive to minimise the costs of managing and operating the Fund.

Vanguard
The details
Vanguard Total Australian shares (ASX:VAS) is currently managing approx (AUD) $28.38 Billion across 296 holdings in line with the Standards and Poors ASX 300 index. There is a significant sector allocation to financials, including the big four Aussie banks, as well as other blue chips in the materials and mining sector such as CSL construction and BHP Group. Combined, the top 10 holdings account for 43% of the total fund.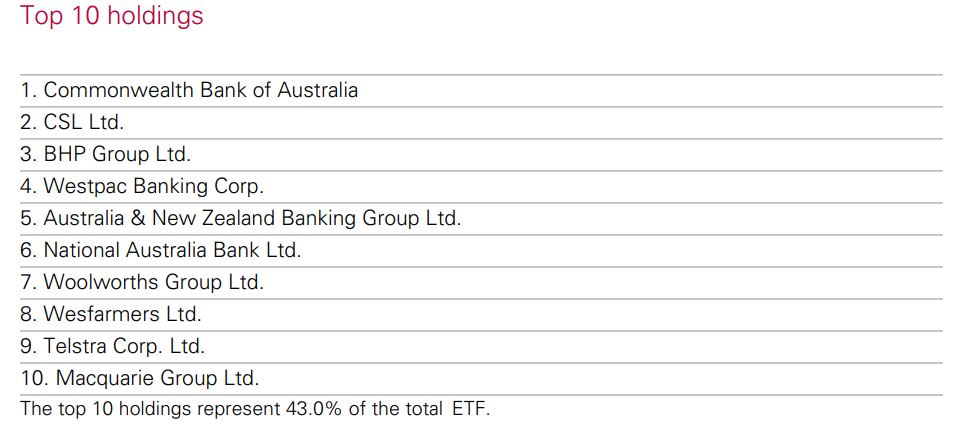 In July 2019 VAS announced it had reduced its annual fees, from the original Management Expense Ratio of .14% down to a more reasonable .10%. This means it will cost you just $10 per year, for every $10,000 you have invested in VAS. This is still very low, especially compared to the market average Aussie mutual fund fee of 1.6% p.a. – VAS is 16 times cheaper than the average! However A200 is probably VAS's main competitor, which offers a .07% MER, for a slightly different (but almost identical) product.
Performance
VAS has provided good returns in line with the index since inception. They provide a very respectable dividend over the past year of 4% with a franking level of 82.2%. This means the grossed up dividend yield of VAS is 4.7%. This number is a fairer comparison to other share returns after accounting for franking tax benefits. VAS consistently provides a high degree of franking which makes the dividends very tax effective – 2016: 81.3%, 2017: 77.8%, 2018: 71.5%, 2019: 80.6%.
Why I own VAS
I own VAS because I want to invest in Australian stock, and I don't have time nor the inclination to pick individual stocks. VAS is an easy option to get a passive investment in the Australian market with very low management fees.
It has had good capital growth and also passes on dividends from the portfolio, which come with a majority franking credit (80.6% franking in 2019) making it a tax effective income source. I want to eventually have enough that I can live off the combined income of my ETFs and LICs, and given the dividend exceeds 4%, this makes implementing the 4% rule for portfolio draw down extremely simple.
VAS vs A200
Similar to the discussion between US ETFs VTS (Vanguard) and IVV (BlackRock iShares), there is a choice to be made in the Australian market between the Vanguard offering VAS and the Betashares offering A200. VAS historically had twice the management fee of A200, but given they recently reduced this to a MER of .10% it makes VAS more attractive and the discussion more even.
Whilst I like that A200 is cheaper than VAS in terms of management fees, I also like the idea of splitting my funds across two ETFs. I get a feeling of "diversification", and I can buy whatever has gone down the most. I also note that each ETF tracks a slightly different index. VAS tracks the S&P ASX 300 index, and A200 tracks the Solactive 200 index. This makes them different products, although very similar.
Summary
To wrap up, VAS is a pretty solid choice if you want exposure to the Aussie market. It's a no-frills type ETF, with ultra low management fees. Hopefully Vanguard continue to slash the costs even further as the fund grows, to remain competitive with BetaShares A200 fund. Do you own VAS or A200 stock in your path of FI?
Addendum
I sold my VAS shares and moved this cash into A200 due to its lower management fee and similar risk exposure
Get FI !
Captain FI is a Retired Pilot who lives in Adelaide, South Australia. He is passionate about Financial Independence and writes about Personal Finance and his journey to reach FI at 29, allowing him to retire at 30.