This article is a detailed review of the popular keyword research tool known as KWFinder. It includes descriptions of what the tool is, how to use it to find the best keywords out there, how much it costs, and how accurately it can deliver results.
Introduction
The right keyword tool can make or break your SEO strategy. If you want to discover the most relevant and accurate keyword suggestions, KWFinder is a strong choice.
Offered by the SEO tools company Mangools, the KWFinder has gained great popularity in quite a short time due to its accuracy and user-friendliness. But before investing your time and money into a tool, you might have some questions. Let's have a closer look at KWFinder and answer some commonly asked questions.
What is KWFinder?
KWFinder helps you find keywords for your campaigns by aggregating data from various sources just like google keyword planner. It is a long-tail keyword research tool which helps you to find appropriate keywords so that your website can rank higher on search engines like Google.
KWfinder regularly scours thousands of sources to collect all kinds and sizes of relevant words for any given industry or topic area. From common questions someone might ask when they're looking something up online, right down to single words. It then groups these into categories based on how frequently people use them across various sites throughout the webspace.
KWFinder is one of the five following tools of the Mangools Suite:
● KWFinder
● SERPCheck.
● SERPWatcher
● LinkMiner
● SiteProfiler
How Important are Keywords?
The average person probably doesn't think too much about keywords. However, for businesses, marketers, and bloggers, keywords are too essential to avoid. Why are keywords so important?
Well, keywords are how potential customers find your site on search engines like Google. If you want people to be able to find you online, you need to make sure you're using relevant keywords.
Whatever business you're running or blog you're writing today, establishing an online presence is indispensable to it. And keywords are the very foundation of this online presence. It is the basis of both your exposure, awareness, and promotion over the web.
But you need to be strategic about the keywords you use as keywords are basically, what your potential customers might be searching for.
To put it simply, keywords are essentially the pillars of online communication. By strategically placing them throughout your content, you can ensure that your target audience will be able to find your content more easily.
When your content is easy to find, that means more eyes are on it. This ultimately leads to a larger audience for your business.
So yes, keywords are super important.
How Do You Use KWFinder?
The KWFinder is a simple and easy keyword research tool. Following these few easy steps, you can get started with it:
Step 1: Search for Keywords
For keyword analysis, at first, you have to search for them. That's the very first step in keyword research using the KWFinder.
Once you've opened KWFinder, a box labeled "search by keyword" will appear. To search for keywords, you have to click on the box and type in your target keyword. Then you can select your target location (eg – Australia, USA, or 'Anywhere') and hit enter to begin the keyword analyzing process.
Step 2: Review the Results
After the keywords are searched and analyzed in a matter of seconds, you can review the results in the KWFinder dashboard for related keywords.
On the dashboard, the left column shows a list of organic keyword suggestions related to your search. You can review the keywords from there for further analysis and use.
Step 3: Analyze the Metrics
Each keyword in the above-mentioned keyword list will show some digital marketing metrics. You can analyze the Metrics to determine how effective the keywords will be in terms of the exposure and awareness of your marketing message or blog post.
These Metrics are:
● Search Volume: This metric shows the search volume per month for a given keyword.
● Trend: This metric shows the past 12 months' search volume trend.
● Keyword Difficulty (KD): This metric determines the rate of difficulty for a given keyword to rank in the organic search results of Google Search (orange = hard, green = good!).
● Cost-Per-Click (CPC): This metric determines the average CPC of a given keyword for Google Ads.
● Pay-Per-Click (PPC): This metric determines the average competition for a given keyword's PPC campaigns in Google Ads.
Now, you can short-list or select the feasible keywords for the next step.
Step 4: Perform SERP Analysis
After analyzing the above-mentioned metrics and short-listing necessary keywords, if you want to analyze the Search Engine Results Page (SERP), you can do it from the right column of the dashboard.
The option is titled "SERP Overview". Upon clicking on it, you'll find a list of SERPs for the selected keywords.
On the upper row of the SERP Overview, there are some SERP metrics. These metrics will help you compare your competitor's website with yours. These metrics are:
●    DA and PA:  According to Moz.com, "the term PA (Page Authority) refers to the predictive search engine ranking capacity of a single webpage, and the term DA (Domain Authority) refers to the predictive search engine ranking capacity of the entire domain".
● CF: Citation flow or CF is a measure of how many sites link to your webpage. The more links, the higher their influence, and importance on Google's list for search engine rankings.
● TF: Trust flow or TF is a measure of how reliable your site seems based on the quality and quantity of the sources that link to it.
● Links: Links indicate the number of backlinks for a certain keyword associated with your site. This is a ranking factor that Google looks at when deciding whether or not to show your page on the search engine results pages. The more backlinks you have, the higher your chance of being seen by potential customers!
● FB: The number of times your post for a certain keyword was liked, shared, or commented on by other Facebook users or potential customers.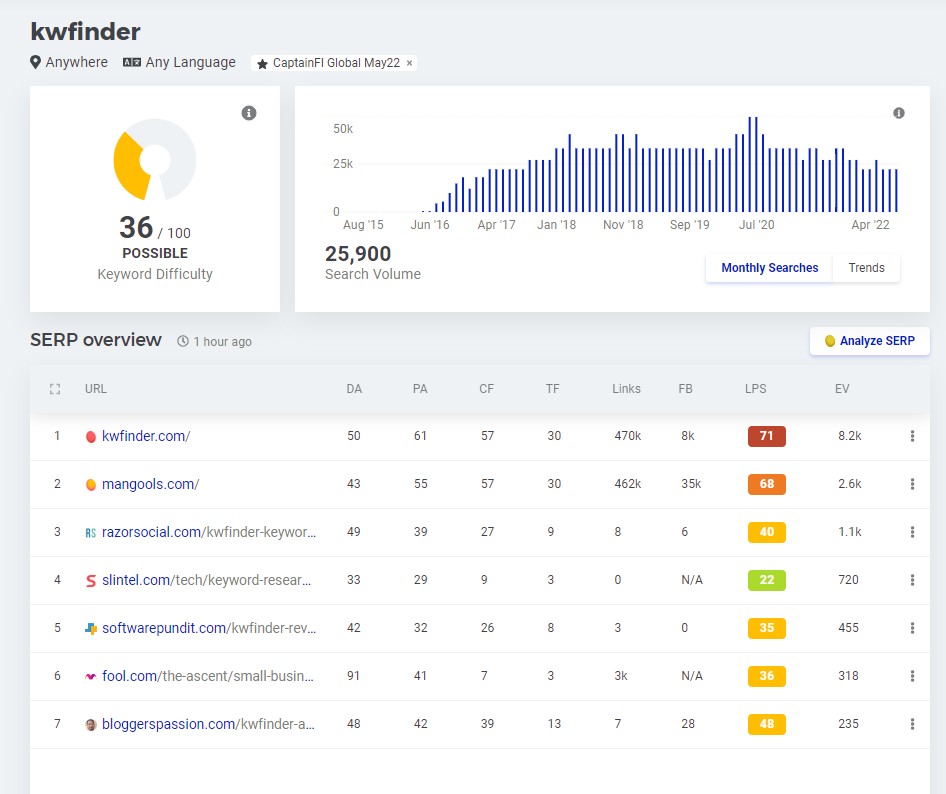 Step 5: Make Your Keyword List
This is the easiest step in using the KWFinder. Just select the keywords you want, and then click "Add to List" or export for later use. And voila! Now, you have an entire list of relevant and analyzed keywords.
Step 6: Perform Competitive Research
This is not necessarily a step. It is a repetition of "Step:1" but this time you are targeting the "competitor keywords" to perform competitive research.
This time you have to click on the "search by domain" option instead of the "search by keyword option" and follow steps: 2-5. By doing so, you'll have all the data and analytics required for your research.
KWFinder is a subscription-based keyword research tool. This Mangools tool comes in both monthly and annual plans. Both plans have 3 packages to choose from. The plans, their packages, and prices are given as follows:
The Annual Plan
The packages in the monthly plan are described as follows:
● Mangools Basic: The subscription fee for this package is $29.90 per year for which you can look up to 100 keywords and 25 competitor keywords.
● Mangools Premium: The subscription fee for this package is $39.90 per year for which you can look up to 500 keywords and unlimited competitor keywords.
● Mangools Agency: The subscription fee for this package is $79.90 per year for which you can look up to 1000 keywords and unlimited competitor keywords.
The Monthly Plan
The packages in the monthly plan are described as follows:
● Mangools Basic: The subscription fee for this package is $49 per month for which you can look up to 100 keywords and 25 competitor keywords.
● Mangools Premium: The subscription fee for this package is $69 per month for which you can look up to 500 keywords and unlimited competitor keywords.
● Mangools Agency: The subscription fee for this package is $129 per month for which you can look up to 1200 keywords and unlimited competitor keywords.
Note that, the annual plans are billed upon purchase but you can save up to 40% with them. Also, Mangools has a 48-hour cash-back guarantee.
Is KWFinder accurate?
One of the vital determiners of the credibility of a research tool is its accuracy, and who knows it better than its users.
According to the current statistics, the KWFinder is among the top 3 keyword research tools around the world. The tool owns a 16.50% market share in the industry and has over 1500 customers across various IT industries such as SEO, digital marketing, and content marketing.
So, undoubtedly, the tool gives you accurate results, or else, so many businesses wouldn't have used it.
Despite, the above-mentioned facts, here are some qualities of the KWFinder that make it an accurate source of information:
It is Known to Provide Exact Search Volumes and Historical Data
With KWFinder, you can discover helpful information about your target keywords. You can see accurate search volumes in the tool for a particular keyword and suggested phrases that will make it easier to find what people are searching for online!
The KWFinder also provides accurate and user-friendly graphs of historical data as well as monthly trends to easily analyze your target keyword.
It is Known to Provide the Most Accurate KD Scores
The KWFinder provides the most accurate keyword difficulty scores based on the websites appearing on the top SERP ranks. In the case of the Keyword Research tool accuracy, the correlation of keyword difficulty score with monthly searches is a very important factor.
In a statistical analysis, it was found that 43% of keywords searched using KWFinder correlated with 41% of keywords that have a high number of monthly searches. This data was compared with five other keyword research tools and KWFinder came out at the top.
Is KWFinder Worth It?
In my opinion, yes it is!
The answer is quite simple, why would you spend hours producing content that will just get buried in the sea of Google search results when you can use the KWFinder to get valuable as well as accurate keyword information within seconds.
It is literally, the only tool you'll need for keyword research that will bring your website traffic and leads. Which, in turn, will result in more ROI.
FAQs About KWFinder:
1. What is SERP in SEO?
In terms of SEO, a SERP or Search Engine Results Page is the page that you find upon searching for something in Search Engines like Google.
2. Can You Purchase KWFinder Only?
No, you can't. You have to buy one of the subscription packages.
3. Where Can I Find Low Competition Keywords for Free?
You can find low competition keywords for free in the FREE Trial version of Mangool's KWFinder. There are also other keyword tools that have free trials, which you can search online.
4. What is Keyword Difficulty (KD) and How is It Calculated?
Keyword difficulty or KD is a score that estimates the level of difficulty for any given keyword to rank Google's first page.
It is calculated on a 0 to 100 scale, in which 100 is the most difficult rank to reach.
5. Where Does KWFinder Data Come From?
The KWFinder data is sourced mainly from Google.
Conclusion
When it comes to keyword research, KWFinder is one of the best keyword research tools available. With its simple and clean interface, you will be able to do the task in no time at all!
KWFinder is one of the leading SEO keyword research tools, providing accurate data to help you find long-tail keywords with a high monthly search volume. It's easy and simple! All it takes are a few taps on your keyboard and a few clicks of your mouse to use the tool.
And as keywords are the core of all digital marketing, the KWFinder is the perfect choice for marketers and bloggers of all levels.
It also comes at attractive convenient packages and prices. And if you still want to check it out before making a purchase decision, you can sign up for a FREE trial of KWFinder.
Captain FI is a Retired Pilot who lives in Adelaide, South Australia. He is passionate about Financial Independence and writes about Personal Finance and his journey to reach FI at 29, allowing him to retire at 30.