Summary: Payday loans are one of the most expensive forms of borrowing money. If you are in financial trouble, payday loans are likely not in your best interests. If you are in serious financial trouble, please call the National Debt Helpline on 1800 007 007, head to the Services Australia Crisis and Special help center or get free expert advice from ASIC's MoneySmart Urgent Help with Money Directory.
Disclamer: This article is my opinion, I am not a financial advisor and it is provided for general awareness purposes only.
Much like the bookies, loan sharks, pawn shops or gangsters of days past that engaged in predatory (and usually illegal) lending practices, there is now a growing industry of 'neo' or 'digital' loan sharks – online payday lenders who offer hideously expensive short term loans that are incredibly easy and quick to sign up to. This industry is somehow legal, but certainly not ethical. Online Payday lenders include the likes of Nimble, Cash Converters, Loan Ranger, Wallet Wizard, Credit24, Sunshine loans and Fair Go to name a few.
Ironically, these companies will give you anything BUT a Fair Go, because they are marketed at desperate people who need cash fast and who have mismanaged their finances. These loans lock them into debt and interest repayments to make a profit from their misfortune. Read on to find out why online payday loans are one of (if not the most) toxic forms of debt, and why using one could be your biggest mistake.
The Annual Percentage Rate (APR) for new loans effective from 08/12/2016 is 47.8%.

Wallet Wizard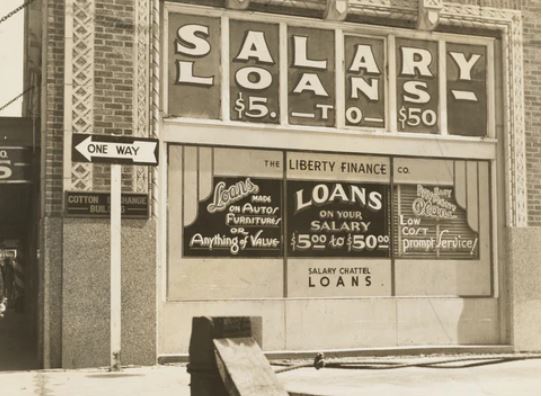 Wallet Wizard and pay-day-lending
Wallet Wizard is the trading name for a subsidiary of Credit Corp Financial Services Pty Limited, a 'payday loan' style finance company based in Sydney that provides short term loans of up to $5000 with an Annual interest rate of nearly 47.8%! You have probably seen the name from the expensive and pervasive advertising campaigns they run. On their website they claim to be a responsible lender, however in their FAQ section they reveal that if you have a bad credit rating, are on welfare (centerlink payments) or have declared bankruptcy that you can still be eligible for their 'smart loans'.
The Credit Corp Financial Services Proprietary Limited parent company has a number of lending subsidiaries;
Wallet Wizard
ClearCash
CarStart
Credit Corp Financial Services Pty Limited is itself owned by the Credit Corp Group (more on that later). Essentially, Credit Corp has a bunch of money which they want to lend out, and receive interest for doing so – this is how they make money for their investors. OK – fair enough, there are many thousands of finance companies and the banking sector has some of the biggest companies in the world – just think of the big four in Australia. Generally speaking, finance companies or banks can lend through all sorts of ways – and there is a spectrum of risk along which they are willing to lend….
Finance companies and credit risk
On one side of the spectrum we have 'safe' loans secured by assets (sometimes called collateral), such as a mortgage. In Australia, this is seen as one of the safest forms of loans because well 1. Who defaults on their mortgage payment and 2. Houses always go up – right?*
*This didn't work so well in the USA during the 2007-2010 sub-prime mortgage crisis and subsequent GFC precipitated by very dodgy derivatives and insurance swaps on mortgages called mortgage backed securities – The Balance has a good article on how this unfolded.
In the case of the mortgage, a bank could foreclose on the loan, take ownership of the house and forcibly evict the previous owners – and the local constabulary would oblige. Usually, the mortgage is worth less than the house because the mortgagee needs to have *some* equity in the form of a down payment or deposit to get the loan, so even if the bank sells the property below market value they usually always get their money back.
Even for a car loan (which is still an silly loan to take IMO) the lender could reposes the car if you defaulted and sell it. Although, cars tend to go down sharply in value so the lender might be at a loss if this happened. This is why car loan interest rates are higher than home loan interest rates. In reality, if this happened the lender would usually outsource this whole ordeal by selling your debt to a debt collector or insolvency agency, who would then repossess and sell the car, and chase you for the difference.
On the other side of the spectrum we have 'risky' loans such as credit cards or other unsecured loans. They are called 'unsecured' because if the borrower defaults on the loan repayments, the lender has no 'leverage' over them. With an unsecured loan, if a borrower default the best the lender can do is send bills and threatening letters, make calls, lodge reports to destroy your credit rating and then ultimately sell the debt contract to a debt collection agency for pennies on the dollar*.
*If you ever do have to deal with debt collection agencies, NEVER pay the full price and instead negotiate to settle on a deal. Most Debt collection agencies will buy debt for somewhere around 10-30% of the debt value, so they will usually settle for anything above 40% of the amount if it means a quick settlement. A quick settlement means a quick profit for them.
As you can see, unsecured loans are much riskier for the lender, because a portion of their borrowers will default and it can become an administrative burden and financial nightmare for them. This means they will charge an absolute premium for these 'risky' or 'junk' loans.
It is exactly the same when we talk about investing and the bond market – 'highly secure' AAA credit rated government bonds pay out diddly squat, whereas the CCC rated 'Junk bonds' you can buy from some companies or Peer to Peer lending platforms pay a much more attractive yield (however the risk adjusted return is what you should be considering here not just the yield). Investors accept higher risk in the pursuit of higher returns.
To overcome the risk, loan sharks or pawn shops would typically ask for some 'collateral' – this might mean handing over your laptop, stereo or your grandmothers precious heirloom jewelry until the loan gets paid off. If you default, guess whats happening to your shit? That's right, it is going on the shop floor to be sold.
So what about Wallet Wizard, how do they manage risk and where is their collateral? Well, I personally think that it is summed up perfectly with this;
"The Annual Percentage Rate (APR) for new loans effective from 08/12/2016 is 47.8%."

Wallet Wizard
I reckon they are making so much profit off of their clients that they don't really care about the ones that default. If someone does default, they can just slap a negative credit report their credit file, sell the debt to a collection agency (likely one of the parent companies subsidiaries) and move on to the next sucker.
Cost of a Loan from Wallet Wizard
In order to get a loan from Wallet Wizard, they will need information from you. Depending on your credit score depends on how much they will need. If your credit score isn't great, then expect the loan application process to take longer and for them to want more information from you. They offer loan terms from $500 to $5000 for up to 2 years, with an…
"Annual Percentage Rate (APR) for new loans effective from 08/12/2016 is 47.8%."

Wallet Wizard
The interest rate on a wallet wizard loan is 47.8%. Lets just let that sink in. Each year you borrow money, you will need to pay off nearly HALF of the total loan balance, just in interest. Given that they have a maximum loan term of 2 years, and maximum amount of $5000, they claim that '"You might be suprised at how low your repayments would be" . I think you might be surprised at how HIGH your repayments WILL be.
When I tried to put this into the ASIC MoneySmart Compound Interest Calculator I couldn't even do so, because the interest rate was too bloody high – they only allow up to 20%. Then I tried using a mortgage calculator – same issue (interest rate too high). There is your first couple of red flags?
Lets break it down into Pilot (simple) math. Say you do borrow the maximum of $5,000. At 47.8%, you would owe $5000 * .478 = $2390 in interest alone for a one year term. For a two year term, compounding, (Total = $5000 * 1.478 * 1.478) this comes out to $10,922 – you need to pay back the principle $5,000 PLUS $5922 in interest.
Now, this is an overly simplified explanation, and obviously in the real world you would be paying down the balance and only paying interest on the outstanding loan – similar to how a mortgage works. In the terms and conditions of the loan they should explain this, as well as the terms such as what minimum weekly, fortnightly or monthly repayments you are on the hook for. But generally speaking, in the simplified case of a two year $5000 loan, you'd could be on the hook for around $200 per fortnight.
Some people signing up to Wallet Wizard just need a 'short term fix' – so they give the example of the cost of $1500 over 9 fortnights.
Wallet Wizard advertise to be cheaper than their competitor Nimble, but I still couldn't figure out the math behind these examples. I thought $1500 over 9 fortnights should work out to be something like $1500 *.478 * (9/26) = $248 in interest, adding back the original $1500 and then dividing by 9 gives a fortnightly repayment of $194. Again, I'm guessing their figure is lower because they are factoring in you gradually paying down the balance of the loan.
I am sure there are calculators online somewhere that you could use to estimate all of these values and payments, but honestly its a moot point because in the contract you sign, the terms and conditions will be whatever their software and fees says it is!
An important thing to mention here is Fees and costs. From what I can deduce, Wallet Wizard actually used to charge some significant fees and costs which made their 47.8% Annual Percentage Rate a bit misleading. When you factored in application fees and monthly account keeping fees, the actual total amount payable on the loan increases significantly and is equivalent to paying a much higher Annual Percentage Rate.
| | | | |
| --- | --- | --- | --- |
| Loan Type | Loan amount | Application Fee | Monthly Account Keeping fee |
| Small loan | $500 to $2000 | 15% of the loan amount | 2% per month of the amount you borrow |
| Smart Loan | $2000 to $5000 | $45 | $4.95 per month |
However, it looks as if these fees have been removed in response to pressure from the financial regulator ASIC, which makes it a bit easier to predict the cost of any loan from Wallet Wizard. Actually, according to Australian Government Legislation, 48% is the legally maximum interest rate allowed to be charged
Further, when I was hunting around online for more information on their costs, I came across an article on Product Reviewer about paying off Wallet Wizard loans which said;
"We gave them a scenario of offering to pay out the loan early and asked for a payout figure and the best price. Wallet Wizard had full intentions of charging the full interest despite only being 6 months into the loan and the fact that the risk of the loan had been lowered to 0% for the remaining 1.5 years."

Product Reviewer.com.au on Wallet Wizard
Credit Corp Group Limited
Wallet Wizard is ultimately owned by the Credit Corp Group Limited (ABN: 33 092 697 151). This is a HUGE financial services company, which is global and has a large number of wholly owned subsidiaries – including.
COMPANY
ACN
ABN
Alpha Credit Pty Ltd
124 994 029
66 124 994 029
Alupka Holdings Pty Limited
057 804 565
74 057 804 565
Baycorp Collections PDL (Australia) Pty Ltd Trading As Credit Corp Management
119 478 778
58 119 478 778
Baycorp (Aust) Pty Limited
086072004
16086072004
Baycorp (NZ) Limited
087 411 498
30 087 411 498
Baycorp (PDL) NZ Limited
119 478 778
58 119 478 778
Car Start Pty Limited
156 477 413
47 156 477 413
Certus Partners Pty Ltd
114 728 906
70 114 728 906
Credit Corp Acceptance Pty Limited
119 211 317
58 119 211 317
Credit Corp Australia Pty Limited
056 664 183
97 056 664 183
Credit Corp Brokering Services Pty Limited
606 611 858
49 606 611 858
Credit Corp Collections Pty Limited
096 930 568
14 096 930 568
Credit Corp Employee Share Administration Pty Limited
122 556 683
56 122 556 683
Credit Corp Facilities Pty Limited
079 045 588
63 079 045 588
Credit Corp Financial Services Pty Limited
146 525 706
Credit Corp Financial Solutions Pty Ltd
NZBN 9429041833148
Credit Corp Group Limited
092 697 151
33 092 697 151
Credit Corp Leasing Pty Limited
603 041 747
53 603 041 747
Credit Corp Lending Pty Limited
603 041 756
55 603 041 756
Credit Corp New Zealand Pty Limited
124 994 001
74 124 994 001
Credit Corp Queensland Pty Limited
116 198 031
34 116 198 031
Credit Corp Receivables Pty Limited
124 447 463
24 124 447 463
Credit Corp Recoveries Pty Limited
122 556 665
52 122 556 665
Credit Corp Services Pty Limited
082 928 872
95 082 928 872
Credit Corp Services (NH) Pty Limited
124 447 445
20 124 447 445
Credit Corp Services Malaysia Pty Limited
123 500 247
56 123 500 247
Credit Corp US Collections Pty Limited
156 232 183
11 156 232 183
Credit Corp Western Australia Pty Limited
120 185 220
38 120 185 220
Credit Plan B Pty Limited
124 994 047
70 124 994 047
Creditcorp BPC Pty Limited
124 994 056
72 124 994 056
Hudson Legal Pty Ltd
119 216 643
62 119 216 643
Malthiest Pty Ltd
122 556 674
54 122 556 674
National Credit Management Limited
008 281 123
85 008 281 123
Personal Insolvency Management Pty Limited
153 865 840
15 153 865 840
Torbige Pty Ltd
124 994 074
76 124 994 074
Votraint No. 153 Pty Limited
I find it very interesting that not only do they own many payday lending and credit services, but they also own many insolvency management firms and debt collection agencies. A cynic might be temped to think 'Not only will this mob sell you a rubbish loan, they will then try and chase you up for every last cent if you default'.
Online Reviews of Wallet Wizard
In the few hours I spend cruising forums and review sites looking for information on Wallet Wizard, I found lots overwhelmingly positive reviews (suspiciously so?). This sort of threw me for a bit, since firstly I wasn't sure why anyone would even leave a review of a payday lender unless they were bitching or moaning about them, and secondly I thought perhaps a normal person might want to keep their use of such a service to themselves?
After reading up a bit more, I took screenshots and reported the most obvious ones to the ACCC watchdog for potentially breaching the Competition and Consumer Act 2010. After all, Wallet Wizard is a legitimate Australian company and these looked like fake reviews. It is not unheard of for rival companies to post fake reviews (good and bad) to muddy the waters, but who knows. I am not making any accusations.
Don't get me wrong though, there are still a lot of jaded people out there leaving negative online reviews of Wallet Wizard (and all of the other payday lenders by the way, they aren't unique in that aspect). It just reinforced to me why I personally would not trust anything I read online about payday lending.
I did find a couple of good online reviews, such as the Debt Free Community review of Wallet Wizard which gave some helpful tips about what you could do instead of resorting to payday lenders (such as selling some of your old things on Gumtree or eBay, or picking up work in the gig economy through airtasker, upwork, fiver or freelancer). They also have some great advice when it comes to debt collectors and managing dealing with debts.
Another very confronting but well written article is Financial Rape of Australians by Wallet Wizard, Cash Converters and Loan Ranger: Peter Pilt's Thoughts which goes into detail regarding the ethics of payday loans and uses Peters example of taking out a $1000 loan through each of these three companies.
Ethics of Pay-day-lending
You probably have picked up my vibe on predatory online payday lending by now. But just in case you haven't – I think it is highly unethical. Companies that engage in predatory 'loan sharking' of disadvantaged and desperate people just to turn a profit absolutely disgusts me. I put it on par with the online bookies that exploit problem gamblers.
This is why the grassroots Financial Independence movement is so important, and can be so powerful. If we can spread the message of financial health and wellbeing, then gradually these unethical pay-day-lending companies will go out of business. We should expose them and warn people of the dangers of this financially toxic and unethical service.
Well if you thought I didn't like credit cards, I guess this means I hate pay-day-lenders.
I delight in seeing our regulators (like the Australian Securities and Investment Commission) step in to continue their crack down on these 'rebranded' loan sharks. Ideally they should all get banned – because all they really do is widen the wealth gap and financial inequality in our country. I have personally written a letter to my local member of parliament, and lodged a complaint with both the ACCC and ASIC. I would love for you to join me in this endeavor to help put the spotlight on this troublesome topic.
Risks of payday loans
Payday loans can be incredibly risky to your long term financial well-being. Things to watch out for include;
Credit Score – Whilst I don't really give a rats arse about my credit score (because it is excellent), if you have a shitty credit score it can hurt you when it comes time to get a mortgage – especially when trying to get the best rate. Applications for payday loans all show up on your credit file – do you really want it there for anyone to see?
Security and police checks – Payday loans will show up in your security or police checks. These could disqualify you from certain positions involving sensitive information in companies or certain government roles. This is because financial stress is a significant risk when it comes to sensitive information.
Dodgy lenders – Not every payday lending company does the right thing. You should check their credit licence on the Australian government ASIC Register and ensure that the lender is appropriately licenced and easily contactable.

Fighting fire with Gasoline – Using payday loans to get out of financial trouble usually just makes things worse. This can be a tipping point and rapidly escalate your financial troubles leading towards bankruptcy.
Conclusion
Wallet Wizard is a payday lender finance company based in Sydney that provides expensive short term loans of up to $5000 with an Annual interest rate of nearly 47.8%. Wallet Wizard are a subsidiary of Credit Corp, which is a big multinational credit conglomerate that focuses on higher risk and unsecured loans, as well as insolvency and debt collection agencies. It is an incredibly expensive way to borrow money, but if I am honest is probably one of the most transparent payday lending companies out there – there are much worse.
In my opinion, online payday loans are worse than credit cards. They are one of the most corrosive form of debt that can dissolve your Net Worth and are incredibly toxic to your financial health. Why not just do everything in your power to build up an emergency fund? Read up more on the dangers of Payday lending and what some realistic alternatives are from ASICs MoneySmart Payday lending article.
If only a Wallet Wizard could come along, wave their magic wand and make payday lending disappear for good!
Payday-lending is one of the most expensive forms of borrowing money and is not in your best interests. If you are in serious financial trouble, please call the National Debt Helpline on 1800 007 007, head to the Services Australia Crisis and Special help center or get free expert advice from ASIC's MoneySmart Urgent Help with Money Directory.
Captain FI is a Retired Pilot who lives in Adelaide, South Australia. He is passionate about Financial Independence and writes about Personal Finance and his journey to reach FI at 29, allowing him to retire at 30.