Time seems to fly when you are having fun – and this is something I was making more time for over April. I went home for a bit and although I was a bit shocked at my Mums health deteriorating, we got to spend a lot of quality time together and I am pretty excited to order the removalists and get home permanently soon. I also visited my father in hospital interstate for a bit, as well as other relatives. Overall I spent a lot of time with family. I made some new friends, kept working on the CaptainFI book, and decided to quadruple down on my new 'hands free' investment in Stockspot. I also had some great news regarding the property development which is finally back on track and performing well thanks to a very hot property market.
CaptainFI Total Net Worth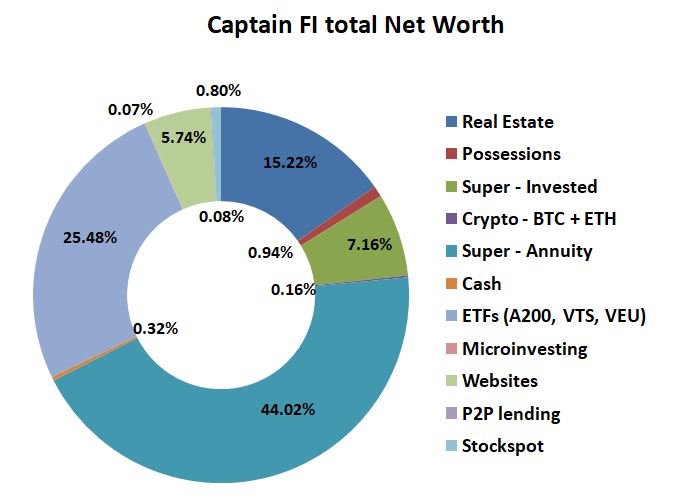 CaptainFI Financial progression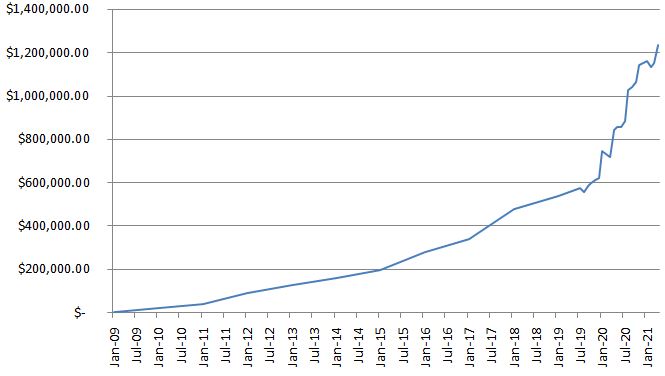 Captain FI monthly update
I spent a lot of the month travelling. I put a few thousand km on the station wagon and other vehicles, making time to visit as much family as I could and spend quality time together. I dislike flying as a passenger but at least on a few flights I was recognised and brought up the front of the plane with some extra legroom which was nice.
Speaking of recognition, This month I had my first few 'public recognitions' which was a little scary at first but ended up having some great conversations. I'm not sure what I expected about trying to remain anonymous when I am fairly active on social media and this was always going to happen. Twice at shopping centres (one in Sydney, one in Adelaide), Two in Sydney pubs and another ex flying colleague getting in touch after discovering the blog. Hey, maybe it is good timing that I have stepped away from full time flying because it sounds like pretty soon, everyone from my company would have known anyway. It is a pretty humbling feeling but also really satisfying to know that people do actually pay attention to what is going on here.
Whilst it feels a little like 'Cheating on FIRE' and maybe the internet retirement police will deem me a fraud, but negotiations for the new job are progressing well. I will be heading back home and taking up a part time engineering role, where I should have the ability to work remotely. I am aiming for one or two days a week, after about a 3 month break as I try to draw down my leave balance to zero. This allows me to keep my 'hat in the ring' working so to speak, keep some level of 'PAYG' income so I can easily refinance my property development at the completion of construction, and finally to quell my anxiety about stopping flying and actually having to start drawing down my investment portfolios by keeping a small level of regular income. It also gives me something technical to do away from finance and this blog and keep my mind active, provides a 'break time' away from draining family stuff and also keeps me socialising and meeting new people.
I had another case of fraud this month, this time scammers getting a hold of my bank details and trying to fraudulently bill my bank account for a significant sum of money. Thankfully, the bank was onto it pretty quick, blocking the transaction and alerting me. Can't be too careful hey – this is a fairly new bank account and a card I have only used at a handful of places within Australia – so I am very interested to see where the lapse in security was.
I have also started to take more care of myself and my health, scheduling in regular visits to a physiotherapist to deal with my neck issues (Most pilots have this) and a psychologist to help deal with stress. Ironically, a great deal of my worries stem from money – or the worry of 'not having enough'. The counsellor tells me this is pretty normal for people who grew up in poverty, and is a way try and seek control over ones life. In a way isn't that what we are all doing here, on our journey to Financial Independence? Seeking to regain control over our lives?
Anyway, enough rambling and on to the investment stuff…
Captain FI Investments
My investments are now split between seven main investment 'areas'.
Because there is so much bullshit and misinformation out there on the internet (mainly due to vested interests and disguised salesmen) I decided to start reporting on the progression and performance of each of my investments separately so we can find the best way to Financial Independence once and for all.
Financial Independence ETF Portfolio
Stockspot Automated Investment Portfolio
Cryptocurrency Portfolio
Microinvesting
Real Estate
Peer to Peer lending
Website Portfolio (eBusiness)
For the record, my inner bias is that I think the first and the last will perform the best – but we will see over time how this unfolds. I don't like over-thinking the investment stuff too much – so I plan to just provide a brief update each month on each investment class and what it is doing.
Comparing them too closely each month is unnecessary and won't yield anything much else than increased anxiety and busy work for my part, it takes time for the long term trends to emerge from the volatility and become apparent. Accordingly, I plan to provide a bit more of a deeper comparison at the Captain FI End of Financial Year (EOFY) review, and keep the monthly updates short and sweet.
I am also tempted to pick up some gold ETFs after my discussion with Chris Brycki from Stockspot, but I'm just observing for now. I will most probably do this by buying the Perth Mint Gold ETF (ASX:PMGOLD) and I am currently writing up a detailed article on my thoughts on investing in gold which I will release later this month.
Financial Independence ETF Portfolio
My Financial Independence ETF Portfolio is a simple, low-fee passive portfolio which is split between three index tracking Exchanged Traded Index Funds (ETFs):
I now have this portfolio fully automated through Pearler which has been a huge gamechanger for me and a massive weight off my mind
I track my share portfolio using Sharesight, which means my accounting is also completely hands free using the Pearler API plugin.
This means I pretty much only need to log in to confirm all the trades and dividends over the year when needed for my tax return, however I also choose to log in each month to produce these monthly updates for you guys.
I have had questions about the tax efficiency of VTS and VEU due to the double tax or withholding tax drag because they are US domiciled funds. This is something I will be looking into. My limited understanding at the moment is that this tax drag creates an 'effective MER' of closer to 0.5% which might mean there may be a lower cost alternative that is better than these ETFs – something I will be investigating.
Portfolio vs Target – Pearler chart
I am still heavy on Australian shares through the A200 fund because I was chasing the franked dividend yields for a baseline level of income stability for Financial Independence. I am now working to balance this home bias concentration risk by an automated purchasing of VTS and VEU through Pearler.
This month I sold off a small chunk of A200 which went into the property development, and I also put a bit of this towards my Stockspot account. I don't normally like the idea of selling my investments but I didn't have the cash-flow to avoid it, and at any rate it helped get my ETF portfolio closer to the target split anyway I suppose.
Stockspot Automatic investment portfolio
After a successful trial with the Stockspot roboadvisor platform where they allocated me the Topaz portfolio (which is their most aggressive portfolio), I have 'Quadrupled down' and increased the stakes. I entrusted them with another $8,000 brining my total investment account to $10,000. Annoyingly, the balance dipped ever so slightly and it went down to $9,981 so I am back down in four figure territory until the market goes up a bit!
For the record, I am not really a fan of the bonds and cash component, but this is a fully automated roboadvisor investing platform and I can't really do much about it. I am also not that enthusiastic about their fee's – however I am reminded by Chris Brycki and his team that Stockspot have consistently out performed the S&P accumulation index and that their fee's are much lower than many equivalent diversified managed funds. So, for this reason I will let this tick away in the background and see how it performs compared to everything else.
If you want to learn more about Stockspot, check out the dedicated review I did on Stockspot – which I will be keeping updated with all the lessons from my personal use trial.
I made another $500 purchase into the Crypto portfolio which was a split between Bitcoin (BTC) and Ethereum (ETH). Going forward, my aim is to have about 1% of the portfolio in the BTC+ETH split, so I will be looking to slowly continue buying into the cryptocurrency portfolio. I did a podcast episode on Bitcoin with Stephan Livera if you are interested to learn more about it.
Ethereum went up more than Bitcoin so the splits are getting a bit off and its now roughly 2:1, so I will just have to buy more bitcoin next month to get the portfolio back to the 3:1 ratio.
I have been playing with microinvesting platforms mainly just as research for the blog, because I want to see how they all stack up against each other. Its not strictly speaking a true comparison though because they don't hold the same investments at all. Really it is just a bit of fun stuffing around with them, and gives me some more background knowledge for when people ask me about how to get started investing using microinvesting platforms.
I just decided to go all in on Tesla through Stake, and it has seemed to go pretty good.
Raiz aggressive portfolio – good split of ETFs, I reverted back to this because the fees on the custom split I thought was too high.
Testing out the platform more I decided to have a go at one of their brokerage free ETF offerings – with myself being a recent target of identity fraud what better ETF parcel to choose than 'HACK' – a group of cyber security companies. The ETF has fluctuated in price but its early days and I am hoping it goes up.
Spaceship Origin portfolio: Top 100 Global Blue chip ETF. This seems to be going alright but If I am honest, for a speculative punt I should have probably gone for the Universe portfolio which seems to be having insanely high gains – I am hoping the origin portfolio might be more stable.
Plenti Peer to Peer lending account. I have it all set to auto reinvest and over time it should slowly grow, but it is good to know that I can either switch the auto invest off and have that drop into my account within a month, or I can just forfeit monthly interest and do an early withdrawal of whatever is on loan in case I ever need to quickly access the cash.
I get more interest out of Plenti than I would in the bank so it seems a good place to stash any cash I want to hold in excess of my sinking fund amount. I'm still aiming to keep a couple thousand in the bank though ( even though it doesn't earn me any interest) because its easier to get to than Plenti.
Investment property
With the debacles of the past few months being somewhat resolved, there is a bit more clarity for the property development turning a profit. Whilst profit downgrades were around $80K due to the failure to secure DA for a two story dwelling, we are still able to proceed with a single story.
With property prices skyrocketing (people returning home or not travelling due to COVID and record low interest rates) we have a valuation of between $545,000 and $575,000 on completion, based on pretty much identical properties in the suburb. Honestly, this is not all that dissimilar to our original calculations in early 2019 for what the town house's would have been worth on completion as we did not factor in that the property market would rise so quickly.
I have somewhat painfully fronted about $102,000 over the project thus far which has been very trying at times, but I realise that how much you 'put into' property has no real value as the only things that matter are 1. Market value, 2. Your Mortgage, and 3. The cashflow.
Accordingly, I am just sticking right down the middle and saying its worth $560K. I currently have a $370K mortgage attached to it, which means the equity position is roughly $190K or 34%, or put another way the LVR is 66% which is comfortably below the 80% figure and will ensure I can refinance to a much lower rate when tenanted (construction loan is 4% interest only and I am trying to get something closer to 2% when finished). I feel comfortable with this level of debt as I could liquidate shares and pay it off, or alternatively if I worked hard I know I could pay it off within a few years.
Rental appraisals from the broker and builder are IVO $550 per week but of course I don't trust that. The bank seems happy to enough to lend against it but really that is because of my PAY-G income is security and the banks love negative gearing. Scouting the neighbourhood shows 80's built freestanding 4bdr homes going for $500 per week, and newer 4bdr homes renting for $700 per week.
Now mine is just a 3 bdr duplex, but it is brand new with luxury finishing so I am assuming the real rental return will be at worst case at least $500 per week or $2000 per month. An interest only 30 year loan at 2.2% with fees this is approximately $350 per fortnight or $700 per month. But before you think this is making me $1300 per month on cash-flow, we have to factor in rates, insurance, wear and tear and property management fees. Of course, we also get to deduct some tax depreciation which is nice. All in all, it works out to be something like
Income
+ $2000 in rental income
+ $150 in depreciation tax credits (Roughly $5,000 tax depreciation each year)
Sub-Total: $2150
Expenses
– $700 mortgage (2.2% Interest only)
– $200 property management fees (10%)
– $120 council rates (inc. storm water)
– $150 land lord insurance
– $466 property maintenance (1% of the house value annually)
Sub-Total: $1,636
Positive cash flow: $513 per month
When switching to a standard Principle and Interest mortgage, the mortgage calculator shows it actually doubles the repayment to $1400 per month ($700 per fortnight), which actually makes it a negative cash flow of $186 per month or nearly $50 per week. Currently the plan is to go for interest only, but I am on the fence about maybe just going P+I to pay down the debt. I am obviously hoping these figures are overly conservative, and I am able to rent it out for more, and that the fee's are less.
Online Business (websites)
I have been focusing on trying to create systems and outsourcing for the websites to claw back my time and allow me to scale, but have been finding it difficult. Especially with some churn I have been having with contractors and writers.
My mentors in this area continue to remind me to work on the Maximum Return Activities (MRAs) which for me is working on Search Engine Optimisation, Delegation and Networking. I very much love writing on CaptainFI though, but have had to scale back the number of articles I am writing and publishing just so I can focus more on the business side of the house and the management of the other sites.
The online business portfolio currently has a valuation of $76,600 based on my rough 'formula'. With nearly 3,000 hours going into it so far, that is a whopping unrealised $25 per hour which doesn't sound like much, but it is the potential for income growth that makes it far more valuable to me and why I would never sell them for this little. I would strongly encourage anyone on the path to financial independence to secure digital real estate (domain names) and start their own online business (websites). There is no other asset class that can cash-flow this much for such little capital – but you need to know a bit about what you are doing and it does require ongoing effort.
This seems like a very viable alternative to traditional FI with index funds – although it technically is not completely passive (I would describe it as 'Semi-passive'), leveraging ideas from Tim Ferris' 4 hour work week.
I have done a pretty comprehensive review of the eBusiness institute as well as interviewed Matt and Liz Raad about this on the podcast about online business and websites if you want to learn more about this lucrative side hustle. They provide a free introductory course for CaptainFI readers.
Cash / emergency fund
Because of the past few months cash-flow issues I have decided to keep a bit more cash on hand, upping my normal $1000 'sinking fund' to $2000. I have began drawing down my leave balances (rather than trying to get them paid out) because it is just easier and more tax effective.
Early Retirement
Whilst I have well and truly reached Financial Independence based on my current lifestyle, I am looking forward to dropping down to 2 days a week in my new non-flying role where I can experience some of the benefits of 'Semi-retirement'.
Whilst the internet early retirement police will probably be quick to point out that this "isn't FIRE" because I am still doing part time work and I'm making income from my websites, I don't really mind and I am happy with the concept of 'Semi-retirement' for now. I don't think I could sit around all day and not do anything, anyway. My ADHD brain would explode!
I am still working towards my 'Family FI' goal of $6,000 per month (after tax), however I have distanced myself somewhat from thinking about the future too hard and am more just trying to focus on enjoying the now rather than imagining the future.
When looking at the investment trust structure, to earn $6,000 per month after tax it will more or less take $6,800 of gross portfolio income. I am sitting at around $5000 out of the $6,800 'passive' income goal, or about 71% of the way to 'Family FI', and most of that is coming from the website portfolio.
My 'Family FI' is actually over double my 'Single FI' figure, so I am fully aware that I have reached my FI number, but still want to continue slowly working towards 'Family FI' by adding to this and the other websites, as well as a small amount of earned income. Thankfully, the investments have well and truly started to snowball, and hopefully they will continue to grow and put me closer to 'Family FI' even with a reduced earned income.
For more information on how I am planning for Early Retirement you can read my dedicated transition to retirement financial planning process article.
Captain FI net worth progression
The net worth progression graph is rather crudely constructed in Excel, but still demonstrates the 'somewhat exponential' journey over the past 13 years.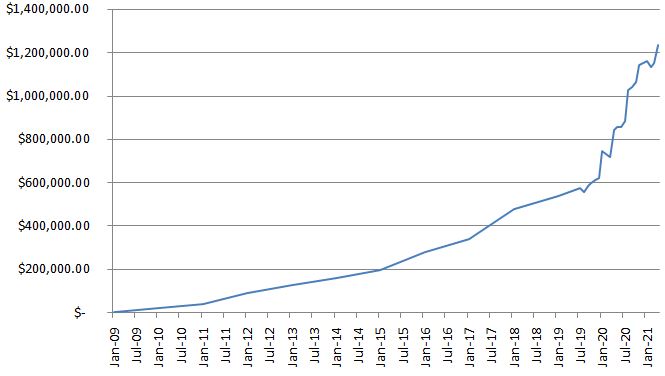 | | | | | | |
| --- | --- | --- | --- | --- | --- |
| Date | Net worth | Difference | Saving Rate | Notes | |
| Jan 09 | $5,000.00 | | ? | Estimate NW based on historical Super, Bank statements and assets at the time | LINK |
| Jan 10 | $24,000 | +$19,000 | ? | Estimate NW | LINK |
| Jan 11 | $40,000 | +$16,000 | ? | Estimate NW | LINK |
| Jan 12 | $92,000 | +$50,000 | ? | Estimate NW | LINK |
| Jan 13 | $130,000.00 | +$38,000 | ? | Estimate NW | LINK |
| Jan 14 | $161,000.00 | +$31,000 | ? | Estimate NW | LINK |
| Jan 15 | $200,000.00 | +$39,000 | ? | Estimate NW | LINK |
| Jan 16 | $281,000.00 | +$81,000 | ? | Estimate NW | LINK |
| Jan 17 | $340,000.00 | +$59,000 | ? | Estimate NW | LINK |
| Jan 18 | $482,000.00 | +$142,000 | ? | Estimate NW | LINK |
| Jan 19 | $542,000.00 | +$60,000 | ? | Estimate NW | LINK |
| Jul 19 | $578,900.00 | +$36,900 | 84% | Finally began tracking NW this like a proper adult. |  |
| Aug 19 | $560,100.00 | -$18,800.00 (-3.2%) | 78% | Share market slight correction, Ok savings. |  |
| Sep 19 | $584,744.88 | $24,644.88 | 72% | Share market rebound, savings rate not so good. | LINK |
| Oct 19 | $600,386.00 | $15,641.12 | 84% | Good saving this month. Normal salary, plus allowances, dividends from index funds, tax refund, eBay selling and was working abroad in asia where things are cheap. | LINK |
| Nov 19 | $612,917.21 | $12,531.21 | 76% | Falling short of my savings goal of 80%. Mostly domestic legs this month with higher costs. Also invested in hydroponics. | LINK |
| Dec 19 | $625,350.00 | $12,432.79 | 76% | Good savings of cash (for development) and investment, however higher spending due to Christmas period (Travel and Gifting). | LINK |
| Jan 20 | $865,212.00 | $239,862.00 | 55% | Super settlement was a HUGE boost to NW. $9K growth from stock market. Expensive month lots with lots of unexpected bills – weddings, travel, Booking flights, fines etc. | LINK |
| Feb 20 | $851,802.0 | -$16,592 (-1.9%) | 52% | Large increase in spending on myself this month, still managed to tuck away $5K to put into shares and property. Corona Virus market scare resulted in a correction and gave NW a small negative trend. Time in the market not Timing the market! Became Single again. | LINK |
| Mar 20 | $819, 354.6 | -$31,806.95 (-3.7%) | 80% | Another small step backwards in the NW due to the 'corona crash' in full swing. FIRE Portfolio of ETF/LICs down about 15% this month, however due to high savings rate and structure of my superannuation annuity the NW is only down 3.7%. Savings rate good at 80%, higher than usual income (with some slightly higher spending, too). Picking up shares on discount – this is the best outcome for someone in the accumulation phase with good income! | LINK |
| Apr 20 | $847,023 | +$27,668 | 85% | $11,000 in rebound of stock market capital prices alone (up 6%), plus first quarter dividends paid (heavily reduced due to banks withholding dividends). Great savings rate due to COVID-19 lock-down = no spend. Increased entrepreneurial efforts and selling down of physical possessions provided side hustle income. Two standard paychecks from flying activity; domestic day trips only so no allowances. All cash unfortunately had to go into the property development due to contract timing, I am chomping at the bit to buy some more index funds before they go back up in price too much – hence why I am selling most of my toys! | LINK |
| May 20 | $857,859 | +$10,836 | 92% | Some Great sales as I let go of my Super Sport Motorcycle, Some gym gear, expensive flying equipment and a few other various bits and bobs and invested this money. Flying still reduced, but increasing from April. The share market grew as I continued to make my fortnightly investments. I also wrote down the 'value' of some of my possessions (liabilities) such as my car, tools and furniture by around $10K to align them to market price ("tell him hes dreaming…!"). | LINK |
| June 20 | $858,650 | +$791 | 90% | Small Net Worth gain as I continue to declutter and simplify my life, despite being off work due to a family emergency. Share market not doing much. | LINK |
| July 20 | $888,218 | +$29,568 | 68% | Majority gain due to share market going back up, low spending due to being on the family farm and at home because of lock down. | LINK |
| Aug 20 | $1,029,293 | +$141,075 | 74% | Became a millionaire. Achieved this massive milestone I set out for myself in Dec 2019. Included unrealised gains in my property development as well as website business. Good savings rate due to not much spending, invested in Aus and total world shares. Investing in my web business. Starting to shift focus away from $$$ and more into looking after my mental health. | LINK |
| Sep 20 | S1,045,486 | +$16,193 | 60% | Officially took time off work for the rest of the year to be close and look after family during major operations. Continued to sell down physical possessions and work on digital business while at home. NW gain mainly due to valuation of websites. | LINK |
| Oct 20 | $1,064,399 | +$18,913 | 80% | Base income (retainer) and leave loading, dividend and websites provided income, as well as raiding my P2P lending capital. Significant bill for property due to design not meeting standards which effectively lowers my equity position, as well as fence being stolen. | LINK |
| Nov 20 | $1,143,433 | +$80,394 | 82% | Big gains came from share market growth (influencing both the Financial Independence share portfolio and Invested superannuation), Business gains (due to increased earnings) and a $30K boost to my annuity thanks to me logging in and checking the fine-print on the accumulation stats. I only invested around $7K. Insane that in one month, I accumulated nearly more net worth than I did in four years from 2009-2012 | LINK |
| Dec 20 | $1,152,920 | + $9,487.32 | 84% | Share market slight drop, Earnings from Business, Contract work, Selling possessions. No share market investments this month (oops! I forgot and money was tight). Invested a lot into the website business this month (way more than planned) and it is still running at a decent loss (plans to turn it cash flow positive in 3 months). | LINK |
| Jan 21 | $1,165,678 | +$12,757 | 79% | Great returns from the share market. Earnings from Business, Dividends, Flying wage, flipping items on consignment. Regular share contribution, investing in micro investing platforms, P2P lending, Investment property and big reinvestment into the business (still running at a loss) | LINK |
| Feb 21 | $1,135,272 | -$30,406 | 76% | Significant write down on property development due to council DA rejection and redesign requiring more money and creating less equity. Offset by small increase to Business value and investments. Simplified my investments and switched over to Pearler. | LINK |
| Mar 21 | $1,155,594 | +$20,322 | 71% | Continued investment into the portfolio as well as growth of investments and business. Gave my notice at work and looking for part time job at home for 'Barista FI' | LINK |
| Apr 21 | | | | | |
CaptainFI Net Worth progression table
Captain FI is a Retired Pilot who lives in Adelaide, South Australia. He is passionate about Financial Independence and writes about Personal Finance and his journey to reach FI at 29, allowing him to retire at 30.