Superhero trading review from an experienced and long term investor. Can you trust this new low cost broker with your share portfolio?
The Good
Cheapest brokerage for Australian shares at $5 per trade
Minimum transaction size of only $100
No monthly fees
Easy to use platform and awesome mobile app
Invest in some ETFs brokerage free
The Bad
Not individually CHESS sponsored (you don't get a HIN)
Can't trade international shares
Can get overwhelmed with trading information
Verdict: Superhero has the lowest brokerage and is a fun way to trade Australian shares. It is like an Australian version of Stake.
Superhero review
Superhero trading is one of the newest Fintech's to move into the Australian investing market, having launched in September 2020. Offering an industry leading $5 brokerage per trade and a minimum trade amount of only $100 (most conventional brokers have a minimum of $500) makes Superhero officially Australia's cheapest Brokerage platform – on par with IG and OpenTrader's lowest brokerage tier, but beating them overall because Superhero is a flat fee for any size trade.
"We are making investing accessible to the younger – there are a lot that feel locked out of the market, so they are going to the higher cost incumbents but they don't really have to any more"

John Winters, CEO Superhero
This article will explore what Superhero is, my experience using the platform, what I learned from chatting to their CEO John Winters, what their company can offer investors, and whether I think it is a suitable share trading and brokerage tool or not for those on the path to Financial Independence.
As of the 9th of March 2021, Superhero abolished fees on the 'Superhero Live account' effectively upgrading all Superhero accounts from Basic to the Live functionality, as well as removing some other fees. They also brought in some new awesome features like being able to invest in some ETFs brokerage free!
CaptainFI is reader supported, which means we may be paid when you visit links to partner or featured sites
Superhero trading review
Superhero claim to be democratizing investing, making it available to everyone without having to resort to micro-investing platforms which actually sneakily have pretty high ongoing fees (which seriously impact your investment return over time). Superhero aims to be a fintech market disruptor, shaking up the Australian investing landscape and helping those wanting to invest but feeling priced out of the market.
With over 300,000 retail investing accounts opened in Australia across all platforms in the first half of 2020 alone, it is clearly a booming industry – maybe it is FOMO (Fear Of Missing Out), 'Corona Cash' handouts, super withdrawals or perhaps it is just TINA (There Is No Alternative) with interest rates so low – but one thing is clear, lots of Aussies are wanting to invest, and Superhero is making it incredibly easy to do so.
Most of these retail investors previously had to make a choice; open a clunky account with a conventional banks investing division and pay eye watering brokerage fees, deal with long waiting times and red tape, and have minimum $500 investment portions (which make brokerage a ridiculous % of your trade), participate in micro-investing platforms (where the catch is high ongoing management expense ratios) or try and find a sweet spot with a Fintech somewhere in between.
Dubbed as 'Australia's answer to Robinhood' (although Superhero's CEO John Winters doesn't really like this analogy), Superhero offers an industry leading low brokerage of $5 per trade and a minimum trade size of only $100, with an easy to use platform to make investing available to everyone – this is actually pretty much Superhero's core motto. They work a little differently to most conventional share trading platforms; their use of automation and new financial technology, as well as modern corporate and financial structures allows them to operate with much lower costs and therefore pass the savings onto their customers.
Debuting in September 2020, Superhero has already had investors sign up in the tens of thousands, all keen to take advantage of Australia's cheapest brokerage. Other brokerage platforms which are kind of similar to Superhero include trading platforms Robinhood and Stake.
"Superhero Markets and Superhero Nominees are both authorised representatives of Sanlam Private Wealth. Accordingly, Superhero acts on behalf of Sanlam Private Wealth."

Superhero – Financial Services Guide
Management and team behind Superhero ASX trading
Superhero trading is majority owned by its founders John Winters and Wayne Baskin, and inspired by the Buy Now Pay Later (BNPL) giants Zip (ASX:Z1P) and Afterpay (ASX:APT), a project that has been over two years in the making. Zip founder Larry Diamond and Afterpay founder Nick Molnar teamed up with finance expert John Winters and Wayne Baskin to raise over (AUD) $25 Million in funding to invest in the project, and appointed John Winters as the Chief Executive Officer.
One of John's key motivations is wanting to modernize the investing industry and how we interact with technology to invest. With extensive experience in the finance, banking and investing industry over the past decade (including working for Macquarie bank as well as other private wealth management firms), he said ahead of Superhero's 2020 launch that he…
"really struggled with how archaic the industry is – It's built for the boomers, and they're in their retirement phase."

John Winters
John saw during his time at Zip how fast paced the company was – they used technology to create and settle accounts in real time, avoiding significant delays experienced with conventional banking and credit industries. He knew this technology could be applied to other sectors, which began the brainchild that was Superhero trading.
What features do Superhero trading offer?
One of the main features that Superhero offers is the ability to trade ASX listed products for less than $500 per trade – their minimum investment is only $100. The only other brokers that offers this is Commsec Pocket, Stake and a few other microinvesting platforms. However these microinvesting or US share trading platforms typically only let you purchase ETFs, managed funds or US shares, whereas Superhero allows you to buy any ASX listed stock.

Superhero offer $5 trades for ASX listed stocks with a Basic account. Initially when Superhero launched, the limitation was that you could only purchase shares at market rate (this means when you submit your buy or sell order, you won't know exactly what they will go for, and you will just receive the floating market rate at the time of settlement). However now Superhero have dropped the fees for Live accounts and have upgraded everybody to this increased membership tier for free. This means you can now also Place Limit orders with a basic account, as well as access Live price data through Superhero.
Superhero Also now offer comprehensive tax reporting through their 'Reports' Feature – a much needed functionality, as well as real time account funding using PayID banking.
Superhero trading Brokerage and Fees
Superhero offer an industry leading unlimited $5 trades on the Australian Securities Exchange with a minimum trade size of $100. Even better, to encourage long term investing there is $0 brokerage on the Purchases of some Exchange Traded Funds (although you do have to pay $5 brokerage if you decide to sell them!).
Also, as of of March 9th update, there is now no monthly account fees, withdrawal or inactivity fees.
There is a $1 fee to BPAY into your account (but PAY ID transfers are free). Of course, you will want to check out all of Superhero's terms, conditions and fees on Superhero's Product Disclosure statement.
So what's the catch? There doesn't really seem to be any big red flags immediately apparent – but overall as a broker Superhero works a little differently to other share trading companies – we will get to this in the CHESS sponsorship section.
Superhero mobile app
Superhero have launched a mobile online trading application, which looks pretty slick! You can view your dashboard (home screen), navigate to their invest tab where you can make investments, view your trading activity, keep tabs on your brokerage account balance through the wallet, and view your profile and reports to track performance and tax liabilities.
Is Superhero trading CHESS sponsored?
I will put up the disclaimer first that I am not a finance or legal professional, genius, or by any stretch of the imagination an expert. I am however a serious investor who is trying to figure out what this means to me and my investments. So, accordingly I spoke at length with Superhero CEO John Winters, as well as Superhero Marketing Manager Rachel Hopping, who explained to me just how Superhero's CHESS sponsorship arrangement works (John and Rachel may have had to explain this section to me a couple of times).
I always thought that CHESS Sponsorship would be a non-negotiable must and one that I definitely look for in a broker. CHESS sponsorship means that your shares are directly registered to you on the ASX register via an individual Holder Identification Number (HIN), and you retain both legal and full beneficial ownership rights of the share, as well as receive corporate fraud and bankruptcy protection through this third party. This is often reasoned online in forums as necessary to prevent a drastic collapse and loss of shareholders investments (and money) like what happened with Opes Prime (a stock lending company) in 2008.
Remember when I said Superhero do things a little differently? They use a form of CHESS sponsorship, but its not in the way many other share trading platforms are…
Superhero is not actually a 'stock broker' itself – they are technically a share trading platform. This is really just semantics, but the ASX reserve the right to use the terminology 'stock broker' to a specific set of 'approved' business partners. Superhero work with the wholesale stock broker OpenMarkets to provide share trading – OpenMarkets provide wholesale brokerage executions using API systems for many retail share trading providers such as SelfWealth, Pearler, Sixpark and Raiz, as well as their own share trading platform OpenTrader.
What Superhero does differently to their competitors is that they collate the days trades and then execute (settle) each line of trade through OpenMarkets at the end of the day. This means they only pay a single wholesale brokerage execution fee for each 'line of trades' (individual share listings), rather than brokerage for every single transaction. In this way, Superhero works on a 'High volume, low fee' custodianship business model, and is able to pass the savings onto investors in the form of $5 trades. This just isn't possible with many conventional share trading platforms.
What Superhero have also been able to do differently is to automate this process. There are some financial services companies such as NetWealth and Hub24 that use similar arrangements, but with high cost overheads from legacy corporate structures and hundreds of employees, these benefits just get absorbed by the company before they can be passed on to customers.
So is Superhero CHESS sponsored or not? Not in the way you might think. Superhero hold an Institutional Holder Identification Number (iHIN) registered with the CHESS sponsored wholesale broker OpenMarkets. They do not provide each investor with their own unique HIN – so your individual shares are not allocated to your personal HIN. Superhero hold your shares for you in their custodian account, where you are a beneficiary in terms with their financial licence.
If Superhero collapses, not having shares allocated to each unique personal HIN means the process of transferring your holdings across to another broker is less clear than what it would be with a conventional CHESS sponsored platform, and is a polarising point of contention for a lot of investors. Rachel provided the following reassurances
"Your assets […] are still held in your individual name and you are the beneficial and equitable owner of your shares. You are entitled to participate in the corporate actions associated with those shares, and should Superhero cease to operate as a business, your shares are able to be transferred to another broker."

Rachel Hopping, Superhero Marketing Manager
It is conjectured that custodian account share structures give these types of platforms the ability to use your shares for various commercial and profit making purposes (such as lending shares out to short sellers and delayed trading for behind the scenes 'margin scalping'). When I spoke with CEO John Winters, he assured me that this could never happen to Investors using Superhero. John passionately explained that;
"Superhero is a highly regulated entity and is licenced to provide custody and nominee services under its Australian Financial Services Licence (AFSL) issued by ASIC. We are required to hold regulatory capital and under no circumstances are we able to access clients funds or assets for our own use."

John Winters, CEO of Superhero.
John then further explained to me that under the terms of Superhero's AFSL from the Australian Securities Investment Commission, they actually had increased regulatory compliance requirements as compared to share trading platforms who issue HINs through third party market participants. This includes reporting requirements, strict auditing and holding significant capital requirements.
When I asked what would happen if Superhero did collapse, John indicated that the shareholdings would default to their wholesale broker OpenMarkets, who themselves are required to hold over AUD $25 Million in regulatory capital. OpenMarkets offer a retail brokerage service called OpenTrader (which also offers $5 trades, but limited to $2500 trade size), so it is possible that your holdings could end up there, or that you would have the choice of receiving the cash value of your holdings, or you could have them transferred to another broker.
However on the opposing view of Custodian investment arrangements, Chris Brycki warned potential investors;
"In the 2000s there was a move towards indirect ownership because it was a way to reduce trading costs, improve efficiency and increase profitability for investment companies.

This typically involved investments being housed by a 3rd party who keeps a log of who owns what. Indirect investments can be commingled or managed under an omnibus account structure.Indirect ownership relies on investors having a contract with 'counterparties' who promise the separation of your investments from others.

The weakness of this model was exposed around the global financial crisis in 2008-09 when there were some well known cases of financial counterparties not being able to meet their obligations and investors losing money as a result. Some of the infamous examples include Lehman Brothers in the US and Opus Prime, Storm Financial and MF Global in Australia."

Chris Bryckie, CEO of Stockspot Investing
Now as I said at the start, I am not a financial expert, this has never happened to me, and I am still delving into Superhero's Financial Services Guide and Product Disclosure Statement for the details, and would recommend you do the same – or at least ask the question of their customer support.
To summarise – the low brokerage fees of Superhero (which are having a tendency to trend the whole Australian investing market in general toward $0 trades in the future) are a result of their custodian shareholding structure rather than a conventional CHESS sponsored HIN issue structure. You become the beneficiary (beneficial owner) of the share rather than its legal owner, and just have to trust that Superhero will act in your best interests in accordance with their AFSL and ASICs regulations. This is something you will have to personally weigh up and decide whether is important to you or not.
For those worried about an 'Opes Prime' or 'BBY' type event with Superhero (Opes Prime and BBY are two recent examples of large Australian financial institutions which have collapsed), John provided me the following reassurance about CHESS sponsorship and Superhero;
"For those still concerned about CHESS sponsorship, my answer is maybe you need to question why would you even want a HIN?

Selling Fear can be a very easy and profitable thing to do in finance, especially when its disguised as conservatism. This is why we see pushy insurance salespeople advocating high cost and sometimes unnecessary products, why bonds and fixed interest securities are promoted and so profitable for issuers, and why some companies are obsessed with promoting CHESS sponsorship as part of their marketing.

Opes Prime was not a broker. It was a stock lending company. It collapsed because it was lending stock out and ANZ sold customer assets to settle its corporate debt. This is vastly different to custody.

BBY issued all clients a HIN. Their stock was held on a HIN when they collapsed. So be careful suggesting an individual HIN is a rock solid, no loss way to hold shares. It's actually the opposite and why IG Markets, Interactive Brokers, Vanguard, Stake, Selfwealth US, ETFs, managed funds, industry and retail super all sit their assets in custody.

At Superhero we have incredibly tight financial regulations which we must adhere to, issued and regulated by ASIC and championed by the Financial Services Royal Commission. Superhero are incredibly aware and astute of our requirements and responsibilities, and have extensive experience including chair-members who actually acted against Opes Prime during legal and criminal proceedings."

John Winters, CEO of Superhero
In the debate of CHESS sponsored vs Custodian shares, ABC news has reported about the rise of retail investments – interviewing Chris Brycki from Stockspot who warned about the risks of custodian investment schemes which whilst do lower the cost of brokerage, raise some important questions about regulation of legal and beneficial ownership of the retail investments. This 5 minute clip is WELL worth a watch.
How to sign up for Superhero trading
Getting an account with Superhero is pretty easy – just head over to their website and follow the bouncing ball. It is a straightforward application process to easily create your account, which can be funded instantly using PayID. Then you just choose the shares or ETFs that you want. You can create an account in as little as 5 minutes, as opposed to the days or weeks you might have to wait with conventional brokers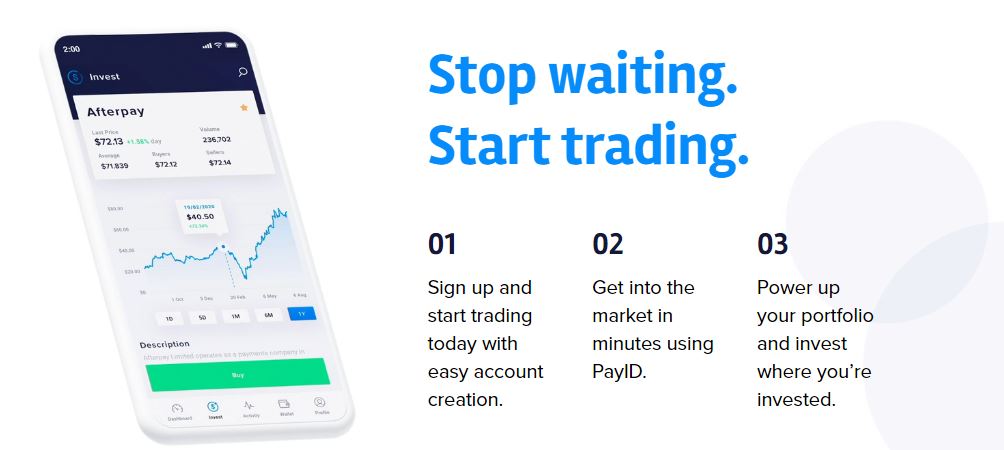 How to invest with Superhero trading
When you sign into your Superhero account, you will be presented with different themes – For examples Renewables, Health etc. This is super friendly for beginners and those who aren't confident with investing, and can be a great way to learn how to get started. Otherwise under the invest tab you can simple search for the particular stock you want to invest in.
Personally though, I choose to invest in good quality, low management fee ETF and LICs in accordance with my personal financial Independence Investing Strategy, so I usually try to steer clear of owning direct shares or specific themes of shares myself.
Making a trade is very easy – once you have funded your account (either BPAY or PayID transfer to your account details provided when you open the account) you can start browsing or individually select your stock, ETF or LICs ticker code.
You can invest using market orders, which means you will pay whatever the floating market rate is for that stock at the time, or set up a limit order, which means you know exactly how much you will be buying (or selling) that particular stock for.
The trade gets entered into Superhero's system using their Best Execution Policy, and Superhero then settle all trades at the conclusion of the business day.
As a cusdodian ownership agreement, Superhero then holds the stock on your behalf under a special 'Company Holder Identification Number (HIN)' organised by the ASX, and it will appear in your Superhero account. You are a full beneficial owner of the share.
As a beneficiary of the share under their custodianship, you receive all corporate rights and dividend payments from the share, as well as have the right to sell the share through Superhero if you ever so choose to.
I chose to invest in 'HACK' the Betashares Global Cybersecurity ETF. I put in 'minimum chips' of $100 to test it out, and this particular ETF was brokerage free. I got 11 units for $92, and the balance of my $100 stayed in my investment cash account. As you can see, this has currently grown by nearly 4% which is nice, and kind of what I would expect over a couple of months.
Captain FI's Superhero Trading review
I'll be completely honest though – I didn't invest in HACK through Superhero because I wanted to – I just did it to test out Superhero. I had previously accessed the app through a friends account in order to test it and gather information for my review, but was asked by the team at Superhero to sign up to it myself and give it a go.
I was actually quite pleasantly surprised by how well it works. I was initially very dubious of Superhero due to the whole custodian arrangement, however the whole sign up, funding and purchasing of the share was very quick and streamlined, and its probably the easiest share trading platform I have used in terms of the user experience (UX). So they have done a pretty fantastic job designing their webpage and app interface.
I still haven't tested the 'sell' experience but will have a go at doing that over the next few months and then report my findings here.
Whilst I am still personally not going to be throwing 'All my eggs in this basket' for my Financial Independence portfolio, I think it is a very easy, fun and quick way to invest.
Given the minimum investment amount is only $100, I think Superhero shoots to the top of my list as one of the best beginner investing platforms or microinvesting platforms for people who want to get started learning about investing – especially when you use it to buy one of the brokerage free, broadly diversified ETF offerings.
The decision as to whether you are comfortable using Superhero and its custodian arrangement for beneficial ownership (versus a traditional CHESS sponsorship model) long term is probably worth looking at once you have a significant sum of money invested through the platform. But really this isn't a big issue for beginners using it for microinvesting or for small amounts anyway.
Frequently asked questions about Superhero Trading
Answers to some of the most frequently asked questions about the Superhero Trading platform.
Is Superhero trading safe?
When trading with Superhero, your shares are held under an institutional HIN ('iHIN') with the ASX CHESS database. This makes them better than many managed funds, but not as straight forward as if held on your individual HIN as per standard ASX CHESS sponsored brokers such as Pearler.
Superhero manage your investments via a custodian model, which is the trade off for slightly cheaper brokerage. This means your assets are effectively held with other investors assets on Superhero.
To clarify any potential risks to your assets and the safety of Superhero, Rachel Hopping (Superhero Marketing Manager) provided the following assurance;
"To suggest Superhero mixes up investor assets is misleading and incorrect. The assets of each client are held in individual client accounts. Client assets of failed broker, BBY were all held on individual HINs. Same goes for Commsec which was recently sued by ASIC for mixing up customer assets, despite individual HINs."

Rachel Hopping, Superhero Marketing Manager
Superhero ASX review
Superhero is a new fintech offering low cost $5 trading of ASX shares. To read the full review check out the CaptainFI superhero trading ASX review article.
What is better – Selfwealth vs Superhero
Selfwealth is a CHESS sponsored online share trading platform and Selfwealth trades execute immediately, whereas Superhero uses a custodian model to get cheaper brokerage and executes trades at the completion of the business day. I personally prefer Pearler over Selfwealth which is a CHESS sponsored investing platform with automated investing tools.
What are superhero fees
Superhero trading charge $5 brokerage on trades, and there are no monthly costs or inactivity fees.
Is Superhero CHESS sponsored?
Your investments through Superhero are not individually CHESS sponsored – your do not have an individual investor holder identification number (HIN) and instead your shares are legally held in custody by Superhero for your beneficial ownership.
Superhero holds an 'Institutional Holder Identification Number' on the ASX CHESS registry through OpenMarkets, and manages all individual shareholder investments themselves in order to reduce costs.
This is not an entirely new concept – as explained by Rachel;
"It would be helpful for people to know that IG Markets, Interactive Brokers, Vanguard, Stake, Selfwealth US, ETFs, managed funds, industry and retail super all sit their assets in custody.

Rachel Hopping, Superhero Marketing Manager
What is the Superhero minimum trade
You must trade a minimum of $100 using superhero trading
Who owns superhero trading?
Superhero trading is majority owned by its founders John Winters and Wayne Baskin, and Nick Molnar and Larry Diamond are also personal investors. They raised over $25 Million in pre-IPO funding round by institutional investors, however John and Wayne maintain a controlling stake in Superhero. Superhero has a board of directors which decide all major business decisions.
Summary of Superhero trading review
Superhero is one of Australia's cheapest share trading platforms at only $5 per trade for Australian listed stocks (ASX) with a minimum trade size of only $100 rather than the conventional minimum $500 with other brokers.
Superhero is very user friendly – it is easy to get started, make an account, PayID transfer in and get started trading that day. It makes it a very attractive option for new or young investors, especially if you have only just discovered about Financial Independence.
As a minimalist trading platform, Superhero doesn't have a lot of the features that some other brokers tend to offer. It lacks conditional orders, detailed stock analysis and ratings – but this is a very good thing. Superhero could be a great no frills option for those of us starting on the path to Financial Independence who want Australia's cheapest brokerage. We can't control the market, but we certainly can control the fees we pay along the way!
I personally applaud their minimalist style, which helps cut all the bullshit out of investing since realistically no smart investor would ever get their investing information through a broker or share trading platform anyway. Informed long term investors will research their investments thoroughly and conduct due diligence 'off-platform' such as reading a prospectus, annual reports and statements from the companies that have been vetted by financial regulators (like ASIC). And of course, expert investors just ignore everything and buy the total market through indexes anyway!
Honestly, all you really need from a trading platform is literally a way to buy the share with as low brokerage as possible, nothing else. So in my mind, Superhero ticks a lot of boxes here. Especially for their brokerage free ETFs
The major decision point here is whether you are comfortable with their unique version of CHESS sponsorship and custodian shareholding arrangement. Remember, it is: Your money – Your move!
P.S. – you can use a free Sharesight account if you want accounting functionality to track your Superhero shares and tax liabilities
Do you use Superhero or have you been researching it for shares trading? Let us know your experience in the comments below!
Competitors of SuperHero trading
So what about the competition? Superhero offers an industry leading price, but they don't provide individual CHESS sponsorship for your investments – which offers less certainty when compared to Superhero's main competitor in the Financial Independence investing space – Pearler and Selfwealth
Pearler, founded in 2018, fills the niche role of a share trading and stock brokerage platform for those on the path to Financial Independence with its $9.50 trades and automated FI investing features. Pearler's crowning 'Pearl' in my mind, is its Autoinvest feature. This lets you automatically invest in shares (such as the ETFs and LICs we know and love) so you can put your investing on auto pilot and cruise toward Financial Independence stress free.
Because of my inability to maintain a disciplined manual investing strategy, I have switched to using Pearler to automate my share market investments.
SelfWealth is an Australian online discount broker which is CHESS sponsored.
SelfWealth has flat $9.50 trades, which makes it one of the cheapest brokers around and provides what I think is industry leading service. It covers all the basics of what you need and even provides interest on its linked cash trading account which is run through ANZ bank. It is worth noting that most other brokers charge a percentage fee which means that you could be paying hundreds or even thousands in brokerage for bigger trades, as opposed to SelfWealth's flat $9.50 trade. You can use SelfWealth to buy any share listed on the Australian Stock Market (ASX). This includes ETFs for other markets, meaning yes, its possible to own shares in every company in the world through one low cost investment vehicle purchased through SelfWealth.
If your interested about starting a SelfWealth account, or transferring your holdings to Self Wealth, Check out my comprehensive review here.
Want to know which stock broker I personally use? Check out my monthly Net Worth Updates as well as my Personal Resources page where I share all of the tools I use to reach Financial Independence.
Captain FI is a Retired Pilot who lives in Adelaide, South Australia. He is passionate about Financial Independence and writes about Personal Finance and his journey to reach FI at 29, allowing him to retire at 30.