IG provides access to a diverse range of financial products with competitive brokerage rates for conventional share trading. IG is not a financial advisor and all of its services are provided on an execution only basis.
Founded in 1974 in the United Kingdom, IG Markets has since grown into a global share trading platform with headquarters in over 13 countries. IG Markets claims to be the biggest trading platform by volume, providing almost a quarter of a million individual and institutional (corporate) investors with access to over 17,000 markets and 24 hour indices.
This article will review IG Markets, and explore whether they are an appropriate and cost effective share trading platform for those on the path to Financial Independence.
IG Markets
IG markets provide access to a diverse range of financial products, but those on the path to Financial Independence are mostly looking at IG for its basic share trading features and will steer clear of the rest. This is so we can buy and hold conventional shares, like the low fee ETFs and LICs we know and love!
Basic share trading is a relatively new addition to IG Markets, who previously specialized in CFDs (Contract For Difference) which are speculative derivative investments, as well as FOREX (Foreign exchange) trading and options. IG Markets main product is still CFDs, which are speculative investments where people bet on price movements across different markets and asset classes… This is something I personally stay away from.
Where did IG Markets come from?
IG Markets was founded in 1974 in the United Kingdom, but his since grown and now has corporate offices in over 13 countries as well as providing access to basic share trading in 5 major markets (Australia, USA, UK, Germany and Ireland) as well as over 17,000 CFD and FOREX markets..
IG markets give investors access to trade on some of the worlds biggest stock markets; the Australian, US, UK, German and Irish stock markets.

In this way, you can invest directly in over 13,000 shares and ETFs including over 2185 Australian, 3500 US, 2600 UK, 765 German and 50 Irish stocks.
Of course, my favored way of investing is to simply own them all through ultra low-cost Exchange Traded Funds!
On IG you can buy ETFs that track the ASX200, ASX300, S&P500, NASDAQ100, FTSE100 and many other indexes such as small cap or industrial indexes.
Starting to sound too complex? You can actually own a majority slice of all global markets with a fairly simple construction of three ETFs, and I show you exactly how I do this in CaptainFI's Investing Strategy.
Brokerage fees of IG Markets
IG Markets provide very competitive brokerage rates for share trading on Australian shares. Their fee structure is fairly and based on your trade frequency.
IG Frequent Trader brokerage
If you trade at least three times per quarter, you receive a very favorable discounted brokerage structure for Australian listed shares as the greater of either $5 or .05% of the trade.
This fee structure is try and encourage more frequent trading, but as far as I can see, buying and holding ETFs once per month (at least three times per every four months) would still qualify you as a frequent trader and give you access to the discounted brokerage.
Using our '1% max brokerage rule' you would only need to invest $500 a month to achieve this, but a more 'realistic' investment for those on the path to Financial Independence is likely in the order of a few thousand per month – making the brokerage fee only a quarter of a percent, and one of the lowest I have ever seen across any brokerage platforms for Aussie shares.
Of course, there is 'zero' brokerage for international shares – you can buy and sell US and international shares at $0 commission! the only catch here is that you pay IG Markets a .7% currency conversion fee as well as their FOREX rates, which depending on market conditions and the strength of the dollar could mean paying a hefty premium for access to international shares at the time.
"For relevant transactions, we will convert currencies at the time of execution based on the best available bid / offer exchange rates, plus an admin fee of just 0.7%."

IG Markets
IG infrequent Trader brokerage
If you trade less than three times per quarter, you lose the discounted brokerage on Australian shares – but international shares are still brokerage free.
The cost of buying Australian shares rises to $8 commission, or 0.1%, which ever is greater – which I think would still be a pretty good deal if it were not for their $50 'quarterly subscription fee' which is charged if you make less than three trades per quarter. My solution – stick to buying ETFs each month and you won't fall into this category.
IG Markets and the W8-BEN-E Tax form
A word of warning on the Dreaded W8-BEN-E form – if you don't supply a correct and updated W8 (or W9) form to IG Markets prior to a dividend being announced for one of your US holdings, you will get schwacked with a US $50 fee. IG will notify you if you need to supply the form beforehand, so its not just as simple as completing it through your registrar like with other brokers.
"We charge a US$50 fee on accounts which have not supplied a mandatory W-8 or W-9 form prior to the dividend ex-date of a qualifying trade on a US-incorporated stock. We do not apply this fee to accounts with up-to-date documentation or accounts which have not entered into qualifying trades. We will notify you if you have entered into a qualifying trade and need to complete a form."

IG Markets
Does IG Markets have CHESS sponsorship?
IG Markets are registered with the Australian Securities Exchange using a custodian model sponsorship in Australia through Citibank finance. They are not CHESS (Clearing House Electronic Sub-register System) sponsored directly by the ASX and therefore hold the shares in your name through a custodian model. It holds a derivatives issuer licence from the New Zealand register. I would personally prefer to see them adopt CHESS sponsorship on the ASX.
Does IG Markets let me trade on Margin?
Currently no, you cannot trade shares on margin with IG Markets. This is a good thing!
IG Customer support
Some critics of IG Markets have complained that their customer support is less than stellar, however IG offer round the clock 24 hour support (except for Saturday mornings on AEST) via both phone and email. I personally thought their customer support was pretty good when I contacted them without even being an existing customer!
Additional features of IG Market
As mentioned earlier, most of us are interested in IG markets for their basic share trading feature which we can use to buy conventional shares and listed ETFs. However, IG Markets also allow investors access to the following additional markets;
Foreign Exchange
Contracts for Differences (Derivatives similar to 'futures trading')
Indices
Commodities
Cryptocurrencies
Options
Bonds
Binary options
Interest rates
Further, IG allow investors the option of using a demo account so they can get experience before trading live for the first time. In this respect, I feel that IG might have moved into conventional share trading and offer such low brokerage as a way to attract additional investors into the platform with the hope that they might eventually move across to using the more complex and dangerous high frequency trading side of the house.
IG Markets Mobile app
IG markets have a mobile app which supports both Apple and Android smart phones and tablets.
How to sign up for IG Markets
Signing up for IG markets is pretty straightforward. I went to their homepage and followed the bouncing ball to create a personal account. You can set it up and provide all necessary documents in under an hour or so, and it will take a few days to be reviewed and activated.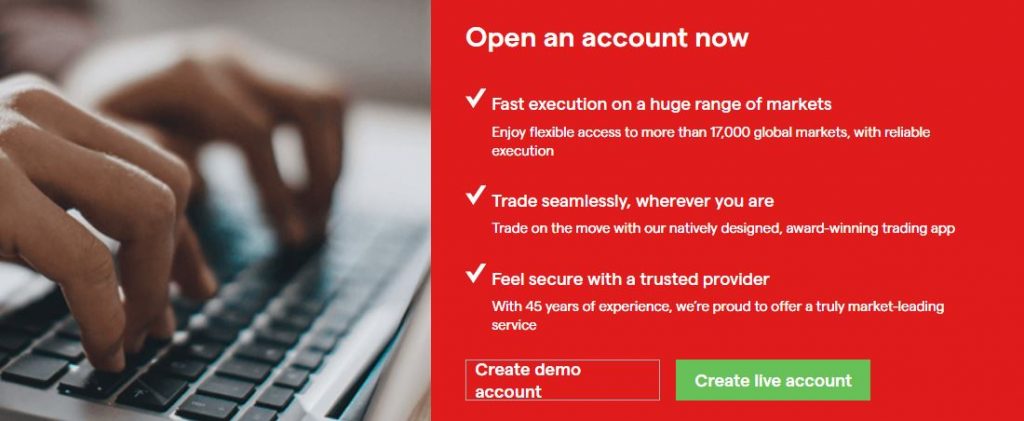 You can create the following forms of accounts with IG Markets;
Personal Account
Joint Account
Corporate Account
Trust Account
Self Managed Super Fund Account
For most of us, setting up a personal account is the way to go. After you select 'Create Personal account' you are directed to the following screen
Fill in the bouncing ball to continue, and when you get to choosing your accounts select 'Share trading' – I personally am staying as far away from CFD and FX trading as I possibly can.
They do ask some interesting questions though, and I'm sure you might have some fun answering them like I did.
This took me about half an hour to complete because I wanted to take my time and read the fine print. There is nothing too onerous in here and it is full of the standard questions and details you would expect from a financial services provider.
How to trade with IG Markets
Once my account gets activated and verified, and I have transferred across some Money, I will update this to show a user guide of how to make trades with IG Markets. It is pretty straightforward from everything that I can see though.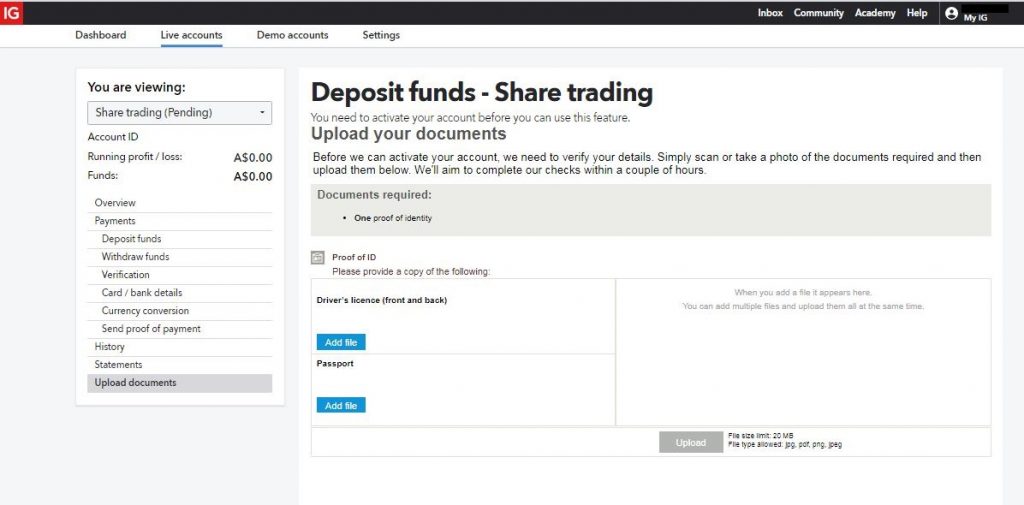 Conclusion
IG Markets offer competitive brokerage and a simple shares trading platform for those on the path to Financial Independence. IG gives investors access to both domestic and international markets with direct access to Australian, US, UK, German and Irish stock markets. You can easily use IG Markets to create your own diversified investment portfolio with strategic use of a few key ETFs, but you also get the option to choose to directly own shares in individual companies from some of the worlds biggest markets – something which many other brokers don't offer.
Want to know which stock broker I personally use? Check out my monthly Net Worth Updates as well as my Personal Resources page where I share all of the tools I use to reach Financial Independence.
Do you use IG for shares trading? Let us know your experience in the comments below!
Captain FI is a Retired Pilot who lives in Adelaide, South Australia. He is passionate about Financial Independence and writes about Personal Finance and his journey to reach FI at 29, allowing him to retire at 30.