SelfWealth review from an experienced and long-term investor. Find out if this low-cost broker is right for you, and whether you can trust them.
SelfWealth is an online share trading platform that lets australian investors buy stocks on the Australian Securities Exchange for a $9.50 flat-fee brokerage. SelfWealth is one of the cheapest and easiest-to-use online brokerage tools for Australians on the path to financial independence (and actually interested in personal finance), and one of only a few brokerage platforms to offer flat-fee brokerage (i.e. the price does not scale with the size of the trade).
This article will review my experience investing with SelfWealth over three years, explore their most useful features, explain how to sign up and use the platform, and provide a reflection on whether they are an appropriate tool for someone on the path to financial independence. It also explains why I no longer use SelfWealth and why I switched to Pearler to automate my investments.
If you want to listen about SelfWealth rather than read, check out the CaptainFI Podcast SelfWealth Interview where I talk to Jarrod from SelfWealth.
SelfWealth: The Good
CHESS sponsored – asset protection through ASIC, ASX and OpenMarkets
Cheap brokerage – $9.50 flat-fee online trading
Access all Australian and US listed shares and ETFs
Easy to use and excellent mobile app
No-frills service keeps costs low for clients
Easy integration to Sharesight using email trade confirmations
ANZ cash account linked to trading accounts
SelfWealth: The Bad
No automation options are available
Slow customer service
AUD to USD conversion is expensive
SelfWealth premium creates comparison anxiety and encourages trading
Wealth check score, safety rating and member ranking are irrelevant and potentially misleading for beginner investors
Portfolio tracker does not factor dividends or stock splits and is potentially misleading – must use Sharesight for accuracy
Verdict: SelfWealth is good, but read on to find out why I switched to Pearler
This website is reader-supported, which means we may be paid when you visit links to partner or featured sites, or by advertising on the site. For more information please read my Privacy Policy, Terms of Use, and Financial Disclaimer.
Captain FI readers can head to the 'Financial Independence Chat Australia' group to ask for a bonus sign-up code from other users for 5 free trades valued at $47.50
SelfWealth was established in Australia by Andrew Ward in 2012 as a FINTECH (financial technology) start up that offered a new solution to the age-old investment dilemma – how do I invest smartly without losing a bunch of my cash to transaction costs and brokerage fees?
By using modern technology and adopting modern business practices to suit today's investors needs, SelfWealth is able to offer an industry-leading flat fee brokerage cost of only $9.50, regardless of the size of the trade. This makes SelfWealth a low cost platform and disruptor in the stock broker industry which traditionally charges a sliding scale or percentage brokerage fee.
SelfWealth has since even listed on the Australian Stock Exchange. SelfWealth works in partnership with the Australian stock broker OpenMarkets, which provide CHESS sponsorship for your SelfWealth trading accounts. Selfwealth is regulated by ASIC, and holds an australian financial services licence.
Opening your very own trading accounts with SelfWealth is quick (especially if you have an anz bank account), and is easy to use for both novice and seasoned investors alike.
SelfWealth features
SelfWealth offers both a conventional website client browser-based login as well as a secure phone/tablet application, which provides real time pricing of share market data. Although, the only feature you should really care about is SelfWealth's website. Once a month you should log into your trading accounts, buy your ETF, and then log straight back out, close the laptop and walk away!
SelfWealth offers information such as a 'wealth check' and a 'safety rating'. Personally I wouldn't pay any attention to those. If you've got a core foundation of diversified index tracking ETFs, then you're on the right track and don't need to compare yourself to anyone else.
SelfWealth has $9.50 flat fee CHESS sponsored brokerage
SelfWealth offers a flat-fee brokerage of AUD $9.50 per trade for australian investors. They don't charge percentage transaction costs of your trades to claim higher fees, and there are no ongoing monthly fees or other commitments for the basic profile. There are other brokers that advertise $5 trades, however they are not flat fee (only valid for small trades) and others are not CHESS sponsored.
CHESS sponsorship – SelfWealth is CHESS sponsored through OpenMarkets
You've probably heard about many micro-investing or stock brokering companies like Raiz Invest, CommSec Pocket, Spaceship or Stake. There are international ones too like Robinhood. They are great for getting started in investing, however most of them aren't CHESS sponsored. You can read more about micro-investing here.
Being CHESS sponsored through OpenMarkets means the ASX keeps tabs on what's happening within the company, and provides the company's customers with a unique holder identification number (a HIN). This means YOU directly own the shares, and NOT the company – rather than being a beneficial owner; ergo if the share trading platform goes bust, you don't lose your shares as you have legal ownership of the shares (you actually own investments)
SelfWealth doesn't spam my inbox
SelfWealth doesn't spam my inbox and they don't try and scare me into trading more often. They send out one or two emails a week with trading updates and your weekly performance and that's it.
SelfWealth has won many awards
SelfWealth won Money Magazines 'Best of the Best Award' for cheapest online broker for australian investors for three years running.
They have also won numerous awards such as Optus business awards FINTECH business of the year, the IFA Excellence award Innovator of the year and the Australian business Awards software innovation award.
SelfWealth is now a mature FINTECH start up that has brought the fight to the big banks, and is challenging the status quo of how people individually invest.
SelfWealth has an integrated cash trading account backed by ANZ
SelfWealth users will automatically get a linked ANZ cash trading account which is easy to use. Just like any other account you receive a BSB and bank account details in order to transfer money into it. Transferring money out is just as simple, and is done using the SelfWealth online browser or app. You can transfer money out into any nominated linked external account.
Some people find this a little clunky since it does take a few days for cash to transfer in both directions. This means you'll need to plan your investments in advance before you start trading.
You can have dividend payments set up to go into your ANZ cash management account to make it easier to invest, or you can send them to your other bank accounts.
Why I switched to SelfWealth
I initially switched from CommSec to SelfWealth after hearing about it from the Aussie Firebug using it to set up his target portfolio, and learning just how much cheaper it is – they were half the price for brokerage. SelfWealth has one of the lowest brokerage prices in Australia, and is a very simple and easy to use platform. SelfWealth has a simple to use and eye-pleasing website and phone app, but what really interests me is the industry leading price for CHESS sponsored holdings.
Overall, I was quite satisfied with their service in general and SelfWealth offers everything I would expect from my broker.
Rather excitingly though, a new competitor to SelfWealth has emerged, enabling fully automated, CHESS-sponsored investing for exactly the same price. You can read about why I switched to Pearler to automate my investments.
As a quick summary – I reviewed all of the trades I made with SelfWealth over 3+ years, and found that despite my best efforts I could not stick to my enhanced dollar cost averaging investing strategy. My human brain let me down, and caused me to hesitate whenever the market went down, and to rush in whenever the market went up due to FOMO. Exactly the opposite of what I should have been doing!
I consider myself pretty well educated and fairly disciplined – several postgraduate qualifications, started and run several businesses, years of investing experience and a net worth over 7 figures – yet somehow I was unable to stick to an EXTREMELY BASIC investment strategy. Call it the human condition? So hence, I have stopped manually buying shares through SelfWealth, and have let Pearler Autoinvest take over and simply debit my bank account each fortnight.
Despite my switch, this SelfWealth review still remains useful for anyone considering using this low-fee, online share trading platform.
2021 Update: I now use Pearler to automate my investing
How to sign up to SelfWealth
Signing up to SelfWealth is pretty straightforward. It's totally free and you don't even have to transfer any of your holdings across if you don't want to – you can start a completely new HIN and list of holdings.
Bear in mind, the process is not instant due to strict government anti money laundering regulations. Their process takes a few days as the required checks and balances need to be done. Personally, my SelfWealth account took 4 days to set up, and I had settled my first share purchase within the week!
Information you will need for an online SelfWealth application
Before you start the application process, you will need to make sure you have the following personal information details ready
Types of SelfWealth accounts you can create
There are a few different options when completing the online application, depending on your personal circumstances.
Steps to open a SelfWealth account online
Find a SelfWealth bonus sign up code and enter the site through a link
Register your details; enter your contact details, create an account password and review and accept the terms and conditions
Verify your email by clicking the verification link sent to you by SelfWealth
Complete the online application
Buying shares using SelfWealth is easy. I'll give you a step-by-step example of how to use SelfWealth to buy shares, in this case some Vanguard total US stock market index fund ETF (ASX:VTS) shares.
Step 1 – Log into your SelfWealth account
Open up the SelfWealth homepage on your desktop and click 'login' in the top right-hand corner. Once logged in, head on over to your Dashboard on the left-hand side of the page – under 'Trading' select 'Place Orders'
Step 2 – Place a buy order on SelfWealth
Clicking 'Place Orders' will open up a screen 'Place Orders – Buy and Sell'. To place a trade for a specific ETF, enter the ASX 'short code' or the ETF name in the 'Search Stock: Code or name' bar.
In this case, we are going to place an order for VTS – Vanguard's total US market stock fund ETF. We type 'VTS' into the search stock bar, and select 'Buy' which populates the Quote tab on the right-hand side.
Fill out the quantity tab (100 selected here) and then select 'Limit' for your Price type. The limit price ensures you don't buy anything above this price (and similarly, when selling a stock ensures you don't sell anything below this price).
Limit orders are the sensible price type to use – market orders will mean your cost fluctuates with supply and demand – it could cost you more or less (the ASX is obliged to give 'everyone' the best deal they can and settle on a fair price).
Note that now the Quote tab on the right-hand side is now populated – 100 shares at $220 per share now shows you a cost of $22,000 plus $9.50 brokerage.
Simply play around with the 'Quantity' and 'Price per unit' tabs until you are satisfied with the deal. When you're ready, click 'Review order' which will take you to a confirmation page. Simply then confirm the order to make it go live.
Your order will now be placed in the queue at the Australian Securities Exchange, and when a seller is matched to your buy order, the trade will be executed and the shares will transfer to your name, and the money will be deducted from your brokerage account.
Hot tip: make sure you have enough money in your brokerage account to settle the trade (don't worry, this is a self-correcting error as it won't let you make the trade if you don't have the cash).
Step 3 – Settlement of your trade on SelfWealth
The trade normally takes T+2 or 2 days to settle, by which time you will get a confirmation from the share registry that the shares are now listed in your name and you will be asked to confirm your details, link a bank account and whether you wish to participate in any Dividend Reinvestment Plan (DRP) if its available for your ETF.
Since VTS is a cross-listed fund domiciled in the US, you will need to fill out a W-8BEN-E form to send to the US Internal Revenue Service. Australia and the United States have a tax treaty, and this form will stop you getting taxed at the full rate by both countries. Your share registry will facilitate this submission and many have templates that are super easy with informative guides on how to do so.
This is optional, but it is good practice to keep a record of your trades for tax purposes – you need to be able to calculate your share cost base if you ever sell for capital gains tax purposes.
I personally use Sharesight since it's totally free if you have under ten shares (making it perfect for ETF holders). It fully generates a complete tax statement for all of my share purchases, sales and dividends I receive. Sharesight can also import your SelfWealth data making it super easy.
You can check out the comprehensive review I did on ShareSight Here.
You can use Sharesight's email trade confirmation importing tool – SelfWealth sends an email directly to an inbox created by Sharesight, and your share purchases automatically get added to your Sharesight account! It literally does not get any easier than this!
Having issues using SelfWealth?
If you're having trouble buying shares using SelfWealth, you can take advantage of their helpful support team.
BLUF: Don't bother with Selfwealth international trading (US share trading)
As Jarrod From SelfWealth recently announced during the CaptainFI Podcast SelfWealth Interview, SelfWealth now offers US share trading. When the team from SelfWealth reached out and asked if I would beta test the platform for them of course I jumped at the opportunity. The following was what I found out.
To open a US share trading account with SelfWealth I was required to submit a W8-BEN-E form to the US IRS (tax department) which is standard for any US share trading platforms.
As you can see under the sidebar below the Portfolio tab, there is a new toggle to switch between AUS and US portfolios. I transferred AUD$1000 across to my USD portfolio. After that, the process is identical to buying an ASX listed stock, but of course you need to toggle over to your US portfolio and have transferred AUD-USD beforehand.
I bought a few Apple shares, and after waiting a few months experimenting, I eventually sold these shares to take a 'nice' 10% profit (14% capital gain less 4% currency loss on the USD to AUD front).
But how did that actually work out, and did I really make 10%?
So, what was my profit? In the end it was AUD$56.10 (USD$43). It started at USD $118 in terms of the actual trade profit – which should have been AUD$153.
After factoring in USD$19 of brokerage (AUD$25) since SelfWealth didn't let me use my free trades for US trading, $11 in currency conversion fees of 60 basis points (0.6%), and then a currency fluctuation of USD $45 (strengthened Aussie dollar), I actually walked away with USD$43 profit, or about AUD$56.
Now I am liable to pay full capital gains tax on this event – roughly $20 or so. So my net profit is $36, and an accounting nightmare, for about an hour worth of work. Bottom line – don't bother stock picking or trading shares – it is a total mug's game and most of the time you lose money.
If you wanted to use the SelfWealth US share trading to get exposure to index funds at low prices, you could check out the VTI index fund ETF. Some of the Index fund ETFs listed on the US stock market have lower MERs than on the ASX – however there ARE issues with foreign ownership and tax meaning I prefer to own them through the ASX listed funds. Also I am currently purchasing VTI anyway which is actually brokerage free using the Stake microinvesting platform.
In summary: If you REALLY wanted to buy individual US shares like Apple, Tesla etc, then you can certainly do this through SelfWealth US share trading, but personally I wouldn't bother.
SelfWealth Premium review
BLUF: Don't bother with SelfWealth Premium
When I first signed up to SelfWealth, I got access to a trial of SelfWealth Premium – but of course I promptly ignored it because I thought it was just 'noise'. Since I am helping the team out with their US share trading beta test, they also gave me an extended trial for SelfWealth premium so I could give it a proper look over and write up my thoughts here.
SelfWealth Premium portfolio analysis
The first thing I wanted to do was look over my portfolio analysis. A quick look over the past 12 months showed some interesting patterns about when I bought versus portfolio performance. Interestingly enough, you can see I pretty much bought consistently throughout the year. Interestingly, not as frequently as I had originally planned. Ideally, I would be making a shares purchase each fortnight as soon as I got paid my wage – but it looks like I typically make one purchase a month.
Also, after the COVID-19 crash I saw my LICs all trading at premiums to the net asset value, so I sold them and moved into ETF holdings which I reasoned let me cash in on their popularity and switch to an efficient lower cost ETF while avoiding any tax burden.
Interestingly, it looks like I bought my VTS shares right at the bottom of my portfolio dip. I had also bought them two months prior, close to the top before the 'crash'. I also bought them throughout the recovery. This is one of the benefits of regular investments, the benefit of dollar cost averaging. If anything, this is strengthening my strategy to just ignore the noise of the market and continue to make regular investments into the share market (into ETFs) whenever I have the money.
I think this is a really cool tool that shows you graphically about your investing habits.
SelfWealth Premium indexes
The next thing I wanted to check out was some of the SelfWealth indexes. I don't fully understand these, but there is an option through SelfWealth where they actually prompt you on how to align your portfolio with any of these. You can actually choose any of these as a target portfolio, and then compare your portfolios performance against it.
To keep things in line with my ETF focus, I thought I would check out their ETF index option. This is the 10 most popular ETFs held by SelfWealth members, which is currently broken down into the following;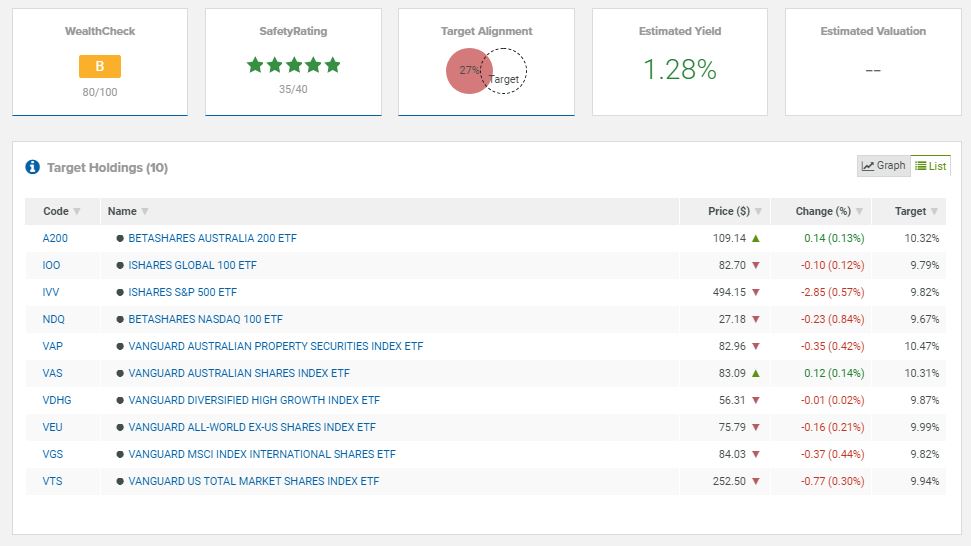 When I used the comparisons tool to have a look at how the SelfWealth index performed against my portfolio (and against the ASX300), it shows my portfolio (green) sits somewhere between the market (purple) and the target ETF portfolio (blue). Nice to know I was outperforming the market, but sad to know someone else was doing better than me (hmm the classic investor greed predicament!).
The SelfWealth Premium 'Align with Target Portfolio' tool told me that in order to reach this target portfolio, I would need to make 11 transactions – at $9.50 per trade.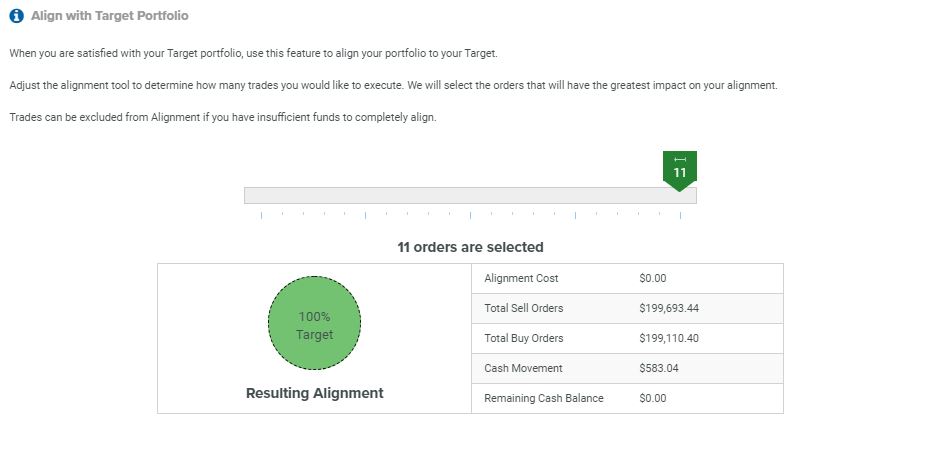 SelfWealth premium then breaks this down even further with an exact list of transactions I would need to make to align with this index with the 'Buy and Sell orders' page.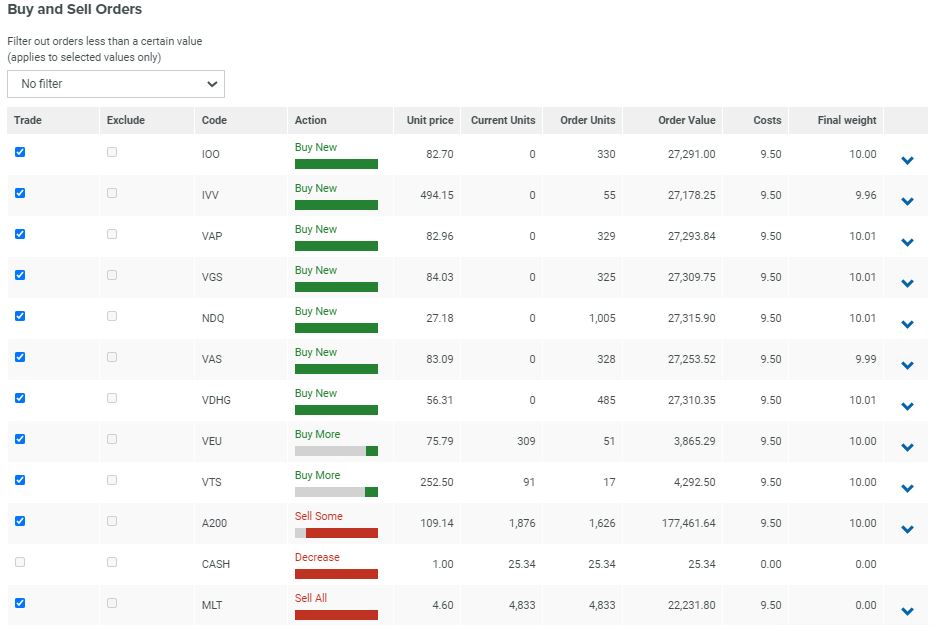 Now, I have had a look at pretty much all of these ETFs, and I have a 27% alignment with this portfolio because I hold Betashares A200 and Vanguard VEU and Vanguard VTS Exchanged Traded Funds.
I have also previously held the Blackrock iShares IVV and Vanguard VAS ETFs, however I sold them due to overlapping holdings (i.e. VTS and A200 cover this market exposure for me). I don't need to hold overlapping holdings because I am pretty confident these companies are not going to go bust, and even if they do – I still own the underlying holdings personally, so I can just switch across to the other ETF provider.
I have not held but I have written extensively on the Vanguard VDHG and the Vanguard VGS Exchange Traded Funds, including why they are not for me and why I choose to 'roll my own' using A200, VTS and VEU. However, depending on your personal circumstance they could be an awesome choice!
I have not written on IOO, NDQ but I may do so in the future. I have briefly looked into them for my own personal reasons, and based on this brief analysis decided that they were not for me. This is due to high management costs, and very top-heavy exposure – IOO and NDQ are both top 100 ETFs (IOO is global, and NDQ is top 100 US) but have very similar holdings.
Finally, VAP is Vanguard's property ETF – which basically holds a bunch of Real Estate Investment Trusts. I have more than enough exposure with my investment property and when considering whether or not to invest in stocks vs property, leverage was the key point of difference for me. I can leverage property by getting a mortgage, whereas I cannot easily leverage shares. Similarly, I cannot leverage VAP (unless I margin trade which I don't really want to do).
The bottom line – the SelfWealth social indexes are interesting, but I don't think you should really pay that much attention to them. The reason is simple – just because many people invest in something DOESN'T automatically make it a good investment. Further, if you literally just 'chase' these portfolios using the target portfolio feature and re-balancing features, this will cost you loads in brokerage and won't guarantee you any performance. Remember the age old adage: previous performance is no indicator of future performance?
Finally, there is no critical oversight of what these indexed portfolio's actually hold. As you saw, the top most popular ETFs have a lot of overlapping holdings, which make tracking this index inefficient. I personally want to know what the actual underlying holdings are, and focus on that to determine which ETFs I hold. Looking at these indexes just made me feel anxious and confused, and just reinforced how much I LOVE my simple buy and hold investing strategy of a portfolio of index tracking ETFs and LICs to give me global share market exposure.
SelfWealth review conclusion
In my opinion, SelfWealth is a great way for Australian investors to buy shares, especially those on the path to financial independence and only holding a few stocks. While I've recently switched to another broker for my online trading, selfwealth members enjoy $9.50 flat fee pricing structure, CHESS-sponsored structure (you get a unique holder identification number), and general no fuss, no frills, simple and easy to use system. This makes SelfWealth a good choice for people chasing financial independence.
Sure, it might take a while for transfers to go through to deposit cash, and it can take a while to get customer support, but I think this is a very small price to pay for such low cost brokerage, security and overall a pretty good basic account trading system to trade australian shares. International trading on Selfwealth was a bit of a let down with excessive FX exchange and brokerage fees – a lesson in making sure you read the relevant product disclosure statement before using it! I also thought that the selfwealth premium account was also not worth it.
I enjoyed my time using the Selfwealth trading platform, although thanks to a new Aussie Fintech I have been able to fully automate my investment decisions and so have switched to using a new broker to purchase my ETFs. Its always worth learning about other brokers, so read on below to find out more about Australia's cheapest online broker…
2021 Update: I now use Pearler to automate my investing
A competitor to challenge SelfWealth
Recently a new share trading platform called Pearler has launched in Australia, and is offering improved functionality, brokerage-free ETFs and automatic regular investment functionality for totally hands-off investment decisions. In my experience, this automated investing is going to be a game changer for me reaching financial independence.
Frequently Asked Questions about SelfWealth
Answers to some of the most frequently asked questions about the SelfWealth brokerage platform.
How much does SelfWealth cost?
SelfWealth charges a flat-fee $9.50 brokerage and the base level account has no monthly subscriptions. A SelfWealth Premium account is $20 per month. US share trading has a flat fee USD $9.50 brokerage.
What is SelfWealth Premium?
SelfWealth Premium grants access to the SelfWealth Premium portfolio analysis, premium indices tools and live pricing data.
Selfwealth Premium vs free
A base level free SelfWealth account is all you need for trading. The SelfWealth Premium portfolio analysis and SelfWealth premium indices tools are not worth bothering with, in my opinion.
SelfWealth premium costs $20 per month.
To buy shares through SelfWealth you must first register and open an account. Once you have an open account, fund the linked cash trading account, and follow the examples in this guide to make your first purchase. To upgrade to SelfWealth premium, simply follow the prompts from your browser when logged in.
SelfWealth can be used to buy US shares. The process is identical to buying Australian shares, however you must first toggle from AUD to USD on the top left hand corner of your screen, under your portfolio section. You must first transfer AUD to USD to fund your US cash trading account.
How much is the Selfwealth Foreign exchange FX currency fee?
SelfWealth charges USD $6 per $1000 AUD. This is approximately .85% depending on the AUD/USD exchange rate, and is a very expensive FX fee for trading platforms.
Where to find a SelfWealth referral code
The most common place to find SelfWealth referral codes are on social media. There is a referral sign up code at the top of this article if you wish to sign up and receive 5 free trades and a few months' SelfWealth premium subscription.
How does SelfWealth make money?
SelfWealth makes money by charging brokerage fees on investors trading shares, as well as from subscriptions to SelfWealth Premium. SelfWealth also has access to valuable trading information and insights which is valuable and can be sold to institutional investors and fund managers.
Is SelfWealth safe?
SelfWealth is fully CHESS sponsored making it one of the safest brokerage platforms on par with CommSec, NAB trade and Pearler.
How secure is SelfWealth?
SelfWealth is considered very secure. SelfWealth uses bank grade security, is fully CHESS sponsored by the ASX, and is also a publicly traded ASX company itself, meaning it has significant oversight and scrutiny from the ASIC and must provide comprehensive financial reporting. Your linked cash trading account funds are safe as they are physically held with ANZ bank and backed by the government guarantee.
Is SelfWealth a broker?
Yes, SelfWealth is a full service stock broker.
Which is the cheapest stock broker?
The cheapest CHESS sponsored Australian stock broker is OpenTrader, followed by Pearler and SelfWealth.
Buying and selling SelfWealth shares can be done on any Australian stock broker using ticker code ASX:SWF. To buy and sell shares using SelfWealth, use the detailed instructions in this review.
Where do I find my SelfWealth referral code?
You can find your SelfWealth referral code link in your account page once you have created a SelfWealth account.
Can you short in SelfWealth?
Yes. You can short sell the stock market in SelfWealth by purchasing Betashares BEAR Australian equities Bear hedge fund or BBOZ Australian equities strong bear fund (geared). You cannot however short individual stocks in SelfWealth.
Can you trade options on SelfWealth?
No, you currently cannot trade options on SelfWealth. However, this feature will soon be offered to investors wanting to trade options on the US stock markets.
Can you buy ETFs on SelfWealth?
Yes, you can buy any Australian and US listed ETFs on SelfWealth.
Can you transfer stocks between apps?
Yes, SelfWealth is CHESS sponsored so you can transfer stocks between apps from any other CHESS sponsored brokerage platform to SelfWealth.
Who owns SelfWealth?
SelfWealth was created by Andrew Ward in 2012, and it has since been listed as a public company, meaning anyone can buy shares in SelfWealth. The ASX and ASIC list who owns the respective number of shares and this information can be freely found online.
How does SelfWealth work?
SelfWealth works like any other CHESS-sponsored Australian brokerage platform. After creating an account, you can find your trading account and when you make share trades you are billed to your linked cash trading account. Shares are then held in your name against your HIN on the CHESS registry.
Be sure to check out the following reviews on brokers that offer online trading to buy Australian and international shares. As always, make sure you are fully educated before making a choice on any particular one.
Big 4 banks
Fintechs and smaller banks
Microinvesting platforms
Roboadvisors
Want more resources and information? Check out my monthly net worth updates as well as my Personal Resources page where I share all of the tools I use to reach financial independence.
SelfWealth review disclaimer
It is important to realise that I cannot offer you financial advice and I am not a financial adviser. This blog details my efforts and documents my journey to financial independence – it explains the personal choices I have made for my situation and circumstances in the hope it might shed light, inspire change and inform people to make better choices themselves.
I aim to be as transparent as possible and I publish my net worth updates every month. I also write very detailed articles explaining my investment strategy, what financial resources, tools and products I use, what investments I make and how, reviewing my portfolio performance, spending habits, income sources, and just generally why I do what I do.
Something that might be appropriate for me though, might not be appropriate for you. So, it's important that you do your own research and carefully consider whether SelfWealth is appropriate for your personal circumstances. Obviously with something as straight forward as a broker its not a very difficult exercise, but you shouldn't just blindly accept what you read online. If you are dealing with large sums of money, definitely seek professional advice before you start trading.
Captain FI is a Retired Pilot who lives in Adelaide, South Australia. He is passionate about Financial Independence and writes about Personal Finance and his journey to reach FI at 29, allowing him to retire at 30.