BlueHost review from a semi-experienced blogger with a portfolio of over a dozen websites
If you have ever thought about Launching a blog, a website for your business, or you just wanted to play around starting a website as a side hustle, then you will know you need a good web hosting service to host your website. BlueHost make it incredibly easy to get started, and gives great performance along with extremely competitive pricing for hosting services. Check out this article to start learning more about how you can use BlueHost web hosting to launch your own site, just like I did.
The events of 2020 – 2023 have shown us that the world can be an unpredictable place, and having the security of an alternative stream of income or digital-based business has become even more important.

Liz Raad
The Good
One of the cheapest hosting platforms around
One of the largest hosting providers
Easy to use and intuitive
Offer a range of web hosting options allowing you better performance as your website grows
The Bad
At the end of the introductory period (up to 3 years) the prices increase significantly.
Once your website gets significant traffic you will most likely need to upgrade from shared to VPS or dedicated hosting
Domain registration is more expensive than other companies
Verdict: Bluehost is one of the best starter website hosting companies and they make it incredibly easy to launch your own website. CaptainFI readers can get discounted hosting with this link.
This website is reader-supported, which means we may be paid when you visit links to partner or featured sites, or by advertising on the site. For more information please read my Privacy Policy, Terms of Use, and Financial Disclaimer.
What is Hosting (website Hosting)
Hosting, or Website hosting is required to run your website. The Host will quite literally, 'put up' your site to the World Wide Web by uploading its content (files and structures) from their servers and making them available to people. Think of the host as just another computer that holds your website files. Most people will access your site through search engines like Google, but they can directly type in your website name (domain name) and go straight to it.
The first step to building your site is to choose and buy a domain, and then have it pointed (directed) to your hosting provider. I recommend you choose a standard .com domain, with no hyphens or dots or anything in the domain name – keep it simple! If you want a .com.au address you will need to register this against an australian business entity with an ABN (might rank your site in search engines quicker or build trust with Australian readers, but again, not worth doing IMO).
Hosting comes in a variety of forms;
The cheapest and easiest is shares hosting, which is more than adequate for starting up – think of it as cheaper but… noisier and less capable – kind of like sharing your home with room mates.

For better performance under higher page demand or with larger hosted files, you might need to upgrade to a VPS or Virtual Private Server – but this will usually triple your hosting costs – this is kind of like a duplex, or self contained apartment within an apartment block (except your website walls are 'virtual')

The final tier in performance is dedicated server hosting which tends to be a lot more expensive (think around 10x the cost) but is a necessity for acceptable performance of large and very popular sites with lots of traffic.
Once you have an account with a hosting provider, they will allow you to log into the 'backend' of your site using the Control panel (cPanel) – this is just how you access the host computer. This back end is very important but can easily be screwed up if you don't know what you are doing, so its important to choose a web host with good 24/7 customer support that can help you use the cPanel.
Not all web hosting providers are equal – some are better than others. Things to consider are the performance of the hosting (how much storage you have and how quick your site will load), customer support, security and privacy protection, ease of use and finally in my opinion the last factor is price. Don't cheap out on price here honestly, because site performance and ease of use are much, much more important to the success of your website. Even relatively small websites can easily make enough income to recoup the cost of hosting services.
BlueHost
Bluehost is one of the leading website hosting services, especially for those building new websites and growing them from scratch. They provide fast hosting, great customer support and the price is actually suprisingly low for the service you get. You can use it to buy (register) your domain and host it all in the same transaction which is very simple and easy to use.
They also have a great uptime meaning your site will rarely go down for 'server maintenance', they don't meter your bandwidth and they offer generous storage options even with their shared hosting plans.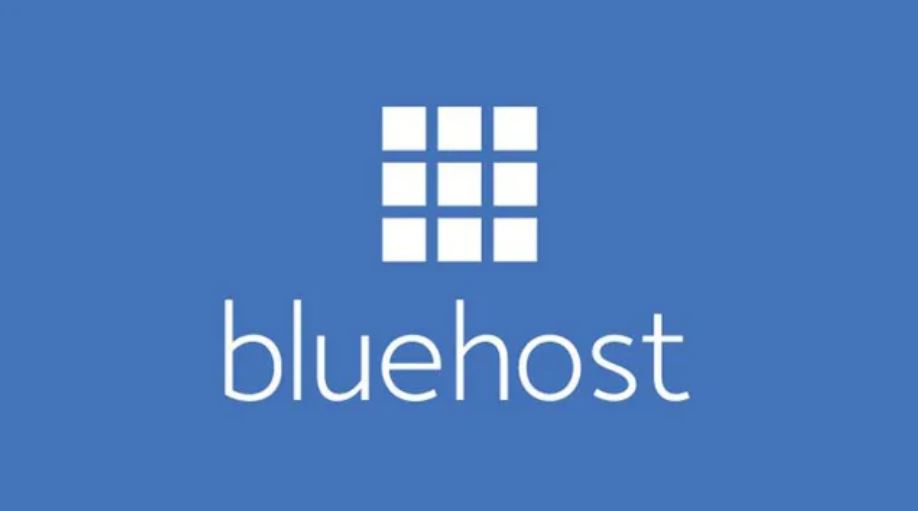 Once you have signed up with BlueHost, they provide detailed steps about how to point your domain to them (if you haven't registered it through them) as well as how to get started building your site by installing page builders through your control panel (cPanel) – of course, the most popular and easy to use page builder is WordPress – which BlueHost is specifically optimised for.
WordPress Hosting on BlueHost
WordPress is a free, open source website building tool that you can use to build your website. Once you have your domain registered and pointed to your host, and the host installs cPanel, you can install WordPress through the cPanel (control panel). Working on the cPanel is NOT fun or easy, however working in WordPress is highly intuitive and easy, there are literally hundreds of millions of WordPress users and there are hundreds of thousands of plugins, tools and guides online that you can use.
I build all of my sites through WordPress and using professional themes and 'Wigits' you can produce amazing websites that look very professional.
BlueHost specifically target customers wanting to establish WordPress sites – and really, with the ease and simplicity of WordPress and a 'one click WordPress installation' through them, why would you ever set a site up on any other building platform? BlueHost have customer support and you can submit a ticket asking them to install WordPress on your domain without you ever having to log into cPanel and do it yourself.
BlueHost offer WP Pro which is a tool you can use to monitor your website analytics, marketing tools, security and data backups. Keeping it all in one place is very user friendly, so you wont need to use third party software like Google Analytics. BlueHost has been recommended by WordPress.org for over 15 years as a preferred WordPress hosting provider.
The Downside of BlueHost
BlueHost is great for starting out, but once your website really takes off and you have hundreds of thousands of page views per month (usually around the 18 to 24 month mark if you have done a good job), you are going to need to upgrade from shared hosting to VPN or dedicated hosting. Either way, you will need to contact them to explore a customised hosting solution, or switch to another hosting service all together to prevent your site from slowing down and detracting from the user experience. BlueHost can be tricky to deal with since they always want to upsell you.
Further, the sign up bonus is only good for the first contract term – My pick is the 36 month hosting (3 years) which locks in the discount, but once you reach the end of that contract expires then the monthly hosting price will jack up to the normal rate. It is annoying but you can backup your site and then switch to another host with a similar bonus offer, or try to negotiate with BlueHost for another discount 36 month contract
Bluehost domain registration is more expensive than you will get with other providers like Namecheap, so consider registering your domain with another service and then simply pointing it to your BlueHost hosting account.
Finally, migration costs can add up if you are transferring your sites to BlueHost hosting – they don't do this for free.
All in all, these are fairly minor points and with some discipline, negotiating skills and a bit of google searching you can easily overcome these issues.
Cost of BlueHost
BlueHost provide (in my opinion) one of the best and cheapest hosting services for new sites starting at (USD) $3.95 per month – I personally went for the 'Plus' plan which was more expensive but that best suited what I needed at the time because I have multiple websites I want to host. If I was just doing one website, I would choose the Basic option. I am just showing the shared hosting options because really that is all that you will need to get started, and unless you have hundreds of thousands of page views per month, you won't need to upgrade to VPS or dedicated hosting.
Of course, when your site grows exponentially and you get a lot more traffic (or you want to start hosting larger files, videos or images), you will probably need to upgrade down the track to a more custom hosting service – either VPS or dedicated servers which you could negotiate with BlueHost or more than likely you will hire a digital marketing agency to look after it for you. One of my portfolio sites is getting over 10,000 page views a month and BlueHost performance has been lightning quick – page load time is critical to the user experience (of course I also optimise what goes on the page and use caching plugins to save load times) so you want to make sure the performance is high.
Summary of BlueHost
BlueHost make it incredibly easy to get started with your very own website, gives great performance and offer competitive pricing for their hosting services. Check out their website to start learning more about how you can use BlueHost web hosting to launch your very own site, or a portfolio of sites just like I did.
Verdict: Bluehost is one of the best starter website hosting companies and they make it incredibly easy to launch your own website. Captain FI readers can click here for a special discounted rate for hosting
Captain FI is a Retired Pilot who lives in Adelaide, South Australia. He is passionate about Financial Independence and writes about Personal Finance and his journey to reach FI at 29, allowing him to retire at 30.