While many aspire to FIRE, and financial freedom, following the top 10 FIRE blogs in Australia can help with tips and tricks to get you there faster.
Introduction to FIRE blogs
FIRE blogs can help those aspiring for financial independence to retire early with ideas on how to chart their course to FIRE, offering personal finance tips and inspiration. While there are many paths to FIRE, following the top 10 FIRE blogs in Australia can help you get the most out of your journey.
There are many different ways to achieve FIRE, but Finding the FIRE movement in the first place can be a revelation. Once you're part of the FIRE community, FIRE blogs can be a rich source of inspiration for how you too, can achieve financial independence, and perhaps early retirement. Read on to discover the top 10 FIRE blogs to follow in Australia.
The Good
Independent source of media/journalism
Source of Personal finance and financial planning content
Valuable Personal experiences and insight on retiring early at a young age
Often Feedback and support are available through comments and linked social media fi community groups
Information without corporate bullshit and marketing
Practical tips and information on Share, business and real estate investing
The Bad
Not fact-checked or regulated
Potential for conflict of interest (eg. affiliates)
No guarantee it is correct (DYOR disclaimers)
Poor transparency – authors may not be who they say they are
Typically not licensed for financial advice or financial planning
Might be giving unlicensed financial advice (illegal)
Generates income for the website owners (potential biased content)
Verdict: FIRE Blogs are an invaluable source of information, but should be fact checked and read with a degree of caution due to personal opinions and potential conflicts of interest
What are FIRE blogs?
FIRE blogs are a growing niche of informative posts and podcasts authored by those on their own FIRE journey, showing the rest of us how they do it. Often, the blog starts as a way to keep the FIRE blogger honest to themselves and keep working towards their goal, by being transparent in their methods and their progress towards achieving FIRE.
Following FIRE blogs can inspire those wanting to achieve the same goal. FIRE blogs can be a rich source of information on how to achieve FIRE. Immersing yourself in the FIRE movement and following FIRE bloggers can point you in the right direction and save you from making similar mistakes.
Following a blog doesn't necessarily mean you should copy their every move, but FIRE blogs have filled an information void that helps educate the FIRE community on what can be achieved with the right motivation and mindset.
I found it incredibly helpful when I was getting started on my FIRE journey to be able to read from those who had come before me. Learning their valuable lessons on personal finance, and learning particularly from their mistakes, really helped me to 'get off on the right foot'. Even though I often made similar mistakes (as we all to often fall for similar traps on the journey to FIRE such as aggressive saving to the detriment of your health), it was great to see their solutions and how they had simplified their investments and lives.
Learning how people had made money online on their path to Financial Independence was a huge take-away for me, which I successfully implemented myself, and then I was able to set up an incredibly simple and effective investment portfolio (the FIRE portfolio) after making many, many mistakes and over complicating things.
Finally, one of the most important things about actually being able to retire early is well, what do you do afterwards! Dave from SMA has some great insight into how he spends his time and his personal philosophy 'post FI' on a bunch of different financial topics, giving his audience a lot to think about in terms of their ideal life and retiring 'to' something in their next life as opposed to just retiring 'from' corporate jobs to try and enjoy life.
Top fire blogs in Australia
Here are ten of the best FIRE blogs in Australia that I have used on my personal journey to achieving financial independence so I could retire early (not to mention FREE content on ASIC's Money Smart website). Thanks to them I have saved tens of thousands in fees, and in combination with my own research learned practical advice on how to invest and build my seven figure investment portfolio to produce enough money to become financially independent and live a work optional lifestyle where I can be a stay at home dad.
Aussie Firebug
Aussie Firebug is a blog started by Matt, a software engineer and IT professional from regional Victoria. Matt started posting about his FIRE journey and financial situation around 2015 and is a self-described "millennial from Australia trying to escape the 9-5 …grind through financial independence". Matt distills the essence of FIRE down to a "lifestyle" that you can choose and make happen using maths.
On the AF blog he uses a mix of blog posts, resources, updates on net worth and podcasts to show others how he's traveling on his FIRE journey. And if he doesn't know, he'll interview an expert so you can both learn. On top of that, Aussie Firebug is also full of insights and hints on things you might not expect, like what phone company to go with if you're planning to live in London for a while, and the tax implications of working overseas and investing in Australia. It's an interesting mix.
The AF is without a doubt, the most popular fire blog in Australia, and was one of the first FIRE bloggers on the scene.
Aussie Firebug | Financial Independence Retire Early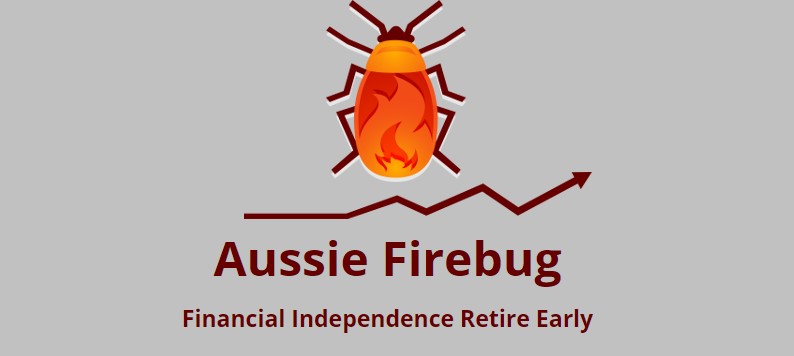 Strong Money Australia
Strong Money Australia is a website started by Dave, who FIRE'd at 28 and is sharing his knowledge while he lives the dream. Strong Money provides content on the FIRE mindset, saving, investing and living happily while striving for FIRE. Dave also adds tips and advice on living happily post-FIRE.
Strong Money has a range of content, plus resources and podcasts to help you on your path to FIRE and beyond.
Financial Independence Blog & Podcast | Strong Money Australia
The FI explorer
The FI Explorer is a 40-something guy living in Australia, keeping a blog on his path to what some may call Fat, or HI, FIRE. He's aiming for a portfolio of $2.6 million to generate a passive annual income of approximately $90 000. FI Explorer is more of a traditional blog and covers finance, portfolio design and investment strategy as part of the monthly portfolio updates dating back to 2016.
The latest FI Explorer monthly updates give a healthy dose of reality when aspiring to FIRE, that what goes up, can come down. And sometimes, FIRE seems tantalisingly close, only to slip further away with a drop in the market.
The FI Explorer – Journeys in financial independence
Frugality and Freedom
Frugality and Freedom (F&F) is a FIRE blog by Michelle, a 30-something South Australian chronicling her path to FIRE. Michelle is semi-retired and taking the Slow FIRE approach with a mix of minimalism, frugality, seasonal work and travelling on a budget.
F&F FIRE blog is a goldmine of how to reach FIRE on a budget, sooner. It's a useful mix of travel on a budget, frugal hacks, tips on housesitting, and how to get work virtual assisting. There are also great links to other FIRE resources to help you on your way.
About Me – Frugality and Freedom
Money Flamingo
Money Flamingo is a FIRE blog by a semi-retired couple in their 30s and 40s in Sydney, New South Wales. While they started on the path to traditional FIRE, they took stock along the way and decided to take an alternative path, calling it Flamingo FIRE.
Flamingo FIRE, a bit like Coast FIRE, aims to save half the FIRE amount, then semi-retire and let the rest accumulate over time thanks to compound interest. Flamingo FIRE challenges the traditional notion of "Retire" in FIRE, suggesting that we still need something to do with our time, so why not take the pressure off hitting FIRE and plan to get to a place where you can work part-time, and retire traditionally later.
Financial Independence (Semi-)Retire Early – Money Flamingo – Australian FIRE Blog

Aussie HIFire
Aussie HIFire is a FIRE blog by a 40-something married guy living in Australia who works in finance. Aussie HIFIRE is aimed at ensuring his family has a high passive income to be financially independent. Aussie HIFIRE's FIRE number factors in quality of life with things such as travel, eating out, events like sport or concerts and private school for the kids.
Rather than a traditional FIRE blog with net worth updates, Aussie HIFIRE posts informative info on topics of interest to the FIRE community such as the impact of past performance on asset allocation and what a bear market feels like. Aussie HIFIRE's finance background helps put complex themes in plain language, making it a useful FIRE blog inclusion.
Aussie HIFIRE | This is a blog about having enough money to have a high income and be financially independent after retiring early, or HIFIRE for short.
Broke Girl Wealth
Broke Girl Wealth is a blog run by Aleks, a 20-something lawyer living in Australia. Broke Girl Wealth was started as a way to make investing knowledge more accessible to millennials, such as herself. Another motivation for starting the blog was the number of FIRE blogs started by men. Aleks aims for Broke Girl Wealth to be a financial independence blog written by women, for women. The blog comes from a position of empowering like-minded people to build wealth by taking control of their money. Broke Girl Wealth has informative posts on topics like buying a house and how to cut your spending. Aleks has her website and Instagram site.
"Serina Bird is a former diplomat, author of The Joyful Frugalista, co-host of the podcast, This Abundant Life, and a money coach. Serina's vision is to encourage people to become frugalistas – spending less and saving more (with joy) on the path to financial empowerment".
"I'm Miss B, a 30-year-old Sydney-sider who is keen to create a life where I don't have to stress about money. I share my story at All About Balance; this mostly looks like tips and tricks on saving, investing, and growing your income while maintaining strong relationships and a healthy body and mind. I'm all about reaching financial independence while still having a life now."
Captain FI
This list wouldn't be complete without mentioning the CaptainFi blog and Podcast! Captain FI is a 30-something beekeeper and retired pilot from Adelaide, South Australia. The CaptainFI blog started as a way to track my journey to FIRE and evolved into an ebusiness with a focus on earning, saving and investing.
Captain FI retired from full-time flying in 2021 and now focuses on building passive income through a mix of investments and online businesses. The Captain FI blog and podcasts are a useful mix of information, tools and resources to help get you on the right path to FIRE.
Captain FI Financial Independence Retire Early

Conclusion
So there you have it, the top 10 Australian FIRE blogs showcasing the different ways individuals have chosen to approach FI to achieve financial freedom. From frugal FIRE to FAT FIRE, slow FIRE to FIREing at 30, the blogs capture a broad cross-section of the FIRE community on high to low incomes and how they've used the FIRE principles to live life on their own terms and quit the 9-5 grind, well before traditional retirement age. 
There is a huge wealth of resources within these 10 blogs, as well as recommendations for others to visit, which are packed full of tips and tricks for Australians on the pathway to become Financially Independant and Retire Early. Make sure you read not only the most popular articles, but go through and read from the start to see how their journeys have evolved over time, and see when and how they have reached goals, milestones and eventually… FIRE'd!
Captain FI is a Retired Pilot who lives in Adelaide, South Australia. He is passionate about Financial Independence and writes about Personal Finance and his journey to reach FI at 29, allowing him to retire at 30.