This article contains a sign up affiliate bonus for Freelancer for Captain FI readers
It is impossible to do everything myself, so I use Freelancer to find experienced Virtual Assistants and outsource design and technical work for my websites – you can find Freelancers to do almost anything you want. Freelancer is an easy to use web browser based system – you can start a project for as little as (AUD) $10, and can pay as much as you want to try and attract more skilled Freelancers. Captain FI readers even get a $25 sign up bonus – enough to fully fund two projects (like designing a logo for example)
On the flip side, if you are looking for a side hustle and you have a particular skill or niche such as graphic or website design, then you can trawl Freelancer for projects which might interest you that you can work on. Some Freelancers make thousands of dollars from their Freelancing work!
Freelancer works on a peer review system – You can post a job and choose individual Freelancers based on their bio and previous works, or you can post a competition and then choose the winning entry or multiple entries.
Freelancer host the entire system on their website, and handle secure payments – when the job is done, and you approve the quality of the work, then your Freelancer gets paid. All you need to do is create an account, confirm (authenticate) your details and make a payment into your account to activate it.
I have been impressed with the quality, timeliness, professional and courteous nature of every freelancer I have hired, and the peer rating system (kind of like Uber) publishes all reviews and feedback. This keeps everyone really honest and you can choose who you hire based on their previous feedback. You can also help out Freelancers that have done a greta job by leaving them awesome reviews
Starting a project on Freelancer
By far the easiest way to get started on Freelancer is to start a contest – simply follow the bouncing ball to set your account up, then on your home screen select 'Post a Porject' or select 'My Projects'. It will prompt you to let you know that you have not got any active projects, so click Create one to get started,
Defining your project on Freelancer
Starting a project will then take you to this screen. Simply follow the bouncing ball and fill out each field – make sure to add as much detail as possible, because this is how Freelancers will be drawn to your project and you want to make sure they know what they need to do. The best freelancers will only accept jobs with very well defined names, descriptions and required skills.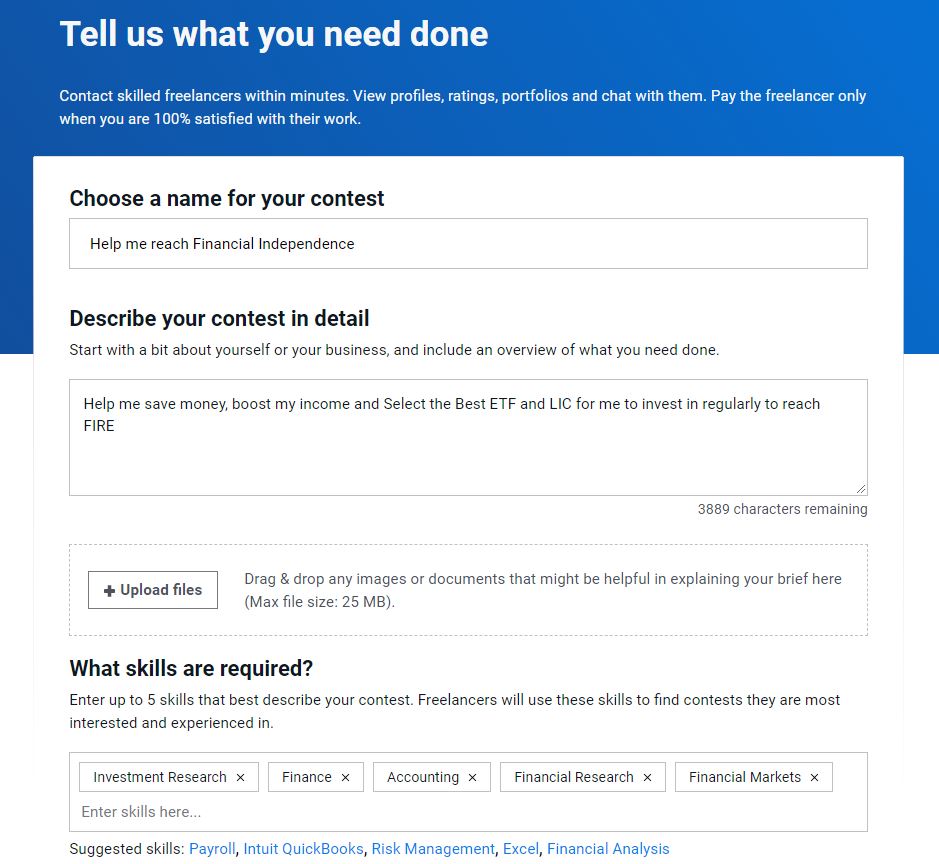 Select the type of Freelancer activity
Once you have completed all of the details about your task, you can decide whether you want to post your activity as a project style task or as a contest style.
A project allows you to receive free quotes and is best for complex activities – you can choose to either pay a fixed price or pay by the hour, which might be best suited for larger or ongoing work. This is the best way to go about selecting a Virtual Assistant, who you can then organise to pay either through Freelancer or another management style system like Asana.
A Freelancer contest is my choice and is best for easy, simple tasks like graphic designs for a logo, banner, podcast or avatar / character for your bio. You select your price point which ranges from as little as $10 to over $1,500!
Finalising your Freelancer task
To finalise your Freelancer task, you can select the number of days you would like it to run, confirm the activity details and then confirm payment. Freelancer will then 'hold' the respective payment from our account which will then be paid out to the successful Freelancer after you have accepted and reviewed their work
Hiring a Freelancer on an ongoing basis
When you find a Freelancer that you like, don't let them go! You can agree on an hourly rate as low as (USD) $2 per hour for them to work on your projects. I truly believe it helps people in less fortunate countries to get a leg up by providing job opportunities and much needed income that is higher than what they might find locally.
This is perfect for when you find a great Virtual Assistant – seriously, a good one is hard to come by – and I have found a couple I like on Freelancer so far. You can slowly build up a relationship and trust through Freelancer, and when your ready to take them on as a full time VA outside of the system, you can find other ways to manage them such as Asana, and then pay them directly such as through PayPal to make sure they are getting the full cut.
Freelancer can be difficult to manage a times and communicate with your Freelancers due to its highly decentralised user base – the simple fact is when you set low contest prices or hourly rates, you are going to attract Freelancers with less experience, or from parts of the world that perhaps don't speak the best English. I have found that by keeping things simple, listing detailed descriptions with pictures and links, being courteous and repeating what I needed that I have had no problems overcoming these issues.
With contests, you will often get a lot of terrible submissions so it will require a bit of time to weed out or reject the crap ones. Another issue is for example in graphic design for a logo, you need to rank submissions to provide feedback to shape the progress, but some dodgy Freelancers will simply then copy the leading design and try to pass it off as their own – clearly very annoying for the original Freelancer who's Intellectual Property the OG design was.
I personally would not use Freelancer for copy writing or finding authors – this was something I tried on one of my portfolio sites to build content, and unfortunately the quality of the writing was not good enough to publish without significant editing work. By setting your contest price up to around $100-200 per article I could find authors with a mastery of English that could produce great content – but it just wasn't economically viable to be spending thousands on writers just yet.
Freelancer is incredibly cheap, with contests able to be set for as little as (AUS) $10, and then you can hire Freelancers on an hourly basis for only a couple of bucks per hour. Ultimately Freelancer is basically free for you as an employer, and you set whatever you are willing to pay. There is a subscription version of Freelancer, but I just use the free version.
Freelancer is a great way to outsource those difficult, technical or repetitive jobs that just aren't worth your time or effort – and a great place to pick up a Virtual Assistant. The sliding pay scale is great which means you can get a Freelancer tailored to your budget and project needs. Freelancer has extensive use in both government and commercial industry – it has even been used by NASA to outsource Graphic Design work! Other big name users of Freelancer include Amazon, Facebook, IBM and Airbus! The proof is in the pudding, and I have been successfully using Freelancer for over 6 months now.
If you really wanted to pick up some Freelancing work, you can even use the same account you outsource the difficult or annoying stuff, and start doing the stuff you love to make some extra cash (or fund your other outsourced projects!)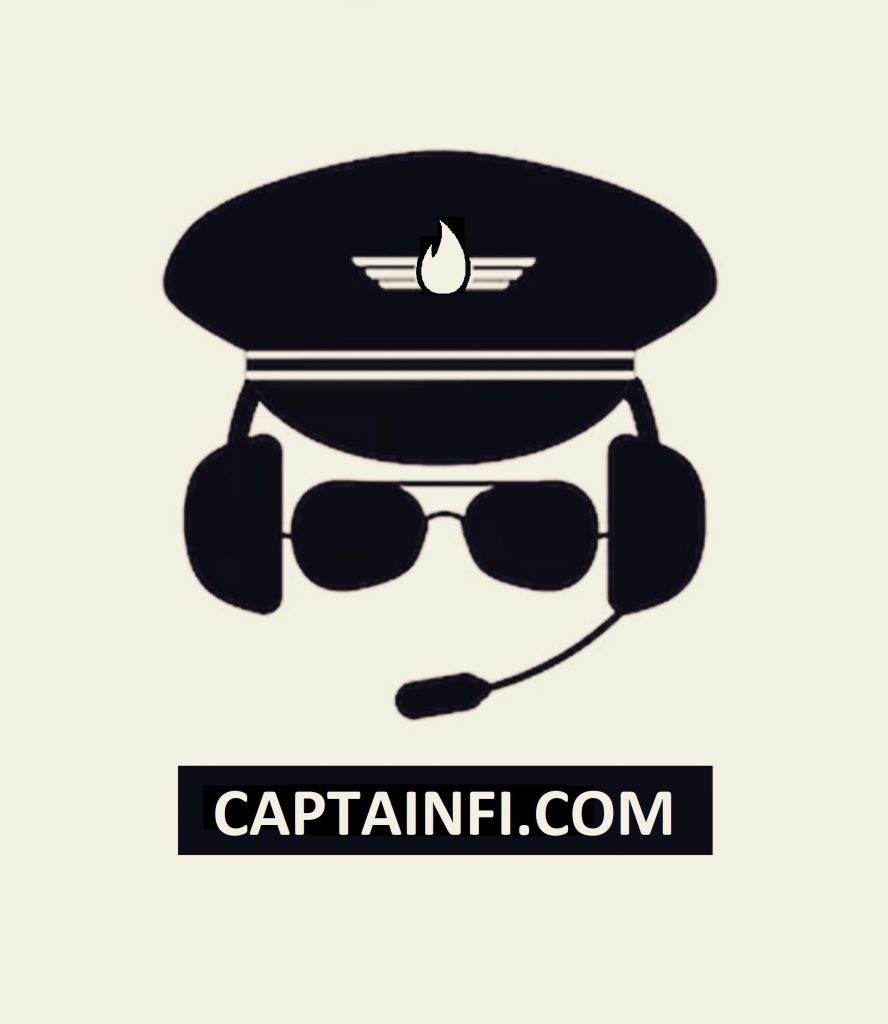 This article contains a sign up affiliate bonus for Freelancer for Captain FI readers
Captain FI is a Retired Pilot who lives in Adelaide, South Australia. He is passionate about Financial Independence and writes about Personal Finance and his journey to reach FI at 29, allowing him to retire at 30.